10 Secrets That Recruiters Will Never Tell You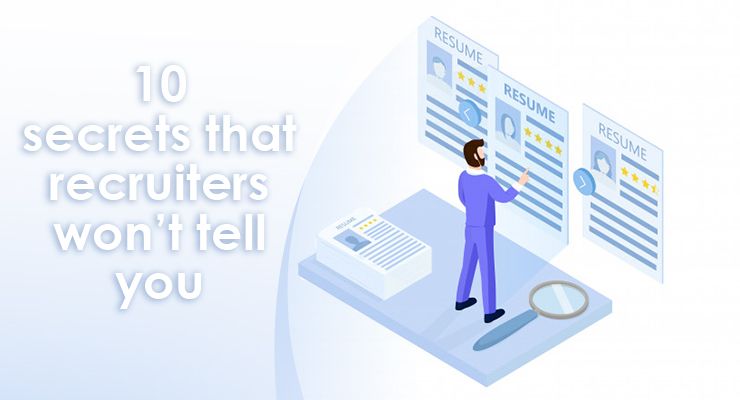 Recruiters have a wealth of information about the screening and hiring processes. They review hundreds of resumes, interview dozens of candidates and know how to pick the best suitable candidate. As a job-seeker, you probably have an awful lot of questions to ask a recruiter. Why didn't your resume make the cut? Why did they invite you for an interview but then didn't call back? Or, what was a deal-breaker during your most recent interview?
The recruiter won't answer these questions directly. Yet, our local resume writers have collected the insider recruiter secrets you were always curious to know. Some of them might really surprise you. Continue reading to figure out the subtleties of the hiring process and get better prepared for your next job search.
Does your resume fall short of expectations?
One of the questions for recruiters that job-seekers have is "Wasn't my resume good enough?" Stop guessing – hear a professional opinion on your resume right now. The qualified resume writers of Resumeperk.com offer a resume critique service. Send us your resume, and receive a detailed feedback covering its strengths, weaknesses and areas for improvement. Our consultants can also help you fix any shortcomings, ensuring that your resume makes the best possible impression.
10 secrets of the recruiters, revealed  
 As a job-seeker, you have lots of questions to ask hiring manager. These insights from the recruiters' work are likely to answer all your questions:
Your resume wasn't good enough
A typical recruiter has an inbox full of resumes and very limited time to review each one. As a result, if they don't have a crucial information at a glance, you're out. No recruiter will get back to you saying that your resume was too long, lacked figures or had unprofessional looks. They simply decline your application. So, if you hardly ever make it to interviews, concentrate your efforts on improving a resume in the first place. By the way, our writing experts can prepare a professional resume for you at a moderate pay.
Cover letter templates don't make the cut
Downloading a template resume or a cover letter from the internet is always a risky tactic. There's every chance that your counterparts have used the same template cover letter. Moreover, recruiters have an eye for generic, template letters and immediately send them to trash. Even a bit naïve, personal cover letter is better than the faceless letter you've found online. And if you approach the letter writing creatively, your chances for a job will grow. For instance, you might want to offer a solution to the company's problem or show your personal connection with a brand.
There's always an opportunity to negotiate a higher salary
The pay offered in a job listing is hardly ever the company's final offer. At the same time, discussing money is one of the trickiest recruiter interview questions. Asking too much might result in an offer going to someone else. And taking their first offer without objections may lead to losing thousands of dollars every year. The solution? Always negotiate the salary. Research the average salary in your state and industry and the value of your skills so that your negotiations are supported by figures. If they cannot offer a higher pay, negotiate benefits and perks.
Want to negotiate salary like a pro? Check out our guide: http://resumeperk.com/blog/salary-negotiation-tips-from-cv-writing-service.
First impressions count more than you can think
Most recruiters admit to not getting past a bad first impression. That is, if they didn't like you during the first interaction, they are likely to search for every reason to disqualify you. The examples of bad first impressions include poor phone etiquette, an unprofessional attire, heavy cologne, or bad communication during an interview. You'll never hear a genuine reason, so give yourself a favor and act professionally, always. Hone your professional etiquette, keep all communications timely and courteous. Nervous before job interview? Learn the ins and outs of a successful interview preparation to eliminate all possible interview deal-breakers.
The references didn't present you in the best light
Checking references is an integral part of the candidate screening process. If the recruiter has questions or concerns, they'll get in touch with your references. And if the references will give them generic facts only or provide unflattering information, you're out of the competition for the job. And if you ask the headhunter why, you aren't likely to receive a frank response. Apart from preparing a reference list and letters of recommendations, contact every person from this list directly. Ask about what kind of information they are willing to share with recruiters. And if they aren't willing to present you in the best light, consider including them from the list.
Your interviewing skills were the deal-breaker
There is tons of interview advice posted online, so you can learn the secrets of interview success and then put these skills into practice. Yet, lots of well-qualified job-seekers continue making the same interview mistakes. They show up late, badmouth their current employer, interrupt the interview to answer a phone call or wear a revealing outfit. As we've mentioned above, a bad first impression is hardly possible to fix. Preparing for each interview thoroughly and getting liked by demanding recruiters will help you to find a job faster.
Want to make an even better first impression? Use these questions to ask recruiter: http://resumeperk.com/blog/top-15-questions-to-end-the-interview-with.
The job responsibilities don't match the advertisement
If the company hires candidates through a recruitment agency, chances are that the actual job description will be different from the job listing. You may be invited for an interview only to find out that the advertised job has extra responsibilities or requires extra skills which weren't mentioned before. This might happen if the position needs to be filled really quickly and the recruiters want to attract all candidates that match the qualifications minimum. Basically, here everything depends on whether you feel comfortable with those extra requirements.
The job was given to an in-house employee or a reference
Internal hires and references are said to be the best source of the quality candidates. So the hiring managers consider internal candidates and those referred by their current coworkers in the first place. Or, the management might decide to close the position before it's filled. The point here is, you might be perfectly qualified and meet all the criteria, but in the above cases your candidacy isn't considered. Not everything in the hiring process depends on you, so keep your options open and continue attending interviews.
Do you often face criticism at workplace? Learn the proven methods to handle it in a professional manner.
They didn't like your Facebook or Instagram profile  
The recruiters always scan social media profiles. And they expect to see there something less obvious than the absence of drunk pictures. They are looking at your communication style, your interests, and the general impression you make. For instance, if you apply for a customer-facing position and share opinionated, biased or angry posts, you are unlikely to make it to the interview stage. Social media is the reflection of your personality, or so the hiring managers think. Take care of your online profiles in advance to avoid missing a dream job because of a controversial comment on your friend's post.
The company has another candidate on their mind  
The first interview went well. But after that, they don't tell you how to proceed, nor do they say "no". If this is the case with you, it means that the other candidate is their priority and they are waiting for his/her response in the first place. While this may seem uncomfortable, remember that being number two still means that you are being considered. And if the other candidate declines an offer, you're most likely to get it. In the meantime, don't stop attending interviews until the offer is yours. This will give you more great options to choose from.
Get a resume that the recruiters will love
You probably have lots of questions to ask a hiring manager. Most job-seekers are curious to know how to make an interview-winning resume. If you are job-hunting at the moment, getting professional resume advice can save you a lot of time and nerves. At Resumeperk.com, you can pay for creative resumes and have your application documents improved by a professional. The writer will work on the resume content, style and keywords to make sure your resume is second to none. Contact us via chat to claim your exclusive 20% discount offer.