15 Things to Do On Your First Day at Work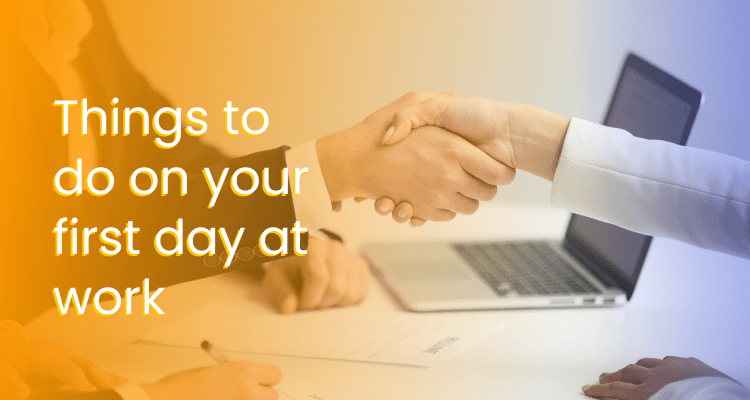 According to the statistic, an average American changes jobs 10 to 15 times in their lifetime. This means that in the course of your career you'll often find yourself in a new company, a bit nervous and thrilled at the same time. The first day often sets the tone for your tenure with this employer, so you want to make a truly memorable impression and build the right image for colleagues and the supervisor.
If you're in the process of job search right now or already got an offer at hand, you'll need some guidance on how to act during day one. Today's post from our executive resume writers will share some strategies for relieving your stress and making the right impression. Moreover, if you know how to act and what not to do, you'll feel more confident and relaxed.
Get a professional resume revamp
Your resume needs to make an irresistible impression at first glance, too. If you think that the content or looks of your resume needs to be improved, hiring a resume expert is a wise step. At Resumeperk.com, we staff resume creators specializing in 60+ industries. The writer will focus on your accomplishments, results, add keywords and take care of the design of your CV to help you beat the competition. We offer unlimited revisions until you're satisfied.
15 tips to shine on your first day at work
1. Arrive on time
As a newbie on the team, you cannot afford the luxury of running late on your day one. More importantly, you're likely to be introduced to the team at the beginning of the working day. Thus, if you show up late and make others wait, it will question your professional reputation immediately. To avoid being late because of the traffic, think about your commute in advance. Practice driving to the office during the rush hour a week in advance so you could plan the commute time accurately.
2. Dress up appropriately
Dress codes might vary from classic suits in large financial organizations to T-shirts and loose jeans in tech startups. Choose your attire depending on the company's guidelines so that you feel comfortable around others. If there are no clear directions about the dress code, remember that it's better to overdress in your day one that to show up dressed too casually. You can adjust your looks in the next few days, so nobody will judge you for the willingness to make a good impression.
3. Review the employee handbook
Although career coaches recommend that you start putting in the effort as soon as possible, the first day is reserved for meeting new people, exploring the location and reviewing the corporate rules and guidelines. Most companies provide orientation materials that explain everything you need to know about the company, role, rules, promotions and more. Pay close attention and you'll get most of your questions answered. Take care of paperwork as well – understand your contract, benefits, perks, and more.
4. Prepare the elevator pitch
During the day one, you're going to introduce yourself a lot. People will want to know what are you going to do, where you worked or studied before, where you live, and more. To avoid getting confused and blurting out something not quite professional, prepare an elevator pitch. Create a 30-second introduction that you're going to tell everyone you meet for the first time. This will relieve your stress and ease the communication with the new people.
5. Silence your phone
Putting aside your phone at work is a common business etiquette. This is especially important on the first day when all eyes are on you. So, even if you've downloaded the best smartphone apps, switch off the sound and don't check the phone as you work or during the meeting. Otherwise, people may question your willingness to learn new things and work productively for a new company.
6. Get comfortable asking many questions
Asking, learning and clarifying is your job during the first days at work. If you're not sure about the process or can't find the way around a piece of software, it's better to ask than to spend hours trying to resolve it independently. Thus, you'll learn things faster and will be able to work more effectively and bring value. Asking questions will show your eagerness to learn and contribute to the team's success. Last but not least, your colleagues will feel helpful and appreciated, which will help you to build relationships faster.
7. Be friendly and approachable
New place, new people, new responsibilities – you are bound to be nervous. Yet, your goal is to become the essential member of the team and enjoy the environment, and this is impossible without a friendly attitude. Approach others, introduce yourself, start a small talk – engage others in a conversation and project a friendly, positive attitude. People will be more likely to help you and cooperate with you in this case. Moreover, making friends with the right members of the team will advance your career (more on that below).
8. Go out for lunch with your team
Socializing with coworkers outside of the office helps you improve the relationships faster, and lunch breaks are the perfect timing for it. If the colleague or supervisor invites you out for lunch, always accept this invitation! After a few weeks, you can bring lunch with you to save money, but right now you need to take every opportunity to socialize with others. If you eat out regularly, it will help you build better relationships, and this will reflect on your productivity as a team accordingly.
9. Observe others
If you want to succeed in new environment, your #1 priority is to observe others and watch the general atmosphere in the office. Watch how people interact and communicate, who the informal leaders are, and note the way people approach work. Do your teammates mostly work individually or in groups? Are they reserved or cheerful and relaxed? Who are the most influential coworkers? By observing, you'll get an idea of what behavior is expected from you and what people it's best to make friends with.
10. Learn the unwritten rules within the company
Each company has its unwritten rules concerning the work ethics and approach to work. If in doubt, watch how others act and shadow them. For instance, if your working day officially ends at 5 PM but most people stay late, you'd better follow their example. Otherwise, your boss might assume that you don't care about the position. If your teammates take breaks to have a coffee or go for a walk, you can follow their example too.
Have you had one or several remote jobs? Here's how to address remote experience on the resume: https://resumeperk.com/blog/how-to-put-remote-work-on-resume.
11. Be reachable for your boss
Reaching out to colleagues and asking others for help is important. Yet, make sure that you're always available for your direct supervisor. Remember that you need to discuss your career development and how your skills can help the company succeed. And obviously, your boss is the most reliable source of information if you don't understand some processes or company rules. Be enthusiastic and willing to go the extra mile – your boss will appreciate it for sure.
12. Mind the non-verbal communication cues
Body language says more about us than the words do. If you're sitting with your head hung, touch your face and yawn all the time, you'll find it difficult to convince everyone that you're confident and enthusiastic about the job. Practice the confident body language at home and then use it in the workplace. If your body language communicates friendliness and positive attitude, people will be more willing to communicate with you and help you.
13. Master the relaxation techniques
Stress is inevitable on the new job, but the stress levels shouldn't prevent you from doing your job and socializing. If you feel too anxious, try some proven stress management techniques. Breathe deeply for a few minutes, chew the scented gum, or inhale the essential oil. If you have 10 minutes, drink some herbal tea, stretch at your desk or go for a walk. Find out what works for you, and rely on those techniques when stressed. It will help you get productive again and prevent the consequences of workplace stress.
14. Manage your time and priorities
If you want to start contributing as soon as possible, getting organized is must. Plan your time, write to-do lists, and prioritize the projects assigned to you. It's a good idea to ask your coworkers about their working process and strategies. Since you're new to the organization, you might not know that some processes are automated or approached differently than you are used to. As follows, taking the advice of your peers will help you be more productive and organized.
15. Go home on a positive note
Don't be the first to leave your desk at the end of the working day. As you go home, thank everyone for the working day and share your impressions if your coworkers are in the mood to talk. Say goodbye and say something positive. Don't beat yourself if something wasn't perfect or you've made a mistake or two. As long as you're positive about the job and willing to correct your mistakes, you'll be able to rely on the support and understanding of your colleagues.
Find a job faster with a pro resume
Don't have time to write a resume on your own or not sure that the current one sells you well? The help of a resume professional can go a long way in your job search. Just contact our team on chat and say "Write my resume for me at affordable price", and we'll get back to you in no time. The writer will improve the writing style, focus on your accomplishments, add relevant keywords, and use custom design to maximize your chance for the interview.