7 Important Facts How To Bring Together Reader And Character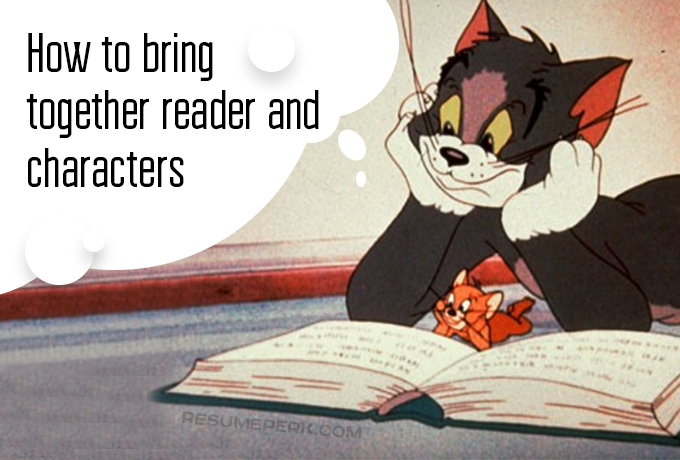 How to make your novel or short story vivid, engaging and memorable? There are many writing tricks that fiction writers use to improve their writing. Nevertheless, one of the best ways to write something outstanding is to create a character that most of the readers will immediately take to.
Well-developed, vivid characters completely transform the entire story. They make the reader believe, feel for them and sometimes even erase the border between fiction and reality. As a reader, you can probably recollect the stories where the characters engaged you so much that you forgot they actually weren't real. This is the effect you would want to achieve as a writer.
So, how to bring together reader and characters of your next book? Check the below advice of a certified resume writer.
Add more senses into your writing
One of the proven tricks to make your writing lifelike is to add more sounds, tastes, and sensations in it. A detailed description of the senses of the main characters makes the reader visualize the entire picture in deeper detail. As a result, your writing becomes more memorable and engages the readers more. The sound of the music at the background, the shades and scents can liven up even not very engaging chapters. For more tips how to clean up the dull writing, see here: http://resumeperk.com/blog/how-to-clean-up-boring-and-lengthy-writing
Make the reader and the character alike
It's a proven psychological fact that we admire those who possess the same qualities as we do, or the qualities we'd like to have. In real life, such people immediately catch our attention and we take in them quickly. So, why not use this principle when writing your next book?
You don't need to portray an absolutely perfect personality to make the reader like it. Instead, try to create characters that would resonate with your readers, act like your readers typically do and stick to the same values. You can also create an admirable personality in your book, the one that readers will enjoy associating themselves with. The similarity of characters in real life leads to friendship; the same method used in novel writing helps you to create a truly admirable character.
Develop complex characters
Life isn't white and black – the truth is always somewhere in grey area. When you develop the milestones of plot, the easiest approach to creating characters is to create 'good' and 'bad' ones. Nevertheless, simple, plain, one-sided characters don't evoke compassion and continued interest of the reader.
Put your characters in different circumstances where he would react unexpectedly and reveal various sides of his personality. Think of your characters – what motivates them, what drives them to act as they do?
Evoke the reader's emotions
Of course the entire narrative can't be emotionally overloaded, especially if you write a novel, not a short story. However, the emotional, tense scenes are what keeps the reader interested throughout the way. Any kind of emotion such as humor, hate, love, determination – depending on the genre – evokes curiosity to what will happen to the characters later. As a result, they become emotionally attached to the characters.
The best way to evoke reader's emotions is also to make them connected to your reader by putting the characters in similar circumstances that your readers experience in their life. Thus, they will recollect their own emotions and get even more connected to the heroes.
Another way to bring reader's emotions is to reveal an unexpected detail so the reader could understand the implications. It adds extra features to the characters and enriches the story with extra detail.
Make them vulnerable
People aren't perfect. Your protagonist isn't a perfect personality either. By creating some kind of a superhero that has no weak spots, you have little chances to have your reader connected to him.
Instead, portray someone that has some vulnerability points. When we read about someone who is in pain or in need, we literally can't help but pull for him. We start being truly compassionate, we wish him all good and even want to do something for him. And when the story finishes with a happy end, readers will feel relieved that everything has turned out well to an imaginary hero we compassionated. Isn't it something you'd like to achieve as a writer?
Use the power of character's voice
It's not only the actions in the book that make the reader like your character. It's also about the language and conversation style your protagonist uses. You can vary the length of the sentences, use the obsolete language (or, in contrary, modern internet slang) and set the appropriate tone.
Needless to say that the key characters should have their unique voices and styles of conversation which are different from the narrator's. This will help set the boundaries between them.
Put your character in action
If you want to make your writing appealing to the reader, you need to master the creation of vivid action scenes. A well-written action scene pulls the reader into the story and helps the characters be revealed. As action scenes excite the readers, they become more emotionally engaged and feel empathy for characters.
Versatile, interesting characters are what often determine the success of your next book. Think about what can make your protagonist more complex, vivid and emotionally engaging for the readers. Try to make him similar to your reader in some way, and this similarity will evoke the readers' loyalty and help make your book popular. If you need more tips on how to put together your first novel, you can find some expert advice here: http://resumeperk.com/blog/how-to-start-your-first-novel-15-winning-tips
Are you a writer who needs a professionally written resume?
Are you seeking a job as a writer? Then, you might need the assistance with updating your old resume and making it targeted for both freelance and full-time opportunities. You can create a resume online free or rely on the assistance of an expert resume writer.
Creating a successful resume requires not only writing, but also marketing, human resource management and basic design skills. If you need an excellent result, professional resume experts with rich expertise are at your service. At an affordable fee, we will create a competitive resume to help you win the next job.