9 Keys to Workplace Happiness
Workplace happiness is no longer a luxury. The studies show that happy employees are 12% more productive than unhappy ones. The employers get increasingly concerned with creating the necessary opportunities for workplace happiness. Moreover, workplace satisfaction also results in better health, a better state of career and an overall sense of well-being.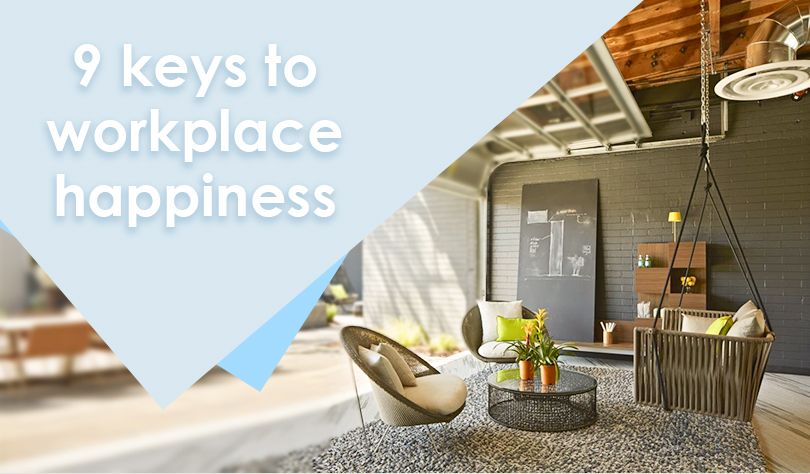 Are you one of those lucky ones who typically enjoy your work and lose the sense of time while immersed in the workplace challenges? Or, do you belong to the group of people who hardly crawl out of bed every morning and can't wait for Fridays? Workplace satisfaction depends on a number of specific factors, and our professional resume writer NYC will reveal them for you.
If your current job is mostly unfulfilling, it's time to try your luck and find a new employer. And a good, professionally crafted resume will give a head start in your search. The seasoned resume creator of Resumeperk.com will prepare a resume in line with your expectations. We will highlight the qualifications your target employers are looking for, and apply the catchy formatting to help you get noticed.
9 tips for being happy at work
Find your labor of love
Probably, the cornerstone for deriving workplace happiness is doing the job you love. It's hardly possible to be happy in the office when you dread your work and find it unengaging. If you've found yourself professionally frustrated, start by asking yourself if your job is something you love. Also note that you don't have to be super happy with each task assigned to you, since each role has its discouraging and stressful tasks. However, the general sense of fulfillment and satisfaction are a must to stay on track in the long run.
What if you aren't happy with your daily job? Grab some strategies for turning hobby into a job and making it profitable.
Strengthen workplace relationships
The quality of workplace interactions affects our sense of job satisfaction more than we think. Here's the statistic: 40% of respondents see their coworkers as the main reason why they love the company. We spend over 8 hours face-to-face with colleagues each day, so the quality of relationships impacts our quality of work and sense of happiness. Employers who realize the importance of relationships try to bond the team together through team building events, parties, and celebrations. However, a lot depends on you – being friendly, open, and positive will help you make friends and get on with coworkers better.
Working with a friend has its subtleties. Check them out here: http://resumeperk.com/blog/working-for-a-friend-pros-and-cons.
Never stop learning
Learning new things stimulates our brain, helps us develop professionally and opens doors for new opportunities in the future. So, take every opportunity to learn something new, be it new software, a communication training led by the company or simply staying updated with the new practices and trends in your field. If you're an entry-level employee, find an experienced mentor. This will help advance your career faster. Create a career plan to choose the learning opportunities in line with your long-term goals. Still skeptical about the importance of lifelong learning? Check out why personal development is important for work.
Ask for more freedom and independence
Micromanagement and the demanding boss hanging over the shoulder can discourage even the best professionals who love their job. The element of professional and creative freedom is an essential component of workplace happiness. Each employee would prefer working at their pace to deliver a great result rather than constantly report and seek guidance. If your boss doesn't give you much freedom and doesn't trust your experience, speak up about this issue and try to negotiate the change in the working process. More freedom will give you a confidence boost and make you feel happier.
Find your reason 'why'
To feel happy at work, you have to be deeply engaged in what you are doing. On the flip side, if you simply perform tasks that bring you neither fulfillment nor pride for getting things done efficiently, you won't achieve satisfaction. The engagement also activates the flow state of mind which allows you to be more productive and happy about what you do. If you love your job, engagement and interest will come naturally. Otherwise, you'll have to find personal meaning in work (for instance, providing for your loved kids is a good one), or to find something about it that you will enjoy.
Seek opportunities for professional growth
We tend to be more satisfied with the job that offers opportunities for professional development and career advancement. An option to work hard and get a reward might motivate us even more than monetary perks. So, it's better to choose a company that offers career development options. If there is no room for growth in your organization, try to talk to your supervisor and work out the individual career path that could allow you to grow as a professional and benefit the company even more.
Share your company's mission and values
If you are a non-smoker and believe that smoking is harmful to everyone, you'll unlikely feel comfortable working for British American Tobacco. If you care for the environmental issues, all the money in the world won't bring you happiness if you start working for a petroleum company. The key to happiness is to share the values of your employer and believe in the company's mission.  A clear understanding that you are doing something meaningful in this world and bring value to others will make you a happier person.
Are you fascinated by technology and want to make a difference to the way it works? Check out how to get a job at the leading tech company: http://resumeperk.com/blog/secrets-for-getting-a-job-at-apple-google-or-microsoft.
Maintain a healthy work-life balance
Feeling fulfilled with the nature of work, handling challenging tasks and growing professionally are all important for happiness at work. Yet, to work productively and stay inspired, you should live a healthy and balanced life outside of work. To improve your balance, try to reduce the number of working hours and get more things done in fewer hours. Sleeping well, exercising and taking care of your health will help you stay more productive in the office. And spending quality time with your loved ones, enjoying a hobby and volunteering in your spare time will help you feel more energized and fulfilled.
Find a company that values its employees
There are many things which you can do as an employee to increase your level of workplace happiness. Improving office relationships, learning new things from practice and finding meaning in your work are just a few of them. Yet, when it comes to work satisfaction, a lot of things depend on your employer. Does the company take care of increasing staff motivation, foster culture of cooperation, and give everyone room for professional advancement? If the answer is no, you might probably change an employer. It's possible to find a company that will let you feel happier in the office and allow to realize your potential.
Since we spend more than one third of each business day at work, it's essential to get hired by a company that takes care of employee happiness. A professionally created resume will help you make the right impression and beat the competition. Use best resume writer services if you are not sure that your resume presents your strengths well and is optimized for ATS. Our company offers help from well-trained resume experts, unlimited revisions and prices that will pleasantly surprise you.