Career Building Tips for New Graduates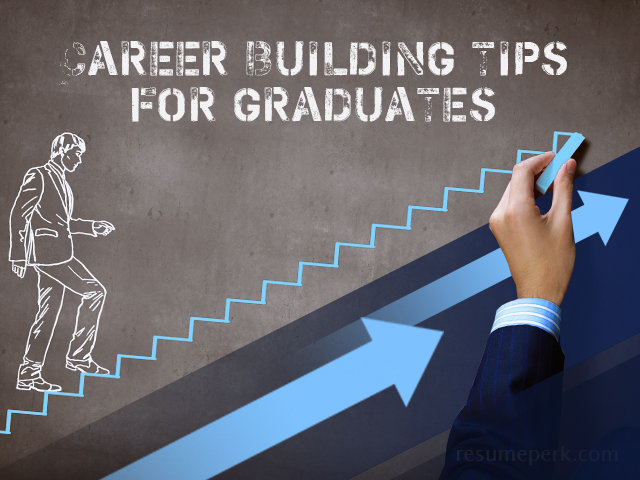 College and university graduates usually face a real challenge when trying to land their first job after graduation. Lack of professional experience, labor market conditions and the absence of job-hunting and self-presentation skills make finding a job for graduates more difficult than for experienced job-seekers. Moreover, the task of finding a job itself isn't the toughest one. You'll need to determine your career interests (maybe even create a career plan), get busy with writing of CV, and find the first employment, balancing your ambitions with what the employers have to offer.
You've worked really hard to obtain your BA or MA degree; however, it's only the first step towards your professional success. To make the right decisions at the beginning of your career, use our advice below. Today, we will share the secrets for faster job search, choosing the right company and developing an attitude that will help you drive your career.
Building a successful career: 21 tips
Part 1. Resume writing and job-hunting
Also in this section: 
Part #2. Attitude and mindfulness
You don't have a curriculum any longer
As you enter the workforce, the first and foremost thing you need to remember is that there won't be any ready solutions. You can outline a brief plan for where you'd like to be in 5 or 10 years from now, but you cannot know so far how exactly you're going to achieve it. So, one of the key things to do is to embrace the uncertainty. This will lower your stress level as you'll realize that you cannot know what career option is right for you. And the best thing you can do is to seize the opportunities as they arise if they feel right, and correct your plan of actions along the way.
The bad thing about it is you cannot predict anything. But the good thing about calming down and taking opportunities is that it can lead you to success you haven't dreamt of.
Don't see your current choice of career as lifelong one
In 10 years from now, your expectations from the job and career in general are likely to change. Moreover, having worked in your current career path for 4-5 years, you might realize that you'd rather do something different. This is completely okay and becomes more and more common for the job-seekers.
So, if you realize that you've made the wrong choice of career or reached the glass ceiling, don't be afraid to make the change. Remember that you are free to make it at any stage of your career if your current role is no longer fulfilling. Just keep in mind that a resume for career transition should be written differently.
If you ever decide to pursue a career change, this advice might come handy: http://resumeperk.com/blog/career-crisis-why-does-it-happen-and-what-to-do.
The definition of success for you is likely to change
Everyone is dreaming of achieving success; but what exactly does the word 'success' mean to you? You'd better realize it early on to make the right decisions at the beginning of your career. However, even then, be ready that your definition of success will change over years.
For instance, at the beginning of your career you might be money-driven and look for opportunities that will enable you to earn a decent salary in the future. In seven years or so, though, you might realize that a high paycheck cannot compensate for constant late hours and lack of time to spend with your family. Then, the success for you will be more about flexibility, not the salary. Or, you might have the need to live as an honest, compassionate person and stay true to your values. You need to determine what success means to you and then find the way to accomplish it, changing the route as your goals change.
Network and nurture interpersonal relationships
Your professional success is more dependant on who you know and your ability to get along with others well rather than on your knowledge and skills. Don't burn the bridges after graduation – stay connected with your peers and alumni professors. The same rule works in the office environment – when leaving the job, do so on the positive note, saving friendly relationships with former colleagues and boss. Remember who helped you along the way, and be grateful. You never know how and when you'll cross paths with these people in the future.
Develop an ability to set up and maintain professional connections. It's much easier to find a job when you have an insider who can put in a word for you. And you should also be ready to return a favor.
Get rid of self-doubt and insecurity
The fact that you've just graduated, have no experience and little idea about where to go next can give you a lot of self doubt. Abandon these negative thoughts if you want to succeed, as they have negative affect at your job-hunting and the way you act on the job. Self-doubt comes in many forms: you may believe that you're not good enough to apply for a competitive corporate job, or you're not experienced enough to take initiative in a new project or you're not smart enough to complete a complex task. Don't let your concerns stand behind you and your career success. Try affirmations or take trainings to boost your confidence so you could fully realize your potential.
One of the situations when you have to be free from doubts is asking for a promotion or a pay raise. Here's the best guide on how to ask for a pay rise.
Create a reasonable budget
The period between graduation and the first paycheck on your first job is the toughest financially. When you experience financial problems, it can make a negative impact on your job-searching process in general and even urge you to accept the first offer you receive even if it's not the best fit for your career.
To avoid getting stressed because of money, create a budget and reduce as many expenses as it's possible. Consider moving back in with your parents and helping them with housekeeping if they provide for you until you get hired. Get a part-time job that will not interfere with your job-seeking process. Check out how to make ends meet until you find a stable full-time job.
Choose your boss carefully
When landing the first job, choosing the right boss is as important as choosing the right company. The truth is that it's your boss who will have the major influence on your pleasure, enjoyment and career success in the organization. So, during an interview with a potential supervisor, observe the way they communicate with other employees in the office. Ask questions about their leadership style, approach to work or mentoring. Try to understand whether you feel comfortable around this person. If the potential boss seems arrogant, overly dominant, or criticizes the staff too much, you'll find it harder to learn and develop professionally under the poor supervision. In this case, it's better to turn down a job offer or to choose another department, if possible.
Be enthusiastic and initiative
Your first job will give you many opportunities to grow – as long as you're willing to learn. People tend to be more empathetic and patient to recent grads during the working process: you have the right to make mistakes, ask stupid questions and even your first failures won't be frowned upon. However, your coworkers will only help and support you if you show the right attitude: accept the tasks with enthusiasm, work hard and stay late with the rest of the team if necessary.
You are given more credit because of lack of experience, so use this credit wisely. Don't be afraid to make mistakes, take on the challenging tasks and show initiative in the office. Don't be afraid to ask for help if something goes wrong. The more hardworking and open you are, the more opportunities you'll discover.
If you haven't learnt the rules of office etiquette so far, check out how not to behave at the office party.
Remember that the education never ends
For a successful professional, the process of education doesn't stop on obtaining a degree. In fact, to succeed in the modern world, you'll need to learn during the entire life – attend trainings, seminars, learn new practices and software, or maybe get an advanced degree if it's necessary for your career. The world's most influential business leaders and entrepreneurs read books every day and are thrilled about the new and unexpected. That's why you'd better love learning new things in your field – this will give you a competitive edge over other professionals and help you build a successful career faster.
Don't limit yourself to only learning more in your industry. Reading classical literature and bestselling books outside of your area of expertise will expand your mental horizons and career prospects.
Stay positive
The time of job-seeking, as well as the first months on a job, is likely to be a huge challenge for you. However, even when things don't go the way you had expected, it's important to maintain positive and upbeat attitude. Don't give up in front of the unknown or tough situation – analyze what went wrong, correct your mistakes, and go on. Whether you are tired, stressed, or unmotivated, remember that these conditions are temporary and you'll reach your goals if you are persistent enough. Moreover, if you follow our advice above, you'll manage to find the first job faster and develop the right attitude to it and to your career in general.
Need some first-hand career motivational advice? Check the top career tips from women in business.
Editor's Choice: 
Graduate career building: the important takeaways To sum up the insights we've listed above: the key to a successful career is developing the right attitude. The right attitude towards your career leads to right actions at work which, in their turn, help you grow professionally faster and create a career you'll love.
What is your biggest challenge after the graduation?
Popular Posts: