Create My Resume: 10 Rules to Follow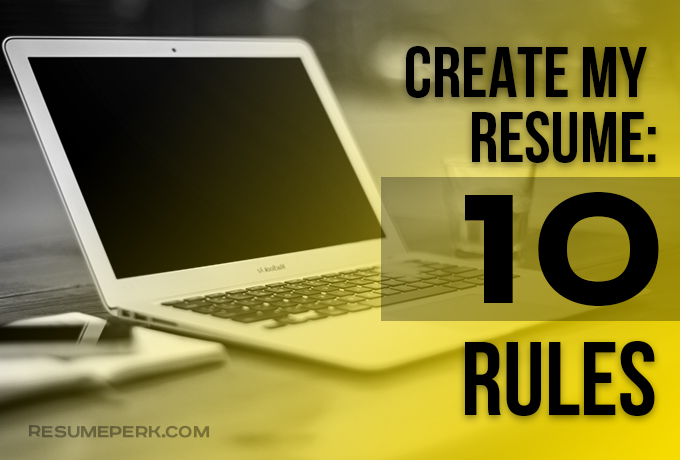 Your resume, undoubtedly, is the ticket to an interview. The visual formatting, structure and content all matter for getting your resume noticed and your candidacy considered. At any career level, your job-hunting journey starts with updating a resume. Therefore, you need to take writing your own one seriously as your future career success depends on it. Provided that the hiring manger will barely spend 6 seconds evaluating your resume, your time to impress them is limited.
If you are confused by the question "How do I write my resume?" and puzzle over dozens and hundreds of resume tips, we're here to relieve you from resume worries. Your career situation is unique just like you are, and our resume writers service has the solutions for all of them. A recent graduate with no experience, career change, pursuing a leadership role, military transition – we know how to sell your career history to a prospective employer. Feel that you might benefit from some help to make online resume? Let us know to get your resume done by an experienced writer and ease your job hunting.
Also in this section:
Make me a resume: 10 rules you should follow
If you've ever written a resume, you know that it's easy to get confused by lots of resume advice in the web. Nevertheless, there are golden, time-proven rules of resume writing among them which significantly increase your chances of being noticed. Whether you stay on a traditional resume or decide to use a new resume kind, using these rules will put you one step ahead of the competition. So, if you are in the middle of writing a resume right now, read below:
Always include relevant keywords
A lion's share of big and even mid-sized companies use ATS these days. What does it mean for you? If your resume doesn't contain specific words and phrases relevant for the role, the software will weed out your resume even before a human gets their eye on it, and all your writing efforts will come to nothing.
Briefly speaking, skills and responsibilities required for the role are usually keywords. By using phrases from the job description in your resume, you'll increase your chances for passing an automated selection. For more information on resume keywording, check our guidance here: http://resumeperk.com/blog/why-keywords-are-so-important-for-successful-resume.
Forget the one-page rule
Some resume resources keep repeating that your resume has to be one page in length. This is nonsense, as the length of your resume should be dictated by your resume content. Trying to fit 20 years of experience and an impressive technical skill set into one page will only damage both the document's readability and your chances for the job as you'll probably cut off on some important detail. Any resume length up to 3 pages is acceptable – provided that you have a lot of accomplishments and job-relevant details. A resume which is over 4 pages is called a CV and is only used for academia and top management roles.
Name the resume file correctly
Hiring managers get dozens of resume files, so naming your document as 'resume' or '123' doesn't help them find your document when it's needed. The best options for labeling a resume file are 'FirstName_LastName_resume.doc' or 'FirstName_LastName_Senior_Accountant.doc'.
Make it organized and easy to read
Visual appearance matters, as it tempts the hiring manager to spend more time on your resume. To make a document readable, stay on the font size between 10 and 12pts and use the same font throughout the document. Consider capitalizing section headings and company names (or job titles). As you create your resume, make sure to leave a plenty of white space between sections and lines – this simple trick will let your resume 'breathe'.
The main formatting rule is consistency. Whatever formatting you choose to use, stick to it throughout the document. Use a resume template if formatting seems quite a challenge.
Curious how to format your resume best? See how to do it right: http://resumeperk.com/blog/significant-tips-how-to-format-your-resume.
Include accomplishment statements with figures
To receive a desired interview call, you need to convince the hiring manager that you have a previous successful track record. The best way to do this is through including your accomplishments with figures. Don't have any accomplishments? Then, you probably just don't see your accomplishments as something significant. If you successfully marketed a new product, helped improve relationships with clients, optimized working process or increased sales, all this deserves being mentioned on your resume. Include context to strengthen your achievements – instead of mentioning that you 'met sales target every months', try this: 'Successfully exceeded sales targets by 20% by implementing innovative sales techniques'. Taking advantage of numbers and context makes your achievements look solid.
Use the Harvard format
Some resume experts recommend that you present your job history in the form of bulleted lists. It's true that bullets are easier to read, but in fact, it's getting harder to distinguish between your regular set of duties and your accomplishments.
If you have had a big number of accomplishments from your previous jobs, your best option is using the Harvard format. According to it, your responsibilities go in paragraph after the job title and company name, and achievements are in bulleted form. Therefore, you guide the reader to pay attention to your past successes in the first place.
Include context wherever possible
For a prospective employer, including context is highly important. The truth is, even detailed job descriptions and huge accomplishments is not enough. The same job title in different companies or industries often implies a whole different set of responsibilities, let alone the overseas experience. To make sure you're on the same page with the hiring manager, you can specify the industry (if the company isn't a well-known giant such as Google), company size, city and country and the number of directs you had. If you traveled and operated in multiple cities, specify that as well.
For instance, if the company is seeking to hire a sales representative with an international experience, a sales rep with background in small business only might not be the best candidate. Being very specific about company details allow you to immediately come across as the best fit.
Don't include all your work experience
Unlike the CV, your resume shouldn't contain your entire work history. It is a marketing document aimed at presenting that you've got what it takes to excel at the job, and therefore it needs to be targeted. You need to leave off your irrelevant jobs (and even irrelevant responsibilities from your past jobs) and only focus on what the prospective employer might benefit from. If you cannot decide what to include and what to leave off, consult a professional service to create resume.
Targeted resumes generate more responses and more interview calls than generic ones which just document your career history, skills and accomplishments.
Create a strong LinkedIn profile
Statistics show that nearly 90% of employers will look up for your online profiles. If they don't like what they see out there in the internet, they'll never call.
As you create a resume for me, take care of the strong LinkedIn profile as well. Fill out all profile section and add a professional picture. Make sure that your online profile tells the same story as your resume does, and has additional details on your career biography. Moreover, a complete LinkedIn profile makes you more visible for recruiters, allowing them to find and hire you through the platform directly. If you don't know how to make your LinkedIn impressive, check our expert tips.
All of your social media profiles require special attention as well. Make sure to delete all party pictures or inappropriate comments as they destroy your professional image.
Tell the story
A great resume is about positioning and targeting. You need to showcase your personal brand (i.e. what you offer to the prospective employer) and focus on the needs of the employer at the same time. The best way to achieve this is to see your resume as a storytelling document. Your resume needs to expand on your educational background, career history and the skills, therefore explaining what makes you a perfect candidate for the role. Best resumes read like a story and don't leave the reader wondering why you decided to apply for the job as it's obvious that you have everything what it takes for the role.
If your resume doesn't read like a holistic story (i.e. you got a degree in banking, then worked in sales and now are applying for a journalism role), then you probably need to look at it under different angle.
If your resume doesn't shine, rely on professional help
Due to a severe competition, your resume needs to be perfect to land you a job. If your attempts to write a resume on your own don't lead to success and you still don't like the way your resume looks (or it doesn't bring you results), it's a sign that you might need professional assistance.
Our writing company staffs the best writers who know the ingredients of the successful resume. You don't have to spend hours and days trying to figure out what went wrong with your resume. Just contact us and say, "Make my resume for me!" fill out a questionnaire and our writer will work on your resume until you're satisfied with it. For more information, see our services and prices.
Popular Posts:
Keep in touch!
Subscribe now and receive information about our services.
Receive free resume tips from our experts every week;

Find out more how to succeed on an interview;

How to define your advantages and disadvantages;

How to choose effective resume writing service;

How to increase efficiency of your job search.
SUBSCRIBE NOW