Free Resume Templates [Google Docs + Alternatives]
Templates can significantly simplify your life and career path. What you require is to notice the suitable one and leverage it wisely. Our assistants have analyzed contemporary trends and employers' expectations concerning resumes. Pick the ideas precisely for your situation and learn helpful recommendations on using them. We have summarized all the valuable thoughts on this topic here.
PSD and Google Docs resume templates for your biggest plans
The online world offers a vast diversity of helpful materials for users, and samples are among the popular queries. Indeed, it is possible to find even a free resume or CV template. It's effortless to get access to samples in various formats: Microsoft Word, PDF, Google Docs, etc.
A sophisticated style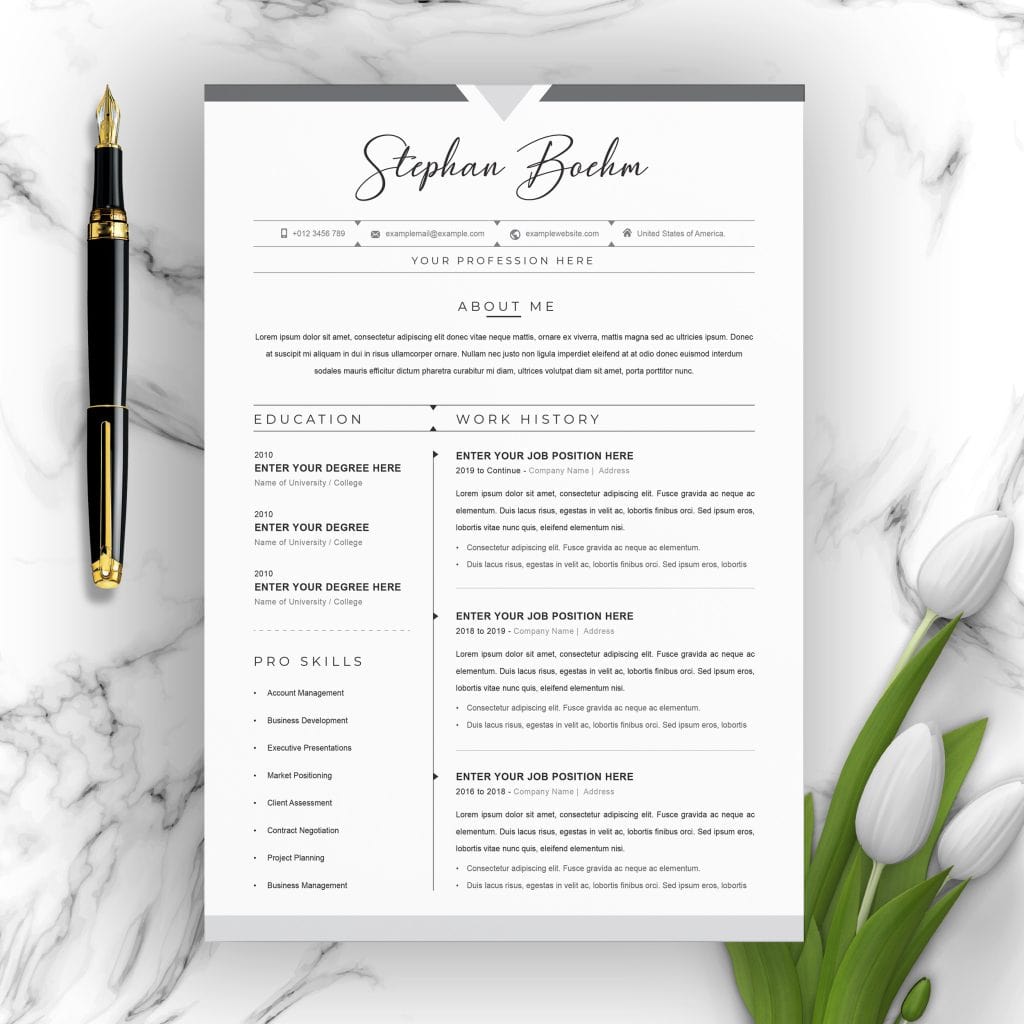 Moments we have liked about it
This document looks both minimalistic and beautiful. An elegant font attracts the reader's attention to the name and sets the tone for the whole document.
With a focus on skills, the layout is well-considered. The text is concisely and logically distributed on the page, while the template has enough white space. All this creates an atmosphere of harmony and lightness.
Do you like the style of this document? We can do even better. Place your order and enjoy the result!
A cutting-edge style for serious people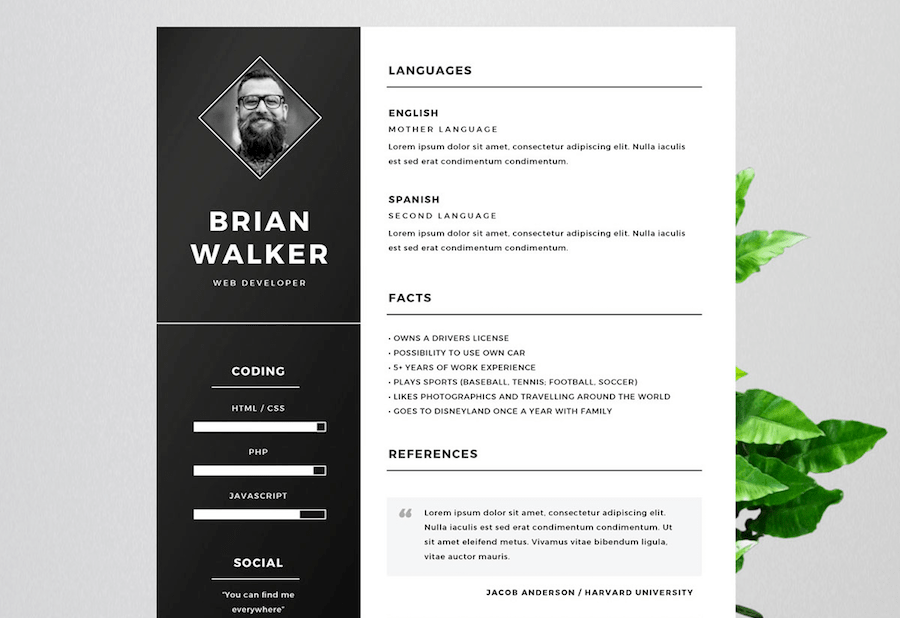 What we've appreciated
The contrast of colors looks solid. The strict classical design focuses on the content and does not distract the reader's attention to unnecessary details.
Short and to the point. The bar chart shows visually the applicant's skills. We would definitely pay attention to such a file if we're searching for a web developer.
Stylish black and yellow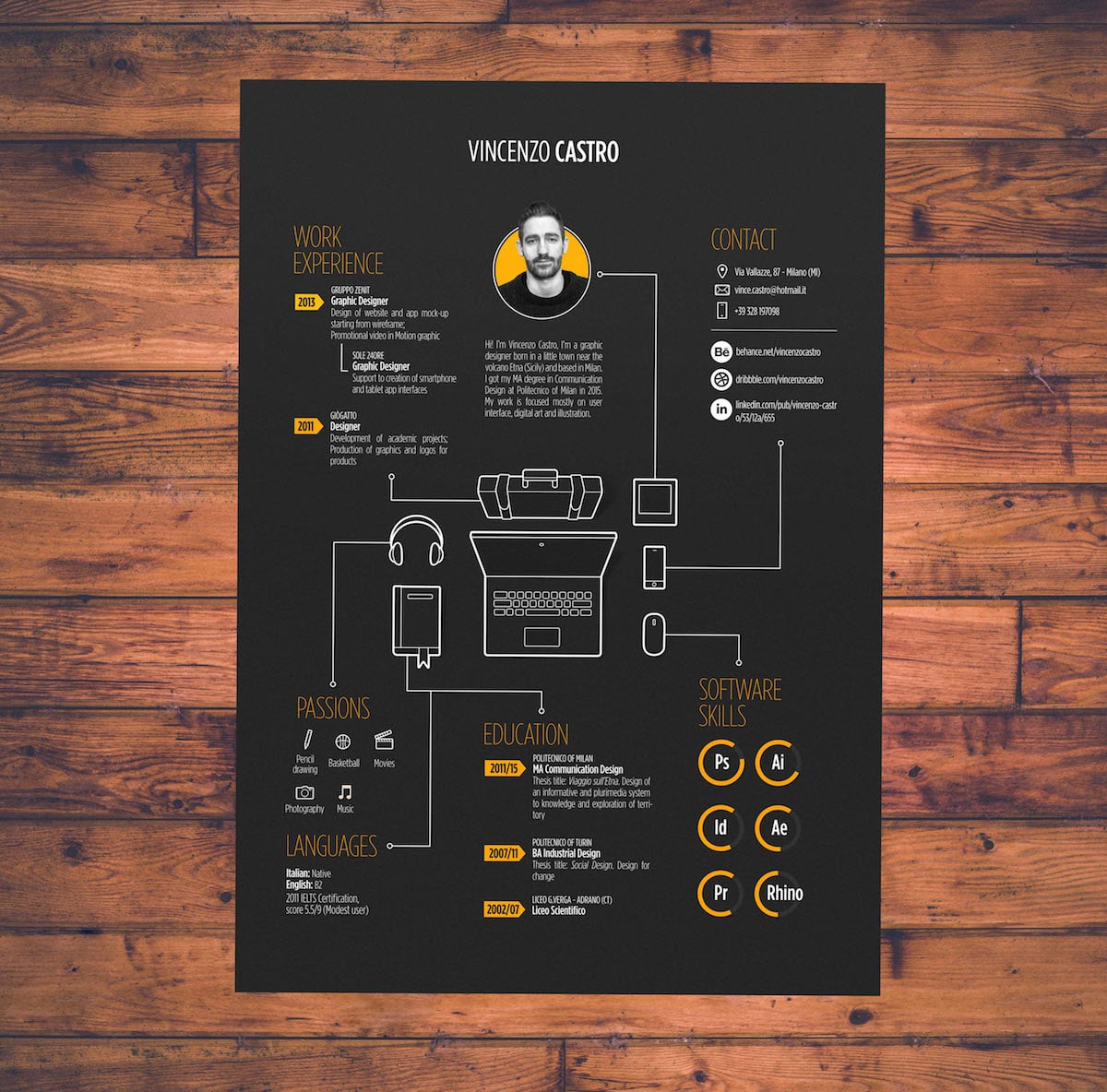 The yellow and black are not only for National Geographic. Look, how awesome it presents the applicant's personality.
Our opinion
It's a perfect visualization of skills and experiences. We have liked the fresh idea to make the analogy between the items of the workplace and the applicant's characteristics. Such nonstandard inclusion of objects in the resume design is highly appreciated by hiring managers.
Send us your files, and our team will craft an even better document!
A nice idea for those who are in love with illustrations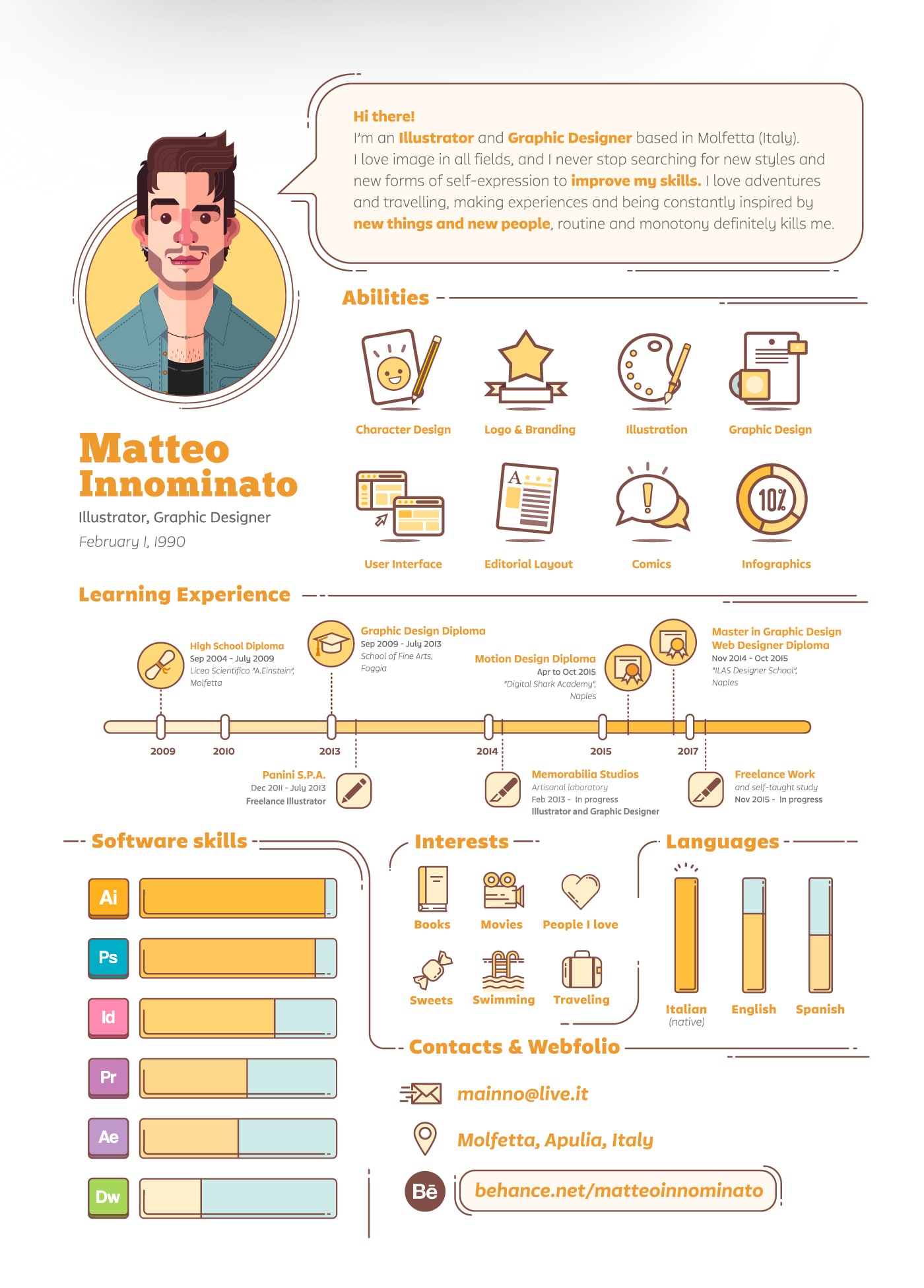 What is special about this style?
We admire how these little pictures can convey messages. Everything is getting clear at first sight.
No dull popular icons, only evocative images. This template can come in handy for someone who is aimed to receive design jobs, for instance.
A spot-on resume for the photographer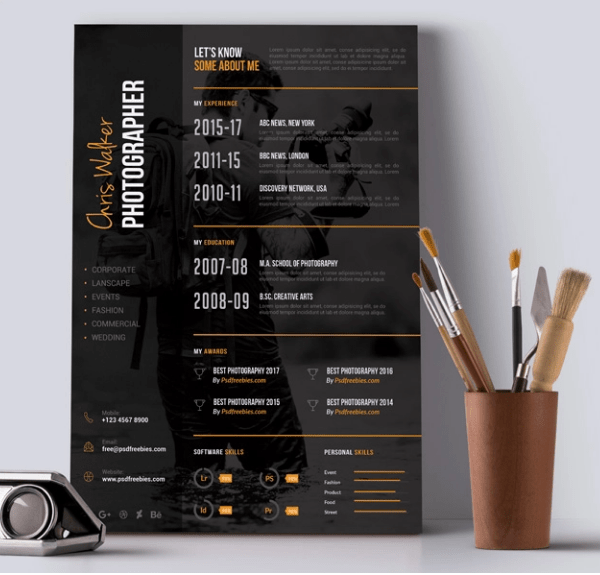 What is its awesome idea?
The theme of your profession can be a good basis for the resume, literally and figuratively. Take one of your best photographs as the background of the resume.
Since photo art implies creativity, unusual decisions are welcomed. Write the name and surname vertically, and you'll definitely draw attention to your personality.
Conventional template

Who tends to like it
A classical Google Docs resume template is a good idea for spheres where a conservative approach is appreciated. Not every hiring manager expects to see infographics or awesome pictures. For instance, governmental organizations tend to adhere to strict formats of CV and resumes.
Do not break their traditions and opt for the simplest variants. By doing so, you'll show that you're in tune with their culture.
A bright idea for a professional athlete

Expert opinion
Minimum words and maximum figures: it is a good formula for writing a resume in the sports sphere. We have liked the dynamic tone of this variant; it ensures a sort of wow effect. The applicant's pose looks active and compelling. Have you noticed that the focus is on professional achievements? It is a good tactic in this situation.
In case you require something more than a good template
We'd like to emphasize that our team can establish a similar and even much better document. If you are not lucky to find a suitable free Google Docs resume, do not get upset. Contact our managers on the live chat, we will build it for you from scratch!
What is the sense of resume templates for Google Docs
When working on this blog post, we were aimed to show the part of available variants and contemporary trends. We can say from experience that the template gallery is helpful in various situations. Apart from the practical usage, templates bring other benefits too.
✓ Inspiration
Actually, you must not copy the structure of the resume and all its elements (resume header, high school education, design, work history, color scheme, etc.). We hope that even this short collection of templates could spark a thought.
✓ An understanding of how an exemplary resume should be
You could read hundreds of recommendations on how to craft a resume and CV and still lack an understanding of how it all works. Yet one successful example can show you all the nuances visually.
How to discover a good Google Docs resume template in 3 steps
These recommendations can come in handy for those who rely on resume and CV templates.
1. Use one of the official Google Docs variants
The most comfortable way is to open the template gallery and pick one of its variants. Please, note that access to a Google Drive account is essential. Make sure you have the correct settings. Thus, the display language must be the same as the language of your future file.

2. Decide on what kind of file you require and ask Google
As a rule, templates are categorized on websites in accordance with various parameters:
✓ expert field,
✓ the level of your expertise,
✓ personality traits,
✓ individual preferences,
✓ format, etc.
Analyze the goals and realize what kind of a document you require. By doing so, you will optimize your search, save time, and receive precise results.
Specify your search, add details. For instance, "resume template for designer" will bring you better results than a simple "resume template."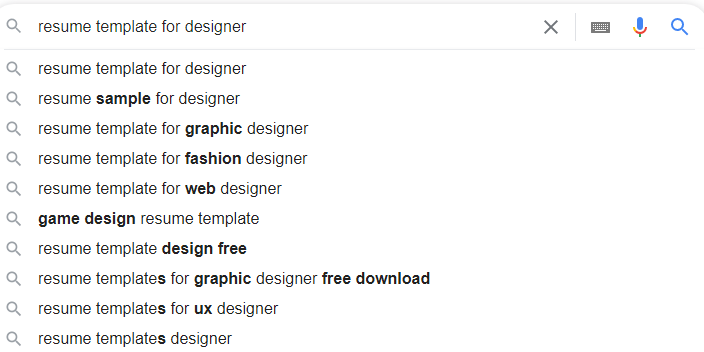 3. Search for several variants
Do not stop on one example, try to find two or more files, and take the best from them. The most suitable decisions often arise at the intersection of some successful ideas. Besides, having combined a couple or more cases, you can come up with your unique idea. Cover letter templates can also come in handy.
What if we say that you can stop the search of your google doc resume templates right now? It is possible with our gurus — learn the details on the chat.
Secrets of using a job resume template
Not all online documents are equally reliable; so you require some rules for working with them. It all begins with attentiveness and logic.
1. Make sure you have replaced the initial text
We had funny cases in our expert practice. For instance, the applicant left "Joe Jobseeker" in several resume sections (of course, it was not his name, just one of the standard wordings). Be attentive when you copy the information from your documents.
2. Adapt the structure of the template to your situation
The structure must focus on the strongest parts of the candidate. For instance, you possess awesome skills for the future profession and want to highlight them. Let's compare these two variants.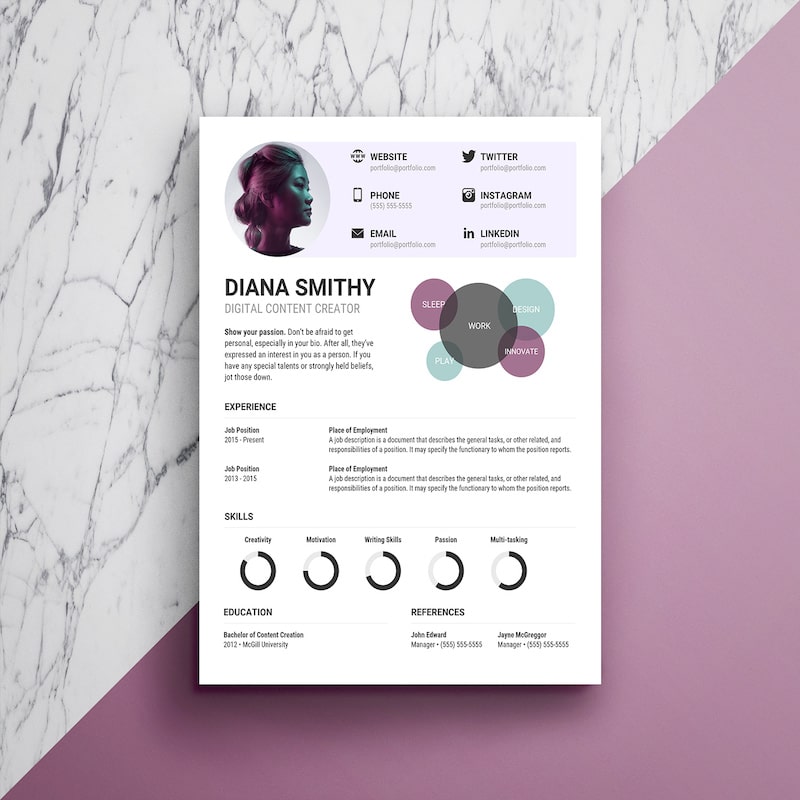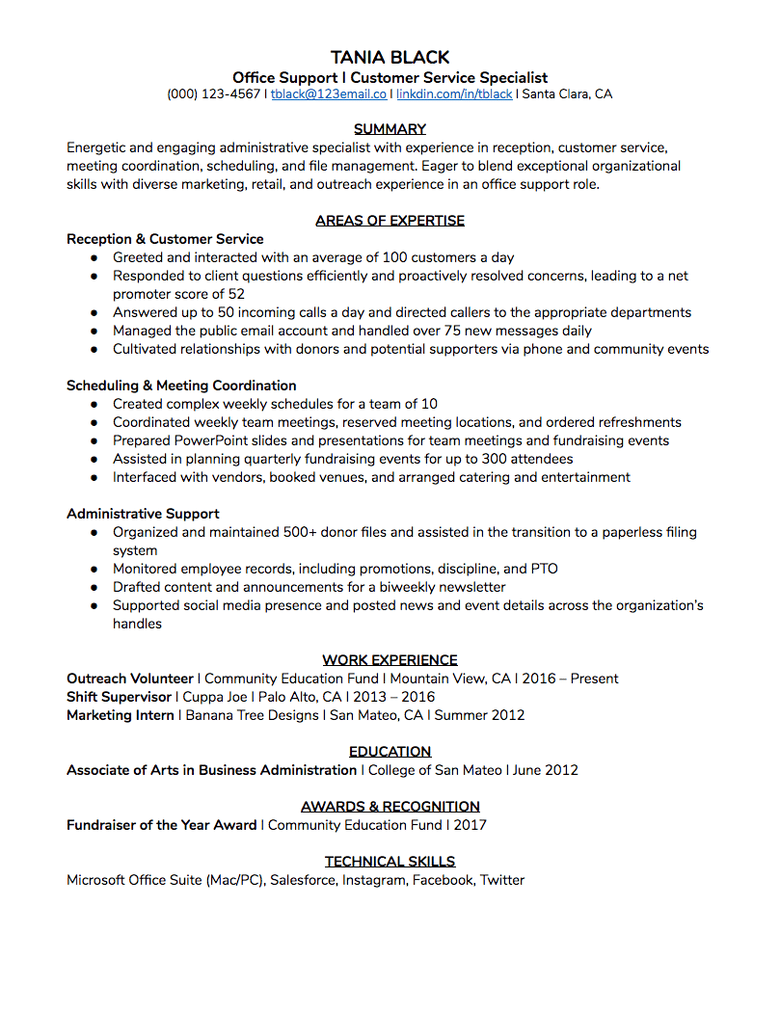 Obviously, the skills section looks interesting in the first variant, while it's difficult to notice it at once in the second example. An infographic containing circles catches the reader's eye in an instant.
Professional tip: When editing documents, do not ignore visual objects. Resume in Google Docs is not restricted to words only.
3. Is your resume available for readers?
The easiest way is to share the document via the link. Job seekers can further post this link on their social media profile, send it on demand to recruiters, and apply it for other purposes related to career promotion. Make sure you have made it; otherwise, a hiring manager will not be able to read it.
Helpful hint: Save your resume on your gadget (laptop, smartphone, PC). By doing so, you will receive access to your files regardless of the Internet connection.
A resume template for Google format: Why is it so popular?
The fashion in the sphere of career documents highlights the popularity of PDF formats, yet Google format is also widely used by job seekers. The reason is that many people have Google accounts and they tend to use its products.
Advantages of the Google Docs template:
✓ free,
✓ easy to use,
✓ editable.
The idea to download a template for Google Docs resume can be a good solution in some situations.
✓ It is just a formality
For instance, you are one of those people who are lucky to be noticed by a good company. Say, the future employer has already appreciated examples of your work, and it is enough for him/her to invite you to their team. In this case, just open Google docs, pick the template, and fill in the data.
✓ You require career documents right here right now
It happens that your dream job takes you by surprise. For instance, you encounter an attractive job posting, yet you have no resume yet. Do not postpone the job application process. Grab this lucky chance, fill in the template, and be among the first ones.
✓ Your future position does not imply creativity
Not all jobs require a vivid imagination or design skills. If yours is mostly about analytical or technical skills, the employer does not expect to see a one-of-a-kind resume. So, just find a good template and accurately list your competencies.
Resume expert opinion: The modern world is full of standards and samples, meantime, the ability to think out of the box is getting extremely valuable. We advise you to make your contribution to the Google Docs resume template. At least if you strive to leave a good impression. You are unique, with all your talents and accomplishments. The same is about your career documents! And our authors and designers are here to assist you with them.
Pitfalls of using Google Docs Resume Templates
At first sight, it seems like a good plan to find, download, and utilize the template for your career document. Yet the practice shows that one must be careful with such ideas.
The thing is, the opportunities of the template are restricted by the format and layout. The usual template gallery contains documents that differ in fonts and structures. That is why files have the same names as fonts (Coral Google Docs resume, Serif, Swiss Google Docs resume, etc.).
Our career experts claim that it is challenging to find the template precisely for one individual case. Besides, good templates often cost money. What is more significant, they often appear on websites devoted to job search. HR managers can recognize them. If you don't want to seem like a person without imagination and a personal point of view, do not misuse popular templates.
What is a good alternative to the free resume template?
If you've been surfing the Internet to find suitable resume examples, you must have already encountered a resume builder. It's a sort of online instrument helping you to create the document step-by-step. Yet, most free versions are difficult to edit. It is because the structure is generated by the particular algorithm. For instance, it is impossible to invert the accomplishments and experience section.
Our experts offer a better way to create a bright resume and not spend several days on it. Order our assistance — awesome results are guaranteed!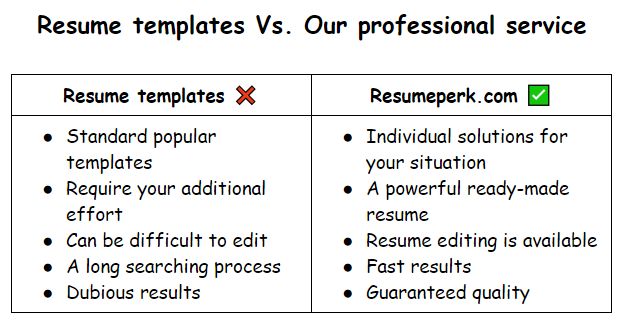 A well-thought-out resume guides you to success. Our team has already prepared a bunch of powerful designs for career changers, junior specialists, mature professionals, etc. Today you have an opportunity to see your best ever resume too! Do not miss this chance to expand your career horizons— chat with us.