Get A New Job with These 7 Perfect Resume 2019 Tips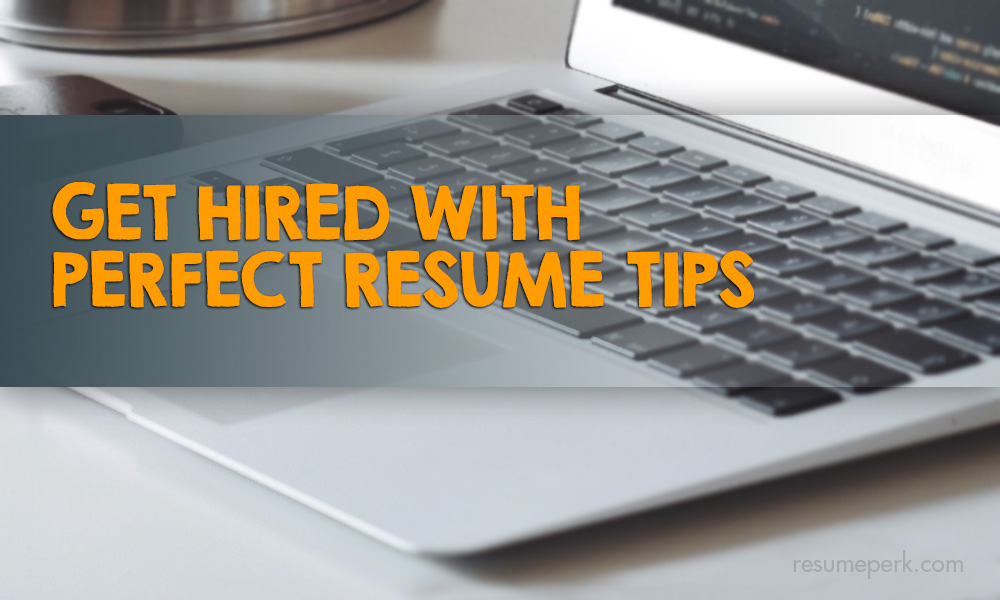 The rules of the game in recruitment and hiring change rapidly. With the availability of diverse technological solutions and channels of communication, companies try out the new approaches to attract the best talent. And of course this is going to affect you as a job-seeker. If you plan on quitting your hatred job, making a cardinal career change or taking on more responsibility, you should consider the modern hiring trends.
These hiring trends also shape the way an interview-winning resume should look. And if you are absorbed by your career and have no time to create a resume by yourself, the experts of Resumeperk.com will gladly assist. We provide best-in-class resume writing, editing, and consulting services. Our highly-qualified team of writers can complete the project of any complexity, from college graduate cover letter to professors curriculum vitae. With the awareness of best resume writing practices and modern hiring process, we know how to make your resume truly outstanding. Now, let's consider the major changes in hiring in 2019.
Free resume advice to help: 5 key recruiting trends in 2019
Labor market goes candidate-driven
The biggest news for a 2019 job market is that it has finally become talent-driven. In other words, the most talented and skilled professionals can afford to choose among many employers. This makes the companies concerned with retaining their top talent and attracting the highly-qualified staff.
Employer branding continues gaining popularity
Millennial employees pay close attention to the image and values of the company they intend to work for, and use many ways to refuse job offer if the company happens to have many negative reviews. Under these circumstances, employers invest in building an employer brand for candidates and managing their reputation.
Job search and application become mobile
Google pointed out at the growing percentage of mobile users who use their smartphones to browse jobs and fill out application forms. The top employers are responding to this trend, making their websites and online application forms mobile-friendly and advertising the most lucrative jobs in social media.
Commonplace use of technology for talent search
Every modern job-seeker has heard of applicant tracking systems that scan candidates' resumes to find the most relevant ones. However, the technology has gone far beyond that. Now, companies advertise jobs to target audience and start using AI to pick the right candidates.
Social recruiting gains importance
Social recruiting assumes using Facebook, LinkedIn (and other social media) and career websites for hiring. It isn't limited to posting a job ad, though – employers search for potential candidates and build relationships with them to attract and retain the top talent.
Curious to know how these trends affect your chances to get hired? Continue reading.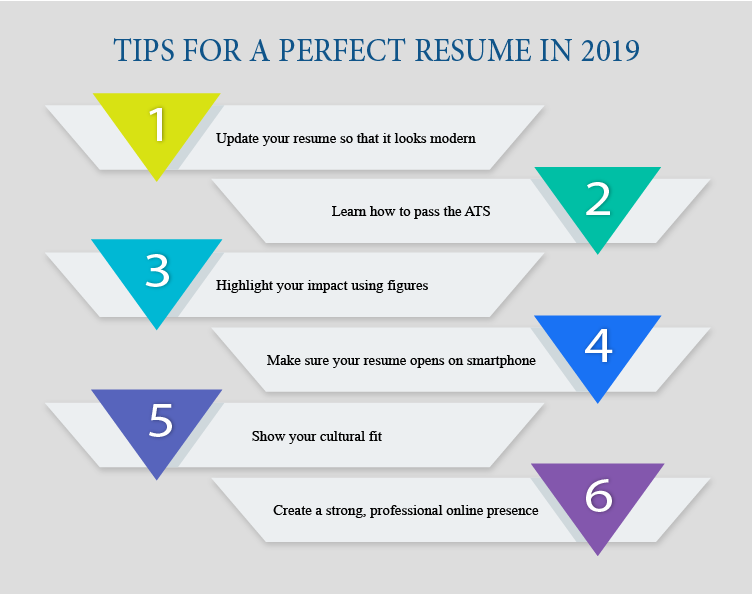 Professional resume writing trends in 2019
Keep the resume up-to-dated
A successful resume always reflects the present state of things. It should contain all your recently obtained certifications and skills learned. You also need to put your current or the most relevant job in focus. At the same time, remove the experiences, skills and credentials which no longer matter: the jobs you had over 10 years ago, your high school awards or outdated skills. Not only it will make your resume shorter, but also increase its relevance for the job you're aiming for.
Befriend the resume screening software
The famous ATS that reads your resume before the hiring manager does is now used by nearly every employer – and this fact cannot be ignored. If you don't work hard on resume optimization, you'll be invisible for the top employers.

2.1 Use words and phrases from the job posting – the more keywords you use, the higher ATS will rate your resume;
2.2 Don't put important information in headers or footers – the software cannot read these sections;
2.3 Pick standard names for section headings – don't use creative headlines such as 'Career overview' or 'Academic qualifications' to ensure that your resume will be screened correctly. Read more on the rules of resume keywording here: http://resumeperk.com/blog/robots-reading-your-resume-curious-facts-on-resume-software.

Give the evidence of your contribution
An experienced professional's resume should be focused on results and outcomes, not the routine job that everyone else can do. As you compete with dozens of other professionals, it's the measureable results in your resume that are your key selling points. And under any circumstances should you copy and paste a standard job description from the internet!
How many people you trained, how much time saved for the client, the money you earned for the company – all these accomplishments should go with figures. Use the 'problem-action-result' approach in writing – outline the problem you've solved for an employer and the results.
Make sure your resume opens on all devices
An average user spends more time on their smartphones, and recruiters aren't the exception. Some HR managers review candidates from their devices as well. So, as you create eye-catching resume, don't forget that it should open correctly on a smartphone.
Tell a story
The experienced hiring managers say that the best resumes read like a holistic story. In such resumes, education, skills, career trajectory and even hobbies clearly explain who you are, what you can do for the company and what you excel at. On the contrary, if you have irrelevant degree and changed a few jobs in different fields, it might be confusing to understand what you have to offer the employer. If your career history looks scattered, find a theme that you will highlight throughout the resume. If you're not good at storytelling, you might benefit from our copywriting hints: http://resumeperk.com/blog/content-writing-tips-for-beginners.
Showing your cultural fit is one of key CV trends 2019
Cultural fit means understanding and sharing the style of work, values and mission of the prospective employer. Top American employers pay increasing attention to the cultural fit of job-seekers and prefer hiring the right type of person rather than someone who has the right set of skills. The simplest way to subtly highlight that cultural fit is by using the same language that is used in a job posting and the company's website.
If you want to adapt your resume for a particular job, it's something that our copywriters can do. Our resume corrector can add the needed keywords, fix errors and write a resume which is closely customized for the position.
Create a strong online presence
Building a strong social media presence is something more than removing inappropriate photos and unprofessional comments. To impress the target employer when they first Google you, keep the online profiles active and professional. Share the information on the industry news, your thoughts or case studies. You can also post the pictures from work, professional events and travelling pictures. The key thing here is separating business from personal things – make your personal updates visible for a group of friends only or create a separate personal account.
As you see, it becomes pretty challenging to build an attractive interview-winning resume in 2019. However, if you stay persistent and follow our advice above, you'll manage to make your resume better than other candidates'. And when you start getting interview calls, you'll need some guidance on picking the appropriate job interview outfits that will make the hiring person remember you.
An expert resume writer is your guide to get hired
Want to receive a perfect resume without any effort? Then, consider getting some assistance from an English resume consultant. Our pro helpers can build a competitive resume for you and format it to today's standards. Already have a resume but feel that it would benefit from a bit of makeover? We can rewrite and proofread it at the cheapest price. Worry no more – your resume and career are in safe hands. Resumeperk com also offers an attractive discount program for first-time clients – get your resume done with 20% off. Interested? Contact our service via chat or go to packages and prices.