How to Deal with Anxiety at Work?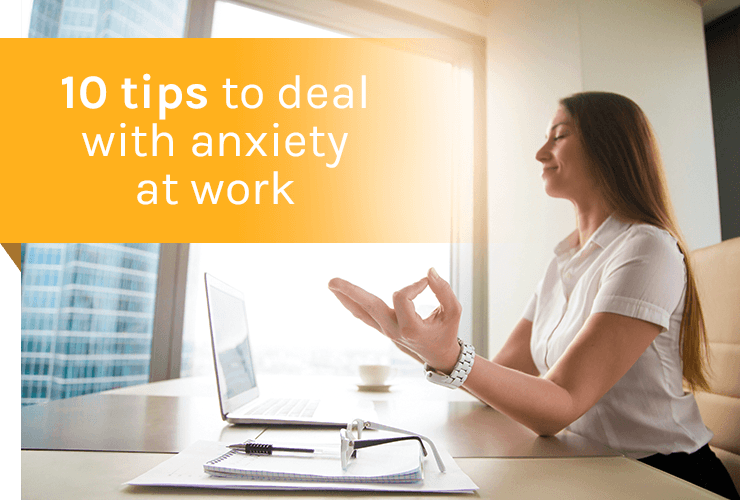 Americans massively experience anxiety because of coronavirus pandemic, and it can't help but affect their mental state at work. But this isn't the only factor causing severe workplace stress. Professionals report that pressing deadlines and difficult coworkers are the main reasons of anxiety. In its turn, anxiety and cumulated stress at work affects other areas of life negatively and deteriorates an overall quality of life.
The survey revealed that 56% of workers admit that their productivity suffers because of workplace anxiety. If you find it harder than usual to manage your job and combat the pressure and anxiety, remember that it's possible to control your mental state. Today, we've prepared a list of practices and approaches to help you cope with excessive stress and increase your efficiency.
Think that it's time for a new job?
If you've been laid off or simply feel unfulfilled in your current job, remember that the successful job search starts with a good resume. The professional resume writers of Resumeperk.com can create a brand-new custom resume that reflects your strengths and career goals. Your resume creator will put your accomplishments in focus, add relevant keywords and use a strong summary to grab the hiring manager's attention.
We offer timely delivery and unlimited revisions until you're satisfied. Moreover, our charges won't hurt your wallet – check our prices for resume assistance.
How to handle anxiety at work?
1. Don't inhibit your anxiety
If the anxiety bothers you and distracts from doing your job, you might want to suppress it. Yet, it only leads to cumulated stress and increased anxiety levels in the long run. What you should do is to admit that your anxiety is a normal reaction to problems at work, coronavirus panic or other disturbing situation. Accept your feelings and see them as a signal showing that you're not comfortable with a certain situation and this should be improved. As you listen to your anxiety and start acting on it, its intensity will go down and you'll inevitably feel better. If you're not sure what exactly makes you feel bad, take a look at the main reasons of stress at work.
2. Confront the causes of your anxiety
Once you've identified what freaks you out at work it's time to take action and confront your unproductive fears. For example, you may find out that it's speaking up your ideas during the video conference stresses you. In this case, thinking the suggestions through before the meeting and rehearsing the speech in front of the mirror might help. Or maybe, you've been recently promoted to a management position and you're not sure that you are doing everything right. To beat this kind of stress, try signing up for an online course in management and basics of leadership. As you confront your anxiety, it will slowly fade away.
3. Create a personal wellness plan – and stick to it
Whatever the reasons of your anxiety are, implement healthy lifestyle practices. This includes healthy nutrition, adequate sleep, and regular exercising. Yes, these methods don't directly influence the causes of anxiety. However, they increase your resilience and energy reserves of your body, helping you cope with the stressful conditions, find the appropriate solution and stay healthy. Good wellness habits make you more stress-resistant in the future and minimize the risks of anxiety disorders. Don't search for ready solutions. Find out how much sleep and exercise your body needs in order to keep productive and energized.
4. Get up from the computer and take a break
Sitting in front of the screen for the entire day and stressing over snowballing work tasks isn't the healthiest approach to work. Experts recommend that you take regular breaks, and checking your iPhone doesn't count as a break. Put away the technology and use this break to take a walk, have a cup of tea, or talk to your coworker. It's possible even during social distancing – take a walk outside in the park or the back yard. Distracting from the flow of tasks helps you refresh your mind and look at the working situations under a different angle. Let alone the fact that regular breaks minimize stress levels.
Does the job cause too much anxiety? Check the other signs it's time to look for a new job: http://resumeperk.com/blog/10-signs-its-time-to-look-for-a-new-job.
5. Be present at the moment
Oftentimes, when we feel anxious or worried, we overthink the past or freak what is yet to happen. For instance, you are anxious about the tomorrow's meeting where you'll have to speak in front of the senior managers, and you are afraid to forget something or make the wrong impression. To beat this sort of anxiety, focus on the present by doing breathing exercises. Breathing and counting for a few minutes refocuses you and distracts your attention away from the situation that bothers you. It's also helpful to practice mindfulness. Examine your fears and anxiety and analyze how they make you feel and think. 
6. Talk it out
If you often feel anxious, it's easy to get stuck in this condition and in this case, your stress and pressure will only grow. To break this circle, try talking to someone about the way you feel. Depending on the situation that causes your panic, it may be a trusted colleague, a friend, or even a therapist if you experience severe levels of stress. When you share your feelings and fears with someone, you literally throw light on them and stop feeling ashamed of your insecurities. And this gives you more power to overcome your anxieties. Just be sure to avoid bringing up sensitive and personal subjects when sharing your emotions with a coworker – mind the basic office etiquette.
7. Stay away from caffeine and alcohol
When you feel uneasy and worried, stimulating drinks aren't your best friends. Although they might give you an energy boost at once, they tend to increase the heart rate and increase your anxiety in the long run. Opt for healthier drinks, such as natural teas, juices, and smoothies. They don't give you an immediate energy boost, but enrich your body with helpful nutrients. And some teas, for example, mint tea, actually relieve the stress and tension.
The same works for junk food – it's rich in calories and might give you a quick energy boost because of that. But if you consume it regularly, it will have a negative effect on your mental state, let alone your body.
8. Improve your relationships with others
One of the most popular triggers for workplace anxiety is negative relations with others: a conflict with colleague, misunderstanding with your boss or angry clients. But it works in the opposite direction as well – when we feel anxious, our relationships with people at work start deteriorating. So, here are a few tips for managing your relationships with others when you're stressed. First, avoid negative and pessimistic people. If it's not possible to avoid them whatsoever, minimize your interactions and deal with them with a positive perspective. Be friendly and avoid spreading the negative mood around. If you need some help, be sure to ask for it. Maintaining positive relationships with people around you will distract you from the anxious thoughts.
Struggle to get on with your colleagues? These tips will help: http://resumeperk.com/blog/how-to-be-on-good-terms-with-colleagues.
9. Learn to delegate and say 'no'
Do you feel constant tension at work because of your need to please everyone? Then, to handle the inevitable anxiety, you need to start setting boundaries. Define for yourself what you're capable of doing without feeling pushed beyond your limits. Does the boss add up the tasks of your colleague who is on a maternity leave to your usual workload? Then, communicate that you need more time to get everything done or you need to have your tasks postponed. If you're a manager yourself, delegate the tasks confidently and look what your subordinates come up with rather than trying to control everything. Defining what you can and cannot do will help you stay more calm even in a hectic environment.
10. Seek professional help
Monitoring your thoughts and feelings, learning what triggers your anxiety and dealing with its root cause is inevitably helpful. Yet, if you feel that the situation gets out of hand, the best thing you can do is to seek help of a professional psychologist. There's a number of therapy types for treating anxiety disorders, such as art therapy, cognitive behavioral therapy, and psychoanalytic therapy. A psychologist will help you better understand and handle your anxiety and prescribe medications, if necessary. During the pandemic and social distancing time, many professionals offer their services online through video conferencing tools. Thus, you can get qualified help without leaving your house.
Have your resume rewritten by a pro
If you want a promotion or a new job, updating your old resume should be the starting point of your preparations. To minimize the job hunting stress, find best resume website that offers expert resume assistant. For example, our company staffs educated British and American resume writers who have rich experience in resume writing or human resources. The writer will prepare your resume in line with your expectations and demands of the modern employers. We also guarantee welcoming 20% off for all new clients and timely delivery of all writing orders.