How to Set Achievable Career Goals for 2020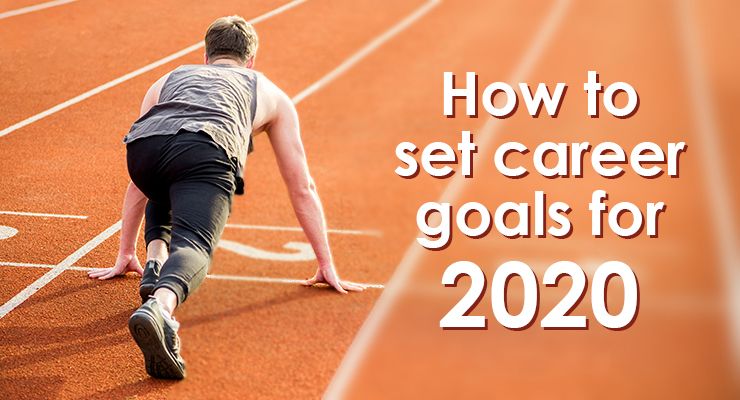 A New Year's Eve is the perfect timing to reconsider your career history, decide what you want to accomplish, and set goals. It's hardly possible to accomplish something outstanding in your career without a clear direction. So, whether you want to change a job, a career field or get more responsibility, start your journey with setting the right goals.
The process of setting professional goals is probably nothing new to you. However, it's important to set the goals that can be accomplished rather than remain just another list in your notebook. An online resume writer will share actionable tips on setting realistic goals that will help move your career forward.
Streamline your job search with a new resume
If you haven't updated your resume for years, it's time to give it a modern makeover. For a professional resume that presents you in the best light, contact the talented resume makers from Resumeperk.com. We staff experienced British and American writers who understand your industry and the employer's expectation from a resume. Ongoing support and unlimited revisions are included.
How to set career goals and accomplish them?
The year 2020 can easily become a turning point in your career. It only takes you to determine what you want, set goals that will push your forward and consistently work towards them. Our consultants have prepared a step-by-step plan that you can follow for effective goal attainment:
Take a look back on your previous year
To start a journey towards your goal, you need to understand where you are at the moment. So, reconsider how your 2019 went. Were you frustrated to work for your current employer and longing to change a company? Maybe, you've got a feeling that your current career path isn't a possible fit and started thinking over monetizing your hobby? Or maybe, everything was great and you would like to keep on going and climb career ladder? Don't make up plans yet – spend some time self-reflecting. Understanding what you're happy with and which areas of your professional life could use some improvement will help you set more viable, fulfilling goals.
Understand your professional passions
Writing down professional goals just for the sake of it or in order to share your resolutions on social media is not even close to effective. To set goals that will challenge you, start with understanding your work passions. Maybe, you enjoy your career in finance but would like to work for a company whose mission resonates with your values – an environmentally friendly or a nonprofit employer, for instance. Or, deep down you are dreaming of devoting more time to cooking desserts and open your pastry business. Setting goals in line with your inner passions will motivate you to achieve them.
Are you considering turning a hobby into the main source of income? Check out how to do it efficiently: http://resumeperk.com/blog/tips-how-to-turn-your-hobby-into-a-dream-job.
Make your goals specific
Once you've determined where you want to move next in your career, it's time to set goals that will lead you there. The key principle of goal-setting is making your goals achievable. In other words, goals like "I want to earn more next year", "I want to be a successful marketer" or "I want to start a food delivery service" are unlikely to survive the reality check. How will you know that you have become a successful marketer, for instance?
Add as many details in your goal statements as possible. "I want to increase my earnings by 20%", "I want to get promoted to a senior marketer role and oversee all online and offline marketing activities" and "I want to land my first job as a junior software developer" are good examples of professional goals.
Keep them realistic
Career goals don't necessarily have to deal with new jobs and pay raises. You might want to achieve something associated with personal development. For instance, learning how to handle criticism, taking a leadership course or joining a charitable organization can be turned into goals either. There's another principle for you to follow – your goal should be achievable. For instance, it's not very realistic to set a goal of starting a business that will bring you $250K of profit by the end of the year if you don't even have a business plan. In the meantime, if you're a pro copywriter, intending to become a regular contributor to two popular online magazines is an attainable strategy.
Carefully evaluate what you can achieve with the right amount of dedication and effort. Far-fetched goals will leave you discouraged when you fail to reach them. At the same time, too down-to-earth purposes won't bring you fulfillment.
Determine how you will measure success
Setting measurable goals means that you know at what point you can claim for sure that you've achieved what you've planned. If the goal has to do with figures, position name or name of the company you'd like to work for, it's simple. But what if you intend to achieve something less measurable, for instance, improving relationships with colleagues or maintaining work-life balance?
In this case, you'll need to frame these generic statements using more details which you could use to measure success. For instance, "better work-life balance" might mean "no work-related emails and calls after 9 pm and having dinner with the family at least 3 times a week". When reading a measurable goal, you can know for sure if you've accomplished it.
The goal should inspire you
If you've done everything right, the goals you've set for yourself will inspire you for taking daily actions. You need to believe that your goal is important and be committed to working hard towards it. If you don't feel excited by the perspective of reaching a goal, it means that this goal is disconnected from your real career passions and interests. Achieving an ambitious goal will require taking daily actions towards it. And if the goal isn't much exciting, you'll find it hard to force yourself to take the necessary actions daily.
Do you feel a sudden drop in motivation at work? Here's how to regain it: http://resumeperk.com/blog/simple-ideas-to-regain-motivation-for-working.
Consider the resources that it will take to achieve your goals
It's time to consider each goal you've written down closely. Achieving your goals will absolutely require your time, money, effort, lifestyle changes and other resources. Think about what exactly it will take you to accomplish each point you've planned. For instance, if your goal is to get promoted to a senior role, you might need to take leadership training or to obtain a certification. You'll also need to spend late nights studying rather than relaxing. At this point, you might want to break the big goals into smaller ones which are easily attainable. For each small goal, set a realistic deadline. If you don't set time frames, it will take you much longer to reach that big goal.
Expand your network
Growing your professional network is a good example of the goal you can set for yourself. However, no matter what you've planned, an extensive network of professional contacts is of huge help to attain your ultimate goals faster and more efficiently. People you're on a good note with can recommend effective professional training, recommend you for employment in their company or share helpful tips to help you advance your career or avoid pitfalls when starting a business. Obviously, you should be ready to return the favor and do something helpful for a person in return.
Update your resume
Unless your professional goals for 2020 include starting your business, you'll need a resume to land a new job or send it to prospective clients. To ease the application process, approach the resume writing responsibly. Focus on your accomplishments rather than job duties. Make them visible on the top of the first page. Add the necessary keywords from the job posting – most mid-sized and large companies now use software to scan resumes. Pay attention to the way your resume looks – you won't have a second chance to make a first impression. Format it consistently, make it easy on the eye and add some color. In our blog, you can find lots of detailed resume writing advice. 
Setting career goals in the right way will stimulate you to work towards them. And, as a result, your new year resolutions will lead you to better professional realization and fulfillment.
Need help updating your resume?
If writing a resume on your own seems challenging, consider working with custom resumes writing services for cheap. Our in-house expert will rapidly prepare a resume for your first job, career change, or professional advancement. Work one-to-one with a specialized resume expert who will take your suggestions into consideration and will work on your documents until you are satisfied. Take a look at our resume prices and contact us on chat for your welcoming 20% discount.