Increase Your Creativity With These Writing Hints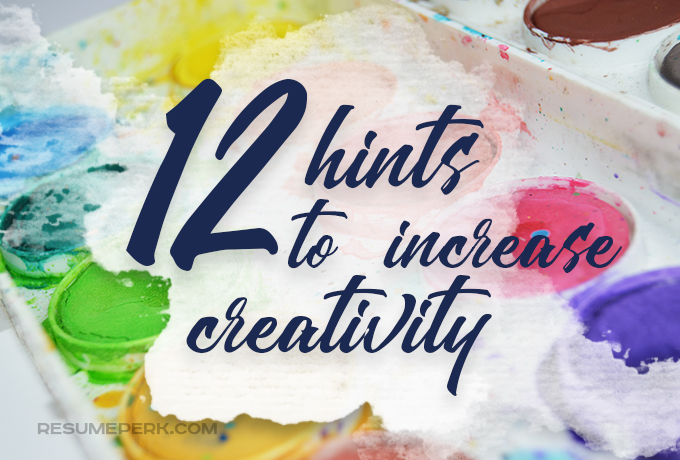 Whether you are a writer, an entrepreneur or a teacher, you need a great deal of creativity to succeed in your job. Tackling various kinds of challenges, developing unusual approach to things and ability to look at traditional things under different angle are impossible without creative thinking. This is especially true for creative writers, whose well-being and success depend directly on their creativity and imagination.
But what if creativity floods seem to let you down and you feel stuck at some problem (or a new chapter of your novel?)
Luckily, creativity isn't an innate ability you can't do anything about – it can be developed just like any other skill. The writers of our best online resume service share the pieces of advice that will help you be more creative and generate working ideas on the go:
Also in this section:
Lower your expectations
Our frustration from inability to create something on a proper level often comes from high (or even unrealistic) expectations we set. We often think "I've got to develop a cool website designs by no means, or they will fire me" or "I have to make this blog a success". However, in this condition of pressure and stress it's impossible to let your creativity juices flow.
Try to get distracted from a desired result for a while and simply enjoy the process. The passion and involvement will help you create something really great – or at least minimize your dissatisfaction level.
Read as much as you can
Reading a lot contribute to your creativity in a gentle way, training your mind and helping it develop innovative solutions to old problem. All outstanding people, including best-selling authors, top entrepreneurs and community leaders, are keen readers. Reading switches on our imagination, critical thinking and serves as an endless source of new ideas. So, if you don't read much, it's high time that you started.
This tip is especially helpful for writers. The more you read, the higher are the chances that you create something remarkable. For more advice for beginning authors, see here: http://resumeperk.com/blog/content-writing-tips-for-beginners
Listen to classical or jazz music
The effect of music on our brain has been proven scientifically. It has been discovered that certain types of instrumental music (especially classical music) stimulate the certain areas of our brain by making us more creative, positive and productive. Moreover, this way of increasing creativity is unbelievably simple; all you have to do is to switch on the music. Try listening to classical or jazz music for half an hour every day for better effect.
Try meditation
You have probably heard of the positive impact of meditation on our body and mind. One of the benefits of meditation is achieving better control of your thoughts and nurturing creativity. During the meditation you get rid of outside distractions and can calmly focus on your thoughts and feelings. If you meditate, you learn to understand yourself better which reflects positively on your creativity.
Separate consumption of information from creation
Our brain is not aimed at multitasking. We cannot juggle several tasks at once as we won't be able to be totally involved in all of them. For instance, if you are writing, you'll need to separate the research phase when you accumulate the information and the writing phase. The matter is, when you try to combine these two activities, the consumption goes over output and this won't allow you to create something really good.
Use a counterfactual thinking method
This method is about asking the simple question "What might have been if…?" In other words, you question the situation and try to look at it under different angles. You can take the elements out of the event, add them into it and analyze what could have happened in each specific case. If you need a creative solution to some problem, this method can work for you perfectly. As you imagine various outcomes of the problem, you can come across a really effective solution or at least you'll overcome the block.
Learn to play a musical instrument
It doesn't matter that you've never dreamt of a career of musician or you doubt your ability to play an instrument. The great thing about playing an instrument that it switches on your brain in a way that little things can do. The necessity to read notes, coordinate your hands and control the sound can really boost your creativity. Moreover, when you learn to play an instrument, the sounds you product will help you focus and relax at the same time, and creative solutions will come to your head.
Stay positive
Although sometimes a depressive mood can facilitate your creativity, we are usually more creative and productive when we're on a positive note. The study highlights that a positive mood stimulates the areas of brain associated with complex cognition, decision-making, and emotions. So, if you feel bored or lack energy, call an old friend or discuss some funny situation with a colleague.
Spend some leisure time outdoors
Nature has the power to revitalize us and calm down our depression or anxiety. More importantly, it stimulates our imagination and let the creative solutions flow in our mind. So, if you are at the middle of the working process, give yourself a break and take a walk in the park or garden – or even spend a day outside of town. The excess of green, a fresh air and some exercises will help you distract from the routine and freshen up your thoughts.
Do something new and unusual
Trying something new stimulates our creativity. Any activity you've never tried before helps you expand the horizons and serves as a source of new creative ideas. So, if you've dreamt of taking on salsa bachata, yoga lessons or trying a Spanish cuisine, it's high time that you did it. Not only this will improve your creativity, but also ensure a boost of positive emotions.
Get some sleep in the middle of the day
A short nap after you've already done some work can refresh your thoughts and improve creativity. Such kind of break in the middle of the day will help you ease the wandering thoughts and you can surprisingly find the unusual solutions.
Ask for someone else's opinion
If you feel stuck, there's nothing wrong about asking for outside opinion or advice. An unbiased opinion from a friend, a colleague or even a stranger in a coffee shop can provide you with totally unexpected ideas and bursts of creativity.
As we have said before, creativity isn't the inherit ability. By training your brain by trying various kinds of activity you can increase your creativity levels.
Should you get creative with resume writing?
Resume writing is also a creative process. You need to develop the way to conceptualize your professional strengths and highlight their importance for a potential employer. The design and colors of your resume also matters as they determine the visual impact of your resume. If you have troubles creating a top-notch resume, ask for resume help online. Our professional writers with years of expertise in writing resumes for all industries will create a resume and cover letter, taking into consideration all your requests. Our charges are quite affordable; moreover, you can take an advantage of free resume critique prior to ordering.
Popular posts: