Job Interview Questions & Tips for Interview Preparation
Little things are as effective for a successful interview as thorough preparation. Researching the company and its values, choosing an appropriate outfit and even Googling 'job interview questions and answers' all increase your chances of getting liked by the interviewer.
Previously, we've written about the steps you should take to ace a job interview: http://resumeperk.com/blog/20-important-tips-for-successful-job-interview. Now our online resume services would like to focus on questions that you should ask at the end of the interview. Note that not asking any questions at all can be interpreted as poor preparation or lack of interest in the role.
To make it to the interview stage faster and smoother, consider getting your resume done by a professional writer. At Resumeperk.com, we staff dozens of experienced writers who specialize in various industries and can present your strengths and accomplishments effectively.
5 questions to ask in a job interview
1. What are the daily responsibilities of a person in this role?
Why: The same position name might imply varying responsibilities with different employers. By asking about typical working day, you have a chance to understand if it's the type of job you really want.
2. What do you personally enjoy about working here?
Why: If you choose to ask this question, watch the interviewer's reaction closely. Do they reply calmly, positively, with enthusiasm or do they seem confused and sound unnatural? This vibe can give you an insight in the level of psychological comfort. It is also a great chance to learn about the company's culture.
3. If I get hired, what does it take to succeed?
Why: This question allows you to hear about expectations that aren't in a job description. And consequently, you can use this information to show that you meet these expectations. It also gives a great insight into the working process – do they look for 'jack of all trades', a person who is willing to work extra hours or a mentor for interns?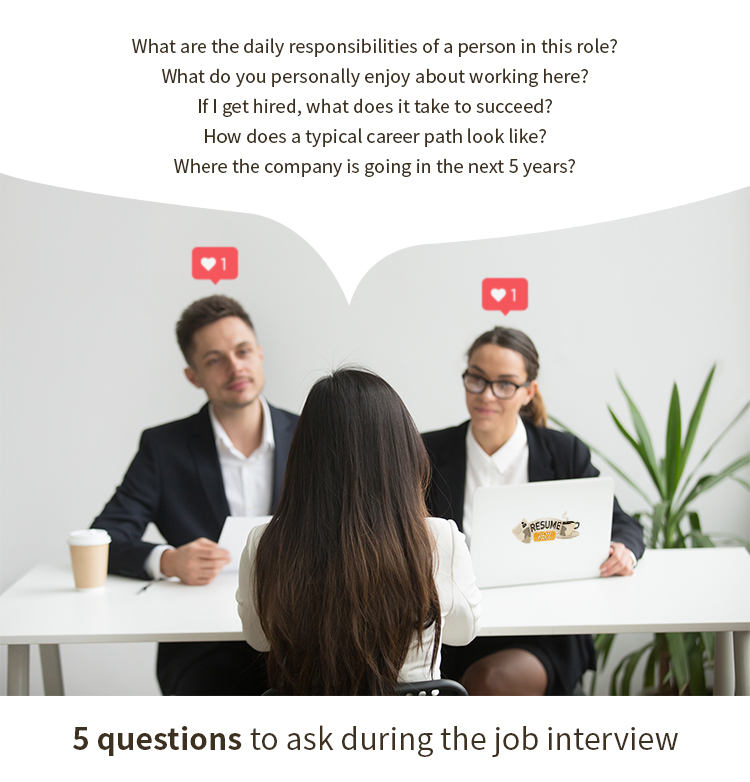 4. How does a typical career path look like?
Why: It's important to ask what kind of professional development and promotion you can expect and how soon. Some job openings don't offer opportunities for vertical growth, so you will want to know it in advance if you're looking to build a career. Also, this question portrays you as an ambitious and career-focused individual.
5. Where the company is going in the next few years?
Why: If you want a stable long-term employment, do ask about the company's prospects. Is the organization growing or stagnant? Do they plan on expanding and hiring new people or the things have been stable over the years? Again, it's better to build a career by joining the growing company.
Asking questions during the interview shows that you're serious about joining the organization and want to know more about the role to perform better. Experts recommend that you ask at least 2 questions. But beware the money talks – it's better to wait until the interviewer raises the compensation subject. You might also be interested in how to respond the top eccentric interview questions.
5 things that sabotage your interview chances
Arriving late, dressing too casual and spilling the Starbuck's coffee you brought aren't the best ways to impress the interviewer. Here are the five less obvious mistakes that sabotage your chances for a job. Interview preparation is a creative process, so these tricks to find inspiration might come handy.
1. Arriving too early
Career consultants recommend that you show up 10-15 minutes in advance, but more isn't better in this case. If you arrive 45 minutes before the interview, don't head to the office and don't confuse the people passing by. Wait in your car or the nearest restaurant.
2. Not doing the homework
For an interview to be successful, it's an absolute must to research the company information in advance. Figure out who are their main competitors, what are their future plans as well as their recent news. This information not only shows you're motivated to join the company, but also takes your discussion with an interviewer to the next level.
3. Not rehearsing the obvious questions
Some questions (such as 'what are your strengths') are asked from interview to interview. And you can avoid mumbling, awkwardness and poor answers by preparing answers in advance. Rehearse them at home in front of the mirror to look natural and confident as you reply. However, avoid stretching the truth – lies on the interview won't take you anywhere.
4. Being too frank
You are expected to be open during an interview, but only when it comes to your professional history and competencies. The stories about divorce you're going through, credit card debts, and your ex-boss being a total jerk can cost you a job. So, here's the golden rule: leave the personal issues aside and avoid being negative about previous employers or colleagues.
5. Not asking what's next
As the interview comes to an end, you've answered all the questions and asked yours, end an interview with 'What is the next step?'. Not only it relieves you from a follow-up or stressful waiting for an email or call, but also shows your confidence. The answer you'll get is also an indicator of how well you've done. An emotionless 'we'll get back to you' doesn't mean high chances for the job, whereas 'I'll call you in five days to schedule the next interview' is a good sign.
Not getting interviews? Consider getting your resume improved
Sometimes you're not getting quality interview calls simply because of the mistakes in your resume. So, it's recommended to have a professional resume writer to take a look at it. Our company offers free resume review service. Send us your resume, and we'll point out at its strengths and shortcomings and recommend the improvements.
A free review doesn't oblige you to place an order, however, it's been proven that resumes created by professional writer get more interviews. Moreover, after the review you'll be eligible for a 20% discount. Check our services and prices – we offer custom quality resumes at affordable fees.
Keep in touch!
Subscribe now and receive information about our services.
Receive free resume tips from our experts every week;

Find out more how to succeed on an interview;

How to define your advantages and disadvantages;

How to choose effective resume writing service;

How to increase efficiency of your job search.
SUBSCRIBE NOW