Most Popular Mistakes Job Seekers Make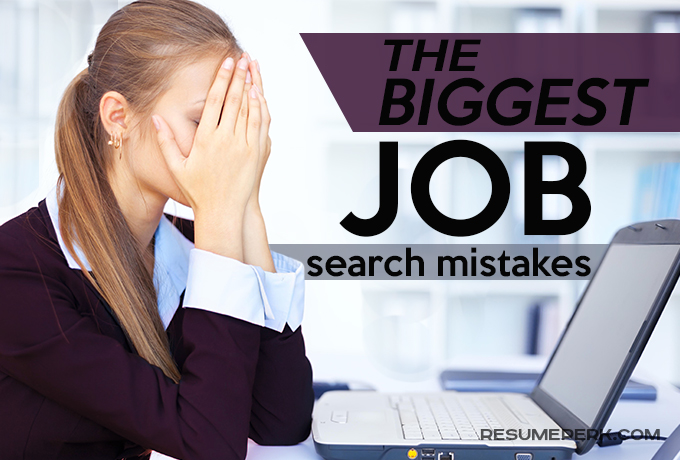 Every job-seeker has their own strategy of writing a resume, searching for job openings and finally applying for the job. Not all of the strategies are efficient, though. Maybe, you don't have a clue that the reason of your slow or not effective job hunting is one (or several) mistakes you make without even knowing it. Our resume experts share the biggest mistakes candidates typically make and explain how to avoid them. It's time to get read of ineffective strategies and stop believing in resume writing myths in order to clear the road to the job of your dream!
Mistake #1. Spending too little time on a job search process
Someone once said that you should take the job search, application and networking like if it was your actual job. In other words, it's unreasonable to spend 1-2 hours a day searching for opening and sending in your resume and consider it a proper job search. Effective job hunting goes far behind sending your resume in response to postings and thus can take you 5 or even 7 hours every day! So, don't get lazy if you hope to find a proper employment in the next 1-2 months.
Mistake #2. Limiting your search to simply spreading the copy of your resume
As was said above, the effective job search involves a wide range of activities. So, if seeking for jobs takes you little time, it's the sign that you're not using all your potential. Have you read at least several books or articles related to job search and interview techniques and practices? Have you consulted the HR managers from your professional network about how to apply to get more consideration? Did you attend at least several professional events, trainings, courses? Have you contacted your dream companies to find out about opportunities in your field they have to offer? How about getting help in finding a job from nonprofit organization, municipal groups, etc.? Or maybe, you should start from scratch and get your resume completely rewritten in accordance with modern standards of job search?
Probably, you haven't even considered something of the above. So, it's time to do it now!
Mistake #3. Spamming the employers with your resume without a request
Unsolicited resumes are a big pain in the neck for the employers and they barely ever get serious consideration, Career Potential says. Don't be entertained by illusions that a hiring person will immediately like you upon reading of your resume and invite your for an interview. Hiring managers are very busy people, and the odds are that you will be blocked as a scammer and won't be able to contact the company in the future. Is that something you're aiming for?
Of course, you can send your resume when no specific job opening is advertised. However, you can do so only after you've talked to an HR either by mail or on the phone and they asked you to follow up the copy.
Mistake #4. Not being focused enough
There's a common situation when, for example, a journalist willing to find the job ASAP applies for a job as a newspaper journalist, content writer at a startup, PR manager for a mid-sized business and a freelance creative writer. Nevertheless, applying for every single job you can potentially do is a completely wrong tactics. Why? When you lack focus and a clear understanding where your career has to be going, you might end up wasting several years at a dead-end job which only purpose is to earn you a living. So, focus on finding the right job for you, the one that would meet all your demands and career ambitions. It might take a bit longer, but a rewarding job is worth it.
Mistake #5. Having only one job at stake
Let's assume that you have found the advertisement of a job that matches your professional skills and your requests particularly well. However, this doesn't mean that you need to stop the search and throw away the other options that might come by. Even if you are extremely confident, it's not the reason to put all eggs in one basket. You might not get the job for whatever reason (you fail at an interview, the hiring manager recommends his friend for this position, etc.) and by focusing on this one and only job you can miss out on really interesting opportunities.
Mistake #6. Weak networking
Networking is the asset that is supposed to take the lion's share of the time you spend looking for a job. Rewriting your resume and browsing companies is fine, however, strong business connections will serve you more effectively in getting that job. For example, if someone you've studied in the university with is now working as a recruiter, he/she can give you a personal recommendation and even connect you with the company that is hiring. So, don't neglect any opportunity to network. By attending professional conferences, participating in online discussions and connecting with everyone you ever worked with, you'll expand your business connections and speed up the job search process dramatically.
Mistake #7. Failure to control your emotions and manage expectations
Looking for a job for a long time with low success rate can be an exhausting process. However, don't let your fears and frustrations overwhelm you. When you keep getting rejections one by one, it's important that you had an emotional outlet that would cheer you up. Try to connect more with your friends and family, start exercising if you haven't done that before and take on some funny hobby you abandoned because you were too busy with your job. Quality time with friends and family and going out will give you the support you need during a job search period.
Mistake #8. Paying less attention to a resume than it deserves
If you apply for a job traditionally, your resume is your face until the hiring manager meets you in person. So, make sure this face shows the best of you and helps in gaining you an interview rather than pull you down. You can find lots of advice on effective resume writing in our blog.
Mistake #9. Lack of preparation before the interview
It's not a secret that a quality interview requires hours, if not days, of thorough preparation. Everything should be taken into account: from the clothes you wear to your ability to manage tricky questions. The basic advice is to learn more about the company, prepare questions that will get you remembered and master the stress reduction techniques. It's also helpful to rehearse the interview with your partner or friend so you would get used to answering lots of questions about you.
Mistake #10. Doing the whole job search alone
It's great if you know what you want and have an idea of how to achieve it. But the chances are that your resume is not as good as you expect it to be and the whole job search strategy is ineffective in terms of reaching your career goal. Hiring a career coach or resume writer can help you streamline the whole process. You can get professional assistance in identifying your market value, passing interview effectively, negotiating salary, setting long-term career goals, etc. If you can afford hiring a career professional, don't neglect this opportunity! These expenses will definitely pay off.
If you take the job search seriously and put all your effort and creativity into it, you will definitely find a 'dream job' faster than the majority of people do. Good luck!