Tips On Content Writing: How To Make Your Post Outstanding
The engagement of website visitors often starts with persuasive, calling-to-action landing page. To develop website content that would ultimately transform your occasional visitors into clients, read below. Our professional resume service will reveal some tips to help you stand out.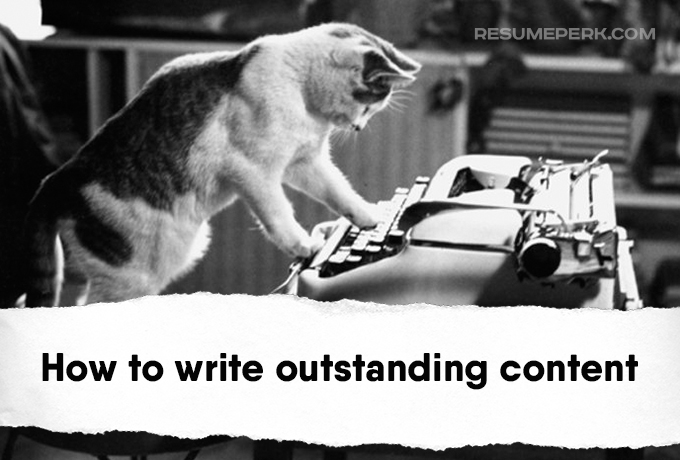 What makes an outstanding content?
Oppositely to what you probably think, the great content isn't something that visitors enjoy reading. The great content is a copy that readers quickly go through and hit the "Sign up" or "Buy now" page. The great content is helpful as it appeals to the demands of people and suggests solutions for them.
That's why creating web content is different from magazine articles writing or essay writing. It requires a completely different approach. However, as soon as you master it, you'll find it incredibly easy to write excellent customer-focused content.
10 tips for creating shiny web content
Tip #1. Know your target audience
Many beginning and even experienced writers neglect this rule. Nevertheless, the better you understand your audience and its needs, the more chances that your post will resonate with them and evoke genuine interest.
Start with defining your audience with maximum precision: their age, gender, education, geographical location and income. Create a detailed description of your typical reader so you could speak the language they speak and appeal directly to their needs and wishes. This will help you create a highly focused copy and generate more leads rather than simply addressing the undefined audience.
Tip #2. Use the inverted pyramid structure
There's a grueling competition for the user's attention between the web resources. To survive it, you have to catch the visitor's attention from the very first sentences. When writing the content for web or landing pages, use the principle of writing called the inverted pyramid. 
Start your copy with the most important information for a reader, and go into detail as you continue writing. Put the juiciest facts above the fold. Give your visitors 'the big picture', and let them know what you can do for them.
Tip #3. Organize the content
The way you organize the content will determine whether the visitor will find the needed information with ease or gets lost and switches to another website out there. Remember they won't read into the copy but will browse the page in search of something they can benefit from. Here are the best ways to clearly organize the site content:
Stick to one topic per page – make sure each post only has one main idea
Replace the blocks of text with infographics or images
Use headlines and subheadings to summarize the key points
Use bulleted lists to reduce wordiness
A visitor should understand your key information by just glancing at a page – and we totally agree.
Tip #4. Create a catchy headline
You can't underestimate the importance of headlines. Titles are first that your potential clients see in a search engine or in your 'Recent Posts' section and they often determine whether the reader will click through it or not. A good title communicates the informational value of your post while connecting to the reader emotionally and evoking his interest.
Good examples of working titles are
How-to's
Top 5 of…
Best of…
Secrets of …
How a celebrity does something
… and many more.
Tip #5. Talk to a friend
Do you feel that your texts lack energy? Try one simple trick. Imagine a person (a friend, family member, etc.) and write as if you were talking directly to him/her. It will make your writing more persuasive and keep it in a conversational tone. Moreover, you'll write shorter texts that are up-to-the point and forget about wordiness.
Tip #6. Simplify your writing
A key to reader's attention in the web is simplicity. Remember that your website content is not a scientific article and not an outlet for your creativity. Use the simple words, structure, and call to action so the readers would know where to go next.
The politicians use simple language to make their speeches easy to understand for the wide audience. You can imagine that you are explaining the subject to a 10-year old nephew, and use the appropriate language.
Don't use passive tense – it makes the text sound more complicated
Shorten the paragraphs and sentences. Thus, your writing will be easier to skim through
Appeal to the reader directly by using 'you'
Use call to action so the visitors would know how to proceed (i.e. 'Sign up using the link below')
Make the text shorter. No need to write five paragraphs if you can convey the main idea in just one or two.
Tip #7. Use the unique angle for covering the topic
Today, hardly any subject on the web is original. If you are writing about how to prepare yourself for an interview, you can find dozens of similar articles from reputable web sources. So, before you get down to writing, think of what can differentiate your text from the other ones? Maybe, you will want to share your thoughts that are controversial to a common opinion, or promote some sort of unique services.
Writing the same things that other content writers did won't bring more visitors to your site. But if you can add something unique, you've got all it takes to create an outstanding piece of content.
Tip #8. Write on purpose
Every piece of writing should be created on purpose, with a specific goal in mind. With business content writing, two major goals are 1)to sell a product or service 2)to share the information your visitors can benefit from for free. According to a Pareto principle, only 20% of content posted should be reserved for promotional articles.
When writing about a product or service, write from a client's perspective. In other words, don't describe how good the product or service is; but highlight how a user will benefit from it. If you post meaningful content, focus on the needs of your visitors and think of the valuable information you can share with them.
Tip #9. Use SEO optimization
Even the perfectly written content won't help you reach business goals if it's not seen by potential clients. This is what SEO optimization works for – to improve your ranking in search engines and attract visitors looking for particular goods or services. The basic SEO involves enriching the text with keywords and links to relevant pages - it can be mastered even by a non-SEO professional.
Tip #10. Make your conclusion strong
Not only should the beginning of the text be catchy and informative. The conclusion has a purpose of summarizing your main points and urges the reader to act. Highlight the benefits they can get from following your to-do's or tips (if you've written informative post) or from buying product or service.
Add a call-to-action so the readers knew exactly what should be done (e.g. sign up for the newsletter, register to the website, or proceed to choosing goods).
You can also promote some limited offer or a discount that is only available for a few days. A sense of urgency will help make the buying decision faster.
The bottom line
Helpfulness and simplicity – here are two keys to outstanding, eye-catching content. Use the advice above and you'll master the art of creating outstanding landing page content and blog postings. Don't forget to make your message clear to attract the attention of your target audience.
In your opinion, what is the key to creating a great web content? Is there any secret you use when writing outstanding posts?
Keep in touch!
Subscribe now and receive information about our services.
Receive free resume tips from our experts every week;

Find out more how to succeed on an interview;

How to define your advantages and disadvantages;

How to choose effective resume writing service;

How to increase efficiency of your job search.
SUBSCRIBE NOW