Top Ridiculous Resume Mistakes My Resume Editor Can Fix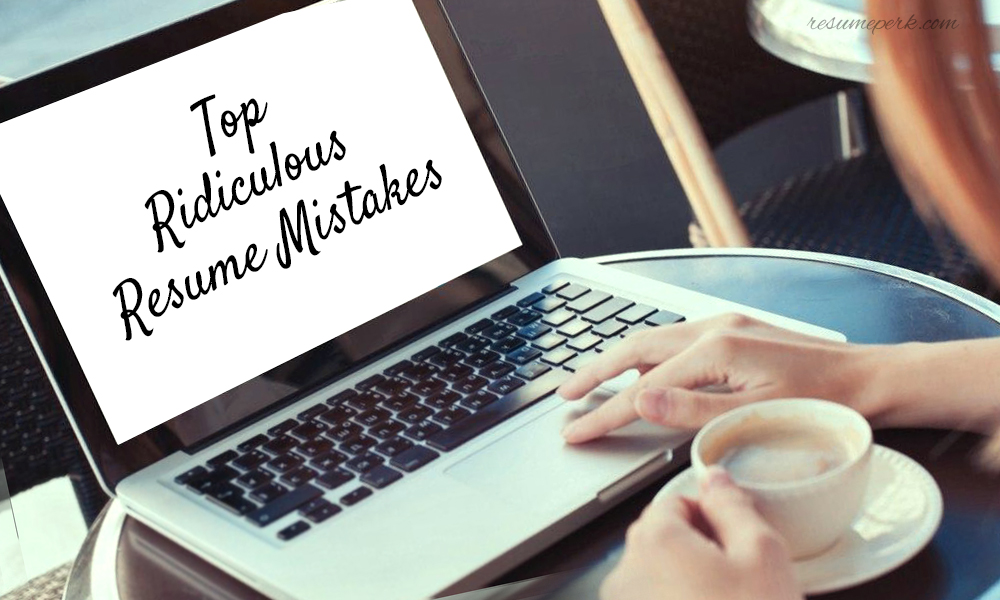 If you aren't new to resume writing, you already know what kinds of resume mistakes are better to avoid. Experienced job-seekers know that making a resume longer than 3 pages, not fixing grammar and punctuation errors or including personal information can minimize their chance for an interview. However, some resume mistakes make a particularly negative impression on hiring managers and literally drive them crazy! Today, we are going to consider the oddest and most ridiculous resume mistakes you should avoid at all costs.
My resume editor: Don't leave mistakes a single chance
Hiring managers don't tolerate mistakes: 77% of HR professionals wouldn't hire a candidate whose resume has typos and poor grammar.  Therefore, if you don't know how to write up a CV without the 'red flags' that turn off the employers, seeking a professional help might be a solution. Our proofreader will correct the popular and less-than-obvious mistakes, only preserving the content that portrays you as a candidate worth consideration.
Benefit from industry expertise – our editor will adjust your resume using the best resume writing practices;
Save your time – spend 15 minutes placing an order and download a flawless resume that's ready for submission;
Find a job faster – it's no surprise for anyone that professionally written resumes generate more interview calls.
To get help with my CV, simply contact us via live chat and our customer support will advise you how to proceed.
Some resume errors are so off the subject that they instantly drive the recruiters mad. Check the examples of such mistakes – and never repeat them in real life:
Including an unprofessional email address
Sounds trivial, doesn't it? However, an email that sounds as "savorysweet1990@gmail.com" or "bestdude01@yahoo.com" throws a shadow on your professional image. It confuses the recruiters as well – how are they going to recommend a person who sounds like a teenager for a prestigious financial analyst position? So, it's easier for them to leave your resume with no reply. Keep the fancy email for your school buddies. Create a professional email consisting of your first and last name for your job-hunting endeavors and check it every day. Period. If your e-mail address looks childish, no professionally written quality resume can guarantee you an interview.
A resume that takes half of the page
Chances are, you've heard that the resume should be 'short and to the point' and taken it way too seriously. Half of the page is nearly not enough to tell your career history, education and skills and connect to an employer. Such a resume won't even be considered for the job, so you'll need to create one from scratch. To learn the basics of resume writing, check our tips here: http://resumeperk.com/blog/11-tips-how-to-get-eye-catching-resume.
If you already have a resume of appropriate length and would like to proof my resume, contact us for editing assistance.
Listing irrelevant, extravagant skills or hobbies
First and foremost, resume is a professional document. Unfortunately, some applicants forget about it when putting "won the beer drinking contest", "like taking long walks" and "can cook really good" as their skills and accomplishments. The #1 rule for a resume in 2019 is professionalism – any irrelevant information should not be included. Hobbies only deserve being mentioned if they have something to do with your career or your field. Keep the casual accomplishments for your friends and small talks at the parties.
Family information
Employers don't want your personal information in any kind to avoid discrimination claims. As a rule, they simply reject the applications which contain private information such as age, gender, marital status, nationality and more. The fact that you're divorced and have two kids should be left off the interview, let alone the resume (learn how to respond to sexist job interview questions of this kind). However, mind the region of job-hunting: in India or Saudi Arabia including your nationality and family status are considered appropriate. To prevent minor mistakes like this from ruining your overall good resume, expert recommend to proofread resumes carefully prior to sending them out.
This rule has one exception: if you're not a US citizen, you can mention your nationality along with the fact that you have a US work permit.
Including your salary expectations 
Do you know how much would you like to earn if hired? If yes, keep silent about the issue until asked during an interview. Mentioning a desired salary shows the recruiters that you're motivated by money in the first place rather than the nature of work. In any case, including a salary range always works against you (except for the situations when the employer asked to specify this information in your application). Including a low salary won't help you land a job, but will rather make the hiring manager doubt your professional competency – a top-notch professional won't work for a below-market wage. On the contrary, including an excessively high amount will turn off the employers with fixed budget for the position.
Money talks are often tricky. If you are satisfied with the current job but would like to get paid more, here's how to ask for a raise correctly and professionally: http://resumeperk.com/blog/secrets-how-to-ask-for-a-raise-just-follow-these-tips.
Using fancy formatting and design
Obviously, many candidates take the recommendation of making their resume design eye-catching too seriously. How else can we explain the fact that many job-seekers use purple Comic Sans fonts, add smileys to their resume text or use templates with cats in the corners? These attempts to stand out lead to quite opposite result – a candidate is just not taken seriously.
When formatting your resume, opt for a common font which is easy to read, such as Calibri, Arial or Tahoma. Don't use more than 2 colors in a resume and opt for a traditional formatting unless you're a graphic design professional.
Mistaking a resume for a novel
As well as the resume isn't your creativity outlet, it isn't the best place to share the story of your life either. Some applicants put each and every detail in the resume, from middle school awards to university volunteering and bartender jobs 20 years ago. Prospective employers couldn't be less interested in a 5-page resume in response for a sales rep job.
Your resume not only shouldn't be as long as a novel, but also it shouldn't look like one either. Big blocks of text, lack of formatting and no visible subsections is a surefire recipe to make the reader bored in a few seconds. Ideal resume is 1-2 pages in length, and only contains job-related information and highlights your professional strengths.
If your resume still looks like a novel or an essay, it might be a good idea to rely on fix resume services to improve the situation.
Blatant lies
Resume lies are a big no-no for all employers, that's true. But sometimes the lies are so obvious that they don't even require a background check. Here are the examples of such lies: you claim that you have 2 master's degree at the age of 25 or state you've graduated from Harvard when applying for a bank teller job in the heart of Arizona. Such lies can have different consequences, from giving a hiring manager a good laugh to getting your candidacy blacklisted in the company.
Requiring an interview
It's totally up to the employer whether to invite you for an interview or not. However, some of the applicants insist that the company must interview them: they write when they're available, they say that the HR manager must interview them due to a particular reason or even call the company to express their interest in an interview. Such job-seekers call this a proactive behavior, but in reality it simply irritates the hiring managers. Don't do this.
All of the above issues are definitely deal-breakers for your resume, and should be fixed immediately until they ruined your job search. Feel that you would benefit from a bit of professional help? Our company is here to assist.
Get help of a seasoned resume editor
Looking for someone to update and check my resume? At Resumeperk, you can get your old resume edited and proofread according to the highest resume writing standards. By eliminating all resume mistakes, our editor will improve the efficiency of your resume. And it won't cost you a bomb – check out our prices and discounts.
A resume is the primary form of connection between you and a prospective employer, unless you are getting hired by recommendation (by the way, check working for a friend cons and pros). Getting another set of eyes to review it before the submission will save you a lot of time and nerves. Contact us today to discuss how we can make your resume better.
Keep in touch!
Subscribe now and receive information about our services.
Receive free resume tips from our experts every week;

Find out more how to succeed on an interview;

How to define your advantages and disadvantages;

How to choose effective resume writing service;

How to increase efficiency of your job search.
SUBSCRIBE NOW