Unexpected Tips For Busy Writers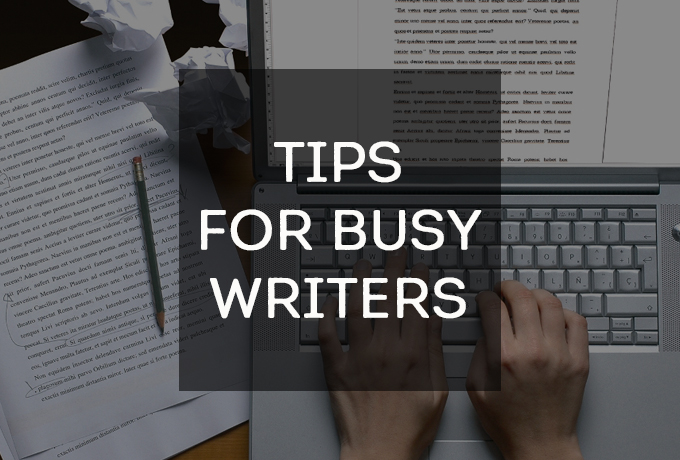 Are you a beginning writer who works hard on creating a manuscript of the first novel? Or, maybe, you're a blogger/content writer looking to attract more audience to your personal or corporate website? Anyway, quality writing takes time.
Time is a resource which is never enough. However, by using special tricks, you'll learn to be more productive and get most of the time you have. They work for any type of writing – be it a website content, creative writing, or resume writing. Use the tips from best resume service to streamline your process of writing, and your writing success is inevitable.
Also in this section:
Productivity tips for busy writers
Always work in the same place
If you're an expert in writer who finds it easy to manage his levels of productivity and inspiration, skip this advice. However, if you're a beginner, you'll be more productive if constantly work at the same desk, in the same place. The accustomed environment will focus you on writing, and your writing skills will faster take off.
Do a research prior to writing
Let's say you're a web writer who is expected to create pieces on topics you're not much familiar with. To make your writing sound persuasive, never combine the research and the writing process. Do a research in advance and give yourself some time to take in the information you've consumed. As soon as you've familiarized yourself with the subject, sit at your laptop and write.
Form your writing rituals
One of the important things is to set up your own mind to writing. To help this happen, set up one or several rituals that would set your body and brain on productive work. It can be whatever you want: a candle lit on the table, a cup of hot coffee next to you, or 10 minutes spent on reading your favorite blogger. With a pre-writing routine set up, you'll find it easier to switch into a productive mode and write faster and more effectively.
If you're one of those writers who spends half an hour trying to focus on writing, you'll undoubtedly benefit from this.
Finish the piece in one sitting
If you write a column for a magazine or a blog post, get used to finishing it in one sitting. Don't get up to grab a drink, have a walk, etc. Such self-discipline is extremely helpful as if you get distracted from writing, you'll need a plenty of time to re-focus on the subject matter again. This tip works for any short pieces – and for your cover letter and resume as well (find here more information).
Use the "write-edit-write" approach for longer pieces
When working on a longer project (a novel, a book of stories, or PhD writing), use the "write-edit-write" to boost your creativity. Begin with editing what you've written the day before and proceed to writing as long as your energy and creativity lasts (but no less than you've planned for yourself). The matter is, when you start with editing, you get involved into writing and can continue on the same note as you've finished
By the way, if you need specific advice on PhD writing and editing, you can find it here.
Eliminate all distractions
Distractions are the biggest writer's enemies. Social media alerts, TV tuned on at the background, and the noise of conversation across the hall won't help your inspiration. If you live with the family, get used to writing when the family goes to sleep – or in a separate room where no one could bother you for a couple of hours. If able to work in a quiet environment, you'll be far more productive than in a noise.
Never miss the deadlines
As a writer, you must set strict deadlines for yourself (if you work for some company, your employer might do this). But even if they don't, it's not an excuse to meet deadlines. A hard work in accordance with the schedule set can work wonders on your productivity. On the contrary, if you start procrastinating, it leads to frustration and you'll find it harder to get back on track.
Don't sacrifice quality time with your family and friends
If you have a 9 to 5 job and do the writing during your time off, remember about the work-life balance. Stephen King told that being married was one of the secrets of his writer's career. If you don't have a family yet, you need to allocate time for meeting your parents and friends. Pay attention to important moments of your life, and remember that no work is worth sacrificing your most important relationships.
Write in simple language and avoid sounding smart
Using sophisticated language isn't the best way to build the reputation of an expert of the subject matter. An overly smart language indicates that you can't manage expressing your thoughts in simple, understandable for everyone language. And this, in its turn, shows your lack of knowledge.
Whenever it's possible, use short sentences instead of long ones and simple language instead of sophisticated words. Make it easier for potential reader to take to your writing.
Be selective
If you are only making the first steps in the writing world, you undoubtedly need to take on any writing project out there, especially if it's the only way to earn your living. However, it's the very beginning. In all other cases, you do need to be selective – this will help you advance your career and hone your skills.
See, if you accept every project out there, you spread your efforts and can't focus on your areas of expertise – i.e. what you're good at.  Moreover, taking unenjoyable, low-paying jobs won't let you focus on most important task. Even if you don't write for living, the principle is the same. Be selective of the topics you are going to write on.
Enjoy the process
Don't forget the inspiration and fun that motivated you to become a writer. The process should be enjoyable for you. Your positive mood will reflect in your writing by making it positive and genuinely engaging, and your readers will notice it.
Edit quickly
As you are very busy, you can't afford spending hours on proofreading your copy. Learn the working editing strategy from a resume proofreading service and use it step by step in each piece of writing. If you feel you're getting stuck or overtired, put it away until tomorrow. Or, if you have no time at all, order any kind of editing or proofreading services from a reputable writing company.
The bottom line
The hectic rhythm of modern life requires you to be highly productive and only use the methods that work. Although there isn't a recipe of making you a famous writer (you'll need to invent it on your own), you can learn to write faster, smarter and edit on the go. Use the above advice – and it will help you on your way to building loyal audience or making money writing.
If it's your resume that takes you so much time to compose, feel free to contact us for a timely professional assistance.
Are there any writing secrets that help you to be more productive writer? If so, what are they?
Popular posts