Why You Need a Custom Resume (And How to Create It)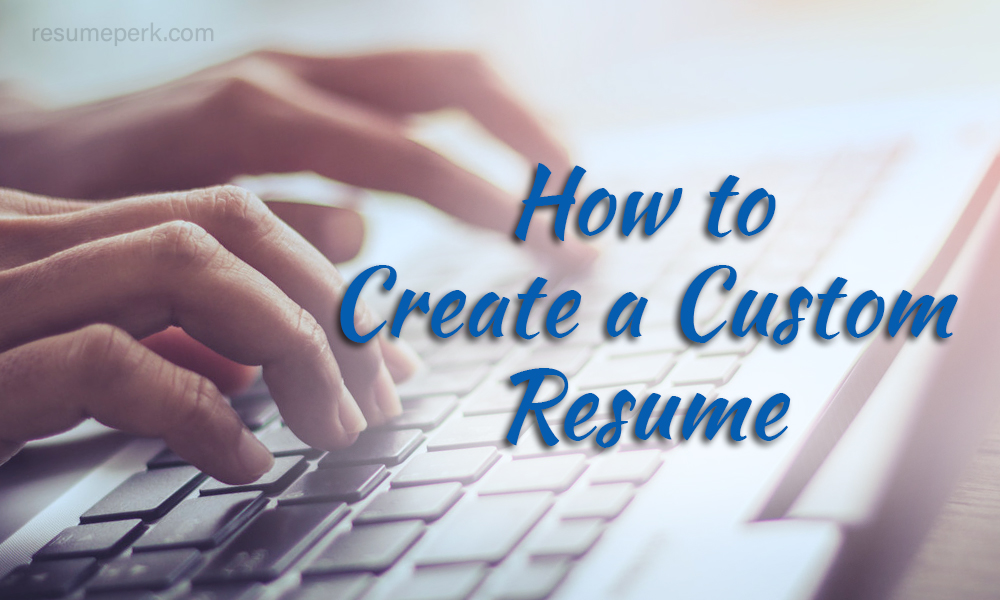 So, here's the situation: you've invested a decent amount of time into a resume, sent it to every employer you seemed to be a good match for, but still no responses. Sounds familiar? If it does, then you probably neglected a very important step in the resume writing process – the customization. Why your resume should never look the same as you apply for a different position and how to customize it? Read below to find out.
Get your resume customized by a professional resume writer USA
The main reason why customization saves the day is that your resume starts looking like an exact solution to an employer's problem. Every company is looking to hire an employee who will be best at resolving their particular sort of challenges. Showcasing the exact set of skills they look for, relevant experience and personality type will motivate them to call you.
Sounds confusing? Our writers can assist with writing the perfect CV for your target position. By adjusting your resume's language, the tone of voice and content to fit the employer's expectations, a writer will help you come across as the best fitting candidate and set you apart from the competition.
Two main reasons why your resume needs targeting
If you still doubt that investing time into resume customization is worth it, here are the three critical reason why customization makes the cut:
It helps you pass an ATS selection.
It comes as no surprise that your resume will be scanned by applicant tracking software before a human recruiter gets their hands to it. What you probably didn't know is that this software screens out 70% of submitted applications. If your resume is not customized and enriched with keywords, a human hiring manager will never see it.
It captures the hiring manager's attention
Imagine a resume where a candidate goes to great length to show how great they are, and a resume that has accomplishments which are similar to the role and experience with solving similar business problems in the past. Which of the candidates will end up getting an interview invitation?
If you're tired of sending a resume with no responses, contact the reliable custom resume writing service online to get your resume adjusted for a specific role.
How to customize a resume: 7 tips
Before we get started, let's make an assumption that you continue your current line of career with the same or similar industry. If you intend to change a career path, your resume will need an in-depth rewrite and change of format. To do that successfully, you might need some qualified help of a resume assistant working with a reputable agency.
You might view customization as a very time-consuming process. While it really takes you some time, a resume you've customized has a way more chances to bring results than the generic one. The latter is likely to fail the ATS check and to never be seen by a recruiter.
Read into the job posting and access the requirements
The applicants who ignore tailoring their resumes end up in what they call a 'resume black hole'. Open the full job description and read it for several times, then highlight the skills, personality traits and qualifications you've got. Use those skills in the top third of your resume so they are visible both for the ATS and the hiring manager. If you want only one rule for resume customization, just follow this one and you'll be a huge step ahead of your counterparts who failed to do the same.
Also, speaking the employer's language is imperative to help your resume get noticed.
Decide on what to leave in
To streamline and ease that resume customization, create a resume template you'll be using as a basis for customization. Certain information doesn't need to be customized and adapted for every employer. For example, your degree and university name, previous job titles and company names as well as key responsibilities can remain unchanged. Additional resume information such as volunteering, certifications, languages and publications doesn't need to be amended as well.  Therefore, you'll only need to customize a couple of sections which go above the professional experience and will save your time.
Customize the heading
Always customize the target job title. It takes less than a minute yet is completely essential if you're serious about getting an interview call.
Want to know more of the tricks that help your resume look better? Check them out in our digest: http://resumeperk.com/blog/30-changes-to-help-your-resume-get-noticed.
Include the location
Another important component of resume customization is adjusting your location. As a rule, employers prefer interviewing and hiring someone who is located in the same city or even area. So, make this rule work for you.
You don't need to include your full address – but be sure to include the city, zip or another regional term that fit the job's location (such as Financial District Area). If you live in another city, using a local address will save you from being eliminated at the screening stage (some employers are not comfortable with compensating for the relocation and only consider local candidates).
Create a relevant career summary
Career summary (or career profile) section is your chance to either absorb the reader's attention or to turn them off due to irrelevance and lack of focus. Use it to address their biggest expectation from a potential employee and to show you 100% meet them:
Mention the competencies and accomplishments which the employer is looking for in a perfect candidate. If they want a manager who will coach and consolidate the efforts of the sales team, capitalize on your leadership and training experience. If the company needs a professional who will acquire customers in a new market, focus on this type of background.
Add keywords. The keywords used at the beginning of the resume have more weight for an ATS. The skills and qualifications you've highlighted in a job posting are likely to be keywords – so use them in the same form in your summary. Browse the online resources for more keywords. If you're not sure where to extract the keywords and how to use them right, check this out: http://resumeperk.com/blog/why-keywords-are-so-important-for-successful-resume.
Make every word count. Avoid the clichés and buzzwords such as "hard-working", "go-getter", "thought leader" etc. Can't prove these loud words with tangible examples? Delete them.
Write a customized list of skills
When writing the skills section, many job-seekers simply list the most obvious qualifications for their type of role. As a result, this section adds no value to an employer and is seen as a bunch of buzzwords. Here's how you can use it smart: from the skills you've highlighted in a job description, choose those you haven't used in a summary and put them in Skills or Core Competencies section. Needless to mention that you should use the same phrases and words which are given in a job ad. Hiring managers subconsciously keep those words top of mind and will definitely pay attention to them in your resume – and the rest depends on you proving you've really got those skills and can bring them to the table. Keep the list of skills between 10 and 16 points.
There are no trifles when it comes to planning your future career. Read the pros and cons of career planning and how to plan your future career efficiently.
Work on layout and style (for creative souls)
If you feel like polishing your resume to perfection, you might want to customize its layout and looks as well. In certain cases, this strategy pays off: if you work in a creative field such as acting, graphic design, or marketing, a non-standard visual (infographic or video) resume can really open doors for you. However, even if you're in a traditional industry, you still can customize the resume design, for example, by using the same colors and style which are used in the company's logo.
Need a resume that stands out? Benefit from a custom resume builder
As the resume targeting is a long and thorough process, you might want to get your resume professionally built. However, don't trust the resume creation software in this regard – although it will pack your resume into a fancy template, it does literally anything for adapting your resume for a specific job and keyword optimization. Luckily for you, our resume writers have the expertise to adjust your curriculum vitae for a specific job posting, helping you get noticed by the decision makers.
One of our experienced resume writers will edit your old resume or create a new one, tailoring it for a specific job posting for maximum efficiency. Unlike many other resume agencies, we care about your satisfaction and your career. We take all your requirements into account and will rewrite a resume for free in case you're not completely satisfied. Check out our list of prices and services.
Already got a professionally written resume? The fact that you've passed an interview with brilliance doesn't mean that you should accept a job offer without carefully considering the matter. Read how to accept job offer to ensure that their terms will suit you and you'll feel happy and fulfilled working with them.
Keep in touch!
Subscribe now and receive information about our services.
Receive free resume tips from our experts every week;

Find out more how to succeed on an interview;

How to define your advantages and disadvantages;

How to choose effective resume writing service;

How to increase efficiency of your job search.
SUBSCRIBE NOW