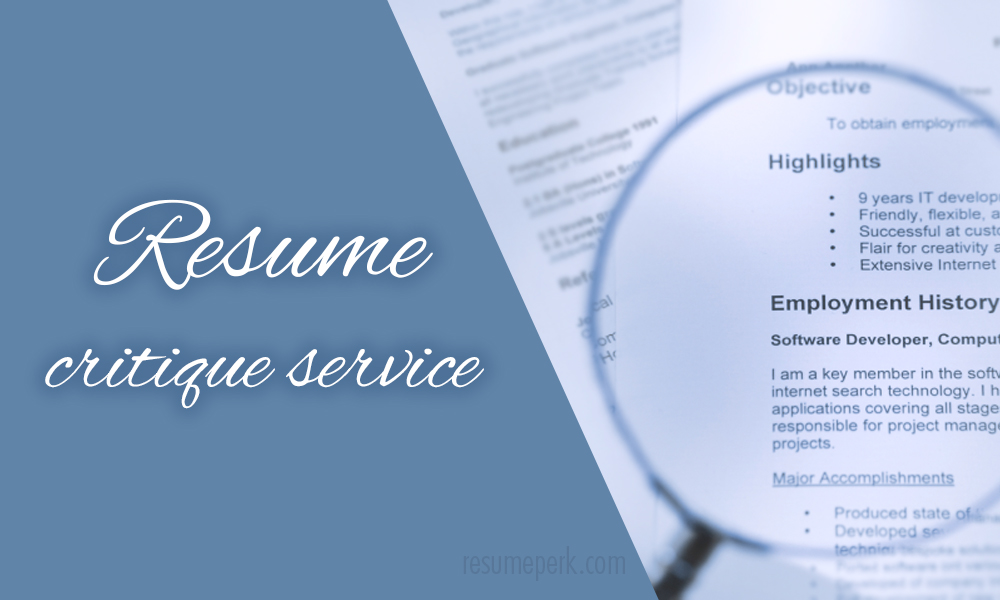 Today, many resume companies offer a free resume critique feature. Typically, you are asked to upload your resume and get a detailed feedback from a professional writer. Resume critique is often free of charge; however, some companies will apply a small fee.
However, what's in a resume critique for you as an applicant? Is this critique helpful in terms of improving your own resume and can it be trusted? Our writers of creative professional resume explain why you will benefit from a resume critique.
Why relying on best resume critique service is helpful
Corporate job openings attract hundreds of resumes these days – the companies report receiving from 400 to 1,000+ resumes in response to an online job posting. Under these circumstances, you need to capture and keep the recruiter's attention in under 6 seconds, otherwise it will be tossed.
However, if you don't have a previous professional experience as a recruiter or a hiring manager, you are probably unaware of what the employers are looking for in your resume. You may have an opinion about the quality of your own resume – but for successful job hunting, the hiring manager's opinion is the one that matters.  And here's when a professional resume critique comes into play. The resume writers know dos and donts of modern resume and can share their knowledge with you in a resume critique format.
Also in this section: 
The undisputable benefits of online resume critique
Whether you plan on changing the job, finding the side gig or are seeking the way how to request a raise, you should keep your resume up-to-dated. A resume critique can serve as a starting point for updating and improving it. Here's why you should send your resume for a professional review if you still haven't done so:
Critique gives an objective opinion about your resume
As mentioned above, you probably don't have a clear vision about how your resume should look like – otherwise, you would have gotten an interview call at the first shot. Resume writing experts understand what employers are looking for and know how to make your resume meet those expectations. However, be careful with choosing a service provider.  Resume critique is only helpful when it is provided by actual experienced resume writers who know the resume writing rules and the market.
It helps you minimize the time loss and effort
If your resume doesn't work, you might be spending hours trying to figure out what exactly is wrong with it and rewriting it again and again. It's a good idea to stop wasting your time and hear the truth about your resume straight from the horse's mouth. With a direct guidance, you'll fix the major errors and improve the quality of your resume much faster than if you had tried to identify the mistakes on your own.
Curious how to make your resume eye-catching? Read the hands-on tips here: http://resumeperk.com/blog/11-tips-how-to-get-eye-catching-resume.
It provides constructive evaluation of your resume
Quality resume critique always points out objectively at the major strengths and weaknesses as well as the areas for improvement in the document. It should be based on facts rather than emotional and evaluate multiple aspects of your resume rather than focus on visual appearance or structure only.
The quality of the critique you'll get depends a lot on the service provider. Some resume writing companies use critique only to persuade the prospective client to purchase their services. Keep in mind that if you're being told that your resume is awful without any grounding or guidance how to improve your mistakes, such critique shouldn't be trusted.
It is helpful and the suggestions are easy to apply
The main purpose of a good resume critique is to help you understand the major mistakes in your document and give you hints on how to correct them. If the resume critique is based on your resume or relates to certain subsections of it, you'll clearly see what the writer is talking about and how to fix the issue. The writer will recommend you practical solutions that you can implement immediately as well as the insights that might take you some time to think over. However, even after correcting your resume as per the writer's guidance, you'll take it to the new level and will increase your interview chances.
At Resumeperk, you can get a resume critique absolutely free of charge. It doesn't oblige you to place an order and your private data will remain confidential. E-mail us your resume through the contact form, and our writer will reply you with a detailed critique within 1-2 business days.
5 signs that your resume needs improvement
If you are not an HR professional, evaluating your resume objectively is a tough task. Nevertheless, there are the signs indicating that your resume needs serious improvement. Take a look at your resume and check whether any of the below issues are applicable to it:
You are not getting interviews
Probably, this is the most definite sign that your resume is written not up to the standard. If you are qualified for the jobs you apply for and meet all the listed criteria but don't get any feedback after sending your resume in, this means that your resume needs rework. Maybe, your resume fails to pass an ATS selection, isn't result-oriented or is poorly structured an inconvenient to read. In this case, a resume writer can help you identify what might be the problem and eliminate it.
One of the reasons why you don't make it to the interview stage is failure to add relevant keywords. To find more about keyword optimization and passing ATS successfully, see here: http://resumeperk.com/blog/why-keywords-are-so-important-for-successful-resume.
Your resume is too long – and you don't know what to leave off
Resume length is another pain in the neck for job-seekers. Some applicants record their entire career path in a resume, which makes it unnecessary long. The others are unaware how to tell relevant information from secondary facts which can be omitted.
Why make your resume shorter? A today's resume isn't the history of your education and career – it's a marketing document that should only include the information that is relevant for a particular role. If you don't know how to prioritize your resume content, don't know what to omit and what to put above the fold, your resume will look weaker comparing to the short and focused ones of your competitors.
You haven't updated your resume for 5 years or more
The rules and practices of resume writing constantly change, and what used to work 10 years ago is now considered outdated. Maybe, your career goals have also changed – you want to obtain a leadership position or enter a new field. The issues like these require a whole different approach to resume writing – most likely, you'll need to have it written from scratch to get a copy that will enable you to reach new career goals.
Your resume doesn't look neat
There's no doubt that content is the king, and your relevant accomplishments and qualifications for the role should be highlighted in the first place. However, if your resume is poorly organized and structured, the hiring managers won't spend their time deciphering your qualifications. Most likely, they'll toss it and move on to other resumes which are easier to skim through.
Fancy fonts, excess of colors and design elements, weak formatting and poor visual appearance comparing to the resumes you see on the Internet are the signs that your resume needs improvement before you use it to apply for jobs.
Your work history is all about responsibilities, not accomplishments
The best employers are looking to hire result-oriented people who are willing to contribute to the company's success. The best way to showcase these abilities is through professional accomplishments. Be sure to include what you have achieved for the previous employers, preferably with figures.
If your resume lacks accomplishments, the hiring manager might believe that you are either unmotivated for your job or lack competency. Both of these reasons can prevent you from getting interviews.
Free resume critique: how we work
Thinking of getting your resume reviewed by one of our writers? Here's what exactly we pay attention to when accessing the quality and competitiveness of your resume:
Structure, font and readability. Your resume needs to be structured and easy to read, otherwise, the hiring manager won't spend their time on it. Is your resume easy to look through and are the fonts reader-friendly? We'll let you know.
Length and resume format. Too long and too short both aren't good. The writer will inform you on the appropriate resume length and suggest removing or adding certain information. Picking the right format is important, too – the wrong format can prevent you from showcasing your professional strengths. By the way, in our blog you can find the essentials of resume formatting.
Word choice and structure of sentences. Do you use strong, high-impact action verbs to highlight your contribution to the project? Do you provide the context for your accomplishments to prove their value? Do you come across as a confident and competent professional or look like someone who simply completes the tasks assigned?
Grammar and punctuation. Grammatically correct, error-free resume makes a lasting positive impression on the reader. The writer will perform a brief grammar/punctuation check and draw your attention to the issues that need further editing.
ATS compatibility. You need to use plain formatting to make sure your resume is read correctly by the resume software. If some elements of your resume might be ATS-unfriendly, we'll let you know.
Get a professional critique of your resume right now!
Tired of resume worries and uncertainty? Feel that you would benefit from professional assistance? You can stop browsing the Internet right now and contact us for free comprehensive resume evaluation. The writer will also suggest the improvements you can implement in your resume on your own.
If you need a brand new resume that will speed up your job search, we can help with it, too. An expert writer of our team can create a resume and cover letter in alignment with your requirements and career goals. We guarantee your satisfaction – the writer will work with you as long as it takes to create a perfect copy. We offer moderate prices and discounts for students and recent graduates. We are open 7 days a week – write us in chat if you have more questions!
Have you ever ordered a free resume critique online? Was it helpful?
Popular Posts: