Why Keywords Are So Important For Successful Resume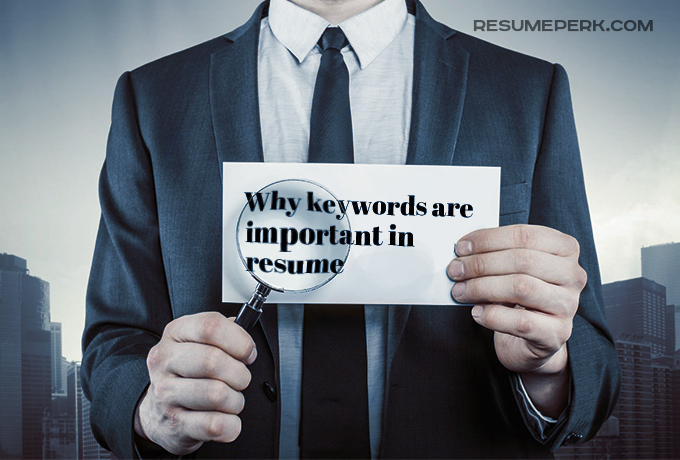 Today, the majority of mid-sized and big companies use applicant tracking systems, or ATS. What does it mean for an applicant? Before your resume gets in the hands of the hiring manager, it has to pass an automated selection which will scan your resume to determine whether you possess the needed qualifications for the position.
In other words, ATS are necessary to weed out the applicants which do not match at an early stage to save the hiring manager's time. According to Forbes, only 15-20% of applicants are qualified for the job they're applying to. So, this kind of optimization saves a great deal of a hiring person's time. The only problem for you as an applicant is that even if you're highly qualified and experienced but your keyword optimized resume doesn't have the needed keywords, it won't even get read by a human!
Key reasons to enrich your resume with keywords:
To pass the ATS selection – as was mentioned above, keyword-free resumes are tossed out, so, without keywords your application might not be even considered.
To get the higher ranking and more chances for interview – usually, the ATS sorts the applicants based on how well the resumes match the job description. And, if you take your time to customize your resume for a particular job opening, your resume is likely to be considered in the first place.
To focus on the most important information – when rewriting your resume with the use of keywords, you'll likely just cut the career facts that do not match, thus making your resume shorter and more focused.
What are keywords?
Depending on the industry and the level of job, keywords may be:
Software, language and technology proficiencies
Skills and concepts which imply on a particular profession and industry
Anticipated qualifications advertised in a job opening
Job titles held and previous employers
Certifications and relevant credentials
University name and degree
Professional affiliations
Specific industry jargon (education, healthcare, law, etc.)
Where to find keywords that should be used?
Get the keywords from the job advertisement. Look at the requirements from the successful candidate and watch the language and phrases used. These will be the keywords that should be included on your resume.
Browse the web for keywords listings. For instance, New York State Department of Labor has an impressive list of keywords for nearly any industry, so you can use these phrases as well.
Ask the HR specialists in your network. The first-hand advice will be much more valuable than any general tips on the Internet. So, if you know the HR specialists in your field, ask them about the effective keywords you can use.
How to get use of keywords efficiently
Add keywords throughout the resume. Write out your qualifications that match the job description and then list all the qualifications you need using the same words which are used in job posting. Your task is not only to prove that you have what it takes to obtain the position but also to use the same language. By speaking on the same language with the hiring manager who created the job posting, you not only will pass the ATS, but also will better connect with him on a personal level. Be sure to consider this advice when updating your resume for a job search.
Put the "Skills" or "Core competencies" section at the top of your resume, right after the summary. This simple section consisting of bulleted list of skills serves two major goals. Firstly, it improves the way your resume looks and attracts the recruiter's attention to the key skills and areas of expertise you possess. And, secondly, this section is best for giving your skills as keywords.
Test your resume keywords online. There are services like JobScan which allow you to check how well your resume matches the specific job opening. All you have to do is to copy and paste the text of your resume and the job posting and the software will analyze and even provide recommendation how to achieve the better match.
Add more keywords in your summary. It's important to enrich your professional summary with necessary keywords is well. Summary is the best place to put keywords connected with your personality traits and work attitude. Adding more keywords at the top of the resume makes it more ATS-friendly as well. If you don't have a summary, it's one of the biggest resume mistakes these days – correct it by adding 3-5 lines at the top of your resume.
Keep the language simple. Although this advice isn't directly connected with the ATS selection, this is what you should definitely keep in mind. Make your resume easy to read for anyone, especially for those who might me not familiar with the nature of your job. Chances are that the hiring manager won't be the first person to read your resume, so, by keeping the language simple, you make the resume understandable for any junior assistants and outside recruiters who may see it first.
What are the most popular resume keywords that you can use in your resume?
The use of relevant keywords helps the resume achieve the 'keywords match' with the system and get read by human hiring managers. Although keywords vary from job listing to job listing and from industry to industry, there are universal keywords that nearly everyone can use. According to the ATS keywords data, the 10 most popular keywords across all industries are:
Microsoft
Office
Python
Management
Excel
English
HTML
Data 
CSS
Google
As you may see, almost all of these hard and soft skills relate to technology and digital competencies. This happens because these competencies are now required from job-seekers in most jobs. Even if you are not a tech professional, you are expected to have some digital literacy to do your job effectively. These are the best keywords you can use provided that job advertisements ask for them.
Popular keywords for jobs in management and business administration
Project management
Key performance indicators
Asset management
Benchmarking
Operations management
Scheduling
Popular skill words for computer science and programming jobs
Agile/Scrum
Detail-oriented
Application development
Problem solving
Programming languages
Software development
These are the cv keywords examples found in resumes for the listed professions. You needn't list them if your target job posting doesn't ask for it. For more tips and advice on how to write resumes for different professions and industries, check other articles in our career blog.
Are resume action verbs and keywords the same thing?
Keywords mean specific hard skills, soft skills, education, qualification or a job title required by a job ad. By scanning each resume keyword, an applicant tracking system determines if you qualify for a position. The more key phrases your resume has, the higher is your chance to pass ATS resume test and be considered for an interview. Example: database management, systems administration, Bachelor's degree, etc.
Resume action words are words that you put at the beginning of each bullet point in your job descriptions. Example: managed, implemented, negotiated, assisted, etc. Strong action verbs help your work history sound more persuasive and emphasizes your personal impact on the processes and results of work.
5 professional tips to enhance your resume
Focus on relevant skills requested by job listings
Don't include all jobs you've had and all skills. This will simply take the resume space and confuse both the software and the human recruiter. This isn't how the modern hiring process work. The resume has to be closely tailored for one target job posting, and you need to list relevant skills, experience and qualifications only.
Include keywords in all the resume
Resume buzzwords have to be placed in all sections of the resume: resume summary, professional experience, resume education section, and others, if any. Such use of keywords looks more natural to the ATS than squeezing all the keywords into one section (for example, Skills). And the natural use of keywords in sentences is important for scoring higher with ATS (more on that below).
"As many keywords as possible" isn't the best strategy
Some job-seekers try to trick the system and beat other candidates by simply inserting keywords in white somewhere in the document. In this way, a human doesn't see these words but the software can identify them. This is also called 'keyword stuffing'. Yet, this strategy does more harm than good – the ATS changes the font color so the hiring manager sees these words anyway. And most likely, they will ban you for trying to play tricks with the system.
Speak through accomplishments and measurable results
The most natural and effective way to use keywords is to add them to accomplishments in a previous job. Generally, employers prefer seeing accomplishments in candidates' resumes, as in this way they can evaluate the potential of potential employees. Here's an example of accomplishment for a Project Manager resume (keywords are given in bold):
Reduced project costs by $37,000 by introducing conflict resolution strategies and streamlining vendor communication.
Include keywords in a cover letter as well
Many job-seekers are doing a great job incorporating keywords into a resume but completely overlook cover letters. In a meanwhile, many ATS scan them too, so be sure to include the most valuable power word and give examples of how you used each skill.
Need more advice with preparing a resume?
Even if you know the rules, it can be tough to identify the right resume words to use. If you hesitate which skills and keywords are worth being included, we are here to help. Our British and American writers will help align your resume for a target new job, strengthen the content and use customized design for the ease of reading. We are 100% confident that you'll be satisfied with our services. And if you're not, you can request unlimited free revisions within 2 weeks.
The formatting challenge
In addition to enriching your resume with keywords, it's also important to incorporate the formatting that will be easy to recognize by an ATS. The key rule to successful formatting is simplicity.
Avoid the excessive use of charts, tables and graphs (or remove them at all).
Change the fancy cv keywords list and columns to the simple bulleted lists.
These two changes ensure that your formatting won't be destroyed by an ATS and text and figures won't turn into a mess that's impossible to read by a real person.
Adding keywords to the text of your resume is a necessity these days, as the only way to get your application considered lays through the ATS software. And simple replacing the words from your resume with those written in a job posting on the internet can make the difference to your job search process. Here you can check useful words for your interview.
It's time to get started!
Enriching your resume with keywords is an essential part of a resume writing process. So, if you got all the necessary keywords at hand and you feel you're a good match for the job, it's time to get down to making your resume perfect.
Do you have any issues with resume keywording? Then, you can contact our specialists and get your resume improved in all necessary aspects to boost your confidence in a job search process.