Resume Writing Companies: Top Five Agencies
The job search in the modern fast world can be extremely challenging. Strong competition, rapidly changing requirements for candidates, new trends in composing career documents complicate everything. If you want to move with the times, delegate your resume and cover letter to online specialists from resume-building companies. And we are here to help you make the right choice.
This post is devoted to the most decent representatives of this writing industry. We have tested numerous variants and selected websites that are worth your attention.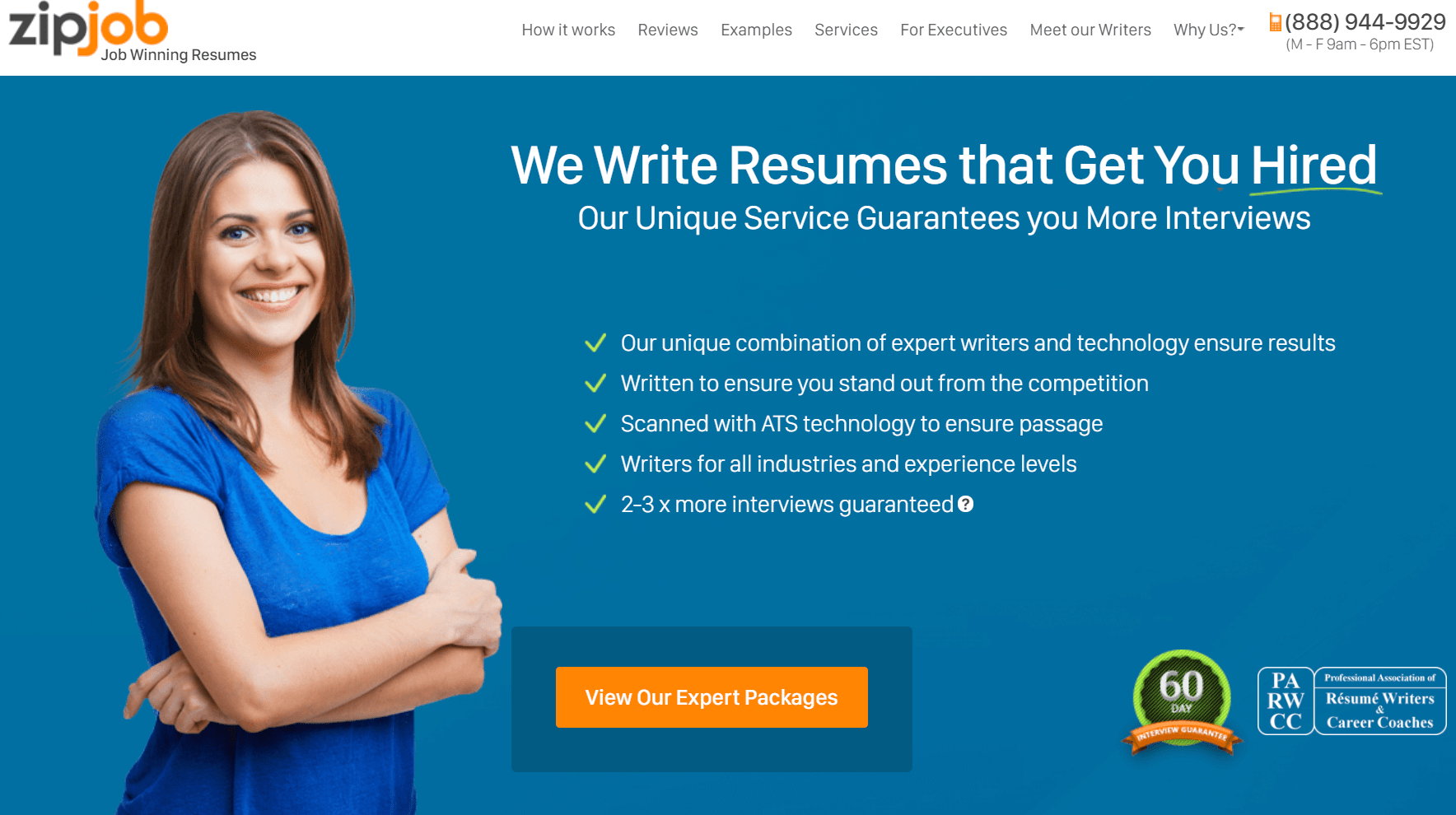 What they offer
Three packages of writing are available. They vary depending on the number of documents and advanced features. One can count on assistance with all standard texts for your job search; not only a resume but a cover letter and LinkedIn profiles too.
How it works
We were asked to send the draft of our document or fill in the form. Conveniently we could monitor the resume writing process and discuss everything on the chat.
Can you afford it?
The minimum price is $139, and the maximum one is $299. If it is too much for you or you require to test their professional capacity, they promise a free resume review, which implies an ATS check.
What about the site and online marketing?
Nice and informative site with good examples of work. They visually demonstrate how they can rewrite your resume. Striving to become closer to people, Zipjob actively promotes its business on Facebook, Youtube, LinkedIn.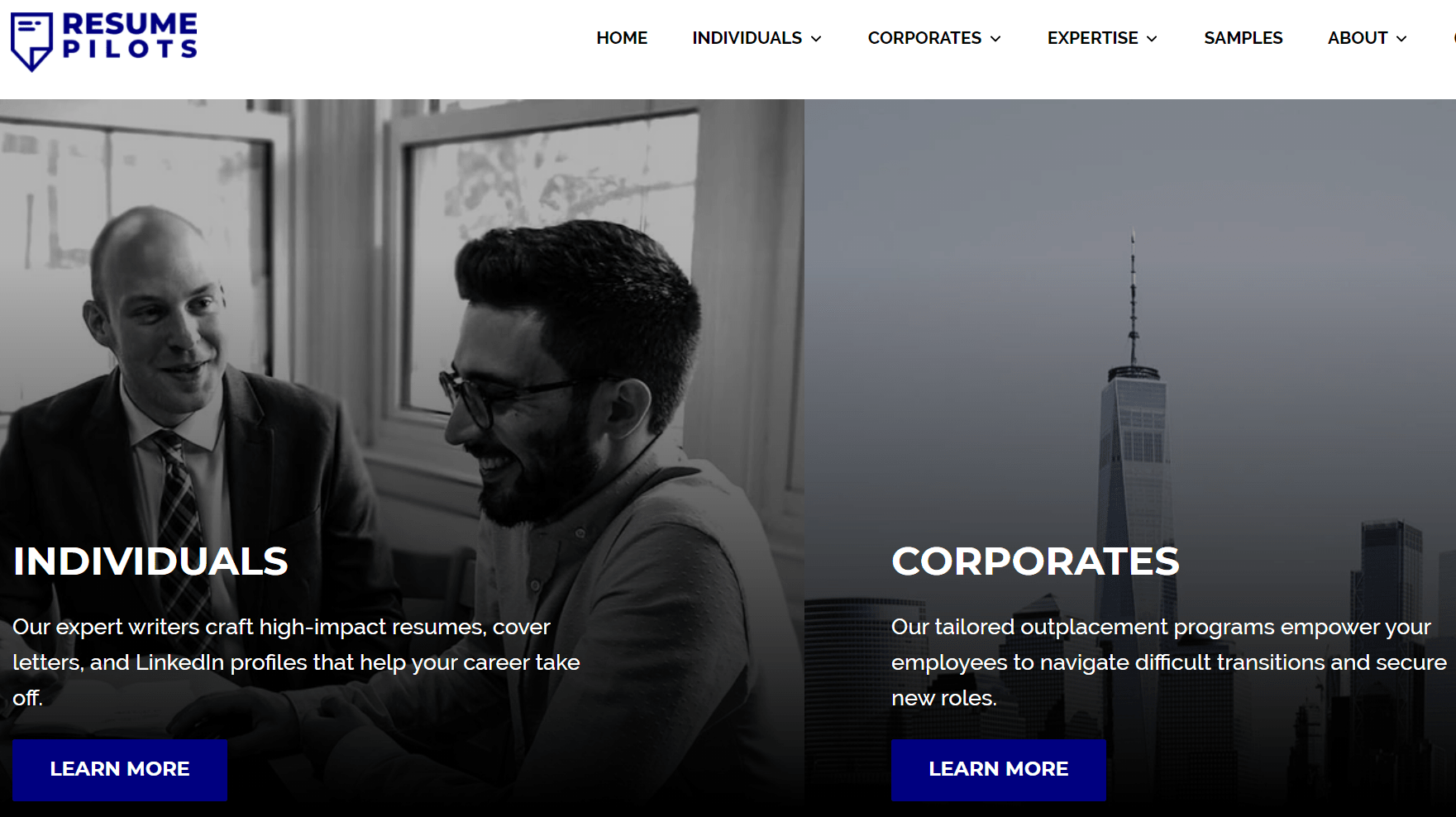 Our first impression
We were pleasantly surprised by the solid website design. In comparison with its competitors, it looks more serious and professional.
What to order here
It seems you can purchase any document for your professional development here, and even more. It is not about a top resume only. Did you even know that it is possible to buy an action plan for your job search? When hiring managers of this enterprise, you can also count on coaching and sets of templates for professional documents.
How much money you should pay
They are aimed at delivering premium-level services and the prices correspond to this professionalism. The minimal price is $149, yet it is not for writing but reviews and consultations only. In case you require a document from scratch get ready to send $799. And we were just curious if someone paid $2650 for the biggest package of their resume services? Because for us, it was too much.
What you should know about it
We could not find the online chat on the website, only email and the phone number. Thus, you can reach their writer via these means only.
Resumegenius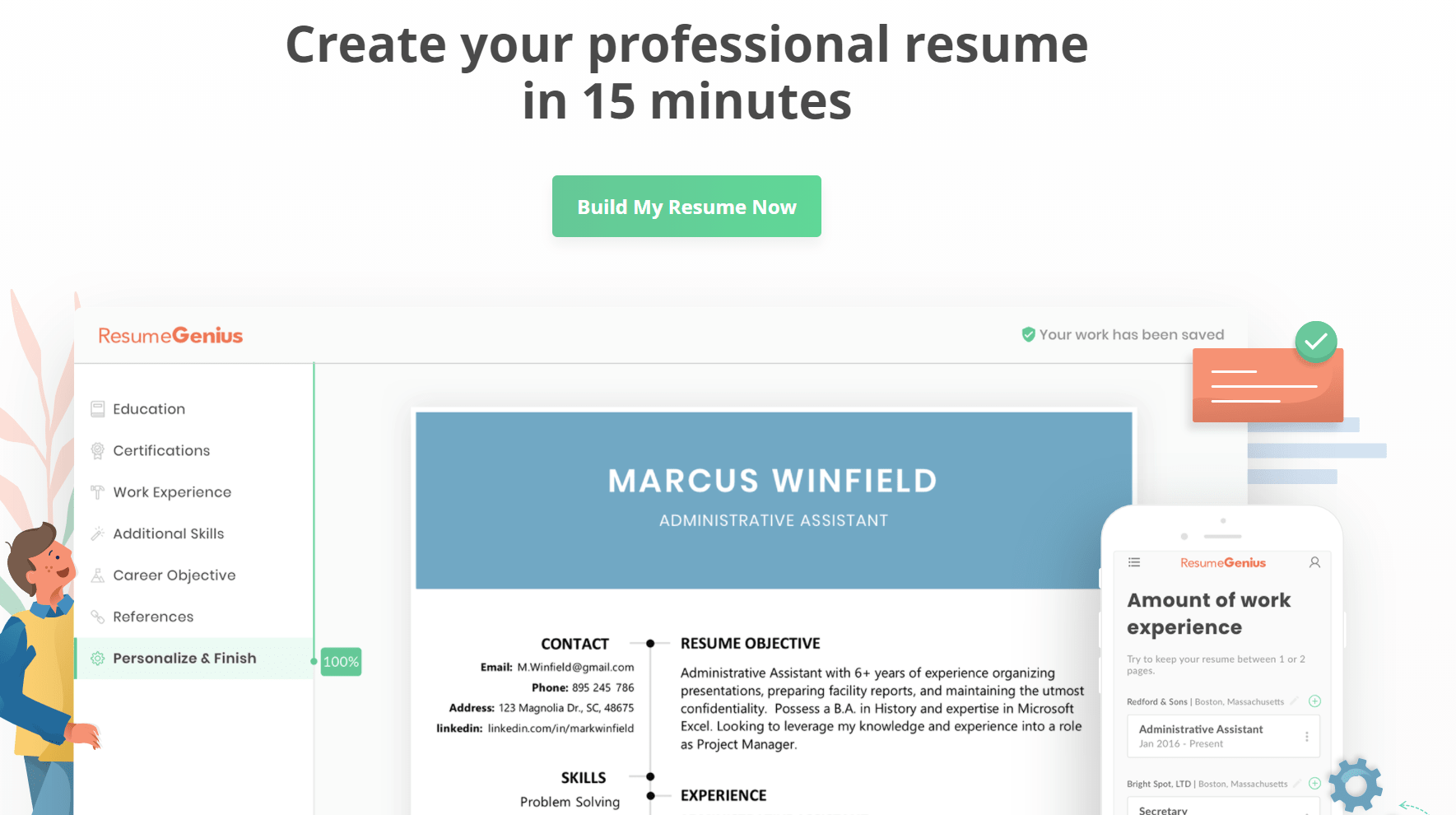 What is its idea?
Why not apply artificial intelligence to the process of creating resumes and cover letters? This website offers a resume builder, and the cover letter creator is also available. They are not free, firstly, you are asked to pay for the trial version (several dollars). Other subscriptions are also available.
What to expect from them?
Apart from automated software for your career documents, you can find templates of ready-made files here. If you require advice on how to prepare for job interviews or wish to learn the secrets of applicant tracking systems, please, enjoy the blog.
The communication process
The online chat works according to the schedule, plus you can always send an email or use a phone number.
What we've appreciated
It was fun to test their interactive online tool. Unlike most free instruments for job seekers, their ready-made file looked much better.
Topresume
What we've liked most
The website design looks up-to-date with its awesome dynamic objects. Despite the first messages from the bot, it is possible to negotiate everything with a real person on the live chat.
How they can assist you
You are offered one of three packages, depending on your career aims and priorities (the highest one is executive priority). All they boil down to composing different career documents and various levels of assistance. We've appreciated the Topresume blog. Really helpful tips, it seems that they were composed by the professional resume writer. We've noticed that their articles are cited on other online resources.
What about their online presence?
Apart from the website, they have active profiles on Twitter, Facebook, LinkedIn. So you can follow their news and read practical recommendations on resumes.
Is the price for resume worth it?
The minimum price is $149 for one resume. Customer success stories prove the wide expertise in various industries and niches, as well as the high level of general quality.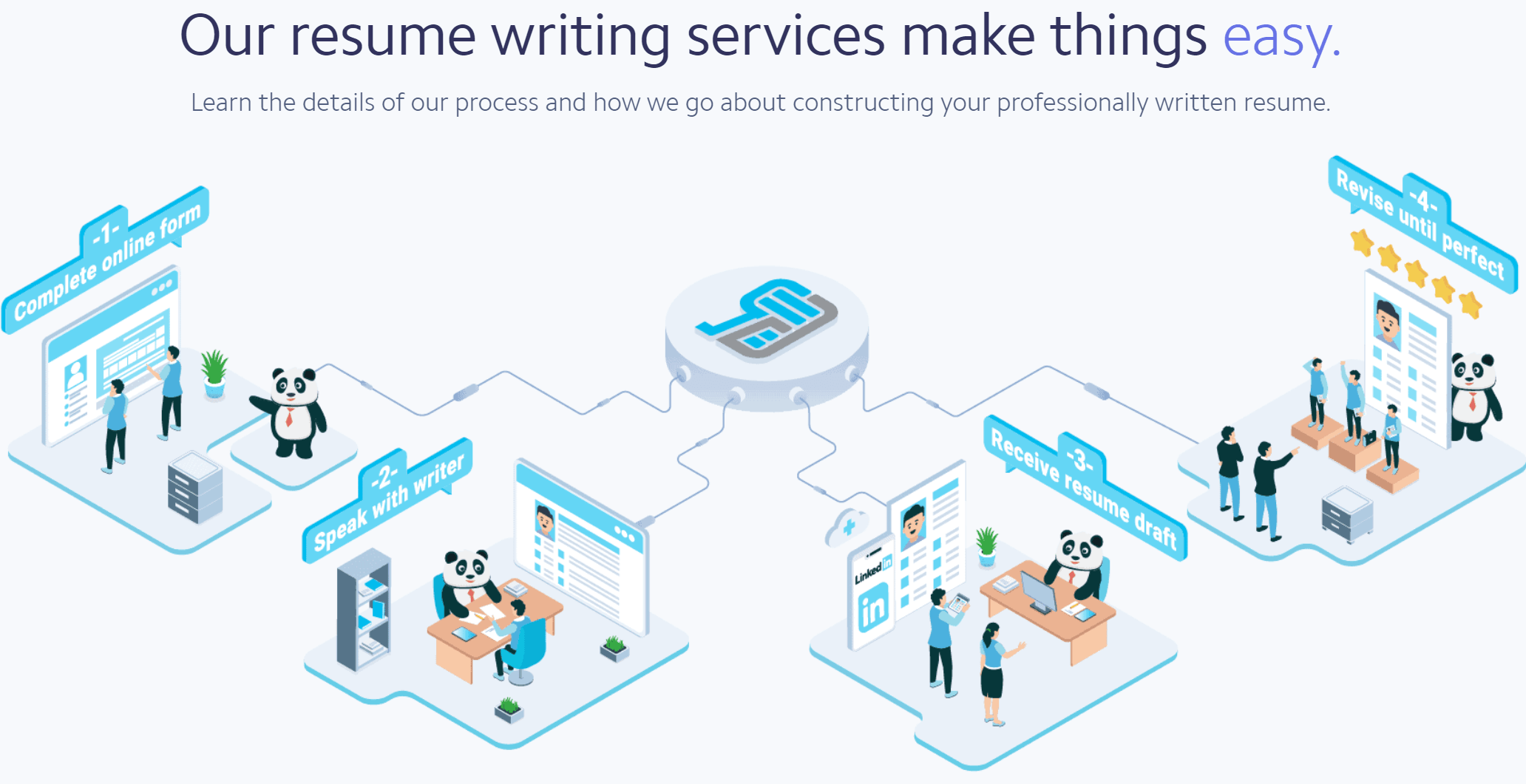 What is special about them?
Look at their cute serious panda! It is the character of this resume writing agency, and it contributes to their image of a solid and, meantime, creative company.
How much does the panda's team cost?
If you want to become one of their clients, please, get ready to pay a minimum of $199. The highest price is almost $400 plus payments for extra features and documents.
What about their website?
They offer enough clear information on how their portal works; sample resumes and articles are also available. We've appreciated a short video demonstrating their process.
The best resume writing service: How much does it cost?
Since every enterprise has its level of professionalism and principles of work, the prices on resume writing services are very different. Besides, one needs to consider the clients' expectations from the final results.
If you require a trustworthy resume writer, be ready to pay at least $85. For now, it is considered a minimal average price. The maximum figure is about $1000. For this sum of money, you receive all possible assistance to reach your dream job.
Our agency is willing to offer the best deals to job seekers, please, learn more on the live chat!
Yes, definitely. The only thing is to opt for the vetted variants. Make sure you work with trustworthy resume writers, and you will see how beneficial this cooperation can be.
We can confidently say from experience that this type of assistance is a good investment in your future career. Thus, our assistants have already simplified the job search process for thousands of people. Career goals are easier to achieve if you have professional support, and you can find it here.
What you receive from our resume writing company
You pay about $100 and obtain a professionally written document, which implies:
• following the current resume trends in design and the manner of writing;
• the optimized structure of the text, with enough white space;
• keyword-optimized resume for maximum effect;
• unlimited revisions under specified conditions;
• compliance with your deadlines (even if it is about the minimum number of business days).
All the above points result in the guarantee of decent quality. Our professional resume writing services are worth every penny. Just think about the value of your time and effort.
We promise to create your career documents on the best terms! Do not miss the opportunity to use today's discount!
What are the criteria for the best resume writing services?
The number of participants on the online services market is constantly rising. When you notice advertising of another company in this sphere, please, do not hurry to become their customers. Firstly, check if they are reliable.
✔ The communication process
It must be effortless to contact the representatives of the professional resume writing service. The online chat is enough for the contemporary online firm. Phone consultation is not compulsory, as file exchange and messages are more convenient. Pay attention to the manner and tone of the communication with your writer or the support agent. The informative and polite dialogue is a good sign.
✔ Consider the website of the company
The site constitutes the main tool for the successful work of professional resume writing services. Hence, it must be, above all, a user-friendly online platform with a suitable Order Form and supporting chat. Besides, a big number of professionally written resume articles on the blog highlight a serious approach of the firm.
✔ Guarantees are decisive
Your cooperation with a resume service agency must be protected by a set of certain rules. Ask about the period of free revisions, money-back opportunities, certified professional assistance, etc. For instance, ResumePerk.com promises to edit the first draft of the resume within a certain period if you find any mismatches with the Order Form. It's free of charge.
Please, note that it is OK not to give a 60-day interview guarantee. Professional resume writers can compose awesome career documents, implement secret compelling techniques, adjust the texts to the algorithms of the applicant tracking system, etc. Yet, obviously, they cannot add non-existent work history or any other facts about the job seekers. It's impossible to turn entry-level knowledge and skills into advanced expertise. So the promise of the job interview or winning a dream position sounds dubious.
Is ResumePerk.com one of the best resume writing agencies?
We do not like big words and prefer using facts to prove our reliability and effectiveness.
• For 10+ years of dedicated work, we haven't allowed ourselves to write a mediocre resume, cover letter, LinkedIn profile, or any other career document. Only brilliant documents and bright ideas.
• All the orders are delivered within the shortest terms (48 hours or even less).
• We value our good name; every new resume that we create here is a matter of our reputation. This motivation is the best proof of our reliability and interest in the perfect result.
• Our team is big enough to offer a professional writer precisely for your niche or industry.
• It is possible to opt for any package of services related to career documents here (more than fifteen offers are available).
Thousands of users opt for our professional writers and get closer to their career dreams. You can follow their example right now. Place your order or learn more about our opportunities on the live chat!