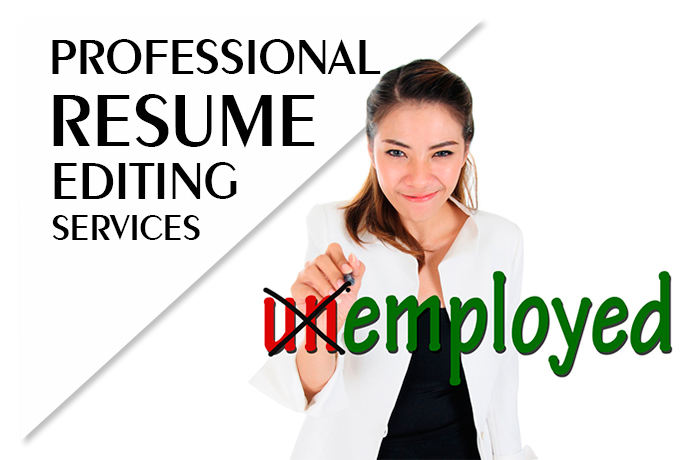 The use of hiring a resume writer is often debated as some believe that the other person cannot properly write a document instead of you. However, in today's competition, it's nearly impossible to make your resume stand out without a professional help as you will lag behind the job-seekers who have consulted a resume writer or career coach. So, if you already have a resume but want to give it a professional touch, professional resume editing is your perfect choice.
It's a tough task to catch every mistake in your own writing, especially if you are not familiar with the way the recruiting process works. Professional editing done by a skillful writer will provide you with the following benefits:
Target your resume for the industry
Be it a CEO, dentist or a customer service resume, it should be written specifically for a given industry or a job field. A resume written for a military position will make no sense for a civilian employer, as the jargon and resume writing rules are totally different.  If you are unaware of how a successful resume for your field looks like, entrust this task to an editor. He will focus your resume for a given job while preserving the meaning of your writing.
Impress the HR with an excellent grammar
Although some claim that literacy is not a must for a resume and most application documents contain grammar or spelling errors, every hiring manager prefers to recruit a person who makes no mistakes in writing. Polished, error-free writing won't win you an interview if you're not qualified for the job; still, if they have to choose between you and a guy with three spelling error on the first page, it will help a lot. Not sure grammar is your strong point? Hire resume writing services to get the editing done.
Streamline your summary and objective
If you decided to include one of these sections (or both), make sure they sell your skills and expertise and are targeted so well that the recruiter will be immediately excited to call you for an interview. Most people clutter up this space with meaningless clichés like "To obtain a position of sales manager where I can hone my management skills and contribute to your company". If your own objective is as dull, call a resume service to edit it.
Scan your resume from an employer's prospective
As an applicant, you might believe that your resume looks excellent and presents you the best possible way. However, hiring managers view your resume from a completely different prospective. And if some required information is missing, or your resume evokes concerns which you don't address, resume goes to 'No' pile. That's why it is important to let the professionals connected with recruitment to take a look at your resume and correct it if necessary.
Speed up the whole job search process
If you have ever written a resume by yourself, you know that it can take days and days to write a worthwhile copy. Rewriting, editing and updating a resume steal the precious time you could have spent on searching for jobs and applying for them. As soon as you entrust editing your resume to a professional, you'll be relieved from worries about your resume quality and focus on your primary goal – hunting your dream job.
Stand out with eye-catching yet professional formatting
The purpose of formatting is to draw the attention to the key points of your professional history and make the document easier to look through. Skilled editors usually break big blocks of information into the short, readable pieces and thus make the copy not only visually appealing, but also easy to read to stimulate the hiring manager to read the document from the top to the bottom.
Remove irrelevant information
Many applicants load their resumes with the information which is of no importance to a prospective employer. Majority of people are now aware that putting a headshot, marital status, hobbies, high school, etc. are inappropriate. Here are more details on what your resume shouldn't contain. However, not everyone can distinguish which details of employment, personal development and education must be on a resume and which can – and should – be removed to save the space. By cutting out what's irrelevant, a resume editor will make your document shorter and more targeted for the desired position.
Improve your chances to win an interview
You can be a top-notch professional in your industry and possess all the necessary qualifications for the job. Still, if you are unaware of the rules of successful resume writing or the writing process itself is not your cup of tea, this might cost you an interview. Remember that you make the first impression on the hiring manager by means of application package; and if your resume or cover letter isn't impressive, they will be trashed. It's silly to lose a chance for the interview simply because there was something wrong with your resume. So, don't hesitate to use the editing services to make your application documents stand out. And, if you manage to get an interview, boost your chances by asking the right questions.
The bottom line
If you lack writing skills to make your personality shine on paper, it's high time you ordered resume editing services and saved the situation. Moreover, editing services are much cheaper than writing from scratch, so improving your resume won't cost you a bomb.
Have you ever ordered professional resume editing? Were you happy with the result?