Why You Didn't Get The Job: Truth By Resume Editing Service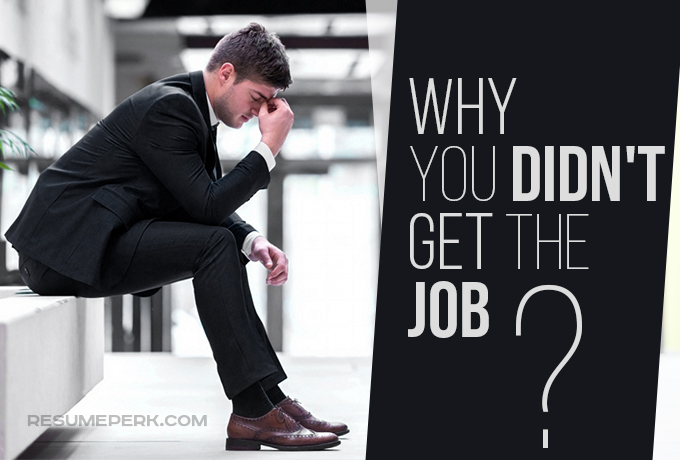 So, your resume was absolutely perfect. It doesn't matter if you have written it by yourself consulting an HR specialist or bought it from a resume service online. The truth is, your resume was really stellar, with the numerous professional achievements highlighted and a great design. However, after the interview they didn't call you back.
That's pretty disappointing, isn't it? And it gets even more depressing if the situation occurs over and over again. What might be the problem, you think. Our resume editing service is going to enlighten you about the reasons you might have been rejected.
A resume isn't everything…
Although it's been told here and there that resumes are extremely important, you need to admit that a rockstar resume isn't everything. A cool resume (maybe, written professionally or polished by best resume editing services) is a must to get your candidacy approved for the interview round. But then, everything is up to you.
Resumes – no matter how perfect they are – don't get you a job. The interviews do. So, it must be the interview where you went wrong.
Also in this section:
The reasons why you didn't get the job
You didn't follow the submission directions
When posting a job opening, the company usually states the preferred means of communication. Some expect you to apply through job site platform; the others wait for your resume and cover letter on email. If you neglected the way they've required to apply, don't be surprised if your submission didn't get to hand.
Forbes also suggests that you research the company's hiring manager email address and apply directly to them.
You didn't send a cover letter although it was requested
Or, didn't provide the samples of your previous work. Or, forgot to attach a reference list… The matter is, if you fail to closely follow the company's guidelines for submission, your application won't be considered. Read the job opening closely and apply exactly the way they want. If it's the cover letter that became your stumbling point, learn how to make your cover letter a success here: http://resumeperk.com/blog/how-to-write-winning-cover-letter-for-job-applications
You didn't match the job requirements
Listen, if the job ad says that your German must be fluent because you'll have to communicate with company's German partners, "I'm only intermediate but I want to work with you badly" won't do. Read the company's basic qualifications which make you eligible to apply for a job, and if you don't fit all of them, don't waste anyone's time. If you don't match all of the desired qualifications, it's okay to apply, though.
You've failed the phone interview
The hiring manager called you all of a sudden and started asking you tricky questions while you were totally unprepared. Sounds familiar, doesn't it? Unpreparedness can cost you a dream opportunity. And, since a phone interview goes between the application and a face-to-face interview, if you don't impress them via phone, you'll never get a real interview invitation.
How to ace phone interviews? Read more about it here: http://resumeperk.com/blog/profitable-tips-how-to-win-phone-interview.
You've asked inappropriate interview questions
During the interview, not only the things you say but also the questions you ask tell a lot about you. By asking something like "What does your company do?" or "How much does the job pay?" you'll turn away the interviewer immediately even if you're competent enough for the job. If you can recollect asking something of this kind, that probably was the reason. During the next interviews, you can use the list of best interview questions  to impress the hiring manager.
You did something inappropriate during the interview
There's a number of interview mistakes and bad habits to avoid if you really want the job. Maybe, you were dressed casually for the company that respects a strict dress code. Probably, bad mouthing the previous employer spoilt the overall impression. Or, you were unprepared for an interview and didn't give clear, confident answers to the interviewer's questions. In other words, it could be your interview behavior that prevented you from getting a desired job offer.
You came across as an awkward customer
Communication skills and ability to work in a team are of high importance for any job. Most likely, you're going to work with either other people in your department or the customers. So, in either case, your success (and the company's profit) directly depends on your ability to maintain contact with people. If you look like a person that is hard to deal with, the interviewer has probably decided to hire someone who is easy-going and open.
They just weren't into you
It means that you didn't make the wrong impression during the interview or something. They've just found the type of candidate that was exactly like they wanted.
The position is eliminated/closed right after the publication
There can be a situation when the job is posted and they hire someone's acquaintance at once. Or, right after the posting the position is eliminated. Anyway, the situation is you apply and there isn't any job opening.
Sometimes company posts jobs because they want to have a pool of candidates to choose from if they need specialists in the future. You can apply just in case, but don't rely on such jobs if you are in need of employment right now.
You didn't make your career goals clear
If you're going to pursue another job in the same field you've worked in for years and have relevant educational background, it's ok. However, if you got a degree in Arts, volunteered for art festivals and exhibitions and are applying for a position of bank teller, the hiring manager has more questions than answers. They might think that you're going to leave as soon as you find more appealing to you and relevant to your interests – which means more expenses on hiring a new team member.
So, if your education or previous experience is outside of the field, focus on why you want this job and make it clear for the hiring manager.
You revealed much personal information
The interview should be all about the job and your traits needed for the job. If the discussion covers personal matters, your chances for a job drop. Why?
First, you are not expected to talk about private matters. If you have issues in your family or relationships, or you didn't leave the past job on a good note, an interview is the last place to speak about it. Who wants to hire someone with a bunch of problems who'll be focused on resolving them, not on work?
Second, the interviewer might ask private questions to find a reason not to hire you – yes, the discrimination exists. So, if you can recollect talking about your marital status, or age, or ethnicity during your last interview, you have probably been discriminated. Avoid discussing these topics in the future.
The bottom line
As you can see, there can be lots of reasons why you didn't get the job – even if your resume was perfect. There may be issues within the company, or you could send the wrong message during the interview. If you've found the mistakes you made, do your best to eliminate them and your job search period won't last long.
It doesn't mean that you should neglect careful resume writing, though. If you have a resume written, it will do you any harm to run it though a professional resumes editing to have minor errors and punctuation in resume fixed. Our top-notch resume editors can polish your resume and make it 100% submission-prepared. You can contact us anytime for further advice or resume assistance.
Get an attractive discount for resume editing
When your future career is at stake, money isn't the key matter. However, we've made our services even more affordable for first-time clients. You can subscribe for our newsletter and get a 20% discount off your first order.
If you are not sure about what a resume writer can do personally for you, use our free resume critique service prior to making an order. A writer will point out at the mistakes of your resume and gives substantial advice on how to fix them.
Did you find your last job fast?
Popular Posts: