8 Reasons to Find Part Time Jobs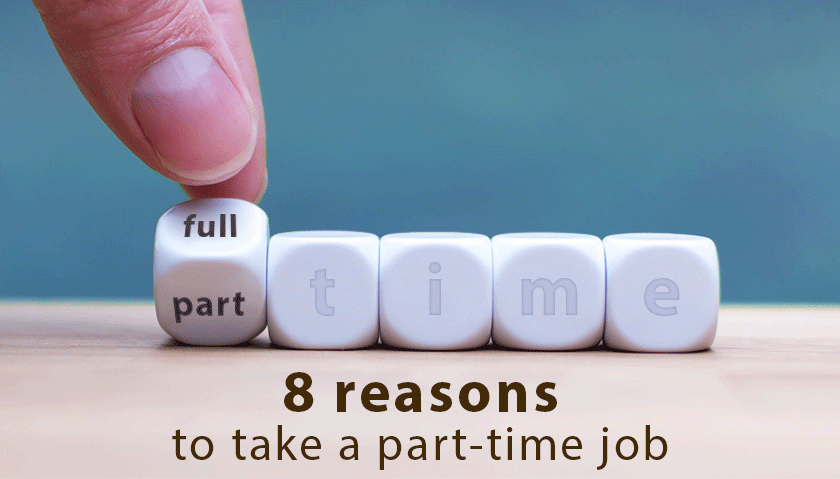 If you still don't see part-time employment as a full-fledged career, think twice. Taking a part-time job carries a number of benefits for professionals across all industries, especially if you're currently unemployed. It serves perfectly well as a temporary replacement while you land a long-awaited full-time gig and a source of cash flow. Not only that, part-time or short-term opportunities.
The statistics say, 27.9 million people were employed on a part-time basis in March 2020. The pros of some variants can compete with those that come with full-time offers. Thinking about taking a part-time offer? We have prepared some arguments on why you should give it a shot, even if it is your first experience.
Successful job hunt begins with a resume
If this paper is composed and targeted well, it guarantees responses from the recruiters. Thus, our local resume writers can come up with an effective resume. Here at Resumeperk.com we staff experienced American and British authors. They will describe your personality in the favorable light and position you as an awesome candidate for an opening. We guarantee ongoing contact with your author and unlimited edits until you are totally satisfied.
Reasons to choose a part-time position
1. It gives structure to your days
However little hours your part-time job will take – even if it's 2-3 hours a day – it will keep you organized anyway. Unemployed professionals often lose the sense of time when stuck at home, and tend to procrastinate on important activities such as family commitments or job-hunting. Having an outside commitment changes the way you approach other things as well. You'll have to get dressed and drive to work every day (or to open your laptop and concentrate on tasks). You'll cross out the tasks from your to-do list with the feeling of fulfillment. And, having started the day productively, you'll be more willing to be as productive in other areas of your life.
2. It smooths the transition back to a full-time job
Returning back to 8-hour working day might be a real challenge for your body and mind. It is difficult  to change a relaxed schedule, get up early, put yourself together, pour into the atmosphere of countless tasks and tight deadlines. A part-time position makes you stay concentrated. In addition, this variant is better than unemployment.
Do you have writing talents? You can find a profitable authors job.
3. You are able to experiment and determine your career passion
Would you like to make a career move but not sure where to head next? Or maybe, you're just out of school and not sure where exactly your career passion lies? Taking a part-time position allows you to explore various career options and directions without committing all your time to it. You can try and experiment what kind of work you enjoy and what career direction works for you. If you can manage 2-3 part-time jobs, that's even better – you can explore various career types in shorter time span and earn a decent living at the same time. Temporary exposure to various organization type and directions in your industry is something that one full-time job cannot provide you with.
4. It provides you with an income when you cannot work full-time
Taking a part-time offer is a perfectly weighed solution when you cannot work full-time because of certain circumstances. Say, you're a student a committing to a full-time position will draw your attention from study and prevent you from gaining knowledge. Or maybe, you're a young parent looking to spend more time with your baby. Or, you've simply been unemployed for a while and wouldn't mind extra income to pay the bills while you're looking for a quality job that matches your career interests. Finding an extra source of income is good for everyone, so why not take that part-time job to support yourself financially?
Are you a young parent looking to re-enter the workforce? Learn these tips first: http://resumeperk.com/blog/going-back-to-work-after-baby-tips-for-parents.
5. It ensures a harmonious life
Take a part-time job as an opportunity to relax, spend more time with close people, improve your health, go in for sports, etc. Let yourself have a break after exhausting duties, stresses, and tense intellectual work. We all need pauses to reflect on our priorities, purposes, and a life balance. A part-time job brings a moderate income, and, meantime, leaves time for feeling the taste of life. If you have been dreaming about language courses, going to the gym, attending cooking lessons, you finally have this opportunity.
6. You can maintain or expand your skill set
Professional skills can become outdated in a couple months of your unemployment. If you do not work 8 hours a day, spend free time on your professional growth. You can use it to take courses, expand your skill set, or even get a remote degree. These actions will turn you into a more marketable employee in the long run. By the way, if you're looking for a huge career success, take a look at this career advice from women in business.
7. It helps avoid resume gaps
As we've mentioned above, employers don't favor employment gaps on a resume. Not only they start doubting your professionalism and relevance of your skill set, but also it's awkward to explain large chunks of time during an interview. By taking a temporary role, you kill two birds with one stone. Firstly, hiring managers see a steady work history on your resume and won't have prejudices against you. And secondly, you'll have something to tell about during an interview when asked about your most recent experience. In either way, looking for a job when employed in a part-time role increases your chance of getting hired than if you were looking for a job while unemployed.
8. It can transform into full-time employment
Even if this path is not evident at first sight, it's very common that part-time employees get hired on a full-time basis after some time. Chances are, that your agency doesn't have a budget to open a full-time position at once, or the manager wants to see your capacity. However, if a full-time employment is your goal, discuss your intentions with your boss and colleagues.
How to compose a resume for a part-time job?
If you're aiming at part-time positions specifically, your resume needs some adjustments as well. Here are some changes to make into your resume for this type of job:
✓ Make it clear that you want a part-time role.
If you don't specify it from the beginning, this may cause confusion later in the hiring process. Mention in a resume that you need a part-time position. The best place to do it is your objective or career summary so that the hiring manager sees this information for sure!
✓ Explain your reasons to search for a part-time/temporary position.
In certain cases it also makes sense to explain why you need a part-time job, not full-time one. Maybe, you're a student who is looking to make some extra money or an experienced professional willing to try a different career path. Addressing this in a cover letter will help avoid the confusion with a recruiter.
✓ Show your relevant achievements.
Just like any other resume, the one for a part-time job should be result-driven. Choose your most relevant accomplishments and results of work and put them above the fold. Don't be shy to add figures and percentages to make your achievements sound more persuasive and impressive.
✓ Edit and proofread.
Even one typo can cost you a job. Check and proofread your document several times to eliminate all the mistakes. A fresh set of eyes can come in handy. So, one can order resume edit service to fix any issues.
Where to look for a part-time job?
Although the job-search process doesn't differ much from searching for a full-time employment, here are some options that you probably haven't considered:
✓ Use the job boards smart
Huge job boards such as Glassdoor.com or Indeed.com have countless job openings posted, including part-time ones. Use the search filters to sort our part-time openings only, and use other filters depending on your preferences. This will narrow down your search and help you find suitable openings faster.
✓ Aim for small businesses and startups
Local businesses or startups at the beginning of their life cycle often don't have funds or office space to hire a full-time employee. That's why they're be more willing to offer a flexible position to you. Consider jobs posted by small companies also, or even reach out to them through social media or website if your experience matches their needs.
✓ Become a freelancer
Although freelance is not the same as stable part-time employment, it can give you desired flexibility either. Many freelance jobs offer long-term collaboration rather than one short project. For you, it means a steady flow of tasks for some time. Moreover, you can work from home which allows for saving on commute and business dresses.
✓ Search for jobs in the right industries
If you're looking to get hired asap, consider the industries which massively hire part-time employees. These industries include delivery, call center, customer service and healthcare. Applying to these types of roles will ensure you a quicker response. More importantly, these industries hire even during the COVID pandemic, so if you've lost your job, make sure to turn to them.
Get your resume evaluated for free
Do you need an expert evaluation of your resume? Our specialists can help you out. Send us your document, and get a consultation on its design and content.
Actually, we can write an effective resume for you. It is an affordable and convenient way to get professional assistance. Check out our prices and services and take a 23% discount for your order.