Have You Asked Yourself What To Do After The Interview?
The interview is over, and you can walk out of the door and breathe out. You did your best and definitely impressed the hiring manager with your experience, your skills and personal traits. You used the best of interview advice to stand out and you hope that this job will be yours. However, now everything is up to the hiring manager.
Is it really so? Have you ever wondered what you should do after the interview to maximize your chances for the job? Luckily, there are. Even in today's competitive economy, the right steps taken after the interview can come handy. Today we're going to talk about things you should and shouldn't do after the interview.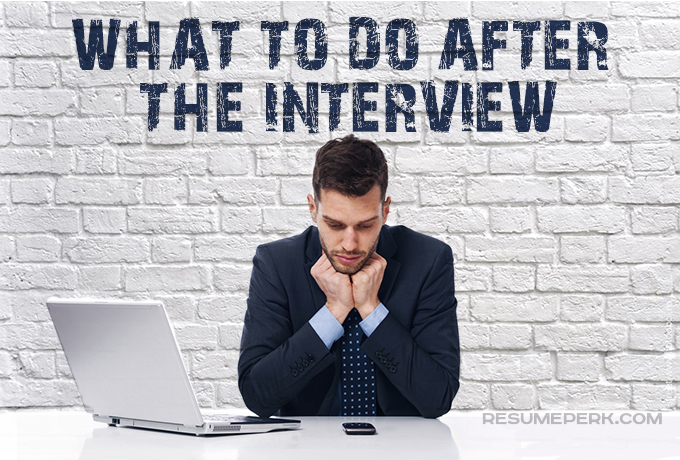 Don'ts  
Don't get frustrated during the waiting time
You were interviewed, you're pretty sure the recruiter liked you, and it's been over a week, and no one has gotten back to you. Sounds familiar? In this case, thinking over the interview and assuming that you've said or done something wrong is the harmful tactics as it destroys your confidence. You can focus on preparing for other interview and looking for new opportunities – remember that you shouldn't put all eggs in one basket?
Don't follow up too often
At the end of the interview you should ask "When do you expect to make a final decision?" Businessnewsdaily recommends. Thus, the interviewer will give you an approximate time frame upon the expiration of which you can contact them and follow up on the results. Whatever your friends or online bloggers recommend you, don't spam them with emails and call every other day to "get noticed". They will get so much irritated by such a behavior that your candidacy will not be considered.
Don't add the interviewer on LinkedIn
 You want to get in touch and expand your network, that's understandable. However, there is better time and place for it than right after the interview. Asking about it can be a total turnoff for the person you've probably already made a good impression on. So, don't ruin it – keep this step until the selection process is over.
Don't get upset if you failed to get a job offer
If you called the company and were informed that they hired someone else, it's no time to get emotional about it. Instead, thank the interviewer again for their time and consideration and wonder whether they could consider you for the job openings in the future. Handling such news professionally will add you points in the eyes of the interviewer and probably you'll be one of the first candidates for their next opening.
Don't change your salary requirements
It often happens that the candidates increase their salary expectations after one or several successful interviews. However, this tends to be seen unprofessional and even rude by the hiring managers. The truth is, the candidate is picked based on different criteria including the salary the company is willing to pay him. If you want the higher compensation, it's better to discuss this matter during the initial interview. Otherwise, you'll simply waste your and the interviewer's time.
Do's
The importance of thank you notes is hard to overestimate. It serves lots of purposes – thank the interviewer for his time and consideration, reiterate your skills and even explain what you would do if you already had the job. You can send this note by email or even consider sending a handwritten note, especially if the potential job promotes creativity and non-standard approach to routine tasks. Here are a few more tricks on sending a thank you letter:
Send it within 24 hours from the interview. Be proactive in your willingness to remind about yourself. If you send the letter five days later, the interviewer might not even remember you;
If you were interviewed by several people, it's common to send a note to all of them, so you could express your gratitude and stay 'top of mind' for all interviewers;
Address one of the interview questions or the topics of discussion. If you believe you could have given a better response to one of the questions you were asked, you can do it in a thank you note. However, be brief as lengthy thank you notes are rare so they probably won't be read with attention;
Attach some supporting documentation along with it. Forbes.com insists that including your previous work samples, press mentions and any other files which serve as a proof of your professional capabilities and strengthen your chances.
Do follow the instructions
if the interviewer told you to call in certain hours to follow up on the status of your consideration, don't neglect this rule. Use the methods of communication offered by them and don't call three days after the interview if they told the selection might take two weeks. However, if you contacted after this period has expired and no one has gotten back to you after two letters or calls, it's the sign you can update your resume and apply elsewhere.
Do ask for recommendation
If your friend or acquaintance works for the company you'd like to work for, the best time to ask them about recommendation is after the interview. You can ask them to get in touch with a hiring manager and highlight qualifications and strengths of you as an employee. Such a recommendation may change the hiring manager's decision in favor of your candidacy, so make sure to make use of your professional connections.
Do keep in touch with a hiring manager
If the job was won by some other candidate, take it in a professional manner. Now it's time to offer the hiring manager to stay in touch for the future opportunities. You can offer connecting with them on LinkedIn and receive the future job offers to your mailbox. It's a good idea to follow up once in a few months to ask whether they plan to have openings for which your skills might be a good fit.
Do avoid acting like if you had the job
Confidence is good, however, being too arrogant won't help you in making a good impression. Remember that until you got an official offer, you're in the same position as other candidates as the interview isn't a guarantee of a job yet.
Obviously, the way you act after the interview continues having an influence on the odds you'll get this job. Avoid being annoying as the hiring managers are busy people, they deal with dozens of people every day, so your everyday attempts to 'get noticed' will likely be seen as an unprofessional conduct. Be sure to remind the interviewer about your strengths when his memories about you are fresh to strengthen the positive impression. And, most importantly, if you've made a mistake (for example, in a thank you note), attend to it quickly to show your ability to correct your own mistakes.
Looking for jobs online? Then, you should know the rules of the game of online resume posting. The right resume posting online will protect your private information from scammers and help you find a job faster. And make sure your resume is perfect for a job you want – contact our resume professional to get assistance with resume writing!
What is your course of action after the interview? Do you follow the above strategies?