A Cheat Sheet to Rewrite Resume Like a Pro
If you've been with the same employer for three years or more, chances are that your resume looks slightly outdated. "Why is this even a problem?" you might think. With today's recruitment process streamlined, companies receive up to 400 resumes for one job posting and can choose from the dozens of perfectly written resumes. Under these circumstances, a tiniest mistake can disqualify you from the competition.
Are you ready for a new job? Then, it's time to dust off your old resume and give it a brand new look. Get your resume reworded today! Our cheat sheet prepared by expert writers will guide you towards creation of a really competitive modern resume. Ask "help with my resume" and get assistance right away!
Save your time with a CV rewrite company
Want to get your resume rewritten in an urgent manner and stop breaking your head over its correctness? Our team of custom writers have the right set of skills under their belt and keep an eye on the resume trends. So if you want your old resume to look professional and subtly highlighting your main selling points, you've come to the right place. Resumeperk.com offers the best deals for the new clients: an experienced consultant will create or edit your resume with a 20% discount.
Checklist for rewriting resume like a pro
Recharging your old, out-of-date resume is a manageable task – provided that you know what to do. If you want to breathe life into your it, try following the next steps:
Decide on the career goal
Writing a resume without a clear objective is a waste of time and effort. Without a career goal in mind, you won't know what to highlight and what to leave out. So, before you get down to writing, ask yourself, "What job suits me?" Define on the types of jobs you'll be applying for, and revise a resume for a particular position.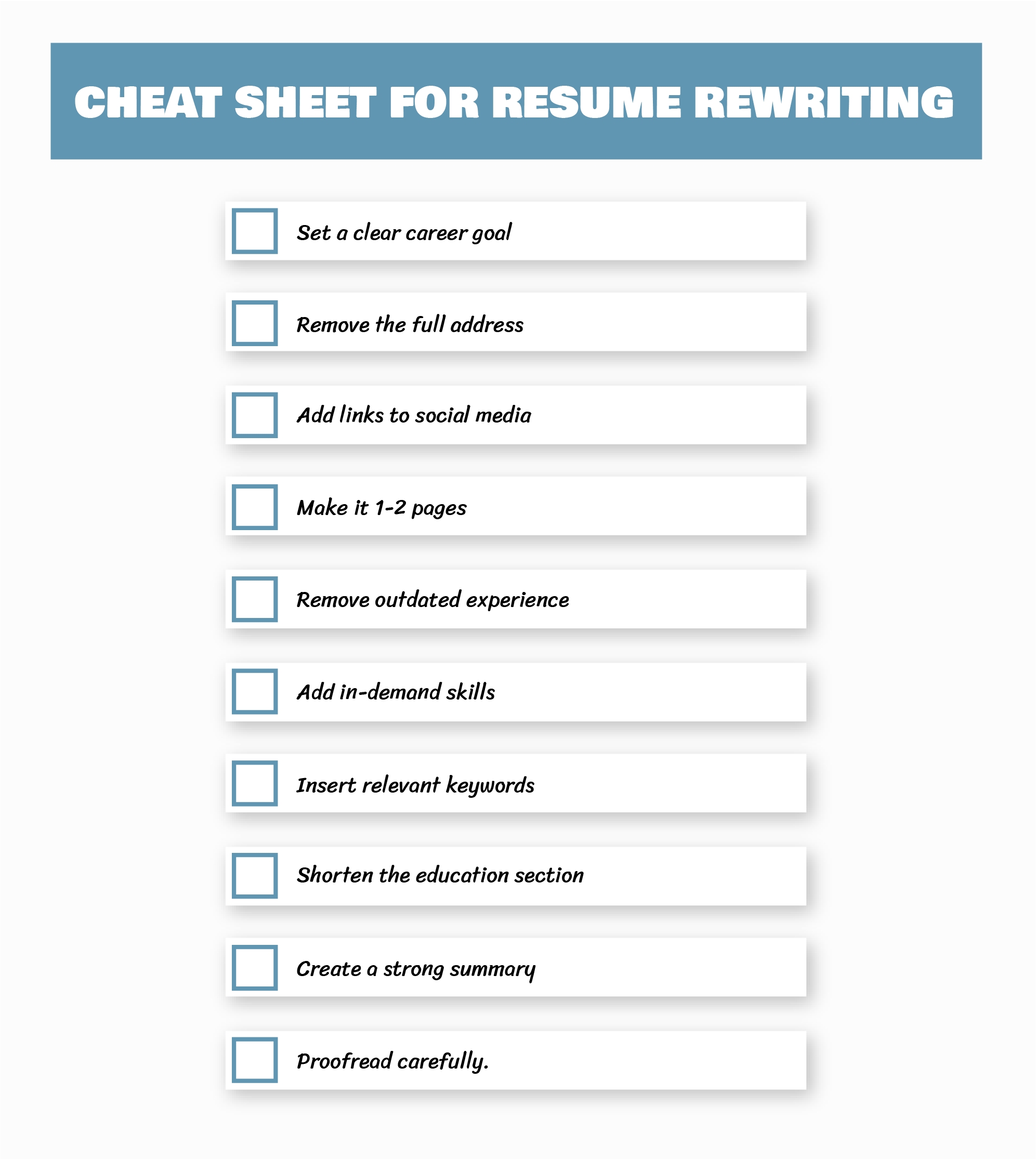 Remove the street address
Including your full address isn't necessary, as you're most certainly communicate with the prospective employers via email. Moreover, it could threat your security. A city and state are enough when it comes to indicating your residence. There's one exception from this rule, though: if you want to live near the office and want to highlight the fact of easy commuting. In this case, you can include a street or zip code.
Add social media links
Adding the URL to your LinkedIn page is considered a good tone these days. However, to impress the employer complete your profile first and keep it updated (here's how to do it easy: http://resumeperk.com/blog/improve-your-linkedin-with-resume-service-online). Including other social media links is appropriate if you're an influencer in your niche or have a group or channel connected with your target job.
Cut it to 1-2 pages
Although it's the content that should dictate resume length, HR managers usually disapprove resumes which are longer than 2 pages. Remove the older jobs and unnecessary details to make your resume shorter. The recommended length is 1 page for early career professionals and 2 pages for job-seekers with 10+ years of experience.
Delete skills and experiences which are out of date
Here is advice on how to reword resume skills. Maybe, 15 years ago skills like "Internet" and "Windows 2000" did make you a catch for employers. Today they're completely out of date. Remove any hard skills which are no longer in demand and omit the obvious skills such as "Microsoft Word" or "Internet proficiency" – it's something that even elementary students can do.
Add the trending skills
After you've gotten rid of outdated skills, it's time to add the fresh ones that can really set you apart. Below is the list of technical and soft skills that the recruiters will be excited to see in your resume (but don't stretch the truth and add them only if you have this skill under your belt):
Social media
Programming
Web development/web design
Data analysis
Communication
Problem solving
Leadership
Relationship building
Note: rather than simply listing these skills, try demonstrating how you applied them in specific situations at work.
Improper use of keywords (or ignoring them at all) is one of the critical mistakes that make job seekers. Meanwhile, adding the right keywords can help your resume to top the search results and get read by a human hiring manager for sure. If you've never dealt with resume keywording before, start with adding the words from a job posting. By the way, a resume writing service offered by our copywriters also includes loading your resume with keywords.
Having an appropriate look is highly important for a strong impression during an interview. Learn what to wear to a job interview to send the right message.
Shorten the education section
Education section is an asset if you're a college graduate and has minor importance if you're an experienced professional. If you've been in the workforce for 5+ years, omit your campus accomplishments, GPA and student activities. If you've graduated over 10 years ago, a school name and a degree is your go-to option.
Fix your summary section
There are lots of tricks and techniques to create a killer summary that this article doesn't cover (you can learn some of them here: http://resumeperk.com/blog/write-a-resume-summarytips-by-custom-resume-writing-service). To refine your summary quickly, make sure it matches the requirements below:
It contains the name of the job you're applying for;
It's 3-5 sentences in length
It contains job-specific skills, highlights relevant experience and your key accomplishments.
Proofread carefully (or hire the rewrite companies to proofread for you)
Your resume isn't a novel – but like with creative writing, in-depth copyediting makes the most of your resume's success. As you're done fixing the content, run the resume through the online spell checker and then find another person to check it one more time. Ideally, find an English editing service that specializes on resumes. They'll fix grammar and spelling issues as well as eliminate the advanced problems in writing you might have never thought of, increasing the overall quality of your resume.
Don't want to spend 3 months looking for a new job?
The process of finding a new employment takes job-seekers 3 months on average. How soon you'll get hired again depends on demand for your skills and experience, your network and the quality of your resume. It's also important that you keep proactive and use every opportunity to reach out to the employers of your interest rather than passively wait until the job will find you.
The quality of your resume is imperative for making a strong initial impression. If the resume sells your skills and accomplishments well, there's a good chance that the hiring manager wants to meet you in person to discuss your qualifications. Our experienced resume rewriter can help you make a resume that communicates your best strengths to the employer and portrays you like an ideal candidate for a job. We will deliver your brand new resume in 24 hours or 5 days, and you can use it immediately to apply for jobs.
Is it hard to find a good resume rewriter?
The short answer is yes. The internet is full of low-quality services which will be of any help for your job search. To find a qualified resume maker, pay attention to the following signs:
✓ Look for a custom writing service, not a resume builder. Resume builders offer fancy templates and cookie-cutter phrases that everyone is using. You cannot stand out with a resume that sounds exactly like those of other job-seekers. A custom resume is written exclusively for you and will be one of its kind.
✓ Pay attention to guarantees. All reputable writers offer guarantees. For example, at Resumeperk.com, we offer unlimited edits until you are satisfied and money-back in case we don't deliver your resume on time. However, beware of the writers who guarantee you interviews – no resume writer can promise that!
✓ Ask about writer's experience and qualifications. Ideally, your resume writer should have at least a Bachelor's degree in any field and 1+ years of experience in resume writing, human resources, or similar field. Resume writing certifications such as CPRW, NRWA are also a good sign, although not all good writers have them.
Our company works with American and British writers who pass a strict selection before joining our team. Thus, we guarantee a consistently high quality of writing and service.
Positive attitude is everything
Even if the job search takes you longer than you expected, it's essential that you maintain a positive attitude. If your resume is not as effective as it could be, we can help. But it's also important that you continue applying for jobs, reaching out to your network and look for new opportunities everywhere.
Avoid giving negative answers during the interview. Don't badmouth the previous employer or colleagues and don't complain about your financial difficulties in an attempt to get the job. Instead, focus on your eagerness to learn and grow professionally and focus on how your skills can be used on your target position, and this will maximize your chance of getting hired.
Want to give your old resume a quality boost? Contact resume rewriters
You won't be able to reach new career heights with an outdated, poorly written resume. To ensure that your new resume is perfect in all regards, consider getting help from resume consultants of Resumeperk com. What are the undisputable advantages we offer? Firstly, we offer direct communication with your writer throughout the process. Secondly, free revision and redoing resume is provided if you didn't like something about the finished document. and finally, the price – you can purchase a resume and a cover letter at a cheapest price. "Reword my resume" question is closed easily!
Not sure about the quality of your old resume? Contact us for a free resume review service. Our American or British writer will send you a detailed critique pointing out at the major shortcomings of your resume, free of charge.