11 Signs Of Reliable Resume Writing Companies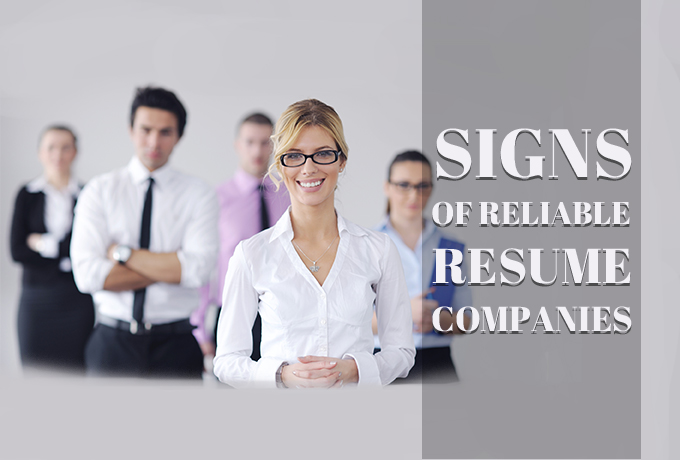 So, you finally made the decision to invest into a resume package. The next step is to find a writer (or a writing company) that is capable of satisfying your needs and career goals so that money would pay off.
The resume companies available out there in the web vary from small ones, owned by one writer to huge resume factories. The fees vary as well: starting with as little as $70 per resume, the price for a single resume can reach up to $1K! However, even the highest price doesn't mean the reliability and exceptional quality of the finished document. So, which signs of company resume should you pay attention to? Are there ways to tell the quality service providers?
The small hints you'll see below aren't the guarantee of the high-quality resume writing, they indicate that the company is rather reliable and can be dealt with. Here's how to tell a professional resume company:
They have a professionally-looking, well-designed website
A good professional website should have a modern design (not like if it was posted out there in 2005) and be easy to navigate. Although a fancy website itself isn't a guarantee of quality, it at least indicates two things a) the company has money to invest it into a website development and support and b)the technical side of the process (i.e. payments, communication, etc.) will probably be functioning smoothly.
They have their fees, terms of use and the process clearly advertised
Upon reading the information given on the website, you should have a clear idea on how the process works and what will your final charge be. Will they deliver the draft first or the finished product? How many days will it take them to create a resume? You should have all of your questions answered before you proceed any further.
They publish (or are willing to provide upon request) the details about their writers
Ideally, a good resume writer should have a BA or MA in any field supported by CPRW/NARW certification.  So, you have the right to call in the company and ask them to tell about writers' qualifications. If they don't give a clear answer or reply with obscure formulations like "we employ the best resume writers", such a company shouldn't be trusted if you're seeking really high quality.
They clearly advertise their guarantees
When you pay to a resume-writing company, you should know your rights. Trustworthy companies always provide their clients with free editing and satisfaction guarantee (i.e. the guarantee that the writer will work on your resume up until you're fully satisfied). Also, make sure you'll get your money in case of non-delivery as some companies might refuse to issue refunds!
They provide customer support
Another sign that the company is doing well is that they have a customer support phone or chat. If they do, don't neglect the opportunity to communicate with company representatives not only to ask your questions, but also to find out their attitude to clients. A support rep addressing all your queries instantly and positively is often the sign of company's reliability.
There are samples of work and testimonials on the website
The Balance states that a resume writing website should provide endorsements or testimonials from previous clients. Testimonials can give you an insight of what the other people like (or disliked) about the company.
As for samples, any self-respective company will do their best to acquaint the prospective clients with the kinds of documents they provide. So, check the samples and see if the resume sample is well-organized, if the summary is concise and targeted for the position and sense the quality of work in general.
There are reviews of this service available on the Internet
Again, customer reviews isn't the guarantee of quality. Still, it's a good way to understand what level of quality you can anticipate from the company. A reliable company which has been in business for several years should have reviews and feedback either in LinkedIn or on other resources.
They have reasonable (yet not too low) prices
In the US, it is possible to get your resume done at around $100. In this business, the high price doesn't always mean the exceptional quality. There are writers who charge over $700 for a resume, but it's a good idea to ask yourself what exactly you're paying for. A high price for resume writing is reasonable only if you're a C-level executive or you're applying to a position in a very niche industry. In all other cases, resume writing of a good quality can be highly affordable.
However, avoid the companies charging around $50 for a resume. It goes without saying that these are resume factories which will provide you with a cookie-cutter resume. Or, they are located outside the US.
They allow the direct communication with the writer
Obviously, a high-quality product can't be created without close cooperation between you and the writer. Thus, the best professional resume companies usually encourage this cooperation by letting you talk to the writer either by Skype or in live chat. This is the matter you should find out before placing your order, as there are the companies which will simply forward your questionnaire to the writer and reply you with a ready product.
They offer free resume evaluation
Free resume critique is a standard service offered for the clients who want to know how exactly the resume writer can benefit them and which type of service to use. So, as the resume critique is the first step of collaboration, reliable companies advertise this free service and, moreover, will reply you with an e-mail indicating the strengths and weaknesses of your old resume. If the company doesn't provide this service at all, you're likely dealing with either a scammer or the resume factory providing standard resumes.
They share professional advice with a blog
Many prosperous resume writers and companies share their expertise in a blog to educate the readers on how they can improve their resumes on their own. If the company has a blog which is updated regularly, the odds are they are doing well and will put this expertise to practice to assist with improving your resume.
Although nobody can know in a glance how the company does their job, it's more than possible to evaluate your prospective resume writer based on the criteria above. And, if the majority of signs match with the website you've put your eye on, you'll possibly be satisfied with the process and the result of such collaboration.
Our company offers free resume critique for those who are unaware of the kind of help they need with their resumes. A certified resume writer will review your resume and reply back with a detailed description of what is done well and what must be improved. You can send in your resume and request a free evaluation here.
Have you ever ordered your resume online?