Free Cover Letter Builder: Is It Worth Using?
We are lucky to live in a technological world. Automatization and artificial intelligence have already significantly simplified a bunch of tedious processes, and cover letter writing is among them. Is it just another senseless online toy or a really effective modern instrument? Our assistants have collected helpful information on the cover letter builder to answer this question.
All you need to know about this tool is carefully analyzed and summarized by our experts:
• What is actually a free cover letter builder and what to expect from it?
• What is better, to trust AI or rely on human talents?
• What are the advantages of the automated cover letter creator?
Cover letter maker: What it is and how it works
Among the variety of virtual assistants, we often dream about someone who can compose texts for us. Indeed, it would be so awesome if Siri or Alexa could write a cover letter or a resume for us. The job search would definitely become faster and easier.
For now, the cover letter builder can be considered a sort of AI helping with your career documents. It takes your information, adds the text from the inner database, and establishes a ready-made letter.
We have examined the algorithms and principles of the most popular online builders. It has helped us understand how to use them effectively.
What is the basis of the cover letter creator?
Such tools usually leverage cover letter templates. It deals with both the structure and the background of the final file. The program inserts your data into one of the chosen files. For instance, here are some of the templates offered by Zety: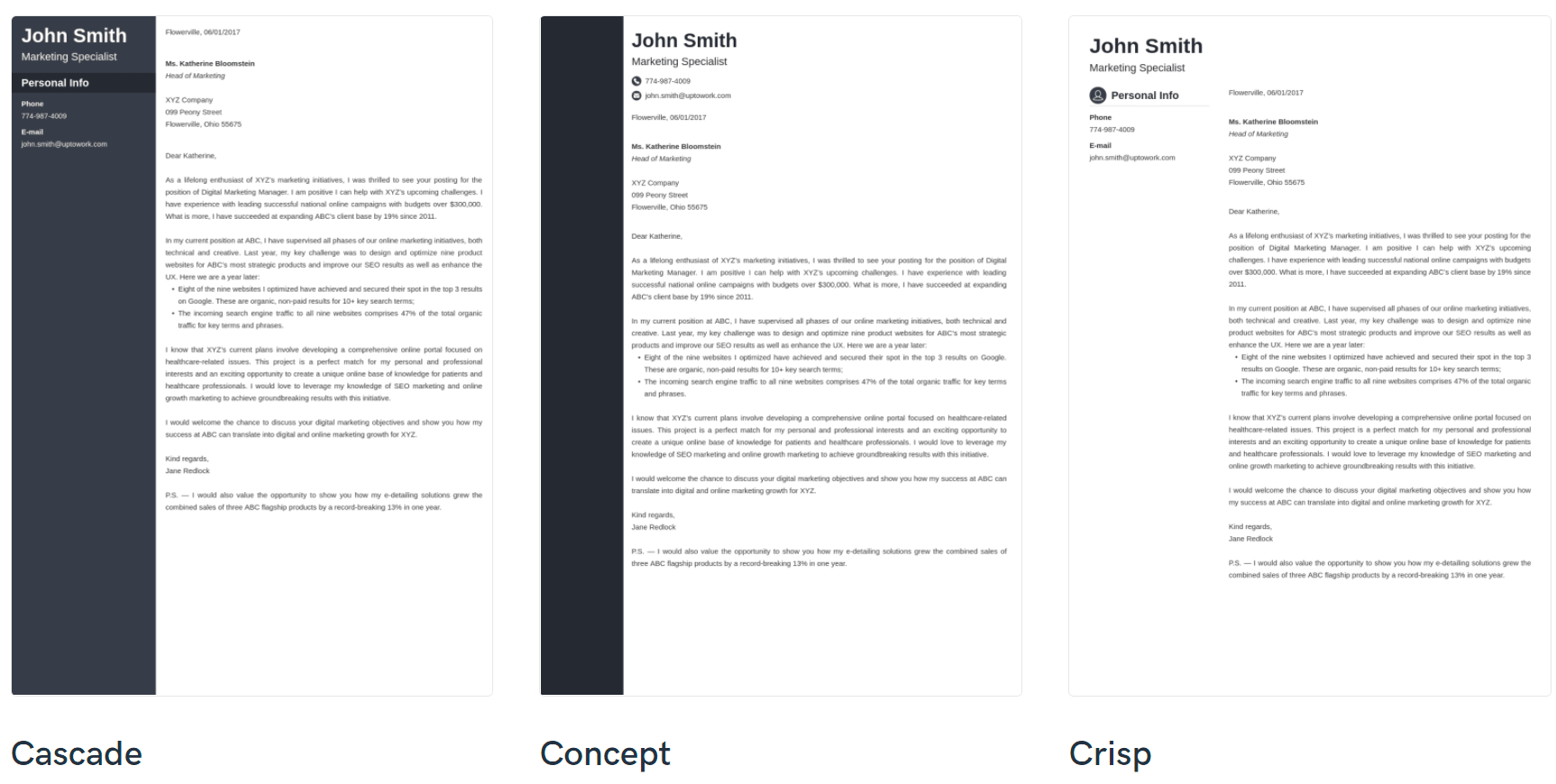 How is the text of the future cover letter composed?
The user has to answer a certain number of questions to see the ready-made document. The replies are then transformed into the sentences of the letter.
We have liked this dialog with the AI bot of the cover letter builder. It was a nice interview, where we were asked about:
• the dream job (the future employer, work functions);
• proven work experience relevant to the position;
• the strongest parts making us useful to the future employers;
• contact information, etc.
Check out one of our cover letter examples created by Zety. We did not customize it, just left the first variant to show the work of the tool.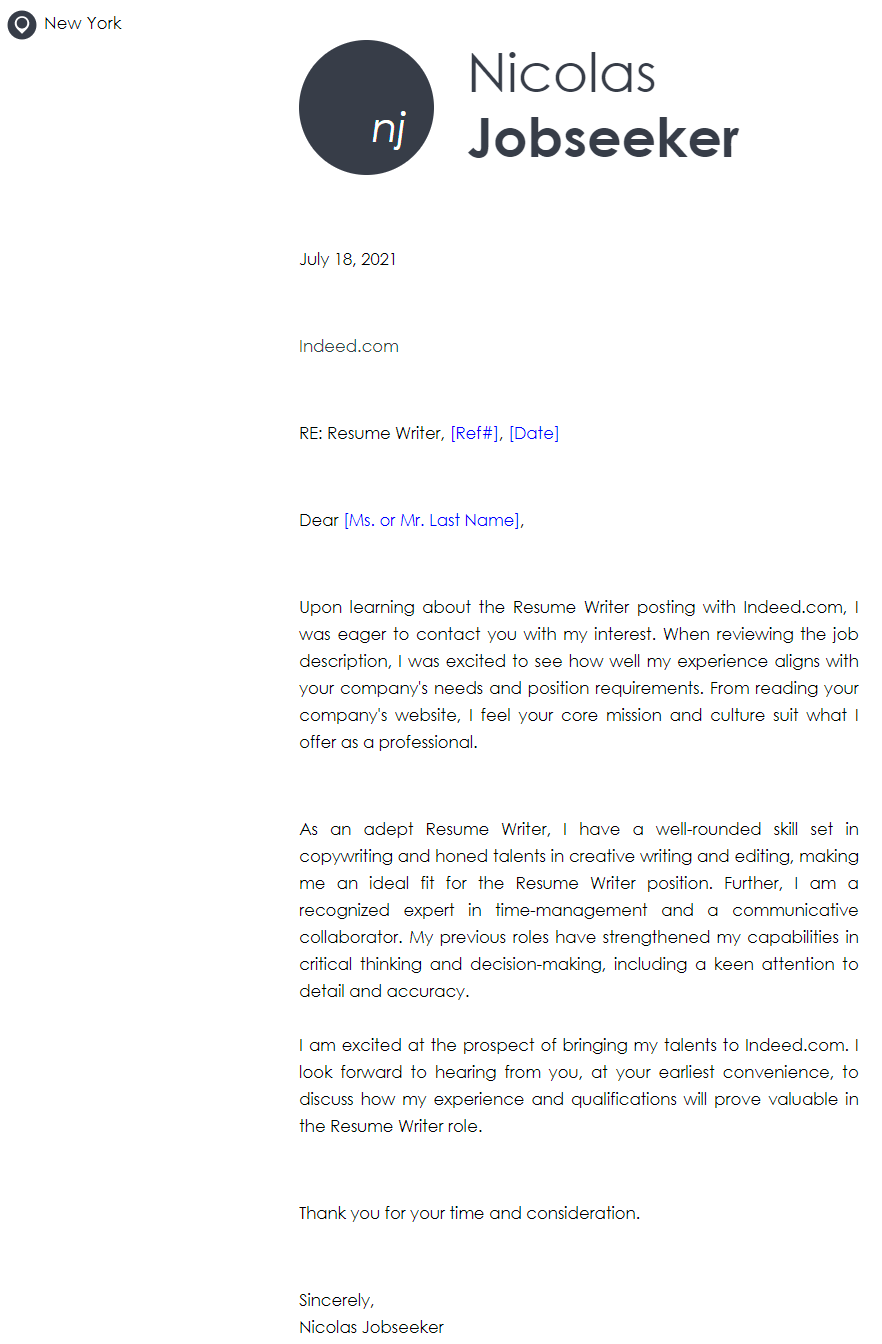 Our specialist could easily download this file and edit it. We cannot call it the best cover letter that we've seen. Still, the results are pretty good bearing in mind that it is an AI-driven program.
Our impressions of the cover letter builder
We must confess that we have dubious feelings after using this program. On the one hand, we've received a ready-made document in some minutes without any effort and for free. On the other hand, we still had to alter the format and rewrite the first draft for several hours.
What we've liked
✔ Conveniently, some steps contained clues (jobs titles, company name, strengths).
✔ We did not pay anything.
✔ The document was generated in an instant.
What we've lacked
✔ Some questions implied a limited number of variants for the answer. For example, we could choose only three main skills and one of six working styles.
✔ The program did not foresee some moments. We wanted to highlight some other aspects, such as admiration of the company, for instance.
If we were job seekers, we would definitely test it, at least just for fun. We are one of those companies that are open to new experiments. In comparison with the cover letter template, the automated tool is interactive, and it is interesting to work with it.
Have you tried a cover letter builder? Please, tell us about your experience. If you are not satisfied with the results, we will suggest a better alternative to it. Chat with us!
Advantages of the AI-based tool:
• easy to use,
• fast,
• editable,
• offers variants of answers.
Cons of the free cover letter builder:
• you require to customize it,
• in further you can get advertising from the site,
• no guarantees of a decent result.
Can AI create a perfect cover letter?
To make our research objective, we've asked other people about their experiences of using a cover letter builder. We have also interviewed recruiters and our best team members about this issue.
The biggest pitfall of using templates and AI for cover letters is about unpredicted results and standard solutions.
✔ The cover letter does not look unique. It does not convey the message of the person to the recruiter or the future employer.
✔ There is a chance of a mistake. It is mostly about sentence structure, vocabulary, and tautologies.
It's challenging and practically impossible to generate an ideal cover letter with the help of AI only.
When and how to use automated cover letter creators?
There are some situations when AI-driven writing tools can come in handy. You do not have to fully trust such tools, yet they can make your job application process easier.
✔ You lack ideas on where to start
Even some questions asked by the cover letter creator can bring inspiration. If you have a fear of the blank page, just look through some cover letter examples or use an automated tool.
✔ You require an instant cover letter example
Recruiters and hiring managers say that interesting formatting catches attention. PDF is one of the most popular extensions and it implies a complicated structure with some visual objects. If you do not have time to develop the plan for your cover letter, please, take the template or try a cover letter maker. Thus, you will cope with your writing much faster.

Professional advice: Please double-check the automated programs' results, especially when it deals with the cover letter builder. Some texts can sound funny or weird. Let alone wrong formatting and typos in the written texts.
• Pay attention to the meaning of the written phrases (yes, the AI can make mistakes too).
• The personal information is decisive, check if it is correctly written; otherwise, the recruiter will not be able to reach you.
• Make sure punctuation marks stand in the right places.
Does ResumePerk.com use the free cover letter builders?
As a mature agency in the sphere of career consultations and writing assistance, we are interested in new professional instruments. The cover letter builder could become one of them; still, it is not perfect enough for our quality level. Maybe someday, we will establish our own one. Follow the news on our blog.
And for now, we are willing to offer an individual approach to your career documents. Having hired one of our specialists, you can count on a perfect cover letter created precisely for your situation. This is how we help you build career success.
Actually, for me, it is much faster to write a cover letter from scratch. I have tried one popular cover letter builder, and it took much time to fill out all the information, wait for the ready-made file, and then edit the final draft. Some wordings sounded a little bit weird and did not convey my message correctly. I claim with confidence that I will definitely compose a better cover letter or resume for you.
Would you like to check his words? Contact us. We are always online to start working on your project. Let's begin with a short consultation — it is free!