Ten Signs That You Need CV Rewriting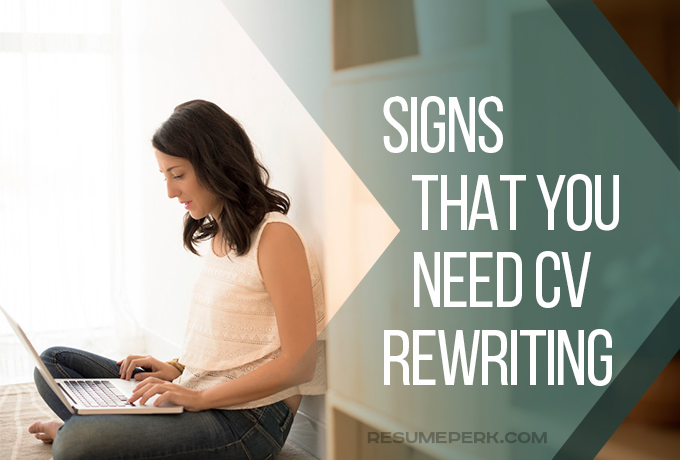 A well-done resume is a must for those who take their career seriously (unless they are looking for a "without resume" job). Word choice, format, structure, keywords, section and design – everything matters for making an impression on a hiring manager.  Moreover, your career and your goals constantly change, and so should your resume. That's why the successful applicants often hire CV rewrite company.
However, it's difficult to be objective about your own resume. You might need a serious resume update without even realizing it. And, although a good resume isn't everything you need to get a job, without it, your chances for a fast and effective employment significantly drop.
So, how to know for sure if your resume needs rework? Use the professional resume writing service checklist below to identify how well your current resume fits into your career aspirations. Check also the most powerful resume words here.
Also in this section:
You haven't updated your resume for over 5 years
If you've been away from job search for a few years, you might have not noticed how the requirements from your resume changed.  You need to consider the technology, changing HR requirements and resume trends to create an up-to-dated resume (Here are a few hints on what makes a modern resume.
That's why, if you haven't changed your resume for 5 years or more, it probably needs a serious rewrite. You might not realize it and be sure that your resume is okay. However, when a recruiter sees your resume, they'll probably think it's totally outdated.
Your resume looks worse than those you browse through Google
What do all of us do when we need to have an idea of how a resume in our field should look like? That's right: we look up for samples in various job engines.
Although you cannot use others' resumes to write you own, comparing your document to those posted in the web is a good test. Your resume should look as good (or even better) than those online. The visual appearance and the style of writing have to be similar – it's a sign that your resume is written well.
However, if your resume obviously looks inferior to those online, it's often a sign that you should trash it and create a new one.
Your career level has changed
A few years ago you used to be a marketer, but now you'd like to go into managerial side of things. Let's say you want to get a job as a head of marketing department. But you are probably not aware that your resume should be written under totally different angle than if you have written a professional resume.
As you climb up the corporate ladder, your resume should reflect those changes. You need to highlight totally different skills and abilities – or hire a CV rewrite service to do this for you. So, it's far not enough to take your old resume, change its title and start hunting for jobs.
If you still haven't a clear career plan, learn how you can benefit from creating it here.
You need targeting for a specific job opening
If you have found a job posting from a dream company out there, don't leave it to a chance. It's proven that targeted resumes get more interview calls than generic ones. So, you will need to rewrite your old resume to match this specific job.
You are making a career change
Career change is a real challenge for your physician resume. The truth is, employers are unwilling to hire someone who doesn't have relevant experience. That's why it takes students and career changers to find a good employment, comparing to those looking to pursue a job in the field they have worked in.
Professionals say that the best career change is when your resume doesn't reflect that you are making this change. Even if you don't have relevant experience, your resume should be written using the language and highlighting the skills which are required for the role. Is your resume written like this?
You don't have a clear strategy of what to include in your resume
Career experts insist that writing your resume should begin with defining your brand and building a strategy. It might not be highly important for career starters, but for experienced managers, it's a must.
If you've been working for over 10 years, you realize that it's important to include all of your experience into a resume. Since a resume is limited to 2-3 pages maximum, you need to define which of your experience and achievements are most important for the prospective role. And, the irrelevant content should be cut off.
If you aren't sure about what to leave off and how to make your resume focused, you might need some professional assistance with rewriting CV. The experienced professionals who are aware of the recent resume trends can assist you with this task.
Your resume brings no interviews
Or, it only brings low-quality offers. If you have relevant experience and knowledge, and still too little interviews – it's a sure indicator that there's something wrong with your resume.
The competition only grows. A corporate job opening attracts over 250 resumes, and you have to compete with peers who have ordered their resume to be done professionally. Can your resume survive the ATS check and catch the hiring manager's attention during the initial screen? If you are not sure, take your time to do a CV rewriting.
You haven't updated list of skills for a while
Our skill set and level doesn't remain the same during our career. Some of our skills (especially in growing industries such as marketing and IT) become outdated in a few years, other get irrelevant as our career progresses, and need to be cut off. In the meantime, you learn the new skills. Your resume needs to reflect your current proficiencies, not what you used to do five years ago.
Moreover, when updating your profiles or posting resumes online, you need to be sure that the skills you include are searchable. So, when you make a online resume use the same phrases which are used in a job posting.
You don't know much about ATS
All big and medium-sized companies use applicant tracking software (ATS) these days. It is used to weed out the irrelevant resumes. So, if you don't know how to use keywords in your resume, chances are that it won't pass the automatic selection so the hiring manager won't even see it.
To get a high rating in the ATS, your resume needs to contain a plenty of relevant keywords. If keywords optimization is not your strength, consider contacting a professional for help.
You realize that a single resume is not enough
In the digital era, a resume isn't your only tool for finding a job. There are multiple ways to sell your skills and experience: LinkedIn profile, personal website or blog, and social media. Moreover, all your channels should send the same message and provide the same information about you, your strength and scope of expertise. You need to make sure that the content of your LinkedIn page does not contradict with what your resume says.
So, if you are an active user of web, you might need to get your resume updated to reflect your most recent experience. Also, there's a brand new kind of resume that can really make the difference for job-seekers in creative industries.
A quality resume reflects how your career goals change and expertise grows, and is written under the right angle to sell your strength. A resume needs to be rewritten quite often these days to match the needs of the changing labor market as well. If you need a guide to change your resume according to your new career goals and make it attractive for employers, contact our resume writers. You'll get a brand new resume written according to your needs, and it won't cost you a bomb – learn more about our packages and prices.
In the current job market, the art of e-mail writing is crucial. It reflects your communication skills and serves as an example of your writing abilities. If you feel that e-mail writing isn't your strong point, learn how to write effective email - you will need this skill to effectively communicate with hiring managers.
Do you prefer rewriting a CV on your own or hiring a professional writer?
Popular Posts: