How To Know If Your Job Is Right For You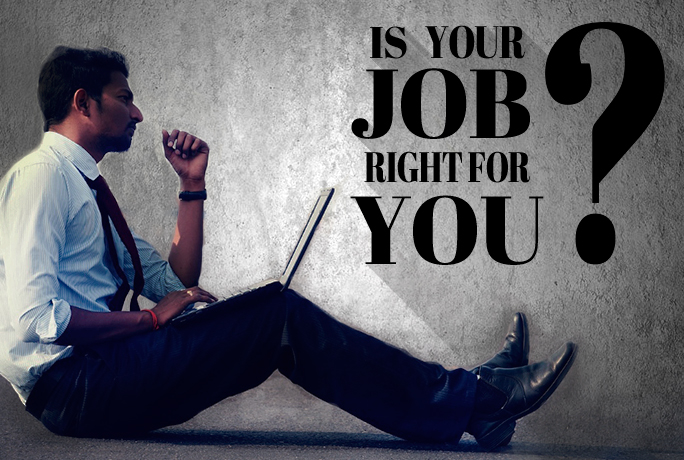 Everyone wants a rewarding career. Everyone wants to know that what he does everyday matters, and feel appreciated. But how to find out if your career fits your personality and your goals? If you feel confused and cannot figure it out at once, you can try answering the questions below.
In fact, there barely is a job that would 100% fit into your needs. However, there are a number of key signs indicating whether you are on the right place or it's time to find another job (or even make a career change). So, here's a guide to understand your place on a career path and change your way if necessary.
Signs you're in the right job
You can be yourself at the workplace
Although this indicator does not refer to your professional skills and expertise, it's the key to a psychological comfort and optimistic attitude. Basically, your style of work and your usual behavior should resonate with the commonly accepted norms of the given team or the organization in general. Let's say you're an extravert who needs to constantly discuss job-related matters and feels uncomfortable under the strict supervision. In this case, you'll feel very uncomfortable in a company where everyone is supposed to do their job individually and report each step they take – and you'll be unhappy even if in general you love what you do.
You get on well with the colleagues
Some might object that poor relationships with co-workers are not the reason to consider changing the job. Then, think about the following. Collaboration with colleagues is not totally about your psychological comfort, they rather determine the success or failure of the entire team – and, accordingly, your personal success at work. If there's a competitive yet friendly atmosphere where people are ready to help each other to pursue the common goal, it's a green light that your choice of job was right.
You learn new things all the time
If months fly by, and you still have the same circle of responsibilities that you used to have six months ago, that's a bad sign. It's even worse if you ask for more responsibility or new projects, but the manager seems to bypass you. This means that the company doesn't invest in your professional skills and you don't develop as a specialist. On the contrary, when you broaden your professional knowledge on a regular basis, this fact itself contributes to your professionalism and your well-being as follows.
You don't find Sunday evenings daunting
There's a simple 'Sunday evening test': if on Sunday evenings you realize that five busy days at work are waiting for you and you are depressed by this feeling, your job probably isn't the right fit. Of course, there is barely any person who would say "I hate weekends and can't wait to get back to office". But at least you shouldn't hate the perspective of going back to work.
You have respectful, open relationship with your manager/supervisor
Here's what stands behind these words. You should respect your manager, his leadership style and take notice of his remarks. He/she should respect your contribution, give you room for growth and give unbiased opinion about your work. As your boss is the person who influences your career progression, your salary and the tasks you fulfill during the day, it becomes obvious that a poor manager takes you nowhere.
You're truly enthusiastic when talking about your job
Some people avoid talking about their job or limit such conversations to moaning about their obnoxious bosses, nasty clients, etc. The others, however, just can't stop sharing the details about the new project they lead, the interesting people they met during a conference, and the perspectives of their department, and do it with a genuine enthusiasm. If you belong to the second category, it means that you were lucky enough to get the 'right' job. Not about you? Maybe, it's time to check the signs that's it's time to make the career move?
You can't wait to take on a new project
Inc.com states that if you're looking forward the next big thing you can handle instead of monotonously fulfilling your duties day by day, it's a good sign. Be it a new project, unusual task, replacing your boss for a day or two or training interns, a person who is happy with his job is eager to try and learn something new.
You are getting a fair paycheck
A high salary alone can't ensure you a job satisfaction. Still, the feeling that you are underpaid can spoil the whole impression from a fairly good job, and there are a number of reasons for that. Firstly, the low salary depreciates your contribution into the department's progress. Secondly, you start thinking over finding the source of additional income, which prevents you from focusing solely on your main job. And thirdly, feeling underpaid will definitely depress you, and this mood won't take you to success.
The time at work seems just to flow by
Are you one of those people who get down to work with energy and then surprisingly realize that it's already a lunchtime? When the time rushes by and you don't constantly look at the clock, it's a sure sign that you enjoy what you do. So, just keep it up! If the above is not about you, it's time to stop and think over the situation. Maybe, you should update your resume and start looking for a better employment elsewhere?
Company's goals align with your own goals
Of course, it will be an exaggeration to state that increasing a market share by 8% this year is everything you wanted in life. Still, if you take this company goal not as a mundane obligation but as your own purpose and put all your effort to reach it, such an approach will take you far in a professional life. When you find your own motivation to reach the goals set at work, it makes you happier and more professionally fulfilled – provided that you love what you do.
Have you recognized yourself in statements before? If you can say "Yes" with confidence to at least some of them, this means you are probably on the right place. However, if you disagree with the majority of them, this is the sign that your current job probably isn't the right fit for your needs.
Did you know that your resume should be up-to-dated even if you are happy with the job you already have? A resume is a perfect tool to reconsider your professional experience, set career goals and analyze how to achieve them. You can contact professional resume writers to improve your old resume or create a new one.
Do you feel happy and satisfied with the job you have?