"You'll never have the second chance to make first impression", they say. This is especially important when it goes to interviewing for your desired job. Whether you like it or not, you will be judged not only based your professional competences, conduct and body language – your attire forms a lot of that first impression as well.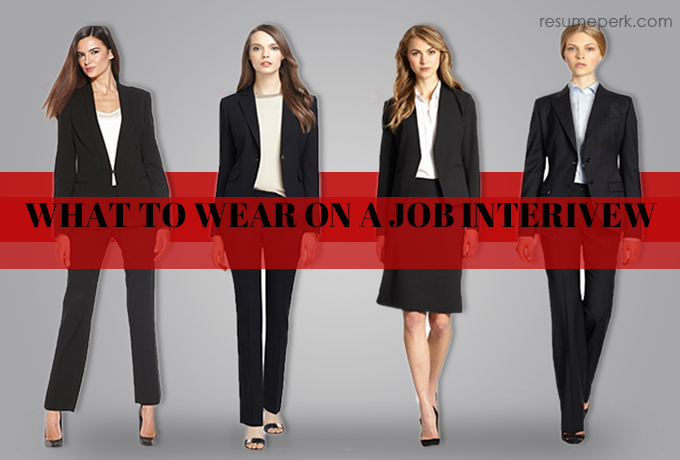 So, the question "What should I wear for an interview?" becomes increasingly important for both men and women. Today we are going to share some valuable tips on how to communicate your professionalism and reliability through the clothes you wear.
#1. Choose conservative outfits
The number one rule sounds like this: if you are unsure about what to wear for that interview, always opt for more traditional, conservative outfit. Suit is the safest bet; however, you can painlessly put on a trousers and a blouse instead.
Classical, conservative outfits communicate your professionalism, ability to fit into the corporate standards and follow the rules. For a traditional industry, a strict dress code is a must. It goes without saying that you cannot wear high heels shoes, white trousers and a yellow T-shirt for an interview to a bank setting. However, each company and industry has its peculiarities – and here's how to handle them…
… #2. Vary your interview outfits according to the company dress code
First of all, you should learn about what the employees of this company typically wear. Is there a strict dress code or everyone dresses up casually? Do women have to wear skirts only? Are there any specific colors or types of clothes in the company? It's a good idea to visit the company parking at the beginning or the end of a working day and have a look what the people wear. This will give you a brief idea of what you should be wearing for an interview to look like one of the company employees.
You shouldn't be copying their outfits, though. For example, if you apply for an IT company where the majority of workers wear bright T-shirts and jeans, this isn't a sigh you can dress up like this for an interview. However, a pair of plain trousers and a shirt with long sleeves will be a good option.
#3. Pay attention to the color
When your future employment is at stake, the colors you wear for an interview matter. Career experts agree that the best options are black, blue, white, grey, and brown. Let's look closer at the meaning of those colors.
According to Finance.Yahoo, black color communicates such qualities as leadership and exclusivity. Blue is the color of trust and confidence; moreover, according to the surveys, it's considered the best color to wear for an interview. Grey demonstrates independence and analytical skills – if that's about you, be sure to put on a grey jacket or trousers. White shows you're organized; however, be cautious as some believe that the person in white lacks self-confidence. Brown, in its turn, is the color of safety and reliability. If your prospective job requires such qualities, brown is the best bet.
Another great tactics is to design your resume using the same colors that you wear. This step strengthens your brand and your impression on a hiring manager.
# 4. Add a touch of individuality
Although an interview outfit should look professional and reserved, it's good and recommended to wear something that would show your individuality. It can be a neck cloth, a brooch or a bracelet. The only restriction here is that the accessory shouldn't drag too much attention.
#5. Make sure you feel comfortable in your interview outfit
An interview is a stressful situation that will need you to display most of your confidence, knowledge and interpersonal skills. In such condition you are in need of something that will make you feel more confident and relaxed. Attire can help a lot with this – just make sure it fits you well and doesn't evoke any discomfort. And, of course, you should like what you wear as this is the additional source of positive emotions.
The big No-No's
Wearing too much perfume or cologne – a hiring manager can disapprove your passion to the brand new perfume or what's even worse he might be allergic to some components. So, be mindful when choosing a deodorant or fragrance and stay on light, neutral one.
Sunglasses and other elements of summer outfit – it goes without saying that flip-flops, shorts or T-shirts should be kept for going out with friends, not for the interview. Any hiring manager won't take seriously a person who is dressed like he's just left the beach.
Heavy makeup – however tempting it is to look attractive, keep your makeup to minimum. Stay on a face powder, mascara and a lip balm.
An excess of accessories – as it's been told above, one or two pieces of accessory can emphasize your individuality and style. However, if you wear giant earrings, a massive necklace and five bracelets on each hand, that won't add you points in the eyes of a hiring manager.
Putting on brand-new designer clothes – it might be tempting to impress with your flawless style, but the interview for a job isn't the best time and place to do that. Speaking about the cost of your outfit, the best idea is to dress something that a person with an income from your prospective position would typically wear.
Bad fitting, stained, or old-fashioned clothes – it goes without saying that your interview outfit should be neat, clean, and tidy. If your lucky interview suit looks well-worn, the best idea is to put it aside and purchase some new stylish pieces. Make sure to clean your clothes in the evening to avoid awkward situations like occasionally finding chocolate drops or cat's fur on your skirt five minutes before the interview.
Following all of the above will ensure your look is stylish and professional yet reserved. And, although putting on the right pieces of the right color won't gain you an employment but will definitely make a positive impression on hiring managers and add your points above the other candidates.
Before you start thinking over your interview look, make sure your resume looks neat and professional as well. The best way to find out that is to order free resume critique. A professional resume writer will give feedback on your resume and recommend the improvements. Don't have a resume? You can order it here at a very affordable fee.
What is your favorite outfit for an interview?