10 Tips For Winning Group Interview
A lot has been told about how to succeed in a one-to-one job interview. There are certain rules on what to dress, what to say and which habits to avoid during the interview to ensure a positive impression on a hiring person. However, when it comes to a group interview, the rules of the game are different.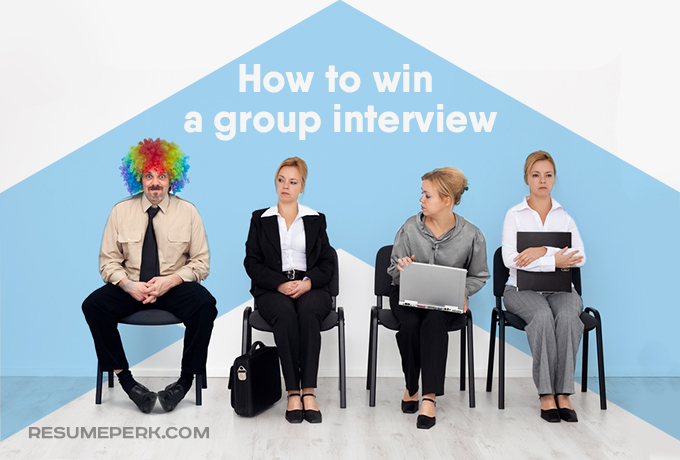 Group interviews can be a real challenge for reserved, quiet personalities. They are also disliked for their competitive environment and lack of ability for the candidate to fully represent their knowledge and potential. However, group interviews are effective in other cases –if it's necessary to access the candidate's ability to work in a team, get their ideas heard and handle stressful situations.
How to differentiate yourself during that group interview? How to stand out from the midst of other applicants and get invited to one-to-one interview? If you keep asking yourself this, read our guidance below.
Why companies conduct group interviews?
It's cost-effective
Let's say that the company has chosen to interview 20 applicants. If conduct one-to-one interviews, it will take a considerable amount of hiring managers' time. A decision to interview the candidates in small groups of 3-4 will save companies time and inconceivable amounts of money.
It speeds up the hiring process
If the company doesn't want to interrupt their daily operations in order to spend days screening, conducting phone interviews (click here to master phone interviews: http://resumeperk.com/blog/profitable-tips-how-to-win-phone-interview)and then interviewing every applicant in person, they usually implement the practice of group interviewing. Thus, the management focuses on business growth rather than hiring process.
It's effective for certain positions
For stressful jobs that include working with customers or the positions which imply constant teamwork, conducting group interviews is the most effective solution. This interview type reveals teamwork skills and gives an insight on the candidate's behavior in work environment. It especially relates to completing team tasks and resolving various cases.
It helps to compare candidates against each other
It's easier for a hiring manager to compare the candidates when watching their work in an office rather than trying to recollect each applicant's strengths and weaknesses.
It gets the candidate out of his comfort zone
One-to-one interviews are much easier to prepare for; the candidate often comes well-prepared for everything, including unexpected interview questions. During the group interviews, applicants rarely know what to expect and thus will have to react spontaneously and show their real personality traits and potential.
How to succeed in a job interview?
Make acquaintances with other candidates
If you have arrived early, now you're probably sitting in an office or hall with other candidates waiting for an interview to start. So, resist the urge to sit silently. Ask everyone's names and try to start a conversation. When the interviewer arrives, he/she will notice who is facilitating conversation and will make a conclusion about your leadership qualities.
Arrive well-prepared
A group interview requires thorough preparation as well. Although during it you won't have as much hiring manager's attention as you would during the ordinary interview, you do need to know about the company, its goals and challenges, and who will be conducting interview. The more you know in advance, the more chances you have to succeed; moreover, you'll differentiate yourself from the midst of unprepared candidates.
Don't compete aggressively
Some resources recommend dragging the attention to your personality and skills by all means. However, this isn't the best advice to follow. Don't go overboard in your efforts to fight over the spoils, especially if this isn't in your nature. It will be more effective to use your initiative and involve everyone in group activities. Instead of competing with other candidates, collaborate with them. Participate in discussion, show argumentation for agreement or disagreement with others' opinions. Build off your own ideas based on the ideas offered by other candidates. Thus, you'll be able to differentiate without the necessity to interrupt and dominate the conversation.
Follow your body language
Body language can make all the difference during the interview. If you feel uncertain, stressed and tense, make sure your body reflects all of it. In this case, you should make an effort to relax and take control over your posture, gestures and facial expression. Make sure those send nonverbal signals - as 55% of nonverbal signals are conveyed through nonverbal signals. The voice only sends 7% of any message. So, think over controlling your nonverbal signals in advance – this also includes picking the clothes of the right color for interview.
Prepare interview questions
Although the group interview is mostly focused on teamwork, cases and collaboration, it doesn't mean that you shouldn't ask questions. However, do avoid asking meaningless questions for the sake of asking. Create a list of smart, relevant questions to ask at home so you wouldn't have to ask something that just came to your mind. Remember that smart questions, especially if they're relevant to the company, the role, or suggest the idea of resolving some company's challenge can instantly generate more attention to your person.
Speak with intention
During the stressful interview, it's common for some to speak louder than they typically do and interrupt the other striving to get more hiring manager's attention. Don't make this mistake to avoid looking fluffy. Before you speak, think of whether you have something meaningful to mention. However, to really come up with smart comments or ideas, you need to stay fully engaged in what the interviewer and other applicants are saying. Even if you only get involved in conversation for a few times but manage to demonstrate the qualities the hiring manager is looking for, you'll have more chances for one-to-one interview  than someone who was talking off the subject during the entire interview.
Show your genuine self
Obviously, you've come for a group interview to get noticed and get chosen from out of the number of others. Nevertheless, avoid playing the role which isn't natural for you. For example, if you function great as a team player, don't try to look like a dominant leader during the interview. Not only this will make you feel uncomfortable, but also may mislead the hiring manager who is seeking for particular traits of personality in a candidate. As some say, it's better not to get hired that to be fired soon.
Don't lose focus
If the interview is lengthy, it's easy to lose concentration and distract for a while. Still, such a distraction can turn out costly if the interviewer suddenly addresses to you and you answer something off the subject. Maintain eye contact, show agreement/disagreement with other interviewees and take notes if you need to.
Give examples of your accomplishments
Just like during the standard interview, in a group interview it's important to emphasize your past accomplishments and projects you were involved into. An accomplishment-driven personality evokes more interest than a simple 'doer' in any industry. Highlight the examples of leadership or teamwork (depending on the desired position) as well.
Send a follow-up note
Don't hesitate to send a thank you note (here's why you need one: http://resumeperk.com/blog/reasons-to-order-thank-you-note-from-online-resume-site) after the interview. Not only it expresses politeness, but also allows you to market your skills once again to a hiring manager. It is acceptable to refer to the matters discussed during the interview or to mention why you will make a great fit for the company. Most importantly, you might be the one of the group to send a note, so this alone will put you one step ahead of the others.
Conclusion
Despite group interviews sound tough, it is possible to get noticed and win one-to-one interview during it. Just follow the advice above and you'll master group interviews and will be able to differentiate yourself from the other applicants.
Are you getting too little interview invitations? Lack of interview calls often means that your resume isn't selling your skills effectively or is ATS-unfriendly. Our resume experts will help you identify the problem and create an interview-winning resume for you. Your new resume will be delivered to you in as little as 24 hours!
Have you ever participated in group interviews? Did you manage to succeed in it?