30 Changes To Help Your Resume Get Noticed
There's no second chance for a person to make the first impression. The same goes for your resume: if not immediately liked by a reader at a first glance, it will unlikely get the second chance for consideration. That's why the internet is flooded with resume advice on how to make your resume better: in a resume for a competitive position, even the tiniest detail matters. Every word and sentence should be thoroughly picked.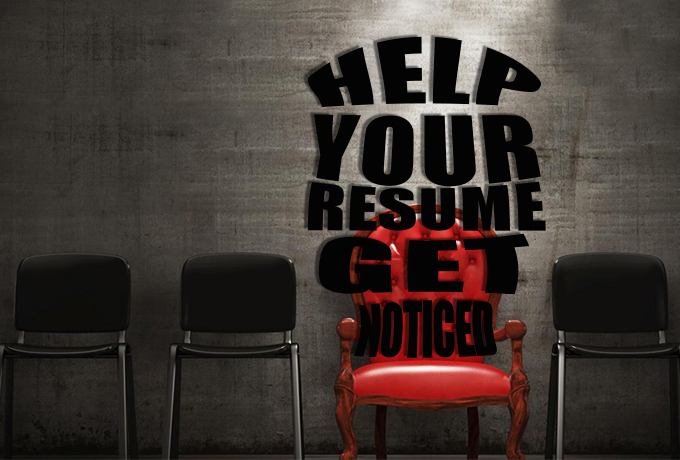 But what if you don't have all the time in the world (or you're just not that talented in writing) to completely rewrite and restructure your old, outdated resume? Are there any ways to make your resume better fast? Luckily, yes, there are. Here we have collected 50 small lifehacks that will take your minutes to use in your resume. Nevertheless, these minor changes will make your resume look way much better. Here we go!
One-minute resume changes
Remove the 'Resume' at the top of the document, if you still have it there. It's extremely old-fashioned.
Change the file name from "Resume" or "Microsoft Word Document" to the following: "FirstName_LastName_Resume". This will make your resume easy to navigate in a pile with other applicants' resumes.
Remove the ugly "References upon request" at the bottom. Seriously, if they need references, they'll ask about them without being reminded.
Cut off the objective (unless you're making a career transition). The objective 1-3 lines long sounding like "To obtain a position with a reputable company and get professional growth" should be removed straightaway!
If you use ALL CAPS formatting anywhere except for the section headers, change it to general formatting. The person writing everything in capital letters is seen as a new to modern technology and word processors these days.
Change the font of your resume to Times New Roman, Arial or Calibri. Why these options? Firstly, they are readable and recognized by all programs and applications. And secondly, if you don't know which font to use, these are the safest bets.
Run your resume through a spell checker (if you haven't still done so). Make sure your typos, grammar errors and overuse of commas won't spoil the overall impression made by your resume.
Remove your full address. Giving a town and a street/neighborhood are more than enough to give them a general idea of where you are located. More details are not needed as nobody is going to send you letters by post.
Add a link to your LinkedIn and other social networks (but only if they're professional). Make sure all the links are short and custom (no automatically generated URL's– this makes you look like someone who is not familiar with modern technology).
Remove the information pointing out to your age, marital status, and religious views. First of all, it's illegal for the US employers to request this information from you. Secondly, when you give this information by your own initiative, it can become the grounding for discriminating you (unfortunately, age discrimination still exists).
Delete the resume headshot (see the reason above).
Remove the graduation year if it's been more than 5 years since you've left the school. If you aren't a fresh graduate, the graduation date is of no interest to your prospective employer, as they look at your skills first.
The information about your education should be restricted to the school name, your major and degree, and GPA /Specific honors (if you're less than 5 years out of college). Your coursework, extracurricular activities and sports competitions just take the precious space.
Increase the spacing between the lines to add more space to your document. The Muse recommends making this space 120% of the font size. However, if your resume is quite long, you should at least add this space between the sections and paragraphs.
Think of smart headings of resume sections. Replace the dull "Summary" with "Career Highlights", "Skills" with "Core competencies" and "Work history" with "Professional experience". These simple tricks will make your resume look more expensive in no time.
Remove irrelevant hobbies – writing that you are a fan of cooking when you apply for a job of office manager makes literally no sense. However, it might add you points when you're seeking a position of a waiter.
Make sure your resume takes one or two full pages. When it's one page and one-third of the second, it looks like an incomplete document. So, either add more text, or change font size and margins to make the text fit into a page in full.
Add the headline – a hiring manager needs to know at a glance if your candidacy is even relevant to the position you're applying for. Great, if the resume heading matching the position name advertised. Adding, for example, "Corporate finance manager" at the top of the resume under your name takes less than a minute, but instantly makes it clear for a hiring professional.
Check formatting for consistency – the same font size, the same formatting and indents should be preserved throughout the document.
Play with margins – reduce them if you want to fit more text into one page. Or, in contrary, if the resume takes less than one page (like, if you're a graduate) make them bigger to increase the visual appeal.
Convert into PDF – it's good to accompany the MS Word resume with the one in PDF. Why? Unlike the Word documents, PDF files can be open in any browser and on any mobile device and they preserve the formatting.
Add the horizontal lines between the sections to make the document easier to browse and read.
Going into detail
If you possess an impressive set of skills all of which are relevant for the job, break them into separate sections (i.e. management skills, software and language proficiency).
Replace the usual verbs you use at the beginning of job descriptions with the high-impact, powerful ones – see the examples of great resume verbs here.
Remove the jobs you had over 15 years ago. The employer is only interested in your up-to-dated skills and experience.
Remove the details about irrelevant jobs. No need to give detailed description of the position which has nothing to do with the job you're applying for. To avoid gaps, you can list such jobs under the "Other experience" section.
Avoid the generic statements and overused clichés like "proactive problem solver", "go-getter", and "think outside the box". They are so overused that reading the text overloaded with statements like these make the hiring manager nauseous. So, rewrite these statements or delete at all.
Make sure that numbers are given in numerical form, not in written (like, 21% instead of a twenty-one percent). Numbers catch the attention at once, thus generating more hiring manager's attention to your achievements.
How many bullets to use for every job description? The optimal option is 4 to 7, 1-2 lines each. Such resume length will keep the reader informer without getting him bored.
Remove the tables from your resume (if there are any). Tables look good on paper, but when passing through the ATS, the formatting may be ruined and the whole text can be mixed up in a hiring manager's desktop.
As you see, all the above changes are simple to implement even if you're not familiar with resume writing and, what is more important, they only take a few minutes. Such a brief yet thorough makeover will definitely make your resume look more appealing and bring more attention to your application. And if you also use the advice on how to make your resume more eye-catching , this will help your resume a lot!
Looking for more customized document which would utilize your key strengths and be tailored towards your desired job? Our resume experts are here to serve your needs! At an affordable price, you can get a resume done by the certified writing professional in less than 5 days. And, if the result is not what you're looking for, we'll edit it for free!
Do you use any specific tricks to make your resume noticed?