How to End a Letter: 10 Examples & What to Avoid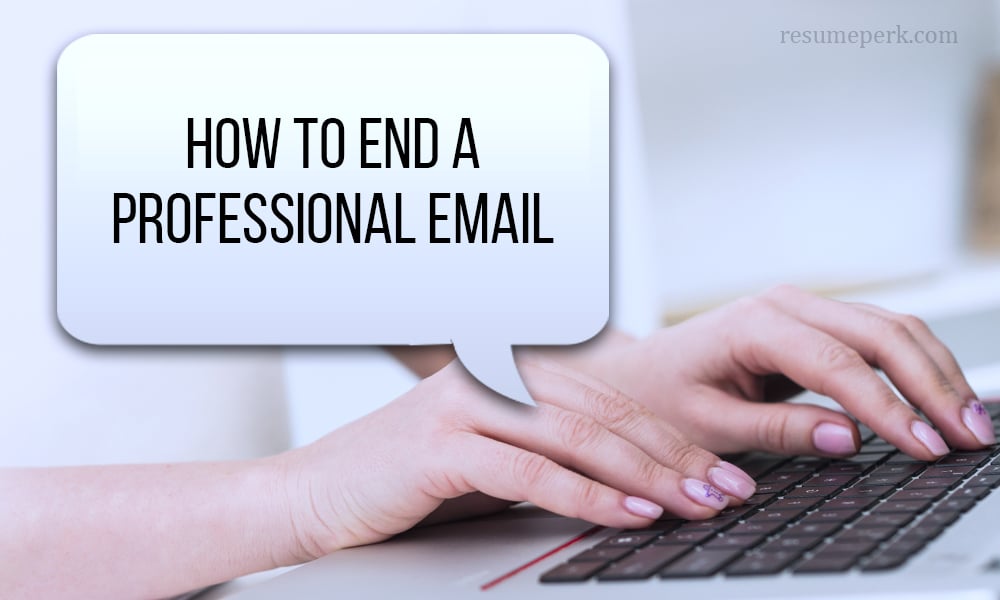 Have you ever found yourself puzzling over how to finish a letter​? Then, you know how it feels. You're almost done composing that all-important letter and now feel stuck because you can't decide on the proper closing sentence​. Should you put formal letter ending salutations and closings like "Yours sincerely", drop the laconic "Best" or leave the closing blank at all?
Effective business email writing and closing a letter professionally is a must-have skill for students and professionals of all career levels. And a cover letter closing inevitably shapes the reaction of the recipient. An overly informal or simply inappropriate closing line can prevent you from getting the results you want from the person you're addressing or make a negative and unprofessional impression.
Luckily, you're not alone with your letter writing struggles. The copywriting experts of our resume writing service are about to guide you through the most effective business professional letter salutations and endings and how they apply to different situations.
Ending a letter professionally: recommendations from the online writing services
If you apply for a job or internship via email, you would benefit from the help of resume professionals with years of experience. A resume and cover letter writers of Resumeperk.com will not only pick the appropriate closing for your application letter, but also will check it for any shortcomings and fix mistakes, increasing your chances of getting noticed. We can edit and revise your resume too and ensure it speaks right to the employer's needs.
10 effective professional letter endings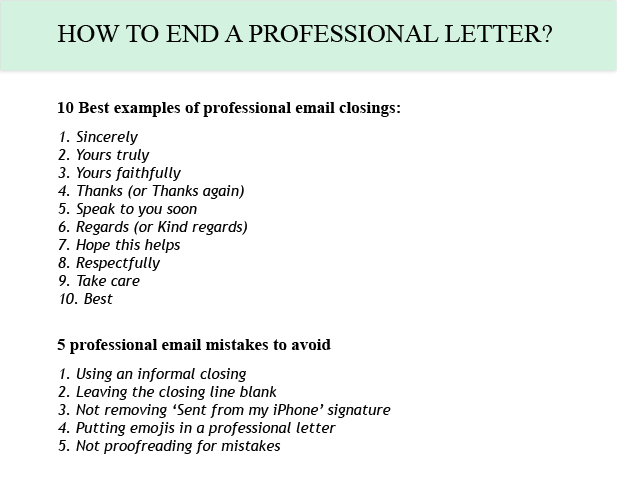 When finalizing your business email, you need to pick one of the tried-and-true, formal options. Note that business letters aren't the best place to get overly creative as you might come across as an odd person who can't master the basics of email writing. So, here are the best options to sign off an email:
Sincerely
Sincerely is put #1 because it's the most common and universal way to close all kinds of business letters. Speaking about its meaning – it restates the content of your letter in one word, pointing out that your letter's intent is sincere. This closing works for all types of instances, and if you are curious about how to create eye-catching a cover letter, keep in mind that it works best for job applications too.
Yours truly
A little less formal than the previous one, yours truly is better to use when addressing someone you are on a good note with. Although, like a previous one, this closing is all-purpose, yet its tone assumes a bit of warmth which may be misinterpreted if you use it writing to someone you've never met.
Yours faithfully
First of all, note that yours faithfully is used to address the unknown recipient (in this case, you start a letter with Dear Sir/Madam). This is another universal closing which doesn't carry any additional meanings or calls to action. it's mostly used in British business correspondence, whereas yours truly is an American popular option.
Thanks (or Thanks again)
Use thanks when writing to someone you've successfully collaborated with (a vendor, a colleague from other department and more) or a person who did you a favor. If you've already thanked the person once in the letter body, opt for thanks again. Again, if you are going to use this statement, make sure that the tone of your letter is appropriate – friendly and positive.
Speak to you soon
Speak to you soon or see you soon is used to close a letter to someone you know personally and intend to talk to face-to-face. In particular, it can be used when you're appointing the meeting with your contact or confirming an appointment.
Craving more effective email writing advice? Check out these tips: http://resumeperk.com/blog/how-to-write-effective-email-that-get-opened.
Regards (or Kind regards)
Regards is another commonly used letter ending which indicates professionalism and respect and is quite universal. This one is often complemented with additional words which slightly alter the original meaning: kind regards (indicates a bit of warmth – do not use in cold emails), best regards (a safe bet – it's like adding a polite smile to standard regards) and warm regards (semi-formal option).
Hope this helps
Let's assume that you are giving advice or providing consulting to someone via email. For instance, you are sharing some tips for overloaded writers with your college student to help with their next assignment. Or, you are sharing the information about the custom editing website that can help with their resume. In this case, hope this helps comes across as a perfect closer.
Respectfully
This letter ending speaks for itself – use it when writing to someone you deeply respect and admire, provided that the content of your email is appropriate. For example, this closing won't work in a letter of complaint or a similar one. It works best when you address a company's high-level executive or another authoritative person.
Take care
You should use this letter closing carefully, as it's more common for personal letters. Don't use it when addressing to potential customers, vendors, or your boss. However, it might be acceptable to end your letter with take care when writing to a colleague you've known for years and are on a good note with.
Wish your relationships with coworkers were better? Here's how to improve them: http://resumeperk.com/blog/how-to-be-on-good-terms-with-colleagues
Best
Best or all the best has a direct meaning – you wish the recipient all the good things. So, feel free to use it in your business correspondence, even though it sounds a bit less formal than sincerely or respectfully. Like the above-mentioned examples, it's multi-purpose and can be used in letters to business contacts across industries.
There's plenty of effective closings to choose from – use the above options depending on the context of your email and your familiarity with the letter's recipient.
How to sign off an email: 5 things to avoid
To create effective professional emails, it's also important to know what types of closings to avoid. If you end your letter in one of the below ways, it might discredit your professional image and make a negative impression with the reader.
Informal closing
Cheers, with love, best wishes and xoxo are all great when it comes to personal correspondence, but are absolutely unacceptable in professional writing. It shows that you are either unfamiliar with the rules of business email writing or simply don't care. Neither is the impression you are looking to make.
No sign-off
In little cases, adding no sign-off is acceptable – for example, when you are responding to an email chain or giving an urgent and brief answer to a colleague's letter. In all other situations, sending an email without a closing shows poor etiquette and a lack of respect to the recipient.
Sent from my iPhone
There's an ongoing debate on whether sent from my iPhone is professional. On the one hand, when you continue a long conversation with someone, the person will be more receptive to typos and mistakes as they know you've written that email on the go. On the other hand, when you reach out to an important client or prospective employer, this closing doesn't make the right impression.
Emoticons
Using emojis in business emails is unprofessional. Consequently, don't use them in the closing as well. Although, if your contact is using emojis, you might want to respond to them in the same style and keep the conversation on a friendlier note.
Typos and grammar mistakes
This rule applies to your letter content in general rather than a signoff, but is worth being repeated. Proofread the letter several times to exclude writing mistakes of any kind. Errors in writing make a negative impression on a reader and can cost you an interview, an important contract or your boss's loyalty.
Avoid being too informal, too relaxed or careless when signing off your business letter. This will leave a poor impression both about you as a professional and a company you work for.
Writing a cover letter: How to end a formal email for a job application
Writing a cover letter requires an extra effort since, if written poorly, you'll never get a response from a hiring manager. The closing of a cover letter should be kept strictly professional since you don't know the person you're emailing. Moreover, you want to make the best possible impression on the recipient and demonstrate expert writing skills and understanding of business etiquette. So, your best options for closing this type of letter are Sincerely, Best regards or Yours faithfully.
How to end a thank you letter?
The rules for ending a thank you note are the same as for cover letters except one small difference. Since you've already spoken to the recipient in person, the closing might vary depending on the tone and contents of your interview. You can say with sincere thanks if the interview went on a friendly note or thank you for your consideration if you believe the interview went great.
Curious about how to end a business letter? A professional can help
Such letters as covering letter can make or break the success of your important job application. So, if you have even the slightest concern about how your letter is written, let a professional editor review it before sending out. The staff editor of Resumeperk com can eliminate grammar, punctuation or syntax mistakes to help the letter showcase your qualifications for the prospective employer.
Benefit from the best practices in career writing
If you have problems with writing an eye-catching resume, this is something we can help with too. The writer will deliver you a customized resume which effectively highlights your key skills and accomplishments. Check out our prices for resume copyediting and receive a 20% discount off your first order. Want to make your cover letter or another business letter perfect? Contact us anytime.