Fix My Resume Services: Resume Mistakes You Can Fix Now!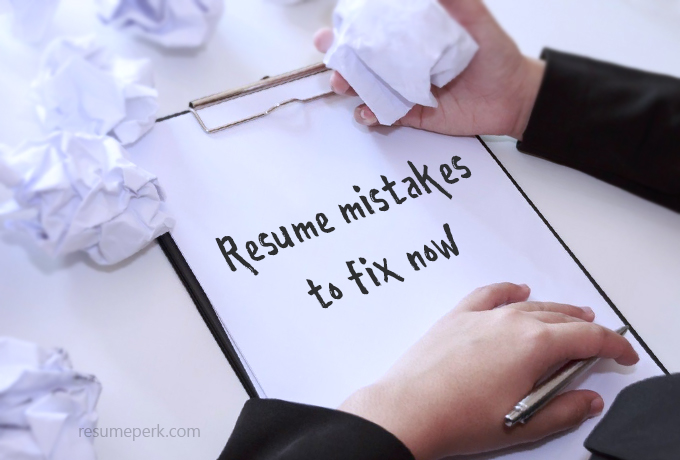 Everybody makes mistakes in writing. However, when it comes to writing resumes, a mistake in writing style, language choice or grammar can eliminate you from the competition for your desired job. Moreover, if you're not an expert in resume writing, you can make a handful of mistakes without even realizing that. So, how to get rid of all those deal-breaking mistakes? If you're too time-pressed to learn the basics of resume writing, it's a sound decision to hire a professional CV writer.
Fix your resume with professional assistance 
Our resume editors will remove even the tiniest mistakes in your writing and boost your confidence during the job-hunting process. Superior quality of editing, ongoing 24/7 online assistance, affordable price for any resume package and a satisfaction guarantee are just a few highlights of what we have to offer our clients. Whether you aim for a new job or are looking how to ask for salary increase, a professionally written and designed resume will help you reach your goals faster.
Not sure what type of service you need? Send your resume to us, and an experienced resume writing professional will grade your resume, outline its strengths and weaknesses and recommend the service type which is right for you. By the way, this is totally free or charge and doesn't oblige you to place an order.
Also in this section:
11 common resume mistakes you should fix right now
Want to evaluate the quality of your resume and access your chances for a job? Or maybe, you want to give your old resume a little makeover but don't know where to get started? Then, check if your resume has any of the popular resume mistakes below.
Incorrect spelling of your contact information
Spelling errors and typos aren't good for any section of your resume, but if you misspell a letter or figure in your contact info, it can cost you an interview. If the hiring manager fails to reach you at the first attempt, he/she are most likely to call another candidate.
Solution: double-check your contact details in your resume and when filling out the online forms.
An objective instead of a summary
Objective statements are now considered outdated. The reason is simple: they're obvious (the fact that you've sent in a resume is already an indicator that you want to work for them and no need to state it in your resume once again) and they are not employer-centered.
Solution: if you are still using an objective statement, be sure to replace it with summary. Check out the good resume tips for more information on how to create effective summaries. If your career situation needs to be explained to the hiring manager (you are switching fields or took a gap year), you can preserve the objective, though.
Listing every responsibility that you were ever assigned
Resume is written to highlight your most prominent skills, not to list every task that you undertook. Minor job duties will distract the hiring manager from significant ones. Focus on your responsibilities and achievements which are most relevant and present your strengths better. By cutting off the secondary responsibilities, you'll instantly improve your resume and make it more concise.
Solution: remove the responsibilities which aren't crucial for your line of career. Ideally, you should aim for 4-5 bullet points for your responsibilities and the same for your accomplishments.
First person pronouns
Traditionally, first person pronouns are not used on a resume. "I", "me" and other pronouns of this kind are simply omitted when writing about your education, accomplishments and experience. It goes without saying that everything on the resume is about you, so no need to highlight this additionally. Moreover, the hiring manager might think that you didn't bother to learn the rules of resume writing and will question your attention to detail and professionalism.
Solution: delete the personal pronouns and write your resume in third person.
Sensitive, personal information
Resume is not the best place for including your confidential information. You can be easily discriminated against based on the information you provide (such as your gender or age). Moreover, if you post the resume with personal information online, your identity might be stolen. Last but not least, this is simply considered unprofessional and inappropriate and won't make you look better in the employer's eyes.
Solution: never include your age, gender, marital status or picture in a resume, as well as any other types of sensitive and private information. Keep in mind that the situation might be different if you apply for a job overseas, so be sure to research the local job application rules if you plan to relocate to Europe or Asia.
Mentioning every job that you had since the graduation
If you're just out of college and have no relevant experience so far, it is acceptable for you to include the part-time and irrelevant jobs (such as waitress or babysitter) on the resume. However, as soon as you've gained relevant professional experience, those jobs make no sense for a potential employer. Moreover, listing all the jobs you had throughout your career will make your resume unnecessarily long.
Solution: remove the work experience which is older than 15 years, and only include the relevant jobs. If you are entering a new field, think of how the previous skills and expertise can be translated to a new line of work.
Are you still a student? Then, check out the recommendations for PhD student writers which will help you to complete your thesis effectively.
Resume is over 2 pages in length
As we've mentioned above, being unnecessarily detailed in your resume not only shows that you didn't bother to target your resume, but also takes a lot of resume space. As a result, the entire document can take 3 or even over 4 pages. Needless to say that a hiring manager isn't going to read such a lengthy application.
Solution: there's a good rule for resume length: 1 page for 10 years of experience. If yours is longer, consider removing outdated experience (15 years and older). Shorten the job descriptions of each role, and leave out the temporary jobs or the jobs which only lasted a couple of months. If you need an in-depth guidance on picking the appropriate resume length, here it is: http://resumeperk.com/blog/perfect-length-of-your-resume.
'References available upon request'
This statement at the end of your resume is hopelessly outdated. It takes resume space, says an obvious thing and makes absolutely no sense for hiring managers. Make sure to remove it from your resume the sooner the better.
Solution: create a separate reference sheet to email it to a potential employer if they ask you to or to bring it for an interview.
Using the 'fun' formatting to stand out
You heard that the first impression matters, so you went above and beyond to design your resume beautifully. Unfortunately, in most cases, hiring managers see the colored resumes with fancy fonts and non-traditional structure negatively, so your efforts can make an opposite effect.
Solution: make your resume look plain yet neat and well-structured. You don't want to use more than 2 colors including black since your resume is a business document. Choose one of the popular, plain fonts that will read easily on most devices. Sophisticated design only makes sense if you are applying for job in design and arts and want to showcase your skills at a glance.
Your hobbies and interests
Another section which is often misused on resumes is hobbies. If you apply for a job of regional sales manager, it's of little interest for employer that you prefer to cycle and cook in your time off. Quite often, this section is used to list hobbies that have nothing to do with the potential job and career line in general. Therefore, it's better not to include this section at all.
Solution: remove any irrelevant hobbies off your resume. If your hobbies can be connected to your career line, however, be sure to list them (for instance, if you apply for job of a restaurant manager and cook for fun).
Not proofreading the resume prior to submission
Every job-seeker is assured that proofreading is important and the final document should be perfect. Although this sounds obvious, lots of resumes still contain typos, grammar and punctuation errors. And if the hiring manager spots these mistakes, your first impression will be spoiled.
Solution: Use several proofreading techniques for the spotless result. Run your resume through an automatic spell-checker. Print it out and read aloud from the paper – by hearing how the words sound, you'll remove any awkward phrases and fix the punctuation. And finally, consider hiring a resume editor to get all your resume errors fixed.
Are you determined to identify and correct all the errors in your resume? Then, check out our guide on fixing the most popular resume mistakes here: http://resumeperk.com/blog/top-30-common-resume-mistakes-you-should-avoid.
How to make my resume better? Our experts know the answer
The quality of your resume matters a lot for your job-hunting success. A good resume can speed up your job search and dramatically increase your chances for interview. If you feel lost in resume writing tips and advice, consider entrusting your resume editing to a professional. Our resume editors will not only fix the minor typos and correct misspelling, but also will improve the word choice, structure and design of the document. Contact us today – we are online 24/7.
Are there many mistakes in your resume? Did you manage to correct all of them?
Why order our resume fixing services
Our professional resume writing service helps job seekers all over the world. We make the resume writing process easier and help you turn career goals into reality. One can purchase a brilliant ready-made career document or order future resume updates here. 
Professional resume writing services give guarantees
We are sure about our resume writers. Our guarantees are backed by the true professionalism and honest reputation of our team. All the terms of your Online Form are fulfilled. If you find any mismatch, we'll correct everything for free during a period of unlimited revisions. 
A professionally written resume contributes to your career success
We do not use resume templates — every text is a one-of-a-kind story of your talents and achievements. It all begins with your job description. Your work history, career evolution, skills are described in accordance with the requirements and preferences of your future employer. Herein lies the efficiency of our writing service.
A professional resume service with a solid practical background
Every our author is an experienced resume writer. Hence, he/she will easily check your document or compose a new resume. Gained knowledge helps us find the most efficient solution for every situation. We have thousands of shiny ideas for your resumes, cover letters, job interviews, etc. 
Comprehensive  resume writing service
Our professional resume writer offers all types of assistance related to job search (cover letter writing, recommendations for a job interview), as well as other services, such as career coaching.
Please, note: we do not give phone consultation at the moment. Only resume recommendations in written form are available. 
Professional resume writers specializing in diverse directions
We'll find a suitable professional writer for every client. Our team works with all levels of employee qualifications. We'll help you with your entry-level resume, junior, senior, executive resume, etc. Whatever employment history and achievements you have, we'll demonstrate them with skill.
ATS-friendly resumes
Our specialists will adjust your career document to the requirements of the modern applicant tracking systems. Thus, your resume will be noticeable for most contemporary companies. 
The shortest terms of resume writing
Professional writers cope with your orders quickly without compromising the quality. The expedited delivery is also available. 
A free resume review
We regularly offer free services. For instance, today you can send us your completed resume, and we'll give professional feedback on it. Your current resume can become better, and we'll tell you how to do that.  Please, learn more about the terms of this proposal on the chat. 
Our understanding of the best resume
It is about a resume based on the in-depth analysis of the future employer. Our resume expert always attentively considers philosophy, values, job descriptions. These factors dictate the style, structure, and content of the resume. 
Get your existing resume fixed by our experts — improve your chances to win a dream job! Order here.
Popular Posts: