How to List Volunteer Work On a Resume
As you are writing a resume, you're eager to do everything right. You sweat over highlighting professional accomplishments, reflecting the job progression accurately and picking the relevant keywords. You polish the formatting, layout and design. Yet, you still might be overlooking the importance of one of the resume sections – voluntary work.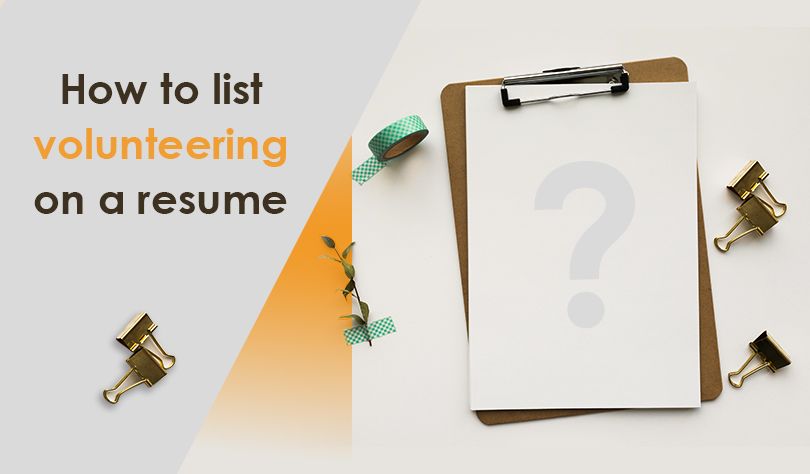 Volunteering isn't the mandatory section along with the work experience, skills and education. However, 41% of employers consider volunteering as important as paid experience, and some employers prefer hiring candidates with a relevant voluntary track record. In certain cases – for example, when you don't have much paid experience – adding volunteering can work in your favor during the screening process.
Today, our business professional resume writers are going to share expert tips on when to include volunteering on a resume and how to describe your voluntary positions to get noticed. Want to get your resume improved by an expert? The experienced resume writers of Resumeperk.com can assist with updating your old resume or creating a new one. Your writer will take care of every aspect of resume to help you beat the competition and help you get noticed by a busy recruiter.
Why it's important to include voluntary work in a resume?
Your past volunteering experience implies that you care about giving to the community, are initiative and result-oriented. These personality traits are valued in any industry. Moreover, the voluntary experience can make up for paid experience if you lack it – for instance, if you're a graduate or changing careers. Finally, you can expand your professional network through voluntary involvement, which is helpful for finding a job faster.
Seven golden rules for listing voluntary work
1. Follow the same format you used for listing paid jobs
Include the organization name, position name, start-end dates, and your responsibilities. If you have limited paid experience (1-2 jobs or none at all), be more specific about the voluntary jobs, and vice versa.
Be The Change Project, City, State                                                                        2018 – Present
Web Developer (Volunteer)
Built and maintained the organization's website, increasing traffic by 20%. Launched social media campaigns, increasing the number of Facebook subscribers.
In addition to enriching your professional experience, volunteering is also one of the best methods to beat work routine.
2. Incorporate it into Professional experience section to fill the gaps…
Little of us have steady and spotless career history. Making voluntary positions a part of Experience section can help cover the gaps. For instance, if you are changing career, list voluntary positions as relevant experience to showcase that you already have some experience in a target field. The same approach works for students. If you have the practical experience to show off, even if this experience is unpaid, you're a huge step ahead of your peers who have none.
3. …or create a separate Volunteering section
If you have a stable career history and needn't cover any gaps, list voluntary affairs in a separate section. Volunteering section is placed closed to the bottom in a resume after work experience. The exact place of this section will depend on the relevance of volunteering experience. If it's highly relevant to a position, put it right after the Experience section.
Want to find a new job faster? Use the proven psychological techniques of positive thinking: http://resumeperk.com/blog/how-to-use-positive-thinking-for-your-career.
4. Don't neglect the irrelevant volunteering experience
Did you serve soup for the homeless, tutored children after classes, volunteered in a nature camp or did other voluntary work that has nothing to do with your main line of career? Include these examples of community service as well. Irrelevant experience is better than none. Moreover, any kind of voluntary work shows your dedication, initiative and willingness to help others – qualities which are valued by the employers. Irrelevant experience goes to the bottom of the resume.
5. Know when it's time to ditch volunteering section
Do you have 10+ years of extensive relevant experience with multiple jobs, promotions and notable accomplishments? Then, feel free to delete the irrelevant voluntary work. Resume should be focused on the most relevant information. If you have an accomplished career, occasional volunteering doesn't add much value for the prospective employer. So, you can skip the volunteering section at all and leave more space for describing work experience. There's an exception, though. If you volunteer in a leadership role, preserve this kind of experience.
6. Accomplishments matter for volunteering, too
Just like in a commercial experience, achievements in voluntary projects are worth bragging. All in all, they expose the same personality traits – willingness to achieve results, exceed expectations and reach organizational goals. So, if you increased fundraising contributions, doubled the number of website visitors or increased student test scores, be sure to list these accomplishments with figures. 
Curious how the resumes of famous people look like? Take a look at some of them here: http://resumeperk.com/blog/5-resumes-of-famous-people-what-you-can-learn-from-them.
7. Follow the general principles of effective resume writing
To keep the resume no longer than 1-2 pages, keep the volunteering section short and concise. If you have plenty of space, list the responsibilities and achievements using a bulleted list (ideal length is no more than 5 bullets). If the space is limited, you can summarize your work for each organization in one sentence. Use strong action verbs to highlight your contribution and check the grammar and spelling. To improve the resume writing skills, eliminate bad writing habits.
Although you are not getting paid for voluntary work, it adds up to your skill set and professional experience and helps to find a job faster. According to the stats, one out of five employers hired a person because of the volunteering experience. Use the above tips to describe your volunteering right on a resume and make sure it will be noticed.
Want to get expert help with a resume?
The talented writers of our team can improve your resume in all aspects, helping you impress the hiring decision-maker. Your writer will reflect the voluntary experience correctly and transform all other sections as well, polish the writing style, apply custom design and focus on your achievements. So, if you were looking for a reliable custom resume writing service, you've come to the right place.
Our American copywriters will closely follow your instructions and revise the written resume for free if you're not fully satisfied with it. Getting professional help is affordable even for students – check out our prices and packages.