5 Resumes of Famous People: What You Can Learn from Them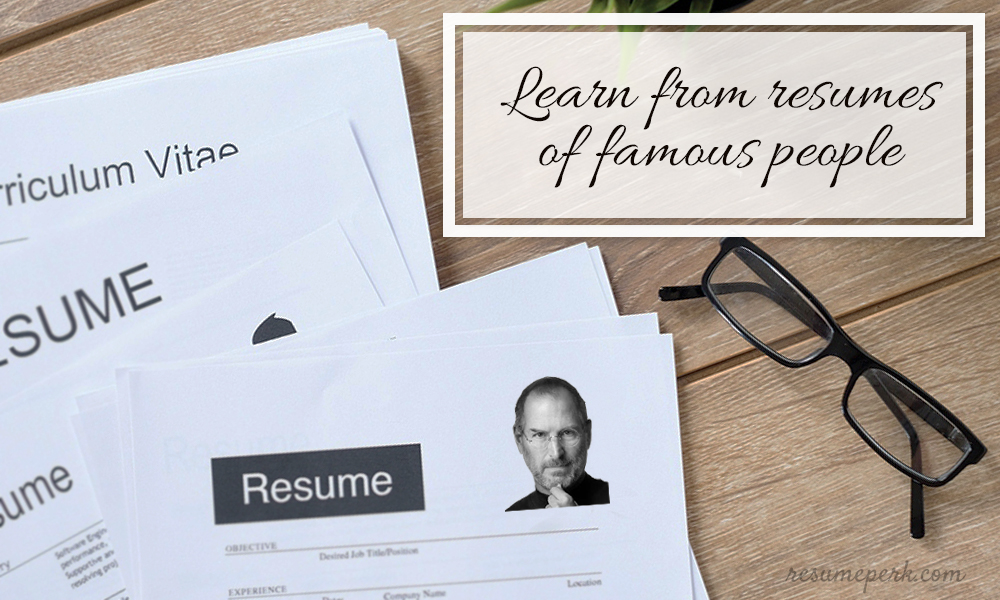 A lot of people have the role models they look up to. They can be a multimillion startup owner, a Hollywood actress, a worldwide known entrepreneur or even one of the US presidents. What really matters is that your beloved famous person inspires you for career or personal accomplishments.
If you are looking to repeat the professional success of your favorite leader or entrepreneur, you should really take your resume writing seriously. In this regard, it will be helpful to take a look at a few resumes of famous people (famous actors resumes, celebrity resume, and other significant peoples resume). And our professional resume writer will comment on peoples cv and show how to make your own resume better.
Need a resume done by an expert American resume writer? Our resume creator can write you a new resume or edit your old one, positioning you as a perfect candidate for your target job. Urgent turnaround is available – get your custom resume in 24 hours.
Barack Obama: Brevity is the soul of wit
This snapshot from the Barack Obama LinkedIn account gives only a brief overview of the 44th presidents' career. Each job description – from the Senior Recruiter in Law to President – fits into 1-2 lines. And while this may be acceptable for a former President, it's definitely not a guideline that an average job-seeker should follow.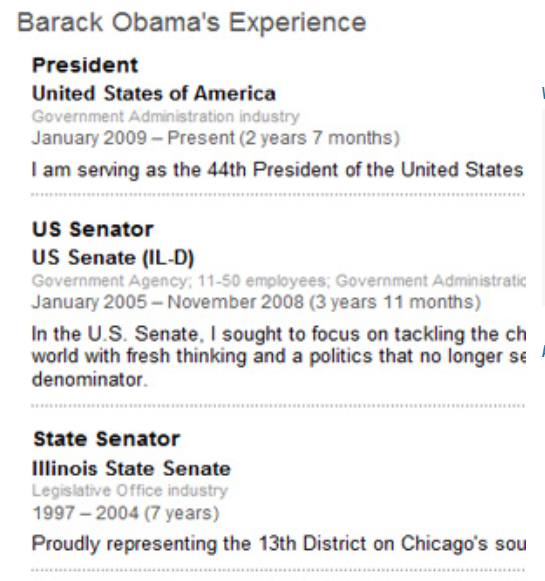 What you can learn from it? Your resume has to provide detailed information about your job responsibilities and accomplishments. This rule applies to both traditional and LinkedIn resume. if your resume is too light or brief, the recruiter won't have time to guess whether you are qualified for the job or not. They'll simply toss your application. Experts providing help with resume writing recommend that you explain your routine duties and accomplishments in no less than 5 bullet points.
Mark Zuckerberg: Vivat Academia
As you can see from his LinkedIn page, Zuckerberg is very detailed about his university accomplishments. He treats education like a job when describing it. Yet, he is more than reserved about his significant Facebook experience. Take away his name, and no hiring manager or recruiter will understand what "I'm trying to make the world a more open place" is about.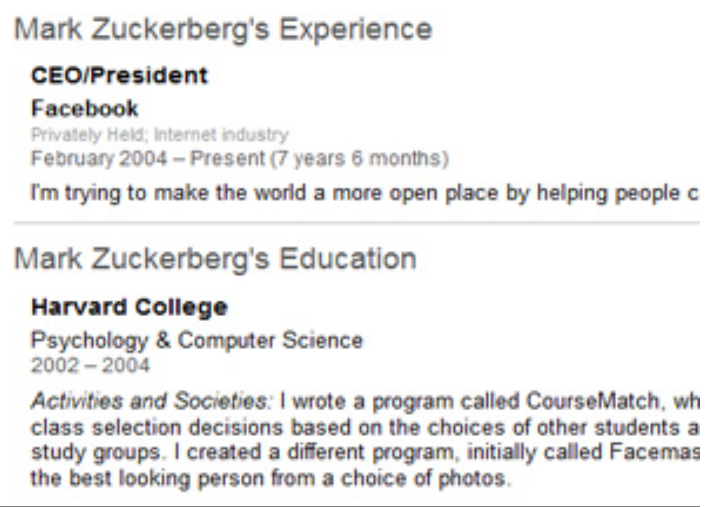 What you can learn from it? If you are a student or graduate, we insist that you follow Zuckerberg's approach to describing your studies. List your most significant coursework, academic or extracurricular projects and any accomplishments. The competition for jobs between students is fierce. The more you tell about your university activities, the more chances you'll get to stand out. Note that your professional duties should be described just as thoroughly.
Are you a graduate looking to make your first resume? Check out our advice here
Bill Gates: A glimpse into the past
The first Bill Gates resume dated 1974 clearly shows how the resume writing rules have changed since then. It includes the young Gates' age and marital status (which is now considered inappropriate). It also indicates the salary expectations which isn't a common standard now either. For the 1970s, Gates' resume is quite well-structured and contains details about his skills and professional duties. It also lists the computer-related coursework.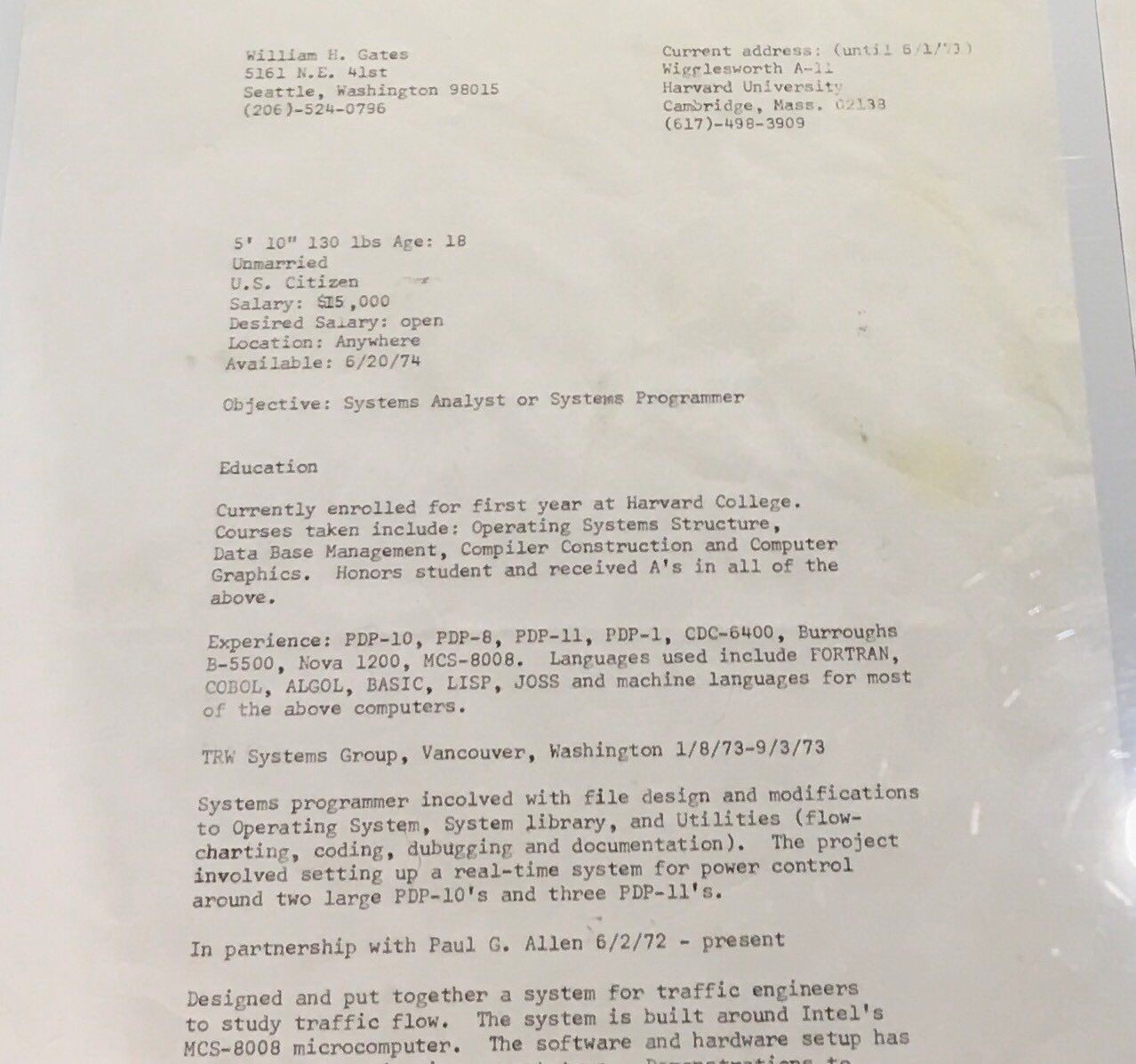 What you can learn from it? The appearance of a well-written resume has changed a lot during the last 45 years. Now you definitely shouldn't copy this resume's format, style of writing and content. Modern resumes use bulleted lists for writing job descriptions and achievements, are better designed and don't contain personal information. If your current resume looks like the Gates' back in 1970, it definitely has to be modernized. Here is how to create a resume for 2019: http://resumeperk.com/blog/top-2019-resume-writing-trends-handpicked-by-experts.
Steve Jobs: What not to do
Everyone knows Steve Jobs and his remarkable successes in tech. However, his first resume looks different from what you probably expected to see. This job application filled out by Steve in 1973 breaks nearly every modern resume rule you can think of. His second name isn't capitalized, he uses his college name as a home address, he doesn't indicate the desired position and the entire application looks cluttered. Take away his name, and you will see a resume of a not very motivated candidate who will unlikely score an interview. However, given its historical importance, in 2018 this resume was sold at an auction for $174,000.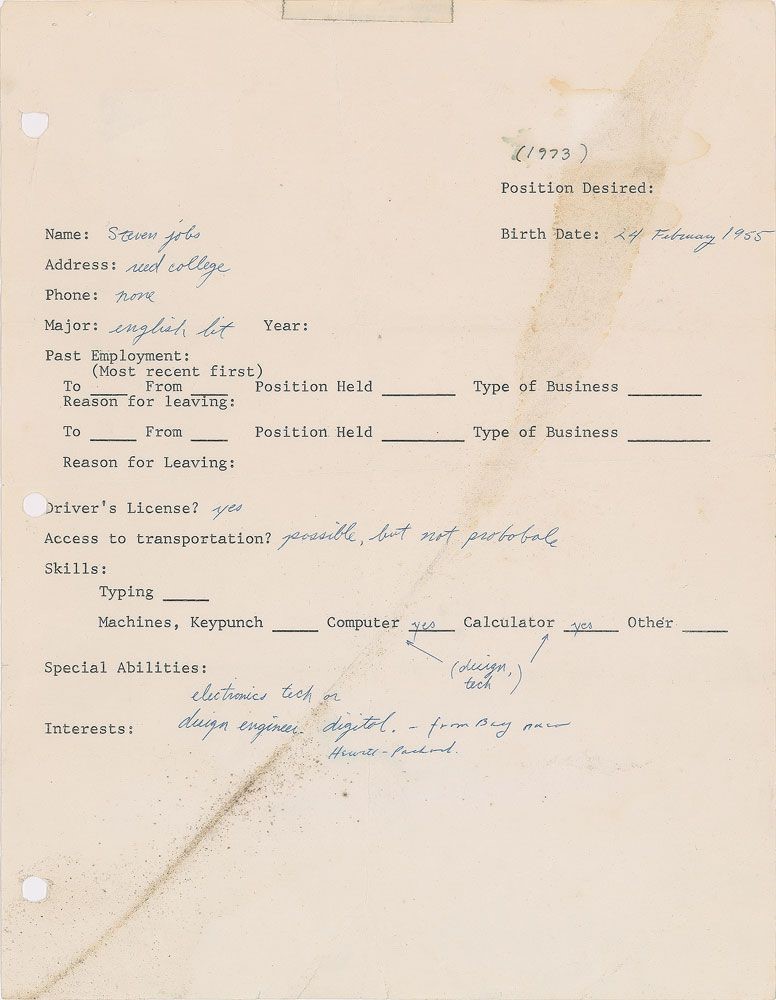 What you can learn from it? Unless you're a worldwide famous entrepreneur, you cannot afford to have a resume this carelessly written. As you can see, lack of attention for detail and lots of minor mistakes doesn't make the right impression with the employer. So, it's a good idea to always proofread your resume prior to submission and correct all kinds of writing errors. If writing isn't your cup of tea, consider hiring resume editing services that will do it for you. For instance, an editor of Resumeperk.com will review your resume and fix grammar, style, punctuation and more.
Kevin Bacon: The database of jobs
This accomplished actor didn't think of a better way to organize his filmography than simply listing all his movies. These movies aren't organized by the studio, genre or a producer, nor any specific detail about them is highlighted. Hence, this resume doesn't give a clue what the actor is proud of most about his career, what his major accomplishments are, and what he'd like to do in the future. It's good that he included a quote from Entertainment Weekly that briefly explains what kind of actor he is, though.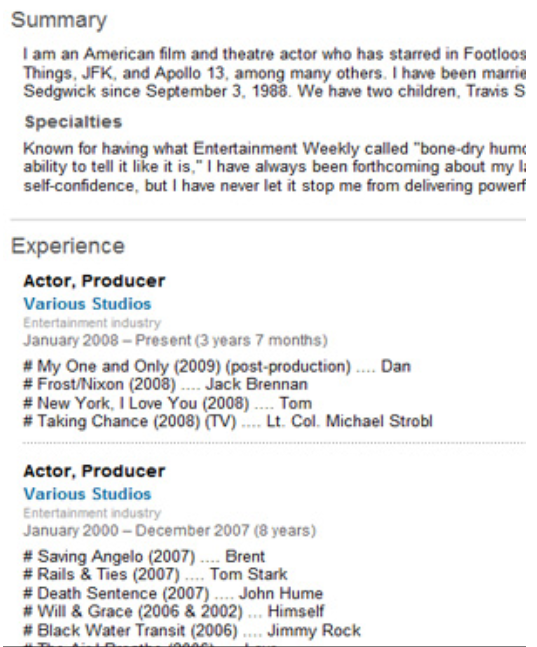 What you can learn from it? Simply listing all jobs you've had in the course of your career isn't enough. This doesn't make an effective resume. You need to include the important detail for each of those jobs, especially the most recent ones. Be detailed about your duties, achievements and explain why they matter for your target job. Also, communicate your career expectations to a prospective employer. This will help you find a perfect job for me faster.
What you can learn from the resumes of famous people: Key takeaways
Give succinct descriptions of your job responsibilities and accomplishments.
"I worked as a cashier in a busy store and managed returns" won't land you an interview. Write at least 5 sentences to cover your daily responsibilities, accomplishments and skills you applied.
Treat your university studies as a job.
Unexperienced students and graduates should describe their college or university years as their main asset. List the relevant coursework, thesis subject, academic projects or accomplishments related to your target job. If you were an athlete, this has to be mentioned too. A detailed description of your university activities will help you get noticed.
Don't stick in the past.
Resume writing rules change quite often, so make sure your application looks modern. Look for online examples to get a clue of how people write resumes these days or use our blog for reference.
Make it flawless.
To make the best impression on the employer, your resume has to be accurate and error-free. Mistakes in writing communicate your lack of attention to detail or the poor motivation for getting a job.
Avoid simply listing all the jobs you had.
Each job on your resume should contain a brief description that shows your impact and contribution. If you had too many jobs, you can omit the earlier or the least relevant ones.
How to compose an interview-winning resume fast?
Even the movie stars and world leaders make resume mistakes. There are so many peculiarities in the modern resume writing that it's hard to consider them all unless you write resumes on a daily basis. So, if you want a truly impressive resume, it makes sense to ask for the help of a pro resume writer.
Resumeperk com has been providing cheap resume assistance for 10+ years. Our expert can compose your resume for any industry and career level, taking into account your requirements and using the modern resume writing practices. With customer satisfaction being our top priority, we offer a free revision period to ensure that you are happy with the done resume. Order a professional resume this month and receive an attractive 20% discount.