Write A Resume Summary:Tips By Custom Resume Writing Service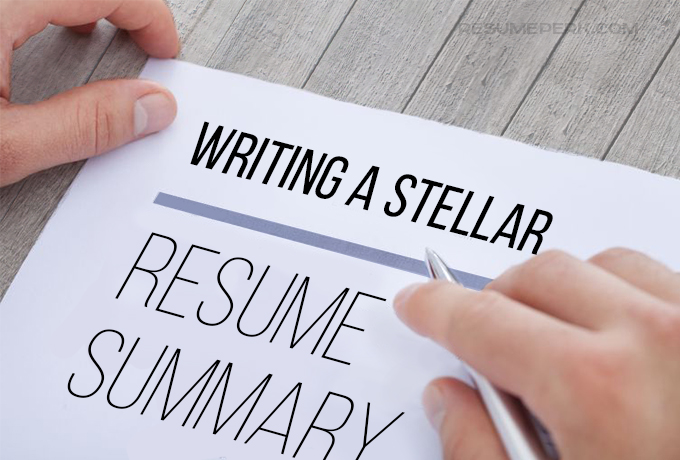 Every candidate wants to make their resume stand out from the pile of others. When it comes to resumes, we all realize that it should grab the attention of the reader in a matter of seconds. Otherwise, a resume won't reach its main goal – to generate interviews for you.
And one of the best, time-proved ways to catch the recruiter's attention is adding a catchy resume summary. Our online resume services will expand more on which tricks you need to use to make that statement an effective selling point.
Resume Summary vs. Objective Statement
There's one substantial reason why you should use a resume summary and forget about outdated objective statement.
Objective Statements are focused on your needs, not on the needs of your prospective employer. When he reads about your intention to 'leverage the skills' and 'develop professionally and personally', he immediately thinks, "What's in it for me?" And, since he didn't get this question answered, your resume gets lost in a pile of others.
Objectives are only acceptable if you are making a career change or are a student. In this case, they communicate your career goals which aren't obvious for a reader, custom resume writing service says.
Summary is all about what you have to offer. You indicate what you're great at, and how exactly you'll help the company develop and prosper. That's what the hiring managers want to know in the first place; and if you have captured their needs effectively, you've won their attention here.
Also in this section:
Writing an effective resume summary in 5 steps
Define what you're great at
A good summary starts with understanding your value proposition rather than copying someone you've found in the web. Ask yourself, "What am I best at?" "What am I proud of achieving?" "What do people appreciate most about my work?" This will help you focus on a few important points for the summary. Make a master list of your achievements - this will be a first draft of your summary.
Research what the employer is looking for
Once you've found out what you have to offer, it's time to research the market and understand how you can match the employer's needs. Search for a few job postings (the ones you'll apply for or similar to them) and read them to identify the key traits and skill sets they're looking for in a perfect candidate. Tailor your relevant skills to the goals of employer. And don't forget to use the same language that is used in a job posting – they usually have keywords. For more tips on resume keywording, check here: http://resumeperk.com/blog/why-keywords-are-so-important-for-successful-resume.
Add your personality traits
The summary should have a touch of your personality. Mention a few personality traits, focusing on those which are important for the position. However, do not stuff the short summary with spammy language such as "great communicator", "problem solver" or "go-getter".
Give exposure to specific results
Nothing speaks of success better than facts and figures. If you have a few impressive ones to share, don't hesitate to do it. Specific achievements serve as a proof of your capabilities and immediately generate more attention. If you have any figures at hand, do include them for better effect, custom resume writing service recommends.
Boldface (or highlight) the title
Put the name of your desired position (or the title of your last job) as a resume title. Since big companies often have multiple openings, this simple trick will help ensure that your resume is to hand.
5 Tips to Strengthen Your Summary
Avoid common skills
Career summary is all about what makes you unique and your experience specific. So, the commonplace skills such as Microsoft Word proficiency shouldn't be mentioned here. Keep skills of this sort for the Skills section.
Don't make it too long
The optimal summary length is 3-6 sentences, depending on your career level and years of experience. You can write the summary both as a block of text and a bulleted list – whatever looks better.
Career summary is not your cover letter
Summary must be focused on your biggest professional strengths and accomplishments. No need to write about your marital status, out-of-work achievements and go into detail why you haven't worked for the past two years (to address issues of this kind, you'll need a smart cover letter written – see more here http://resumeperk.com/blog/how-to-write-winning-cover-letter-for-job-applications).
Remove the personal pronouns
Summaries are commonly written in a present tense and third person. This simple trick preserves the focus of writing on the employer's needs and demands.
Use strong action verbs
Of course, the change of action verbs won't change your responsibilities and achievements. However, by simple use of other words you can vary the impression those accomplishments make. For instance, replace the 'was responsible for' with 'coordinated', 'managed' with 'orchestrated' and 'led' with 'chaired', and your resume will make a totally different impact on the reader.
Limit the length
As we said above, the optimal summary length is 3 to 6 sentences (latter for the executive level). However, keep those sentences short for readability. If you manage to condense your key selling points into 4-6 lines, it's great. A summary of this length is informative enough, but still doesn't overload the reader with unnecessary details.
Give it a careful proofread
This piece of advice is as old as the hills. Nevertheless, don't underestimate the importance of the flawless punctuation. You can work hard on your summary, finally create a really great piece of text and it won't get you anywhere if you make a typo or two. Some recruiters see mistakes/typos as lack of attention to detail, so be careful in it. Use the help of proofreading resume service http://resumeperk.com/blog/tips-for-flawless-resume-proofreading  if you lack confidence.
You only have 10 seconds to make an impression
You might question, why bother so much about writing a persuasive resume summary? In average, a hiring manager spends less than 10 seconds reviewing each resume to determine whether it deserves further consideration. Consequently, you have only 10 seconds to impress them, and highlighting your most prominent qualifications in a summary is a great way to do it.
Experienced and accomplished professionals often struggle to determine which qualifications and skills to focus on to grab the recruiter's attention. Our staff resume helpers can prioritize your experience, emphasize your contribution and design your resume in a way that effectively sells you for the position.
Carefully reread the job posting
A career summary should be customized for each job opening you apply for to highlight how your background meets the needs of this particular employer. To understand that, read the job listing closely, find the matching qualifications and emphasize the skills and experience the employer is looking for in a successful candidate.
Never apply for a job before reading the job posting carefully and adjusting your resume to it. It might turn out that you're underqualified so your resume will simply be rejected. Moreover, the recruiters easily spot mass-mailed resumes. If you want to have your resume tailored for the needs of a particular company efficiently, contact a professional resume maker.
Post your resume on all reputable job boards you can find
Sending your resume in response to a job posting is a common job-hunting technique, but why not let the job find you? Upload your resume to the most popular American job boards, such as Glassdoor.com, Indeed.com, Careerbuilder.com, and get found by the recruiters and hiring managers who are looking for qualified professionals in your area.
Many job boards allow hiding your contact information and making your resume invisible for your current employer so that they won't reveal that you're job-hunting. Posting your resume everywhere online will significantly speed up the process of landing a new job.
How can I get a custom resume?
A custom resume is the one created for you by an experienced and certified resume writer. The writer collects information about your past experience, achievements and education to create a resume that will serve your career aspirations best. Our experts guarantee the excellent quality of writing, unlimited revisions and timely delivery as per the deadline chosen by you.
Conclusion
Summary is the first thing a reader notices about your resume. Thus, you need to be totally confident that it's engaging and motivates the reader to learn more about you, not to toss it away. If you are confused and don't know how to create a summary like this, consider hiring custom resumes writing services.
Our company has been helping clients to advance their careers for 9+ years. We create absolutely unique resumes, considering the needs and requirements of every specific client. To understand how exactly we can assist in your case, you can take an advantage of a free resume critique. To get your resume critique simply send us your resume and our writer will address its strong and weak points so you will know the market value of your resume. It is free of charge!
Does your resume have a Summary of qualifications? If no, are you going to add one?
Popular posts: