How to Make the Right Career Choice?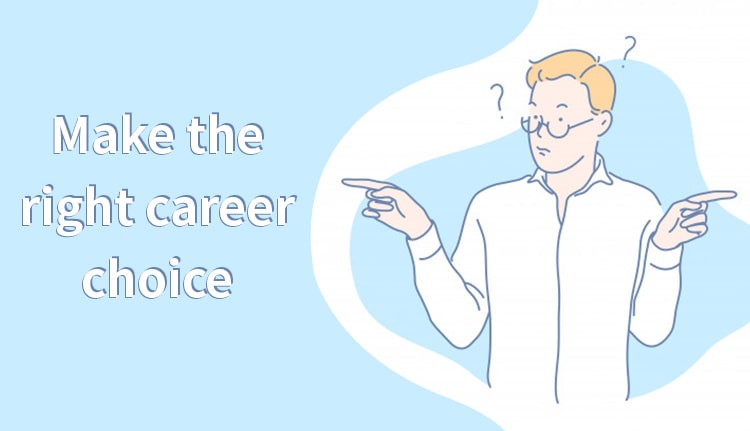 When it comes to determining which career is a good fit for you, there are two common mistakes you should avoid. The first one is giving this all-important matter less consideration than it deserves, relying on the expectations of others, popular options among friends or superficial interest in something. And the second mistake is overthinking the career direction rather than taking action.
Meanwhile, the choice of career shapes all other areas of your life. It determines whether you'll be able to realize your potential, your surroundings and the quality of life in general. Whether you're a student considering possible career directions or a mid-career professional who had realized that your job isn't the best fit, you'll find today's tips helpful. Use these tips to find a job after graduation.
If you are looking to update a resume in line with your new career goals, consider hiring professional resume writing services. Educated and experienced resume writers from our team can rewrite your resume according to the modern resume trends and focus on your achievements. Thus, you'll have every chance to impress the hiring person with your qualifications.
10 essential tips for making the right career decision
Some people are truly passionate about a certain career path or can turn a hobby into a full-time career. If you, unlike those lucky ones, are undecided, you need to act rationally. These steps will help you figure out the right path:
Be emotionally ready to make a decision
Whether you are choosing which college to enter or deciding to go for a different career path after ten years in the industry, you need to be ready for this next step in your life. This is a big step which requires significant changes in your life: learning, combining work and studies, and probably change of lifestyle. Without the right mindset, it will be hard for you to succeed. Use these positive thinking tips will help to stay focused: http://resumeperk.com/blog/how-to-use-positive-thinking-for-your-career.
Know where you stand
Before you start searching, evaluate the current state of things. Understand your financial situation, skills, abilities, likes and dislikes. Ask your family where you can count on their help and when you will have to rely on yourself. This assessment is necessary for you to keep your options realistic. Let's say you'd like to get a Master's degree in computer science, but if your family cannot afford it, you'll have to seek other options anyway. Moreover, accessing your talents and abilities accurately will save you from making the wrong decision.
Understand your strengths 
If you had a strong passion for something, you wouldn't read this article and would simply follow your calling. Luckily, you don't have to be passionate about something to make a successful career out of it – a moderate interest is often sufficient. Take a look at all your interests and strengths. If you can devote hours to some activity without getting bored, chances are you could do it professionally. Ask your family, friends and colleagues about your strengths. A view from the outside can give a helpful perspective as those around you can spot the strengths you might have overlooked.
Pass aptitude tests
If you struggle to figure out your strengths and possible career directions, an aptitude test can help make a good career choice. This test can be taken in a college, career center or online. After answering a set of question an evaluator will point out at your biggest strengths, areas of interest and suggest career options for your type of personality. These tests are not designed to provide you with a detailed career plan. However, they will show you which types of jobs and industries you should consider, saving you time on searches.
Access your working style and needs
Quite often we feel unhappy at work simply because the working style is not suited for us. Write down what type of environment and pace of work you believe you'll be most comfortable with. Are you a people person or prefer a quiet environment? Would you rather work on projects individually or with the team? Do you prefer a self-paced schedule or need a supervisor to stay focused? Determine the ideal working style where you would feel most inspired and try searching for jobs that comply with these criteria.
Are you considering going freelance but hesitate if this style of work is right for you? Check out the pros and cons of freelance vs office work.
Weigh risks versus rewards
Whichever career you choose, it is going to affect other areas of your life. The matter is, the career goal in question might not justify the means. For example, petroleum engineers earn high salaries but this job involves a long time away from home. If the family is your top priority, such a choice of career might turn out to be discouraging. Or maybe you'd like to become a research scientist. Then, note that you'll have to complete an advanced degree which means years of training and costs for education. Before you make a decision, make sure you've taken all side effects into consideration and made a wise career choice.
Define your expectations 
Apart from understanding your working style, clearly outline what you expect from the ideal career. Is it a prestigious profession, high paycheck, good career prospects, opportunity to travel or save the planet? What kind of organization would you like to work for or would you like to be self-employed? Write your expectations down so that you could see a clear picture of what type of career it sounds like. As you get more specific in expectations, you narrow down the circle of possible options and thus will be able to come to a few careers to choose between.
Seek professional advice
It's not an easy task to understand your genuine interests and goals. Moreover, you might simply not be aware of all opportunities and careers available on the job market. To navigate your way through today's job market, consider working with a career counselor or coach. These professionals will evaluate your personality, skills and abilities and recommend where to apply them best. Career professionals will also help you select the best schools, prepare for an interview and tell if your chosen career is at risk of being automated.
Are you considering a career in tech? Then, grab these hints for writing a pro tech resume: http://resumeperk.com/blog/how-to-write-a-technical-resume-9-tips.
Ask for first-hand opinions
When you are choosing between several career options, consider getting the first-hand opinion. It will help you understand if you see this profession realistically and answer the remaining questions. Find people who have the job you want and ask for a short interview. If you know nobody, use LinkedIn in your searches. Ask about their job duties, pros and cons, and whether they are satisfied with the job. This brief conversation will either strengthen your ambition or save you from the wrong choice of career.
Don't wait for the right moment
Choosing a career is important, that's why many people tend to postpone this decision. They prefer to enroll to whatever program or to stick with the job they dislike, waiting for the right time to come. However, the sooner you get proactive about your career future, the faster you'll actually start making money doing something you love. As you make a decision and start working towards that career goal, you'll also relieve the stress caused by procrastination. So, use the above tips to figure out what makes you happy and make the first step towards your labor of love.
Get a professional resume and beat the competition
When you're looking for a job in the new field or right after graduation it's important to have a resume that reflects your strengths in the best possible light. Resumeperk.com is a reputable resume writing service in USA that has been providing resume help for 10+ years. Our professionals can downplay your career issues, showcase the strengths and tailor your application for your desired job.
Client satisfaction is our main priority. If you are not completely satisfied with a resume done for you, your writer will revise it free of charge. Speaking about prices, our charges for resume services are significantly lower than those of other companies. We also give an additional 15% discount to our first-time clients. Get a professionally written, perfectly structured and error-free resume today and maximize your chance for a dream job.