Rate My Resume: Why You Will Benefit From A Resume Critique
Today, the majority of top rated resume writing services offer their clients a free resume evaluation. This means that a resume writer reads into your resume and responds you with a detailed analysis of your resume's strong and weak points. Resume evaluation service is usually free, although a few services may charge up to $30 for this procedure.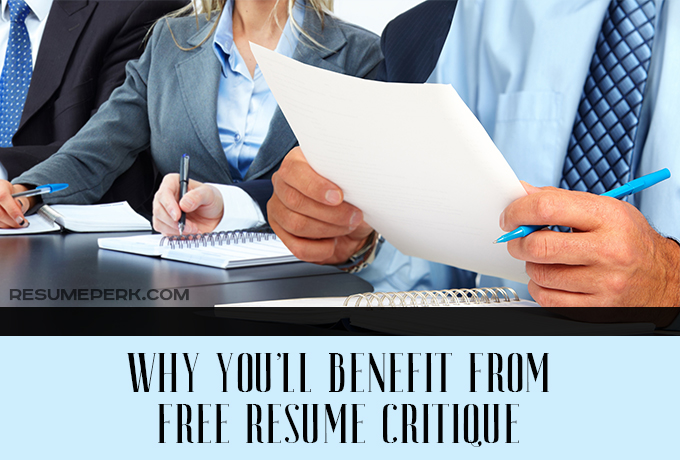 Some are skeptical about getting a free critique as they believe that its only purpose is to convince you to hire a resume company so they could rewrite a resume for you. However, this isn't always the case. For example, at our website receiving a free critique doesn't oblige you to place an order. After you've received the letter from a resume writer, it's totally up to you if you will pay for his services or edit your resume on your own. Meanwhile, getting a critique from a professional in the resume industry can significantly help you improve the resume quality.
How can a free resume critique help me?
Get an insider opinion on your resume
It's is recommended here and there that you should get your resume read by another person to hear the feedback and remove the mistakes, if any. Of course, your friend to whom you sent your resume for review can spot a few punctuation errors, but can he identify more complex resume mistakes? Meanwhile, a resume writer will find the issues with grammar, wording and paper structure and point you out at them.
Hear about the mistakes you didn't know about
The truth is, you can consider your resume well-written and wonder why you're not getting invited for interviews. And maybe you don't have a clue what the problem is! Luckily, a resume writer can spot the biggest mistakes in a matter of minutes, and will share his findings will you in an email. Thus, you'll know exactly what and how should be fixed.
Gain more confidence in your resume
Without dealing with a resume rater you'll likely keep hesitating if your resume is good enough for those positions you apply for. The job search process itself is quite stressful, and the lack of confidence in your own resume can make you feel even more stressed. On the contrary, as soon as you hear the professional opinion you'll have no reasons for doubts as you'll know what to do about your resume.
Find out if your formatting is effective
Even the top professionals often neglect the importance of formatting as they believe that their rich experience will speak for itself. Although it's true to some extent, don't underestimate the importance of a good formatting and correct layout. It's a fact that if your resume is visually appealing and well-structure it will get more recruiter's attention than a resume with poor formatting.
Only ready-to-use information
Resume raters of our company won't use witty jargon or unknown terms when explaining the strengths and disadvantages of your resume.  All the information you get from a resume writer you'll be able to use at once if you wish to correct your resume on your own. Grammar and punctuation, word choice, layout and structure, language and action verbs – here's just a brief list of what is evaluated in a resume critique.
Help with the choice of service
Do you definitely want to order a professional help but are unsure which type of service will work better for you? In addition to a detailed analysis, our resume writer will recommend you the type of service which fits your needs more effectively. Writing or editing? After receiving a resume critique, you'll not only know which service is better for you, but also will have an idea of what the writer will actually do with your resume.
Get a discount
If you want to take the advantage of our customer loyalty program for the new clients, just mention that you'd like to get a discount when contacting us with your resume. We will respond you with a resume critique and a discount code for 15% off your first order with us.
100% privacy
We guarantee the privacy of your personal details. Your name and contact information will not be published on our site or used in promotional activities. Only the writer rating your resume has an access to it. Moreover, soon after the critique delivery your resume will be deleted from our base.
Steps to get a Free Resume Critique
Click the Contact Us page to let us know you're in need of a free resume evaluation
Attach your resume and ask for discount code if you're going to place an order
In 24 hours, you'll receive the writer's feedback on your resume and a promo code.
Want to make your resume perfect but don't know where to start? Use the expert advice from our Blog to improve the quality of your resume and boost your chances for an interview. What to include in your resume and what should be left out? How to find job using the social media? How to dress up and what to say during the interview? You'll find these and many more of your questions answered.
Have you ever ordered a free resume evaluation and was it helpful?