34 Resume Tips and Brand New Kind Of Resume To Get Hired
Feeling lost in the dozens of resume tips, formatting hints and career advice? Well, you can stop browsing the web right now: we have collected ALL most valuable resume advice below. What to include for sure, what to leave out and how to format it in a catchy way – only handpicked tips which really work in a hiring world.
So, open a new MS Word document, get a cup of coffee and get your hand to writing (or formatting) your winning resume.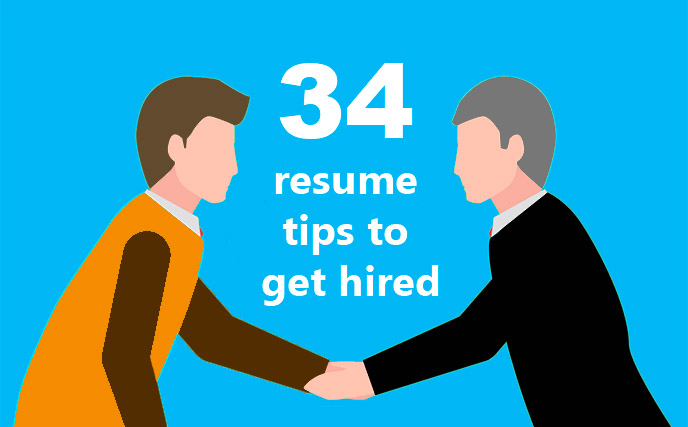 Resume Heading
Name, phone number, email address. This is the information your resume MUST contain. No marriage status, no photo, no ID details.
Keep email address professional. John_dascus@yahoo.com is a good example of professional email.
Support it with your online profile. If you add a link to your professionally crafted LinkedIn profile or your personal website, that'll only be a plus.
Skip the Objective section. Unless you're in the middle of career change, objective is of no use for a recruiter.
Add a short summary. Three to five lines describing your value and what you have to offer can make your resume stand out. A good summary statement should contain your biggest advantages and achievements and sell you for the specific position.
Formatting
Make it reverse chronological. Functional resume is only fine when you're expected to show an impressive skill set (like, for some IT and engineering jobs). In all other cases, list your jobs in reverse chronological order to make your career history clear for a recruiter.
No more than two pages! The matter of resume length is still widely discussed. Nevertheless, the main advice is: keep your resume to 1 page. If your experience counts over 10 years or you're a top manager, you can make it 2 pages.
Key information goes first. No matter how long your resume is, make sure that your key achievements and skills are placed at the top half of the first sheet and are easy to spot.
Catch the reader's eye. In the digital age people won't read your resume line by line; instead, they'll just be looking through it stopping by key elements in the text. So, try making the most important text bold to draw the attention of the reader to it.
No fancy (or sophisticated) formatting. Most likely, you'll be applying through an ATS which will destroy pictures, lists and tables and the text will be impossible to read. Paragraphs and bullets are fine, big charts are not.
Leave a plenty of blank space. Nobody likes 4-page resumes, but when your single page of resume has so much text that it's hard to read, it irritates even more. So, make sure you keep the balance between the text and white space – the optimal number of words per page is around 300.
Use the common font. For the above reason, best fonts to use in resume are Arial, Calibri or Helvetica.
A touch of creativity to get noticed. Yes, you shouldn't get over-creative in resume. Still, think about design and formatting of your resume to make it noticeable. Bullet points, color highlights, lists and paragraphs – make your resume well-structured and more readable.
Work Experience
No need to include all work experience. Don't turn your resume into a detailed recording of career history. Instead, turn it into a marketing tool by adding relevant jobs and achievements.
Add recent information only. if your career history counts decades, then any experience over 10-15 years should be left out – recruiters usually have no interest in what you had been doing 25 years ago.
List achievements, no job responsibilities. Recruiters want to know what your contribution was and how you made the difference, not what your daily responsibilities were.
Keep every section 4 to 6 bullets. In other words, no matter how long you have been in a workplace, make sure you've only listed your most significant achievements and make sure they're not more than 6.
Numbers, numbers, numbers! When listing your achievements, add numbers whenever possible. How much money you earned, how many clients you managed, how many employees you trained, etc.
What if you don't have relevant experience? Focus on other activities where you had similar responsibilities (volunteering, internships, part-time jobs) and mention when you got trained for the job (education, courses, etc.).
Remove meaningless self-descriptions. Almost every resume in the world has phrases like "hard-working", "go-getter", "self-motivated" or other meaningless clichés. Remove them to get more space to describe your real value.
Keep the language simple. It's tempting to use complex language to demonstrate your deep knowledge. Still, the winning strategy is to make it understandable for an average person. You can't know who will see your resume, so make it easy to read for anyone.
Don't limit yourself by including only 'regular' jobs. If you did any freelance work, volunteered abroad, ran a family-owned business or even blogged, and this is relevant – add it! Your versatility will help you get noticed.
Use strong action words. Skip "managed" and "responsible for" – and try stronger words like "spearheaded", "orchestrated", "facilitated". Ran out of action verbs? Here you can find some more for any industry.
Add keywords. When your resume is scanned through ATS, specific keywords will increase its visibility. Which keywords to use? The best tactic is to take key phrases from the job description.
Education and Skills
Place education right after work experience. Unless you're a graduate, education should always come second.
If you graduated over 15 years ago, skip the graduation date in resume.
Honors and GPA. You should absolutely specify if you graduated with honors. Meanwhile, GPA in resume should only be mentioned if it's more than 3.6.
Advanced degree goes first. For instance, MA goes before BA. If you have university degree, remove your high school details.
Include continuing education, courses and online education. Any educational background for the job you apply for will be considered as a plus.
Add a list of your relevant skills. You can place them in a separate section under resume summary. Adding technical background, certifications, managerial skills, specific software are the good options.
Show your soft and interpersonal skills. "Good communicator" is a bad idea. Achievements that let the reader know you can clearly communicate with the team is much better.
The bottom line
Convert it to PDF. Word document may open incorrectly on the other computer and your formatting will be destroyed. Meanwhile, PDF files are displayed right in any browser.
References available upon request. If your resume still has this phrase in the end, delete it – it's totally obsolete.
Be honest. For many it goes without saying, but this rule is worth repeating. Don't lie about your education, experience, skills, etc. All this information is easy to check, and even if it helps you to get your foot to the door, if you are caught on lie, you'll be likely asked to leave.
A brand new resume type you should try
Infographic resumes became a trend a few years ago and many job-seekers have already made, or at least considered making this kind of resume. What makes visual resumes so attractive? First, infographics use graphical way of presenting the information, which is easier to get in for our brain. Second, it demonstrates that the applicant is aware of the modern technology. Third, it adds a touch of creativity into such a mundane process as sending in the resume.
Most hiring managers are open to receiving an infographic resume from you, so if you are still asking "Should I make an infographic resume?" the answer is definitely YES.
Some helpful tips to help you create a unique, recognizable infographic:
If you're not a graphic designer yourself, use online tools to make your infographic. piktochart.com or other online platforms will help.

Include only key information about your education, projects, skills, etc. The less text you add the better

Add figures whenever possible. Infographic is the best way to demonstrate your capabilities in numbers and percentages

Along with infographic resume, attach a good old text resume as well. Or, you can include a link to your resume infographic in your traditional resume so the recruiter could view it online.
Using our tips and hints, you can easily transform your obsolete, outdated resume into a modern marketing tool that will help you to land a desired job. Try using infographic resume for success – send it separately or accompany the text resume with the graphic one. We hope that the brand new resume you'll create with our help will become an important step for your career and help you in realization of your personal goals.