Achieve Success With Resume Cover Letter Help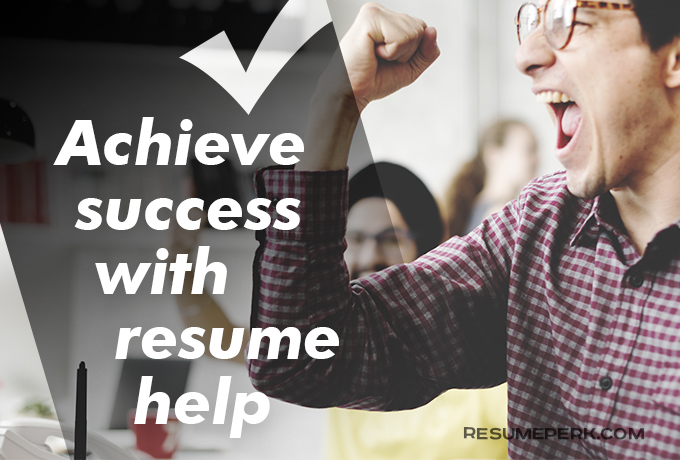 Reaching success is the biggest concern for many of us. How to build an impressive career? How to make a lot of money yet maintain balance between work and life? Although the actions you need to take vary depending on your current situation and your field of work, the mindset you need to adopt is pretty much the same. You need to learn how to be proactive, stay persistent when the situation is tough, learn from your mistakes and correct your actions along the way. If we speak of job hunting, a good example of proactivity is getting your resume written by best resume writers and applying for new jobs when you still have an old one.
Why successful people pay for resume solutions? First of all, they value their time and are busy developing in their area of expertise rather than spending hours and days writing and rewriting their resume over and over again. And secondly, they choose the most effective solutions – it's been proven that resume written by a professional generates more interview calls.
Our company has been providing resume services for over 9 years, and during this time we've helped thousands of clients from the US and Canada to push job search, make a career transition or take a step up in their careers. We value personalized approach – the writer is assigned depending on your area of expertise and works with you until you are satisfied with the finalized product. We offer 100% original writing and let you choose the delivery date. In addition to a resume, you can get a cover letter, a thank you note, and a LinkedIn profile – just choose the resume package that fits you best.
Also in this section:
We are happy to see our clients becoming successful in their fields – become one of them!
Cover letter help: How to become successful
A happy life is impossible to imagine without success in your job or in business. If you struggle reaching your career goals, see our guidance below. By adopting some of the mental habits of successful and accomplished people, you'll find it easier to grow professionally and personally.
Find what you really love and stick to it
However cliché this may sound, only your labor of love can make you happy and successful. If you are willing to do anything as long as you get a paycheck for it (or, which is even worse, you secretly hate your job), you're unlikely to make a lifelong career out of it. Moreover, people who are uninterested in their jobs are more likely to find themselves in the middle-age career crisis or face a professional burnout in only a few years after the start of career. So, if you haven't found yourself yet, take your time to find out what you really love doing.
Don't focus on money
Success in life is impossible to imagine without money. When making key choices both in life and career, however, you should never consider the money as the decisive factor. For instance, choosing one career over another just because it's well paying won't make you successful in the long run as you'll probably feel unmotivated to develop in the sphere you don't like. The same goes for choosing a better paying role over the one that gives you room for professional growth and creativity. When you find your labor of love and start developing in it, you open an opportunity to grow your wealth in the future by growing your professionalism.
So, don't open that resume and cover letter builder to apply for a highest-paying job. Choose one that will allow you to build your knowledge and develop your talents in the long run.
Choose one thing, and focus all your efforts on it
Pick one thing that you're doing better than most people and focus on it solely. It can be law, writing, financial analysis, programming, painting – anything that is critical for your career. Practice it for several hours a day, track progress, evaluate results and start over again. Practice and repetition makes perfect.
Don't choose several skills at a time. It may seem manageable at an early stage; however, you'll find it really hard to keep focused on completely different tasks every day. If one day you need an additional skill to succeed, you'll start learning it when it becomes a necessity.
Lack motivation to keep going? Learn how to keep yourself inspired and motivated for working: http://resumeperk.com/blog/simple-ideas-to-regain-motivation-for-working.
Learn to maintain the balance
For most of us, success equals high quality of life. However, if work takes a lion's share of your time, including evenings and days off, then you probably have a problem. Workaholics go to work for the sake of it, and they rarely reach success (to learn how to differentiate a workaholic from a hard worker, see here: http://resumeperk.com/blog/main-differences-between-workaholic-and-hard-worker), let alone the fact they're often stressed and give up other areas of life. Cover letter writer states that you need to set priorities and allow yourself time for life, not only for work.  Paying attention to your family, friends, health and hobbies will significantly increase your quality of life in the long run and help you enjoy your professional accomplishments fuller.
Collect feedback and learn from it
At any step of the career ladder, success heavily depends on your ability and willingness to learn. Whether you work independently or have a mentor, you'll be receiving feedback on your performance. Don't neglect this information – a feedback or even criticism provides you with insights about your weak points that should be improved. By taking feedback as a starting point for actions, you'll grow faster not only as a professional, but as a personality too. Be grateful to people giving you feedback – they give you an opportunity to improve.
Start a blog
Many successful people write down their thoughts and ideas; why not become one of them? Writing every day helps you organize your thoughts, reduce stress and helps you regain your creativity. It's even better if you start writing for a wide audience – sharing your thoughts publically can help you advance your career. If you don't know how to make your post outstanding, read our guidance on how to make your blog a success. Moreover, regular writing hones your writing skills which are important for many roles. You won't have to puzzle over how write an e-mail, a memo or a specification – with good writing skills, you'll handle these tasks easily.
Success doesn't come easily
Why so many people dream of huge success and only so little reach it? Your success depends not on your willingness to 'work hard', but on your readiness to pay the price it is worth. You'll have to leave your comfort zone without regret, as you'll need to do scary, unusual, unpleasant things. You'll need to work really consistently, day after day, regardless of your mood and your wishes. Choosing work or education over fun will become your typical practice. The point is, success is achievable, but you'll need to put a lot of effort into it.
Work on your soft skills
You can be an extremely skilled, seasoned professional, but if you are an awkward customer and terrible with people, it won't take you anywhere. Hiring managers now pay attention to soft skills and communication skills of the candidate more than ever. Working in a team, negotiating with clients and vendors, balancing the needs of stakeholders – all areas of company success (and your career accordingly) depend on effective communication. In the long run, you'll need friends, not enemies – so if you feel that communication is your weak point, it's high time that you changed it.
Take your resume and cover letter seriously
Your resume and cover letter are more than just a formality. An effective resume should market you as a perfect candidate for the role, highlighting your skills and experiences in the right place. A good cover letter should read as a story, outlining your cultural fit at the same time. If your current resume and cover letter aren't like that, it means that you slow down your own success. It's a good idea to improve the quality of your application documents or hire a professional to do it for you.                                      
Many people see professional success and accomplished career as something magical. Nevertheless, it is achievable for everyone, and it's not all about working hard. Your success totally depends on your ability to make smart decision and adopting habits that successful people have. In addition, start feeding your mind with positive thoughts. Setbacks happen to everyone, but it's important that you stay oriented on success and try again until you reach your goal.
Where does a success begin?
Success at work and in life in general depends on your focus, persistence and willingness to learn from your mistakes and grow. Success in job hunting starts with a perfectly written resume and cover letter. And if updating your old resume seems quite a challenge, consider contacting a reputable resume writing service for help.
Whether you have gaps in career history, looking to change a career or searching for your first job after graduation, we're here to help. Our company provides a wide range of resume and cover letter services to help you be more competitive in a job market. All you need to do is to place an order, and a resume writer experienced in your field will do his best to craft an attractive resume for you. For first time visitors, we offer a system of discounts – check our pricing policy and claim yours. 
In your opinion, what does it take to be a success at work?
Popular Posts:
Keep in touch!
Subscribe now and receive information about our services.
Receive free resume tips from our experts every week;

Find out more how to succeed on an interview;

How to define your advantages and disadvantages;

How to choose effective resume writing service;

How to increase efficiency of your job search.
SUBSCRIBE NOW