Complete Guide to Quitting Hatred Job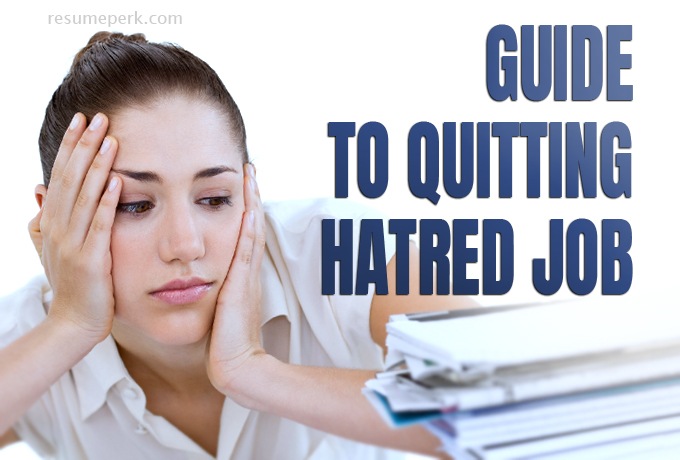 Are you happy with your job right now? Does it give you a sense of meaning, do you enjoy working closely with your colleagues and do you look forward a new working week on Sunday? Even if you feel comfortable working at not-so-fulfilling job until it pays you decent money and value compensation over job satisfaction, there's no denying the fact that job has a major impact at our lives.
If you happen to be dissatisfied with the job you have, you're not alone. As the statistics report, 11% of the U.S. employees are unhappy with their current role. Be it a toxic work environment, an overly autocratic boss, or the nature of work that discourages you, there's always a way out. And, prior to researching how to make a good CV, you need to figure out lots of things in your head before you actually make a big change. A thoughtful and consistent approach will ensure that you end up at the job you'll really love.
So, if you hate your job, continue reading. Our career experts have prepared an in-depth guide that will help you quit the job in the right way, understand your goals and approach the job-hunting process efficiently.     
Step 1. Define if the quitting is worth it.
If you've been on the hatred job for a while, it's unbelievably easy to get emotional and quit in rage, telling your boss everything you think about them and the company. Even if you feel liberated after this brave act, it isn't going to do you good in the long run. Moreover, in certain cases quitting isn't necessary as it's possible to amend the unhealthy work situation. People often quit because of relationship problems that can easily be resolved.
So, in any case you should start with talking to your boss. Don't blurt out that you're planning to quit – just admit to having an unsatisfactory workplace situation and discuss the possible solutions with them. Here are a few possible alternatives to resignation:
Did you have a disagreement or conflict with colleague? Ask your boss to mediate it or propose a solution that would satisfy you both.
Unhappy with your circle of responsibility? Wonder if it's possible to have different tasks assign or to switch to other department.
Haven't gotten a promotion for a while? Seek the guidance of what exact results you should achieve to get a desired pay raise.
Been too stressed recently? Consider taking a short vacation to unwind and relax.
In most cases, having an honest conversation about what stresses you out and working with supervisor towards the solution are enough to overcome the crisis. Unfortunately, not all workplace issues can be figured out in this way.
Here are the surefire signs that you should leave your job:
You feel dragged in toxic work environment and your boss completely ignores the situation
Your current job is physically harmful or emotionally taxing
The job pays you less than the state or country average and doesn't offer any opportunities for promotion
You've been undergoing a huge workplace stress for a long time
You don't share company values, ethics or the internal norms and standards
You start experiencing health problems or stick to self-destructive behaviors such as excessive drinking or eating, playing too much video games, etc.
You couldn't care less of the outcomes of your work and are completely unmotivated by the nature of work or the results.
Whether your case is possible to resolve without quitting or not, don't make prompt decisions. Weigh everything carefully and work out the alternatives. If you decide to quit, take your time to sort out the financial issues, determine your professional goals and set your mind for finding the best suitable role. Only then should you get your resume updated and actually start applying for jobs.
Also in this section:
Step 2. Set up your mind for the change.
After you've tried to fix things at work and failed or analyzed that this job isn't good for your health, your career or both, it's time to start planning the change. Quitting in anger or disappointment is easy, but you should know how to quit and make necessary preparations to ensure that the situation won't repeat.
Your first step here is analyzing what exactly makes you feel miserable on your current job. Open a word processor and take your time to think through the working conditions, nature of work, and even line of career.
Think about what dreads you most in your job, specifically. Does your boss micromanage and stops your every attempt to take initiative in completing tasks? Is there an unhealthy environment in the office because of intrigues, bullying or fierce competition for the promotion? Finally, maybe the salary is below average, the schedule won't let you maintain work-life balance or the role doesn't assume any promotion? Write down the things you find hard to tolerate. These will be your big no-no's when you start job-hunting.
Write down what makes you happy. On the contrary, be sure to mention the aspects of your work that you really enjoyed. Maybe, despite the other disadvantages, the management was thoughtful and helped you grow professionally. Or, despite the overly heavy workload, the team was friendly and you didn't miss a single holiday office party. These are the things you'll want to be in your next role.
Share your hesitations and feelings, but do it selectively. If you are constantly stressed by the hatred job, sometimes you need to vent to maintain your mental health and not to go crazy. Share what bothers you with your spouse, family and closest friends, but avoid speaking about possible resignation and badmouthing your boss with your colleagues or acquaintances – you never know who can blurt out. Actually, the number of subjects you can freely discuss with colleagues is limited, and there are taboo topics of conversation.
Restrain yourself from social media rage. When you're pissed off because of work situation, it's hard to remain silent and look indifferent. Your social media page is the worst place where you can share your thoughts and your attitude towards your boss or colleagues. The consequences of your rage on social media can be quite unpleasant: your boss reads the posting and fire you immediately; you'll spoil the relationships with colleagues and damage your professional reputation by the careless expressions of anger. Neither is worth it. As we've said above, it's better to have a face-to-face conversation with a friend in a pub.
Don't think for too long. Quitting your job is a huge stress, even if that job is a disaster. However, once you've made a decision to quit, don't prolong it. Don't rationalize why you still need a few months more on this job (the only exception is when you have to make savings, but we'll talk about it later). If it makes you unhappy or doesn't make you any closer to your long-term career goals, this job has to be left in the past. Period.
By the way, if you haven't updated your career plan for a while or haven't had one at all, it's high time that you set new career goals. Read why everyone needs a career plan and how to work with it here: http://resumeperk.com/blog/planning-a-future-career-are-you-for-or-against.
Start looking what's out there. As soon as you've made up your mind to quit, start browsing what the labor market has to offer in your field. Research salaries, typical responsibilities and the best industry players. Update your LinkedIn profile with your most recent skills, responsibilities and accomplishments to be visible for recruiters out there. Finally, if you are determined about the type of job you're after, take care of your resume. Consider hiring a professional writer to create a resume for you – such resumes typically land you an interview faster.
Understand yourself
If the working conditions are acceptable and the salary comparatively high but you still feel depressed an unfulfilled, this may indicate the wrong choice of career. If you believe that you are doing not what you are supposed to do, the dissatisfactory career situation is the best time to figure out what you really want, understand your inner self and maybe even find your calling.
Do you already have a hobby or a side activity that makes you happy? Maybe, the time has come to turn it into a full-time career. Here's our complete guide on transforming your hobby into a job: http://resumeperk.com/blog/how-to-turn-your-hobby-into-job.
Have any clue what would you like to do after quitting your dead-end job? These tips will help:
What do you enjoy doing for fun? What are your favorite activities when no money is involved? What do you prefer reading, watching movies about or discussing? These are likely to point out at the career field you would excel at.
Imagine that you've just won $5 million in a lottery. What would you be doing if you had no money constraints at all?
Create a list of jobs that sound like a 'dream job' to you. Just write down the actual title or even a brief description of what you consider a perfect job. Then, browse the popular job boards for these job ads. You might be surprised by the fact that some of these dream careers are not so distant as you thought.
Don't go to extremes. If you've decided to make corrections to your career path as you experience a career crisis or the old job doesn't make you happy, it doesn't have to be a major change. For instance, if you're an accountant, switching from accounting to financial consulting might bring you the desired satisfaction and wouldn't require much training.
Editor's choice:
Step 3. Take care of business.
As we've said above, quitting a job smoothly requires thorough preparation. At this point, you're not quitting your job yet. Ideally, you should quit when you've got an offer from another company at hand – in this case, you'll avoid a frustrating period of unemployment.
However, if you feel completely exhausted, it's totally okay if you quit to nowhere. You can quit without a job offer, but you shouldn't quit without a plan. What will you be doing if you won't find a new job at once? Do you have enough money to provide for your family and does your job allow you freelance or work part-time? Having a plan B will reduce the insecurity connected with resignation.
There are also practical aspects you should take care of before leaving that job:
Take care of your finances. Are your savings enough to support you and your family until you land the next job? Is your spouse ready to provide for you?
Review all contracts and agreements. Before saying 'I quit' to your boss, be sure to review all papers you have signed when landing the job. It's even better if you find an attorney to do so for you. Check the consequences of terminating your contract early, as well as the employer's policy on terminations. Keep in mind that most employers require a two week's notice (more for senior positions), some employers will terminate you the same day. Knowing your rights will save you from any unpleasant suprises.
Save the documents you'll need for the job search. Save any information that might come handy in your job search – samples of work, certificates and internal awards, and the details of projects you've worked at. Be sure to do so early as the employer might be reluctant to give you this information after you've resigned. Business cards, email addresses and contacts of coworkers should be saved, too.
While doing the preparations, keep applying for jobs with your newly written resume.
Step 4. Look for a new job.
As mentioned above, it's recommended to hand your notice when you receive a job offer from another company. However, if your hatred job is a huge stressor, you may wish to quit as soon as possible. In either case, these job-hunting hints will be helpful:
Step 5. Handle the 'I quit' conversation.
Now that you've decided what type of job you're after, set the plans for the future and started looking for a new gig, it's time that you came up to your boss and expressed your intention to quit. If you are not constrained by any urgent obligations, you should lead the conversation with confidence and professionalism.
Prepare the answers to possible questions of your boss. To avoid mumbling in response to "Where are you going?" think of the way you'll respond to this king of questions in advance. The key rule here is to be honest but brief, as nobody needs to know the name of the company and the salary you'll be making. If you've already received an offer, you can say that you'll be working for one of the America's leading bank. If you haven't secured an offer yet, be sure to respond that you have a few possible options in mind.
Refuse the counter offer.
If the company values your contribution, the boss might answer to your notice with a counter offer. Although it's tempting to accept it and make more without any changes, the best career experts recommend that you don't.
The sole fact that they're paying you more will set the higher expectations from you and your work. Moreover, your corporate loyalty will be in question as you've already expressed the desire to quit. For the same reason, you'll unlikely get a promotion in the nearest future.
If you're in your 20s now, remember to do these things for your career until you turn 35: http://resumeperk.com/blog/things-to-do-for-your-career-by-35.
Work hard after handing a notice. After giving a notice, you are typically required to work for 2 more weeks. Use this time to close your projects, get your documentation and accounts in order and to train your replacement. Don't shy away from your responsibilities and, if possible, work even harder than you used to. You want to leave a positive impression and preserve good relationships with your ex-colleagues and boss. Make sure that you've fulfilled all the obligations before the former employer and work a little more if it's the high season or it takes them longer than expected to find a person instead of you.
Say goodbye on a professional note. Even if the conflicts took place or you are quitting after a fight with your boss, you still need to avoid getting personal and expressing your dissatisfaction either in person or publically. Say goodbye professionally. You never know when your paths will cross in the future. Also, the future employer might call your former colleague or supervisor for a recommendation – and you don't want the spoilt relationships to affect your future career. Don't forget to ask your boss to write a recommendation letter.
Write a farewell letter to your colleagues. Don't leave without saying goodbye. Write a farewell letter to your colleagues and thank them for any positive professional experience you've shared. Don't focus on the negative aspects. If the corporate culture is strong in your company, it's a good idea to organize a farewell party, too. This act of politeness will help you quit with grace and on a positive note.
We all can find ourselves at the job we hate or the job that damages our mental health and sense of well-being. The hatred job slows down our professional development and career progression and in most cases isn't worth your time in the long run even if it pays good money. So, once you've found yourself in dissatisfactory career situation and the attempts to change it brought no result, create a plan and quit. When you find the job where your contribution is valued, team environment is friendly and the boss is supportive, you will regret you hadn't quit earlier.
Although getting your resume done professionally is important, don't rely on the job boards solely during as you apply for jobs. The statistics show that only 14.9% of hires are made through job boards. The lion's share of hires comes from the employee referral programs and networking. That's why it's so important to maintain professional connections with everyone you've worked or studied with – you never know who of these people will recommend you for the job of your dream.
Have you ever found yourself on the dead-end job you really hated? What did you do in this situation?
Popular Posts: