Get A Resume Done Professionally to Achieve Success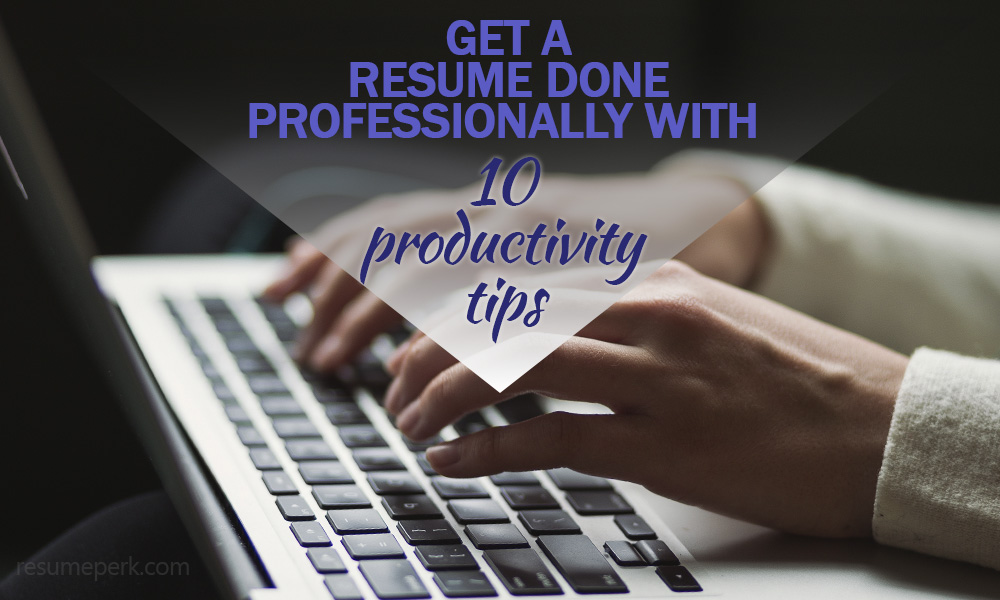 Your career progression depends on the ability to get things done on time and exceed the expectations. And the productivity, in its turn, is determined by your ability to manage your time and prioritize tasks. However, if everything is that simple, why the lion's share of American employees work extra hours? And is it even possible to quit your office at 5 pm feeling relieved because you've crossed out every item in your to-do list? Yes, it is – and our expert will explain how you can become a productivity genius below.
Where to get a resume written for a busy professional?
Before we get straight to the matter, let's discuss what to do if you want a new job but are too busy to create a resume on your own. In this commonplace situation, hiring a custom resume copywriter might be a sensible solution. For example, here at Resumeperk.com we've made the process extremely convenient and perfect for busy professionals.
First of all, you can choose services that fit you best – writing, editing, proofreading or review. Secondly, you can contact your personal resume maker at any time to discuss your assignment in further details. And finally, our online resume website guarantees satisfaction with your order. So, if your schedule is too tight to write and fix your resume by yourself, entrust this daunting task to experienced resume consultant.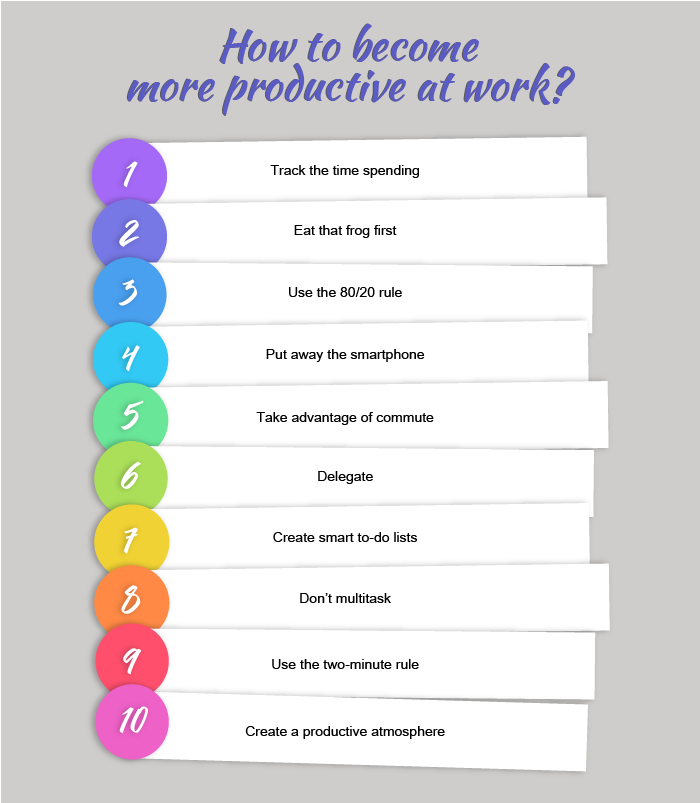 Pay to have a resume and use these 10 tips to boost your productivity
Track and write down the time you spend
To make any productivity advice work, you need to know first how your typical days looks like and where you spend most of the time. You might believe that you know your daily routine, but the research proves that only 17% of people can estimate the passage of time. Before you implement any below technique, spend a week or two calculating and tracking every minute of your business day. When you get a clear tendency in front of your eyes, you'll see what needs to be optimized.
Eat the frog first
At the beginning of every working day, pick the most important task from your to-do list and do it right away. Following this rule alone can work wonders on your productivity. Why? First of all, the task you tend to postpone is often the most important one, and getting it done will push the project forward. Secondly, by starting the day with it you'll relieve the subtle pressure caused by procrastinating on it. You'll instantly feel accomplished, and this will give you an energy boost for the rest of the day.
Follow the Pareto principle
You probably have heard of this principle, also known as 'the 80/20 rule'. According to it, 20% of your efforts make 80% of the impact on the task you're working on. The most influential leaders and professionals take advantage of this rule, which helps them achieve more in less time. So, review your current workload to find out the tasks which are critical for the project completion, and concentrate on getting them done. The remaining 80% can be done in the remaining time as they have less impact on the success of your work.
Use the commuting time smart
If you aren't one of those lucky ones who can work from a home office, you still can take advantage of time spent in a car or public transport. Depending on your type of transportation, you can use this time frame to check email, make corrections to to-do list, listen to professional podcast or make urgent phone calls. Therefore, by the time you'll get to the office, you'll have gotten a few tasks from your tight schedule done. Sounds fantastic, isn't it?
Looking to improve LinkedIn with resume service? Follow the advice from our blog – you can use it right away.
Put your iPhone away
Many researches have shown that the smartphones reduce our concentration even when they are on the desk next to us. Should I mention that constant pop-ups and notifications are huge distractions and, once we get distracted, it takes a lot of time to focus on the task again? So, when coming to the office in the morning, leave the phone in the bag or put somewhere you won't be able to glance at the screen over and over again. And don't be afraid of missing something – if the matter is urgent, people can give you a call or come to your office for consulting.
Delegate tasks
If you're in a management role, delegation is the #1 thing you have to master if you want to forget about late nights in the office. After you've identified the tasks critical for the project as per the above 80/20 rule, take care of delegating the secondary tasks to your subordinates.
Delegation can ease all the spheres of your life. For example, you can outsource your resume writing to our English professionals. The experts of our company will get your resume done without any effort from your side, so you could completely focus on your career. By the way, our copywriters and designers can also create a modern inforgraphic resume for you: http://resumeperk.com/blog/our-new-service-custom-infographic-resume-writing.
Don't create busy to-do lists
In addition to giving a realistic time frame for completion of each task in your to-do list, it's important that you also add a couple of blank lines between the tasks just in case. A client might be late for the meeting, your assistant could take more time to complete the report and, if your schedule is tight, a smallest setback can interfere with what you've planned. However, if you have a spare 30 minutes, it can cover up for any unexpected situations.
If you want to be truly productive and effective, plan short breaks as well. Take 5-10 minutes every hour or two to listen to music, do some breathing exercises or walk. It will help you unwind and recharge your body and brain a bit.
Stop multitasking
We might feel incredibly busy when we answer phone calls, respond to emails and eat at the same time, but multiple researches have shown that this is an illusion. Our brain is not meant to multitask, and when you do a few things simultaneously, you'll likely forget to ask an important question or make a grammar error in an email to the client. It might sound surprising, but if you concentrate on one thing at a time, you'll end up completing it faster.
Take advantage of 'the two-minute rule'
This rule is another short hack that can reduce your time losses. According to it, if you were given a task or it has arisen and it can be completed in less than 2 minutes, do it straightaway. If you start planning when to complete it and postponing it, you'll spend more time that the task itself takes. Get it done at once, receive the result and focus on more time-consuming assignments.
Create a working atmosphere
Some people prefer working in the office only because they need an environment that would organize and stimulate them to work efficiently. You can go even further and organize your desk in a way that will help you concentrate instead of distracting you. For that, start with cleaning up the space around you – throw away the old checks, outdated documents and papers you use frequently. This applies to your computer too – sort out the documents, and you'll find it easy to navigate the important things. Then, organize the space around you, add some elements that will make you smile (such as picture of your dear ones, a small plant or a fun coffee cup). If you only have the most important things at hand and your environment looks pleasant, you'll experience less stress as well. Here are a few more hints to spruce up your routine: http://resumeperk.com/blog/how-to-get-away-from-work-routine.
The above tips prove that everyone can get more productive and organized at work. If you are a busy professional whose schedule is overwhelmed with tasks and projects, the advice our expert has shared above will help you get more done in a short time. Maybe, the boss will praise your superior performance and you'll succeed at getting a raise.
I need a resume for me – what to do?
If you want a brand new resume, you basically have two options. The first one is learning a bit of resume copywriting rules and composing a job application by yourself. However, your day only has 24 hours, so you might be time-pressed. So, if you want a professionally looking and 100% customized resume, it makes sense to purchase the assistance of a stellar professional writer resume at a top resume writing company.
Get your professionally written resume
Being productive means being able to prioritize the tasks. As you hire an experienced writer of Resumeperk com, we'll take care of your resume while you are busy with other important things in life. Moreover, pro assistance has never been so cheap – contact us in chat to get your personal discount.