Helpful Pieces Of Advice For PhD Student Writers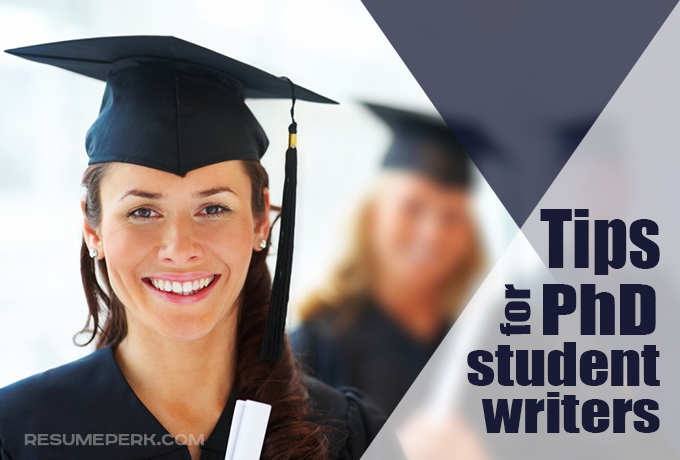 Strong writing skills are a must for postgraduate students. You will need them to present the findings of your research, complete your thesis, apply for grant and even compose a covering letter and expand your career prospects. However, many PhD students are stressed by the necessity of putting together a lengthy and sophisticated paperwork.
The quality of your writing in academic settings can really make or break your success as a student. To overcome the writing block, use the winning strategies developed by other students. They will help you to organize your thoughts and compose a well-researched thesis or other important paper.
Write an outlook of your research
Summarizing the key ideas of your research is an excellent way to stay motivated throughout the long writing process. If you have stumbled upon some stage and feel stuck, open an new TXT or MS Word file and write about 'the big picture' of your research. Does the topic of your research (or your business plan) have a personal connection with you? How will the research contribute to the society, university, field, and your future career? What are the milestones of your paper?
As you distract from the annoying piece and look at the significance of your work in general, you'll be empowered to continue the journey.
Find a buddy for writing
Writing a postgraduate work is a single-headed journey. However, involving other student to help each other along the way will benefit both of you. Why?
Psychologists say that people better fulfill their commitments if they speak them aloud to the other person or write down. So, the necessity to provide the draft to other person in a due date will serve as another inner motivator;
If your writing buddy has the same major (or similar) that you do, you can exchange valuable comments on each other's papers;
And, finally, getting to talk to someone with similar task will reduce your stress and you'll keep each other's work going.
Write a little every day
Postgraduate writing, just like any other type of writing, is mastered through practice. You cannot compile a quality thesis, business plan or research proposal if you only write occasionally and take long breaks. Academic writing requires an utmost discipline. Even if you're time pressed, give yourself at least 15-20 minutes every day to hone your skills – it will work better than if you spend 6 hours writing once a week.
Start your day with block of writing
It's in the morning that your creativity reaches its peak. Take the advantage of neurobiology and devote early morning hours to writing. Do it prior to checking your inbox or visiting social media websites – these productivity killers make you lose focus and slow down your thinking process.
Keep it short
In academic writing, every word must count. As a postgraduate student, it is assumed that you're knowledgeable of the subject and can present your thoughts in clear and cohesive manner. Most successful writers agree that shorter is better. Don't be wordy; don't be repetitive and vague when it comes to writing an academic or business paper.
When you cut off the buzzwords and meaningless sentences, the quality of your writing will significantly improve. Your ability to express your thoughts and conclusions shortly and up to the point will serve as another proof of your professionalism.
Take advantage of a productivity tracking app
One of the biggest problems PhD writers face is the lack of organization during the process of writing. You open the laptop intending to work on the thesis and suddenly find yourself on Reddit or another platform like this. Or, you write for three hours without a single break and feel so exhausted that the necessity to write frustrates you…
To organize your writing, take the advantage of one of the productivity tracking apps. Set up a strict schedule: let's say, you write for 30 or 45 minutes and then relax for 10-15 minutes. Taking small breaks will help to refresh your thoughts while keeping your research in mind.
Get help from your tutor
When writing a complex paper, you can stumble upon lack of data, gaps in argument or controversial results of experiments. All of the above can cause the writer's block and the best way to overcome it is to ask for help from your tutor. When asking for help with your research, keep in mind the following:
Prepare the list of specific questions you need to ask. Being specific is your key to getting understood by a mentor.
Come up with possible resolutions of your issues. In other words, if you have a gap in your research, don't just ask for advice but also offer the possible solutions you've considered. This will save the mentor's time and show your interest in a research.
Keep the record of your ideas
If you continually work at the same paper for weeks or even years, you probably run out of ideas for your research. To overcome the writer's block,  keep a notebook at hand to write down the ideas whenever they come to your mind.
Ideas can come to your mind at an unexpected place and time, but writing down won't let you forget them and probably will inspire your whole research.
Forget perfection – you will never reach it
If you're an A student, you are probably obsessed with an idea of doing everything great. Nevertheless, your thriving for perfection can totally ruin your creative spirit. Obviously, there's no such thing as a perfect thesis – and we agree with them. You can rewrite and re-edit your paper over and over again, and the professors will still question some points during the defense.
You should be able to stop when it's good enough. No need to redo which is already good – you will only lose the precious time.
The bottom line
PhD writing requires deep knowledge, inspiration and discipline. If you experience the writer's block, be sure to reorganize your writing process using the above advice. Using them will inspire you to successfully complete your important assignment and help reach your long-term goals.
Are you a graduate who needs a winning cover letter to get the desired job? Our writing experts can assist you with it. Contact us today to receive a resume and cover letter help and reach your career goals. We are open 24/7!