How To Delete Resume On LinkedIn | ResumePerk.com
How to delete resume on LinkedIn?
Almost 800 million users use LinkedIn for professional networking or to look for jobs. Among other features, LinkedIn allows you to upload your resume and apply for jobs on the platform directly. However, many people who want to delete an old resume from LinkedIn don't know how to do this correctly.
Removing an old resume from LinkedIn is relatively easy and takes a few minutes. In today's guide, we are going to share a step-by-step guide to delete your old LinkedIn resume and upload a new one if necessary.
At ResumePerk.com, we create resumes, cover letters, and LinkedIn profiles that help job-seekers get noticed and shortlisted faster. With 100+ professional writers on our team, we can create a resume for every industry and career level, focusing on your accomplishments and strengths and adapting your resume for ATS systems.
Why delete resumes from LinkedIn?
Keeping your resume up-to-date is essential for the success of your job search. If you haven't updated your resume for over a year, you probably have learned new skills and competencies that your old resume doesn't have. So, it is advisable to upload a new, up-to-date resume to your LinkedIn page before you start applying.
Similarly, you might need to delete an out-of-date resume if you received a job offer, or if your career goals have changed. The process is the same in every situation - read below to permanently delete the resume from LinkedIn account.
The fastest way to remove resume from LinkedIn profile
This step-by-step method works both on your computer and mobile:
Log in to your account on LinkedIn if you haven't logged in yet
Click on the Jobs tab to enter job application settings (use the link https://www.linkedin.com/jobs/application-settings/)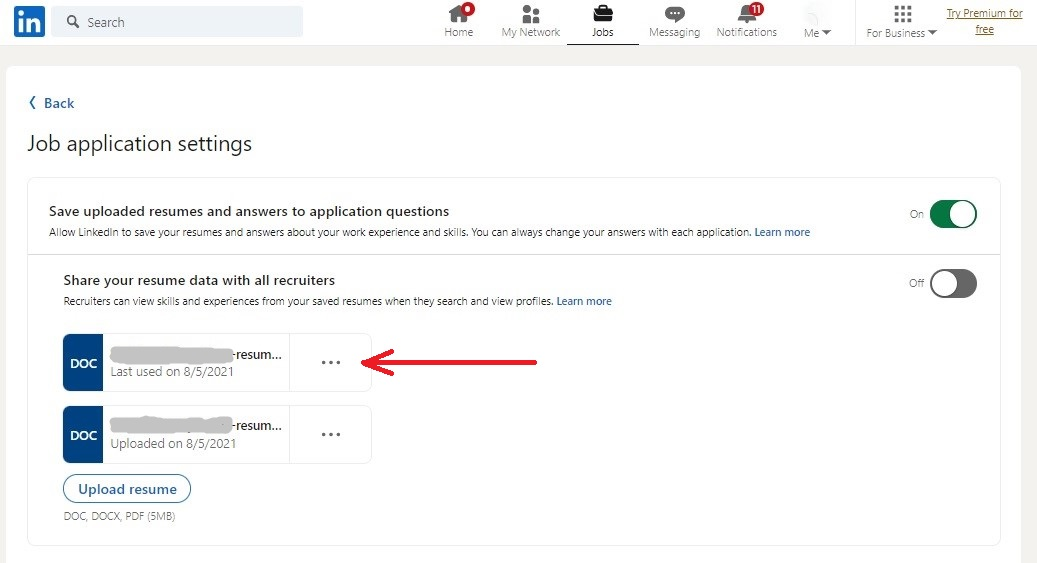 Click on the three dots beside the resume you'd like to remove
In the drop-down menu, click Delete and then confirm your decision.
How to upload a new resume on LinkedIn?
After you delete resume from LinkedIn, you can upload a new default resume as a PDF or Word document on the same page.
Click on the blue Upload resume button
Choose a file on your computer and confirm your choice
The resume will appear on this page and you'll be able to use it for your job applications.
As you see, it's very easy to delete resume from LinkedIn. If you have found the job already or do not want to use LinkedIn anymore, it is advisable to manage application settings and remove your resume from LinkedIn.
If your reason to delete resume is that you are struggling to find a job on LinkedIn, our resume experts can help you stand out. An experienced consultant will improve both your resume and LinkedIn profile, adding your most recent skills and accomplishments and helping you get noticed by hiring managers.
How to make your LinkedIn page stand out in 2023?
Keeping your resume up-to-date is extremely important if you are seeking new job opportunities. However, it is equally important to fill out your profile professionally and make it appealing to recruiters. Here are a few simple steps you can take to improve your profile and get more professional opportunities:
Set a profile picture and a background photo
A picture makes your profile more recognizable and can make a great first impression in seconds. Moreover, profiles with pictures are 14 times more likely to be viewed. Upload a recent professional-looking image of good quality.
Your background photo is your chance to show some creativity and promote your personal brand. If you choose the right picture, people will immediately associate you with your activity. Plus, a stunning background makes your profile more visually engaging.
Fill out your LinkedIn summary section
Your LinkedIn summary should be less formal than your resume, so use it to tell your career story. In addition to listing your past jobs and accomplishments, mention what fascinates you in your work most and what types of projects you enjoy. You can also show some life outside of work and share your passions and hobbies.
Improve your headline
By default, your headline includes your most recent position and company. Yet, there are much better ways to promote yourself to potential employers. You can expand your job title a little, for example:
Marketing & Sales Manager | TV, Social Media & PR Campaigns | Help retain clients for creative agencies
Add key skills and endorsements
LinkedIn allows you to add up to 50 skills, but be strategic about what to include. Focus on industry-specific and specialized skills and ditch generic ones such as "Microsoft Word" or "social media". Try and get as many endorsements as possible for your key skills - if your skills have social proof, the recruiter is more likely to contact you.
Ask for recommendations
Recommendations and testimonials go a long way in getting you noticed. Reach out to people you worked or studied with, and ask them to leave a testimonial in your account. Ask them to be specific in their recommendataions so that the people who see your profile for the first time could see what your professional traits others value.
Complete all profile sections
Completing all sections of your profile builds trust and credibility with the potential employer. Plus, if you complete 100% of your profile, you will get an All-Star status on the platform. People with this status are 40 times more likely to appear in searches, which will help you get ahead in your job search.
Proofread the profile content
Typos and grammar mistakes can spoil the impression instantly. Proofread the content of your profile to make sure you don't have any typos, spelling or punctuation mistakes. Read your summary section and job descriptions sentence by sentence to ensure that each statement makes perfect sense.
Advance your job search with professional help
It is important to delete resume from LinkedIn if your career goals have changed or if you'd like to replace an outdated resume with a new one. However, you also need to be confident that a new resume presents you to employers in the best light.
If you are not sure about the content or structure of your resume, send it to us for a free review. Our in-house resume writer will evaluate your document and provide you with detailed feedback to help you stand out to employers.