12 LinkedIn Profile Tips for Job-Seekers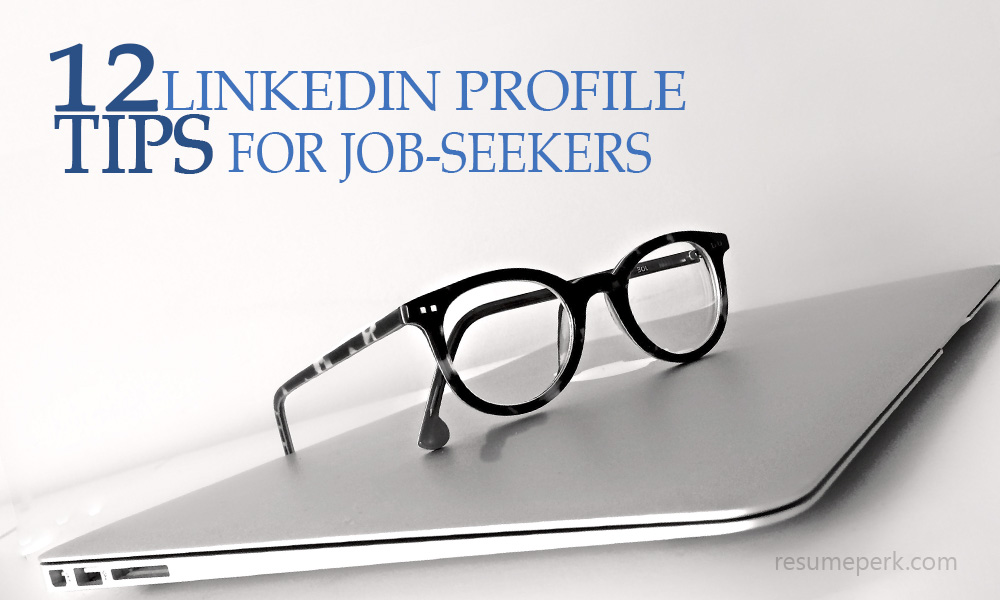 LinkedIn is the world's top professional social media for both HR professionals and the job-seekers. Nearly 95% of recruiters use LinkedIn to source talent. With this statistic in mind, it makes sense to make the best out of this Klondike of professional opportunities.
Previously, we've written how to create a professional profile on LinkedIn. And today we are going to share some hints and insights specifically for the job-hunters. Even if you're an active user of this social media, your page does need a few subtle yet substantial changes which might be game-changing for your job search. Our professional resume writers will explain how to make your LinkedIn page shine.
12 top-notch LinkedIn profile writing tips for job-seekers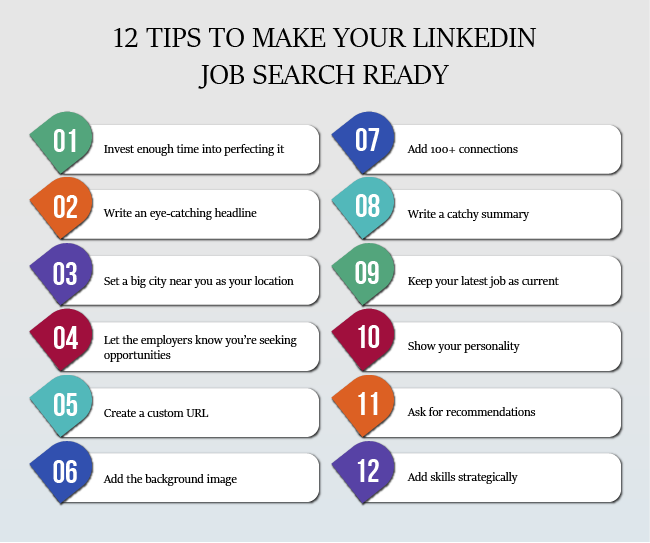 Put in as much time as it takes to make it perfect
If you want your LinkedIn profile to work for you and draw the attention of hiring authorities, be ready to invest a decent amount of time to setting up or updating it. A great professional profile can't be created hastily. Most likely, you'll have to spend hours revamping it, analyzing the results and editing it further based on lessons learned. If you don't have time to figure out what works and what doesn't contact the team of Resumeperk com to get your profile updated by a career professional. A pro resume creator will identify your career goals and set up the profile that addresses the needs of HR managers seeking talent.
Work on the headline to make it eye-catching
Most LinkedIn users leave their headlines as it is (it repeats your current position by default). Meanwhile, you can use this line displayed next to your profile picture strategically and make it pop up in search results. There are two common approaches to making the most out of this section:

- Adding keywords – add 2-3 areas of your expertise in the form of keywords that recruiters might be using to source candidates in your field;
- Getting creative – try coming up with a creative statement that shows your area of expertise in a humorous, non-traditional way. "SEO guru who will put your website to Google top" sounds a lot more promising that simple "SEO analyst", doesn't it?

Expand the geography
Do you live in a country or a tiny town where the job options are limited? Note that the hiring managers browsing candidates in a large city nearby won't find you. Expand your number of possible job options by putting the big city near you as your current location. By the way, the same trick works with a resume when you're looking to relocate for a job.
If you're looking for new employment actively, you need to make certain changes to the resume as well. Learn how to edit your resume in 2019: http://resumeperk.com/blog/get-a-new-job-with-these-7-perfect-resume-2019-tips.
Let them know you're available
Recently,  LinkedIn added the feature that lets the employer know you're looking for a job. To use it, head to your profile and click "On" to become available for recruiters. Note that LinkedIn will hide that you're open from the recruiters of your company and affiliates. You'll also be asked to fill out some of your career preferences so that the platform could match you with the employers looking for the exact type of professional.
Set a custom URL
This advice is hugely overused, but that's only because it works. The popularity and searchability of your LinkedIn profile, in general, depends on tiny improvements like this. So, if still you haven't done it, change the auto-generated URL of your profile so that it looks like Linkedin.com/firstname-lastname. Click 'Edit profile' section and then edit the default URL. A customized web address will look a lot more attractive in your resume, visiting cards and in other social media.
Add the background image
LinkedIn is set up for business, yet you can use the background image to make the page look more attractive and give it a personal touch. Ideally, it should be something related to your profession or neutrally positive. A picture of nature is okay, but the sunny beach will be perceived as too relaxed (unless you're a travel manager sending people to islands). Note that the background image will set the tone for the rest of the profile, so it's better to give a hint at your work anyway. Last but not least, add the picture taken by you instead of a stock image.
Make sure your number of connection exceeds 100
LinkedIn recommends that you make 50 connections as a starting point. However, any career professional will tell you it's nearly not enough. If you send requests to the former alumni peers and teachers, previous and current coworkers, clients and friends, it will already make up for more than 150 connections. Not that having 25 connections is too bad – it just sends the wrong message to recruiters and makes them think that you're either pain in the neck or aren't good with social media.
Write a catchy summary
Your summary section requires an extra effort as it's the first thing the visitor of your page sees. To become the one who is chosen for interview from the midst of other LinkedIn users, you should make the summary a) informative for a recruiter and b) engaging. To achieve this, summarize your core competencies which are the most helpful for your target employers, briefly show results, and make it easy to read. Career experts often recommend that you use several paragraphs, but if you can convey your selling points in 3-4 sentences, ditch this rule.
Keep your most recent job as current
When looking for candidates, hiring managers set filters to find currently employed professionals. They want to hire someone with the fresh industry experience, not the professional who was in the similar role 5 years ago or so. If you quit the job 1-2 months ago, don't reflect that in your profile so that you won't disappear from the search results. Another trick to help you get found by the employers aimed at finding current employees is adding a new job with your desired title and putting "Seeking opportunities" as the company name.
Show your personality
Since LinkedIn is a social media, you can show a bit of your personality here and set a less formal tone for your profile in general. Letting the people know your passions and values is one of the best things you can do for your LinkedIn profile. Hiring managers are increasingly looking for the right type of personality rather than the right blend of skills. Show your human side by adding interests, hobbies, activities outside of work. Perhaps, one of these hobbies will become a conversation breaker between you and the hiring person.
Seek recommendations
Recommendations and feedback let the recruiters know what others think of you. You can go to great lengths describing how great you are in the summary, but a testimonial from another reputable professional in your field are far more convincing. So, ask your former or current client, coworker or supervisor to write a recommendation for your LinkedIn page. You may also ask them to highlight certain traits which are valued in your industry.
If you seek recommendations on making your resume stronger, check out our list of resume myths you should stop believing: http://resumeperk.com/blog/myths-about-resumes-busted-by-creative-resume-writers.
Be careful with skills section
A natural desire when you're looking for a job is to add as many skills as possible. However, recruiters don't see your 50 skills as an advantage. The key to filling out this section is relevance – only keep the skills which make you a catch in your profession. Don't add anything just for the sake of number (or remove such skills if they're already there). Ideally, this section should contain around 20 highly relevant skills you're truly good at. Adding obvious skills such as time management, MS Office, and teamwork is only reasonable if you're an entry-level professional who has nothing to put on here so far.
Upon the completion of these simple 12 steps you'll significantly improve both the looks and the efficiency of your profile. If you're actively job-hunting at the moment, they are absolutely crucial since each tiny improvement makes you closer to your target job opportunities. And, as you approach the process of filling out your online page strategically, you become more visible in recruiters' search and let the job find you.
Bonus tip: Make sure it's in line with your resume
Before we go any further with editing your profile, we are going to reveal a piece of advice we always give to the clients of Resumeperk.com. Your LinkedIn profile should be built in line with your resume, no exceptions. In other words, if the resume portrays you as an accomplished territory manager who uses aggressive marketing techniques to increase the market share and the LinkedIn is all about your team building abilities, the recruiters will be confused to say the least. Your resume, winning cover letter, and online profile should tell the same story. Speaking of resumes, if yours haven't been updated for years, an experienced resume writer of our team can assist with updating it or creating a brand new one.
Energize your job search with the help of resume professionals
The seasoned professionals of Resumeperk com can help with building a resume, a cover letter and a strong LinkedIn profile for you. Our experts will present you in the most favorable light for the target employers, using excellent writing and keyword optimization. So, if you are too busy to prepare your papers for job-hunting, contact us to discuss your career needs. We offer attractive prices for all-inclusive resume packages and 20% off your first order with us.