Tips & Tricks for Professional LinkedIn Profile Writing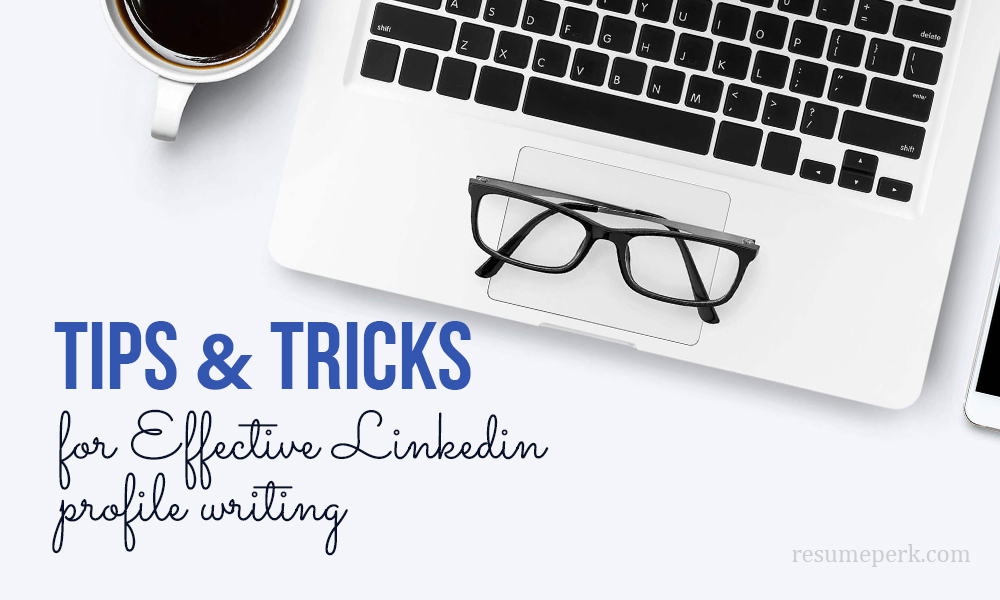 In today's world of recruitment, presence in professional social media is an asset that can make the right impression on the employer or eventually generate interview invitations without your effort. As the report shows, social professional networks are the #1 source of quality hires for companies. LinkedIn is the most popular professional network and is indispensable for every professional concerned with their career success.
We've already written the essentials of LinkedIn profile creation. If you don't have a LinkedIn profile at all or it's nearly empty, follow the link to find out how to complete it step by step. Today, we are going to reveal some groundbreaking tricks to help your profile get higher rating, more profile views and more offers from recruiters eventually.
Want to advance your career? LinkedIn CV writing service might help
For those professionals who are too busy to learn how to write their career documents, Resumeperk.com offers a range of career services including LinkedIn profile completion. An accomplished resume expert will develop the content for your online profile at a moderate pay. We will create a unique customized profile which will present your qualifications in the most favorable light. Whether you are a creative copywriter, a PhD student or a java programmer, an online presentation of your professionalism will only benefit your career. Learn more about our writers and their qualifications.
Make your LinkedIn profile outstanding: tricks from LinkedIn profile writer online service
In 2019, there's no denial of the influence of social media on career. If you apply for job with a resume as usual, a potential employer will be pleasantly surprised upon finding a detailed, professionally complete LinkedIn page that portrays you as a top-notch professional in your field. Here is how you can achieve it: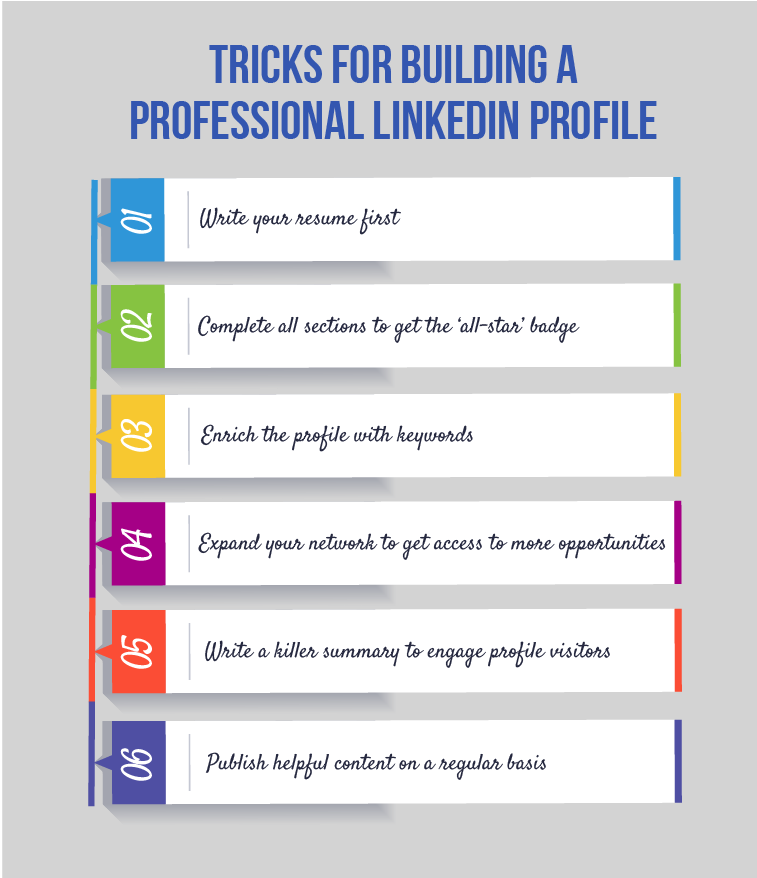 Work at your resume first
If you haven't updated your job-hunting documents for a while, starting with LinkedIn profile completion isn't the best strategy. We recommend our clients to create a perfect resume first and only then proceed with LinkedIn writing. The reasoning for this approach is that a LinkedIn page should tell the same story using the same tone of voice that the resume does – and provide the additional information that your resume doesn't contain. You can derive some resume writing advice here: http://resumeperk.com/blog/30-changes-to-help-your-resume-get-noticed.
It doesn't mean, though, that you can copy and paste the resume content into the profile and call it a day. Think of a LinkedIn page as a fuller and less conventional version of your resume. It doesn't require customization – so, you can list all your experience and accomplishments. 'Less conventional' means that writing style is less strict than in your typical resume (for example, the use of I is appropriate here and you can make the language a bit more conversational.
Make your profile all-star for more visibility
If your profile meets the certain criteria, LinkedIn gives you an 'all-star' badge. For you as a job-seeker it means 27x more chances to be found in recruitment searches and 3x more profile traffic. Your opportunities to get a lucrative offer expand.
To make your profile 'all-star', you need to meet the following requirements:
Complete all necessary profile sections (which are industry and location, experience, education, 5 and more skills, and summary)
Add a professionally looking picture
Taking these steps is essential to increase your profile's visibility. However, don't stop halfway. Complete every section you have the information for, add portfolio, get endorsements, testimonials and more. The more information you add and the more active you are, the higher will LinkedIn push your profile up in search results.
Use keywords to be visible in search results
Just like in a resume, you need to enrich the profile with keywords to enable recruiters find you. However, not all keywords are created equal – those used in summary section, headline, and experience weight more for the system. Keywords used in this section have the highest weight, therefore, your profile will come across as relevant for the software. Putting the keywords into Skills section is also appropriate, but note that they have less weight here.
Pro Tip: since you don't know for sure which keywords the hiring manager will be using, try adding as many of them as possible under your first job description. After listing the responsibilities for your oldest job, insert the block of keywords and separate them from the main content. Here's how this should look:
_____
Keywords:
Marketing, e-commerce, account management, brand management, customer loyalty, market segmentation, etc.
Expand your network
When a hiring manager performs candidate search, they first see the connections from their network – that's how LinkedIn works. So, by establishing more connections, you increase your chances to be found by the right person that has a perfect job for you. Moreover, the sole fact of having many connections helps your profile rate higher.
Here's how you can go about expanding your professional network:
Add everyone you know or worked with. Colleagues, friends, alumni, clients – send invitations to everyone you know professionally.
Import your Gmail contacts. LinkedIn provides this option on the Network page – just add your email address and connect with people you've communicated with professionally.
Send invitations to people you don't know. Be careful with this option, though – if you start scamming people with your request and they use "I don't know this person" option, you might be restricted from sending invitations. It' a sensible idea to only connect with people who might find this connection beneficial (for instance, hiring managers and professionals in your field). Give a reason for connecting with them.
Publish helpful content, LinkedIn profile writing companies recommend
To increase the visibility of your profile, share the helpful content with your connections. However, note that your recently published post won't be visible to all your connections instantly. First, it's shown to a small audience, and as more people like and comment on it, it gets visible to a larger audience.
With that in mind, you need to share really valuable and helpful content. Copywriting professionals recommend that you take advantage of these ideas:
Case studies from your own experience
Your analysis or perspective at the recent news in the industry
Answer the pressing questions of your audience
Tell a story and lessons learned (for instance, how you would turn down job offer from an industry leader and joined a startup instead).
Write a summary with the help of LinkedIn summary writers
A summary section is important, but is shouldn't be written according to the same rule as your resume summary. Create an extended introduction for the visitors, throwing light on your qualifications, skills, achievements in a less formal manner. Successful job-seekers use the following writings techniques to create an engaging, sparkling introduction:
Tell a story – picture the passion behind your career choice, lessons you've learned throughout your career and share your career vision for the future;
Outline the hard skills, tools and approaches you use in a daily basis – not only this helps to keyword-optimize this section, but also will throw light on your working style;
Make your intentions clear – if you're an active job-seeker, explain what kind of opportunities you're considering (i.e. company size, challenges, position name, etc.)
By implementing the above techniques when updating your profile, you'll push your profile up in search results and get rated higher than most of your connections. Chances are, that you'll double or even triple the number of views, connections and propositions received. However, to take most out of this social network, updating it once in a few month is not enough. Stay active, share your insights and set connections on the ongoing basis.
Get your profile completed by a custom resume writing company
Does your LinkedIn profile look humdrum and doesn't help in your career at all? For all professionals looking to strengthen their online presence we offer LinkedIn profile completion service. An experienced American resume consultant will build your profile from scratch and provide suggestions on improving it further. This service is affordable even for college students and urgent delivery is available.
Resumeperk com is helping candidates with resume creation, too. Our professional can edit, proofread or create a brand-new resume that will help advance your career. If you don't know how to choose a resume agency amongst many websites, here's our guide: http://resumeperk.com/blog/cv-help-how-to-choose-a-professional-cv-writer.  Or, you can waste no more second and contact us for a personal assistance –  the best professionals are already here!