Mobile Apps: Personal Assistants For Every Writer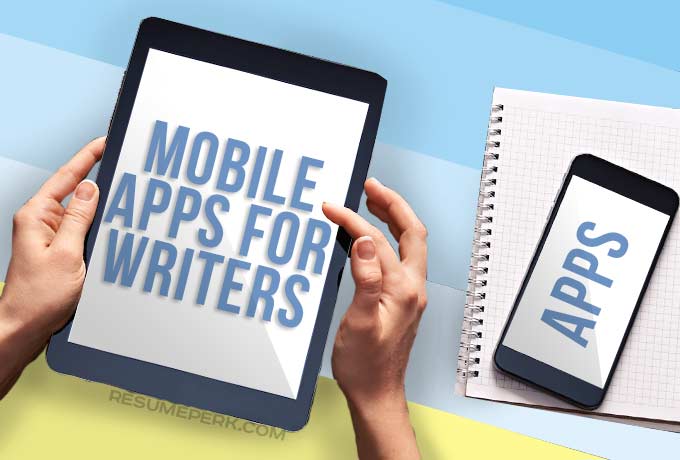 Smartphone apps are used literally for everything these days. We use them to communicate, to keep fit and healthy, and to relax and have fun. Moreover, there are multiple apps you can use at work – and their number constantly grows. There are apps for professionals in all industries – and content writers are not the exception. 21st century writer is armed with not only pen and a paper, but also will multiple time management and writing tools. By the way, here are expert writing tips you'll benefit from: http://resumeperk.com/blog/tips-on-content-writing-how-to-make-your-post-outstanding.
So, if you are a writer by trade, you might also take advantage of personal assistants downloadable from AppStore and Google Play. Our online resume writer has prepared a list of helpful mobile apps for writing professionals.
Also in this section:
Writing Apps
Writers App
The pretty obvious title hides a number of helpful features for writers. In a nutshell, it helps build a blueprint, establish a premise and organize the major plot points. The app helps you organize all your thoughts and notes so it is the one you need to work on your next novel and to develop your characters (for more tips on character development, see here: http://resumeperk.com/blog/how-to-create-believable-characters-in-your-writing). Moreover, you can customize the way app looks to make it comfortable for yourself and the writing is easy to convert into .txt file.
OmmWriter
If the plain editing/writing look blurry and you want something more extravagant pay your attention to OmmWriter app. It includes relaxing ambient music and typing sounds which will help you set the right mood. However, if you need the advanced writing/editing features, you might find this app too simple.
Wordbook
A dictionary/thesaurus app is a must-have for every beginning writer. This award-winning one can offer you a spell checker, thesaurus, word etymologies and even the recorded pronunciation.
Even if English is your native language, word choice for your manuscript can be tricky at times. Moreover, because of typos and grammar errors you might be not taken seriously by editor or your client, if you are a freelance writer. A dictionary app can help solve all the problems of this kind, while improving your vocabulary.  
Poetreat
Are you a poet who has a problem of picking the rhymes all along the way? Poetreat helps you resolve this issue. As you type your poem, this app offers suggestions on rhymes so you could find the best available rhymes and syllable count. Moreover, it allows you to share a fresh poem on social media straightaway via the sharing buttons.
Ulysses
Ulysses is an app every writer owning a Mac is passionate about. This app helps you organize all types of your writing, including the novel you work on, blog posts and e-mail drafts. Everything you've written is synchronized via iCloud, so you can have access to your writing via any device, and can work on the go where you don't have access to your Mac. The app offers distraction-free writing/editing features, easy markup and allows you to set word count goals, which are especially helpful for lazy writers.
More importantly, this app offers you to convert the content into .pdf and HTML formats or directly post your writing to WordPress. The bloggers will undoubtedly love this feature.
Agent Obvious
Agent Obvious isn't there for writing. Instead, it is designed to bring some light to the process that follows writing – book publishing. This app offers tips and insights on the publishing world provided by Laurie Abkemeier who had a huge experience in a big publishing house. The number of tips exceeds 500 – and they cover everything related to book publishing, contract negotiation and networking in this industry. So, if the book publishing is still some sort of mystery to you, download this app – it will help you get your novel published faster and more smoothly.
Productivity/Organization apps
MindNode
MindNode is an app for mind mapping. Although it's not designed specifically for writers, many writers will benefit a lot from using it. The app allows you to organize your thoughts in a graphical way and build the connections between your ideas about the book/content.
As a writer, you probably know how hard it is to keep all the details of your next novel in your head – the facts get mixed up, you miss the point, etc. MindNode lets you add the main idea and then graphically connect it with the next ones so it basically looks like branches. In this way, you can keep all the plot milestone, subject lines and character names organized in front of you, which makes it easier to build a story.
Pomodoro
To create outstanding writing, you need to be highly focused. However, if you work from home, you might experience lack of concentration due to lots of distractions around you. Pomodoro timer helps you overcome this issue.
When you start a timer, it gives you 25 minutes to fully focus on work and then 5 minutes to relax. After four 25-minute periods you are allocated a longer break. The app is based on the assumption that a human brain can be productively focused for 25 minutes and then the productivity drops. So, working during the peak productivity periods should help you finish your next book faster.
You can find more information on how to succeed as a writer here: http://resumeperk.com/blog/just-follow-these-tips-to-become-popular-blogger.
DragonDictation
If the inspiration caught you on the go and you don't have an opportunity to write down the beginning of your next chapter, this app will come handy. Basically, it's a dictation app which allows you to take hands-free notes. You even won't have to look at the screen – just speak the words aloud while continuing walking in the park, driving, or shopping.
The Brainstormer
If you experience the writer's block or simply want to challenge your creativity, try this app. Brainstormer is an idea generator targeted specifically for creative writers. When you open the app, you'll see the three wheels to spin.  One of them gives you conflict, the second – style setting and the latter will show the subject. The random combination of the above three can show you a really unusual idea. Not all of the combination will be lucky, though; so, you might want to spin the wheels for a while until something great appears.
As you see, there are many ways to put the modern technology in service of your writing career. If you are a novel writer, web writer or journalist, you'll definitely take advantage of the above apps that are designed to save your ideas, organize your time and stimulate your creativity.
Is it a resume that you work hard at? If so, you might benefit from using professional resume writing services. Resume writing requires more diverse skills than besides writing itself; so the assistance of a professional will help you sell your skills more effectively.
Our company has been creating 100% unique resumes for over 9 years, serving students, professionals, and managers. We work with all industries, including IT, business, marketing, healthcare, sales, engineering, etc.  If you are not sure what type of service you need, email your resume to us and we will respond with a detailed resume evaluation and a recommendation for type of service. It's totally free of charge!
Do you use any apps to assist with your writing process? What are they?
Popular Posts: