Things To Remember When Ordering Resume Professional Writing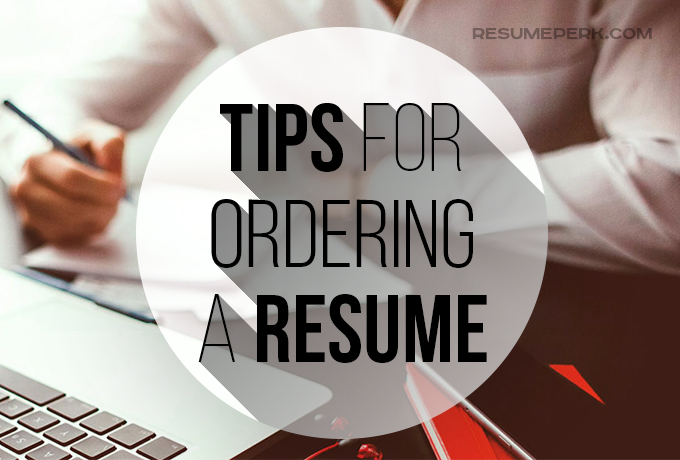 There's a vast array of online services offering resume writing assistance. One can pick the price, the level of writer's professionalism and other options at several clicks. However, the opinions on getting your resume done by someone else still vary. Some believe that no one can write your resume better than you. This is true to some extent as the other person doesn't possess all the information about your personality and qualification. Nevertheless, the situation when a highly-qualified, accomplished professional struggles getting at least one interview call is quite common. And the problem is quite often in inaccurate, poorly written application documents.
Also in this section:
Resume writes: things to keep in mind
Undoubtedly, using professional resume services isn't the remedy to all job-search issues, though; and the people often place too high demands when they pay for composing a resume. Here we will reveal common myths about resume writing services and give hints on how to make your collaboration with a professional writer maximally effective.
A professional resume writing service doesn't guarantee you a job
What we struggle for is an increased number of interview calls, not for getting you an employment. The hiring decision depends on multiple factors in addition to resume quality, such as: your overall qualification, your attitude and behavior during the interview, etc.  A perfectly crafted resume increases your chances to get noticed, and nothing more. If, however, some company offering best resume writing swears that they'll get you a job – keep in mind you're dealing with fraudulent business.
Resume professionals have the vision you probably don't have
Your resume can be written in accordance to all commonly accepted rules; it can contain your accomplishments in figures, responsibilities, awards, etc. And you still may have troubles getting interviews. Why?
The first and foremost key feature offered by resume writers is that they have the vision of how your resume should like as they see it from an employer's perspective. By making small corrections to the tone and style of writing they can transform the effect your resume makes without the necessity to completely rewrite it. How does it work? Top resume writers follow industry trends and know the HR demands – and your resume will only benefit from it.
To find out whether your resume differs from the modern standards, compare it to a resume checklist here: http://resumeperk.com/blog/help-me-write-a-cv-efficient-resume-checklist.
Be as detailed about your job history as possible
Your resume writer doesn't know you in person and has no clue about your professionalism and attitude to work. So, your task is to reveal the mystery. When filling out a questionnaire for writing your resume, be as detailed about yourself as possible: mention even the tiniest achievements or recognition, describe how you handled touch situations, list your usual and situational responsibilities, etc. Don't be afraid to be wordy; the writer will remove the unnecessary information. Meanwhile, having all details and your professional portrait at hand, writer will craft a resume which would present you best with ease.
If you've never ordered a professionally done resume before, you might be unaware of benefits that the professional help can provide. Check the full list of advantages here: http://resumeperk.com/blog/unexpected-benefits-of-using-resume-writing-help.
Resume writer can't make you look better than you are
A resume writer can present your job history under the different angle and showcase some sides of your professional performance as your key advantages. However, what a resume writer can't do is to show you as a top-performer if in reality your performance was quite average. Writing about achievements you didn't have in reality is called exaggerating on your resume and is seen negatively by an employer. If you didn't achieve much for your last employer, the writer can focus on your other advantages, i.e. loyalty, reliability, etc.
Quality result is impossible without direct contact with your writer
Some resume factories work this way: they request your old resume and professional data and respond with a ready-made product a few days later. Not only this excludes your participation in writing a document which determines your professional future, but also you end up being dissatisfied with what you received. So, prior to hitting 'pay' button, ask whether you will have the possibility to directly talk to your writer and make adjustments to the document if necessary. Online resume help from experts that we provide has such options: 24/7 contact and 2 weeks to correct your resume if you're not satisfied.
The tiniest details matter
When we speak about resume writing, even the tiny details are important. You may not care much about the resume layout, punctuation, and keyword staffing. However, if the hiring manager of the company you're aiming at turns out to be really picky, even the minor imperfections of your resume can turn them away.
So, if you're not an expert at writing (for instance, you lack knowledge in proper usage of punctuation in resume) you'd better seek professional help. Resume length, format, keywords, structure and other aspects determine whether your resume will be read and the first impression about you. Professionals even know the best words to use in resume to create a positive image of you as a professional.
Look for online feedback prior to making an order
Although online feedback isn't a 100% guarantee of your satisfaction with the finished products, generally, customer feedback gives quite an exact picture of level of service and quality. It would be wise to look up for reviews of the company and only then make a final decision whether to work with the company or not. Beware of both low-rated companies and those who only have unbelievably positive feedback on the web – it's impossible to make all of the clients satisfied, so such reviews might be faked.
Resume writing services aren't always expensive
By searching 'resume writing services' in Google, you can discover a plenty of services charging over $700 for a single resume. However, in this market the price isn't always equal to quality. What is more, resumes worth $200 and $800 can look pretty much the same! So, don't let the enormous charges make you believe that this is an only way to get a quality product. Many resume services offer high quality at a price starting at as little as $100.
The three signs of reliable services
All reliable resume services provide their clients with three key benefits. First of all, the writer is available for the direct contact. Secondly, you should have the right to request free revision if you want to make changes to a written copy. And thirdly, you should receive the document you'll be able to edit afterwards (i.e. when you need to update your resume later).
 The bottom line
Resume writing service can become your reliable helper if you know what to expect from them and how your collaboration should look like. Many of such services offer decent quality at a reasonable price (you can check our pricing policy and packages). So, if you are wondering where to get a resume written, all you need to do is to contact us and the skilled writer will come for help, considering all your requirements.
With 5 to 7 seconds spent on each resume by a hiring manager, yours need to be really good to stand out. Our writers know the solutions for many situations – just e-mail your requirements to us to get started.
Have you ever ordered your resume to be done by a resume company?
Popular Posts: