Useful Tips How To Behave At Office Company Party
A corporate party is the perfect event to socialize with coworkers, make new acquaintances within the organization you work for and, if you're lucky and sociable enough, even advance your career. However, all of the above is only possible if you know how to behave at parties of this kind.
Although corporate parties are organized to let the staff relax and have fun, they are still business events and require an appropriate conduct. So, lots of things you're used to doing when partying with your friends will not be acceptable at the office party. Check out how to have fun and get the best out of the company holiday without damaging your professional reputation.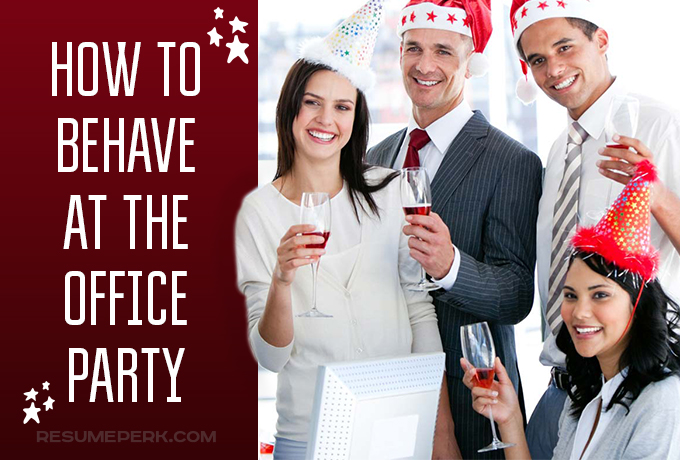 Don't drink too much
Don't drink at all or limit yourself to one cocktail, especially if you find it hard to control yourself after a few drinks. This is the #1 rule of any corporate event. Lots of examples out there confirm that going wild can lead to your dismissal, or months of shame in front of your coworkers and ruined relationships. You can end up fighting with the team leader of other department, dancing on the table with your pants off or hitting on your boss's spouse. So, under any circumstances, stay sober – you'll never regret drinking too little.
Do show up for an event
Even if you don't get on very well with your coworkers, hate the company and send your resume to other organizations on a regular basis, it's not the reason to skip the company event. Be sure that your absence will be noticed and might hurt your professional reputation. However, even if you love your organization, don't stay too late at the party.
Don't dress up like you're going to a nightclub
Although this is a party, it's still a work-related event. So, you should never put on attire that you wouldn't wear at office. A tight dress or short shorts you'd put on when going out with friends isn't the best idea. However, don't go to extremes by putting on something which is too boring or too casual, like plain blue jeans and T-shirt. Since it's a special event, you need to put on an evening dress or suit. Classy and elegant designs are the best bets.
Prepare your guest for an event
For major holidays such as Christmas, the company policy often allows to bring a guest with you. However, before you walk it with your spouse or a close friend, make sure he/she is aware of how to behave and which subjects to avoid when talking to your coworkers. Remember that his/her behavior will immediately reflect on you.
Don't skip the snacks
Of course, an open bar excites everyone much more than food, but you need to keep the balance. If you drink, some toasts or fries will help you keep sober.
Don't avoid communication
If you're an introvert by nature or don't have friendly relationships with any of coworkers, it's not an excuse to spend all night staring into your smartphone. Businessinsider.com recommends going out of your shell and talking to people you know as well as strangers. In a casual atmosphere, you'll probably find it easier to communicate and improve the relationships with those you work with. The best tactics is to talk to as many people as you can. The more people meet you, the bigger effect it can make on your career, so try your best to be seen and noticed – however, don't be overly intrusive when talking to your boss or senior managers.  
Avoid bad mouthing your colleagues and boss
In a relaxing atmosphere, it's tempting to speak your mind and share some fresh rumors with coworkers and tell that you hate the new manager. Moreover, a person or their close friend might be around at the moment which can make you feel really awkward, especially if you gossip about your boss. It's the easiest way to spoil your relationships with colleagues. If you treasure your professional reputation, avoid gossip and negative conversations of any kind.
Keep your conversations on a positive note
The proven way to spoil a party is to spend the entire evening moaning and complaining about the company policy, clients, etc. So, don't ruin the holiday for everyone and talk about positive things. Controversial subjects such as politics and religion are also a taboo (see more topics you shouldn't discuss with your colleagues).
Don't be flirting or hitting on someone
An office isn't the best place for flirting, so is the office party. Overcome the temptation to start hitting on your cute colleague or even your supervisor and confine yourself to friendly small talks. Otherwise, your drunk flirting can make you feel uncomfortable the next day at the office or even can lead to a sexual harassment claim against you.
Thank the party planner/organizer
Another to-do at the corporate party is to acknowledge the people who organized the event. Thank the host for a great evening – not everyone will do so, which will make your gratitude even more valuable.
Don't be a bore
Even if you had better plans for tonight, it makes no sense to show everyone that you'd rather be everywhere but here. Watch your posture and body language – looking bored shows that you don't appreciate the efforts your managers put into organizing this party and that you're not an 'excellent communicator' as your resume stated. So, this can reflect poorly on your career.
Also, don't spend the whole evening speaking about work – you'll have enough time for it during office hours.
Don't post or tweet something that can reflect negatively on you or someone
Everyone uses social media as an outlet for their private thoughts and feelings. However, this shouldn't be the case if you were dissatisfied with the corporate party. In other words, posting something like "the party sucked" is a bad idea, and sharing the pictures of your colleagues dancing or drinking is also inappropriate. However, you can always post something positive: a few lines about what you enjoyed during the party and a few appropriate pictures are okay as they will show your company loyalty.
A corporate celebration of any kind is a good idea to relieve from stress and know people working with you better, or make new business connections. Following the above rules is your chance not only to have a good time without the unpleasant consequences and shame the next morning, but also to get noticed by management. Just remember that it's a business related event and behave appropriately while communicating with coworkers or senior managers.
Feel that you don't quite belong to the company and don't share its values? Then, maybe, it's time to update your old resume and start applying for jobs. Find out do's and don'ts of modern resumes to avoid making resume mistakes. Or, contact us for rapid resume assistance. Our writers will consider all your requirements and craft a resume you'll be happy with!
Do you enjoy attending corporate parties? Have you ever done something inappropriate that could reflect your job?